Nourishing Nature Bonus Resource Guide
I've created this Bonus Resource Guide for the book Nourishing Nature: Beauty Recipes from the Garden. You can find it in a softcover book here or as an E-edition here. Think of it as your natural beauty ingredient index! As you are working through the recipes in the book return to this guide to read more about each ingredient, giving you clues on why it will nourish the skin.
Additionally, I've included a link when possible on where you can find ingredients. So, no worries if you don't have a green thumb. You can find quality lavender buds, aloe vera gel, rose petals, and more with a just a click! This guide contains affiliate links for your convenience, read the full disclosure policy.
Plus grab several bonus printable labels and more in the Life-n-Reflection Resource Library. Just enter your email below for access:


Grab all room by room and seasoanl cleaning checklists for
spring
,
summer
,
fall
, and
winter
in the Life-n-Reflection Resource Library!
Natural Beauty Index:
Natural carrier oils can make a big impact on the health and condition of your skin. They are packed with vitamins and antioxidants essential for healthy skin. There are a variety of carrier oils available – find the right carrier oil for your skin type here! In this book we'll be using the following carrier oils:
Popular among health food advocates who seek it for the nutritional value of its abundant trace minerals. Pink Himalayan salt also contains electrolytes and the ability to relieve aches and pains. Mineral salts break down the build-up of lactic acid, which causes muscle pain. Indulge in an enriching mineral bath on page 34 and a layered milk bath on page 25 made with pink Himalayan salt.
Essential Oils
Essential oils not only provide a wonderful natural fragrance to homemade skin care products but also contain many skin loving properties. Learn more about how to get started with essential oils and don't miss my 10 must have essential oils for home and beauty here. We'll be using the following essential oils for recipes in this book:
Lavender
Tea Tree
Lime
Chamomile
Orange
Eucalyptus
Lemon
Sage
Thanks to Epsom salts, bath bombs do much more for our bodies than moisturizing the skin. Named after a small town in England where it is was discovered in 1618, Epsom salts are known for their powerful ability to relieve aches and pains. They breakdown the build-up of lactic acid which causes muscle pain. Add a ½ cup of Epsom salt to your next bath or try them in my recipe for a bubbling lemon vanilla bath soak in addition to many recipes in Nourishing Nature.
Used for its skin-soothing benefits, witch hazel is a plant-based substance made from the witch hazel shrub. It's a staple in my homemade facial toner. I use it in place of water to make bath bombs. It's doesn't cause as much fizzing loss to occur when you need to add just a little more moisture to bath bomb mix.
Take it from the skincare experts at Hello Glow, "There are some ingredients that you almost can't go wrong within DIY skincare. And honey is definitely at the top of the list." It's a natural humectant that draws in moisture, antibacterial, and full of antioxidants! Pour one cup of raw honey into your bath while it's filling to moisturize, soften and soothe dry skin.
Body butter comes in a variety of textures rich and thick, soft and creamy, each with purpose and benefit for the skin. They are all from natural sources such as kernels and fruit trees. Each is solid at room temperature with different melting points. Learn all about how to use natural body butter in this article. We'll be using the following natural body butter to make soap, lip balm, shaving cream, and more!
Rose water is a beauty ingredient like no other. Rose is known to soothe, soften, brighten, and tighten the skin. It plays a key role in many rose DIY beauty recipes to support the appearance of youthful-looking skin while promoting an overall healthy complexion.
Goat milk soap base is specially formulated to suspend additives evenly throughout the soap. Meaning if you add lavender buds or chamomile flowers from the garden to your homemade soap they won't sink to the bottom of the soap like it would in other soap base types. It also a natural skin-loving choice for making soaps. Try in my recipe for creamy lavender bath bars on page 29.
There are so many uses for vegetable glycerin, I always keep two bottles on hand! I love the way it softens everything it touches. I use it to make handmade soaps, hair detangler, bubble bath, and many other skin care products. You can even use it straight out the bottle by adding a teaspoon to your bath to soften skin.
Castile soap is a concentrated vegetable-based soap made of ingredients you can actually pronounce. This soap is gentle on skin and effective against dirt, grease, and unwanted germs. Castile soap can be used to clean just about anything and everything: your face, your shower, and even your dirty dishes! Yes, I'm a fan!!
Natural beeswax is an excellent way to thicken beauty products. I use it to make salves and lip balm. It's a strong antiseptic that reduces inflammation and inhibits the growth of bacteria on the skin. You can find it here in a one pound bag of beeswax pellets. The pellets also known as beeswax pearls are very easy to measure out and use, versus cutting or grating a bar of beeswax.
Sugar
Natural sugars such as coconut sugar, brown sugar, and pure cane sugar are a must have for creating sugar scrubs. Sugar works well as a gentle natural exfoliant for the skin compared to coarse salts. It's a key ingredient for DIY lip scrubs like this one and several recipes in this book.
Aloe vera is antibacterial, anti-inflammatory, and a natural humectant. It's an incredible moisturizer for the skin among other things. I use it daily in the natural face cleanser on page 31.
As an antioxidant, vitamin E oil helps to protect cells from free radical damage. It is a great nourisher and moisturizer for the skin and hair. Use vitamin E oil to make natural skin care products such as tightening eye creams, hand lotion, and heel salves.
From the Garden
If it's a green thumb you lack – have no fear! You can find most of the garden fresh ingredients at your local markets such as cucumber, cilantro, and lime. For preserved ingredients check out the list below: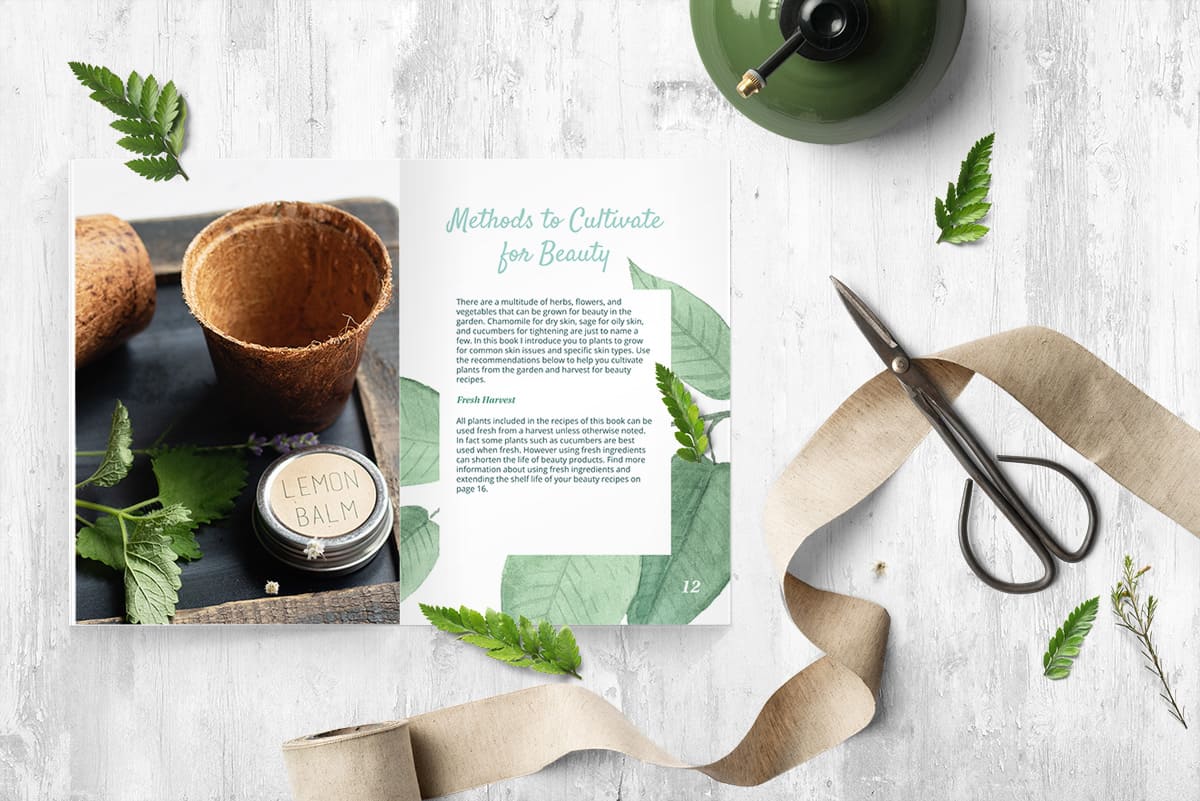 Ready to Dig in? Turn back to the book to make beauty recipes to nourish the skin with these all natural ingredients! Don't forget to grab the bonus printable labels and more in the Life-n-Reflection Resource Library. Just enter your email below for access:

Grab all room by room and seasoanl cleaning checklists for
spring
,
summer
,
fall
, and
winter
in the Life-n-Reflection Resource Library!