Thank you for interest. We are currently are not accepting new enrollments into Clean Beauty School.
Why Clean Beauty?
On any given day, we are exposed to countless advertisements, articles, and friendly advice telling us what is the latest and greatest skin care product.
Which is why you've likely gone through your fair share of trending skincare gimmicks. Leaving you with breakouts, dry or flaking skin, and ultimately lackluster results.
The truth of the matter is, one revolutionary skin care product doesn't see the whole picture.
The list of ingredients to avoid seems to get longer and more complicated giving anyone a headache just trying to read a product label.
All that being said, it can be hard to decipher what is best for your skin.
Rather you've been hopping from one miracle product to the next that didn't work or you are simply fed-up with greenwashing – it's time you took control of your skin and got the results you deserve!
In Clean Beauty School, we take the guesswork out of creating a natural skincare routine. Learn what, when, and where of clean beauty. With informative step by step guides for daily to monthly skin care needs.
We take a hard look at ingredients to avoid with apps to help solve the issue and support your natural choices. Dive into reasons why you should DIY your skin care products and how to make each one last during orientation.
If you want to up your skincare game, but don't want to waste money on another beauty gimmick – Clean Beauty School is for you!
Learn to dig deep down to the roots of clean beauty using earth clays, plant oils, herbs, and more to transform your skin with in-depth course work and a plethora of beauty recipes.
Start anytime and work at your own pace. Begin with clean beauty orientation helping you put your best foot forward while making simple changes for quick results.
Then take a seat in the classroom where we uncover the roots of beauty. Learning about the history and use of each clean beauty ingredient, tool, and practice. Bringing to light how to apply them to modern day needs and routines.

From the classroom step into the lab where you'll learn to craft clean beauty essentials to replace each and every skin care product you have! And you will design each product with an exact match to your skin type for the results you've been searching for.
Once you've completed your lab work we'll send you out into the field. During your fieldwork, we cover step by step guides for daily skin care needs. This is where you'll piece together your clean beauty regimen unique to your skin type.
Finally, learn everything you need to create all your skincare products and routines based on your needs – a.k.a. your skin type!
By returning to the roots of beauty your skin will show dramatic improvement as each method works toward the overall health of your skin.
Grab Your Seat in Clean Beauty School Now!
Here's a Glimpse of our Syllabus for Clean Beauty School
In the Classroom
Uncover the roots of beauty learning about the history and use of each ingredient, tool, and practice. Discovering how to apply each to modern-day needs and routines. Classroom modules include:
Castile Classics
Freshmen Essentials
Witch Hazel & Potions
Oil Fundamentals
Art & Clay
Exfoliation 101
Hierarchy of Hydrosols
Herbal Arts
In the Lab
Step into the lab to craft each clean beauty essential replacing every skin care product you have! Designing each product exactly matched to your skin type. Dry, oily, mature, combination, or normal skin – we've got it covered! Here's a peek at some beauty products you'll be creating in the lab:
Balancing Face Toner
Daily Cleanser
Vitamin E Serum
Tightening Eye Cream
Youthful Glow Serum
Moisturizing Face Cream
Anti Blemish Serum
Pore Cleansing Face Steam
Refreshing Face Lotion
Sun Blocking Serum
Hydrating Face Mist
After Sun Spray
Rejuvenating Face Mask
Exfoliating Face Scrub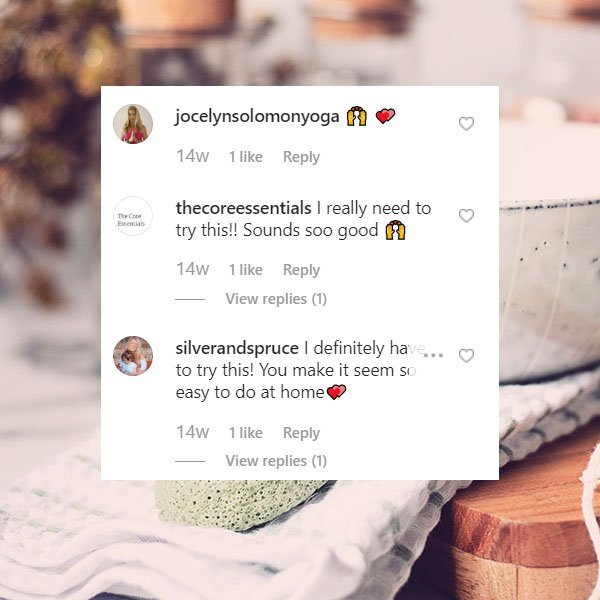 In the Field
This where Clean Beauty School is really different for other courses or books. We don't just teach you fun facts about ingredients, throw a book of recipes at you, and call it done. Instead, we go the extra mile by teaching you how and when to use each recipe to truly transform your skin. Here's a look at the informative step by step guides you'll cover in the field:
Beauty Tools & Techniques
Morning Beauty Regimen
Midday Jam
Nightly Skin Care Routine
Your Weekly Agenda
Monthly Programming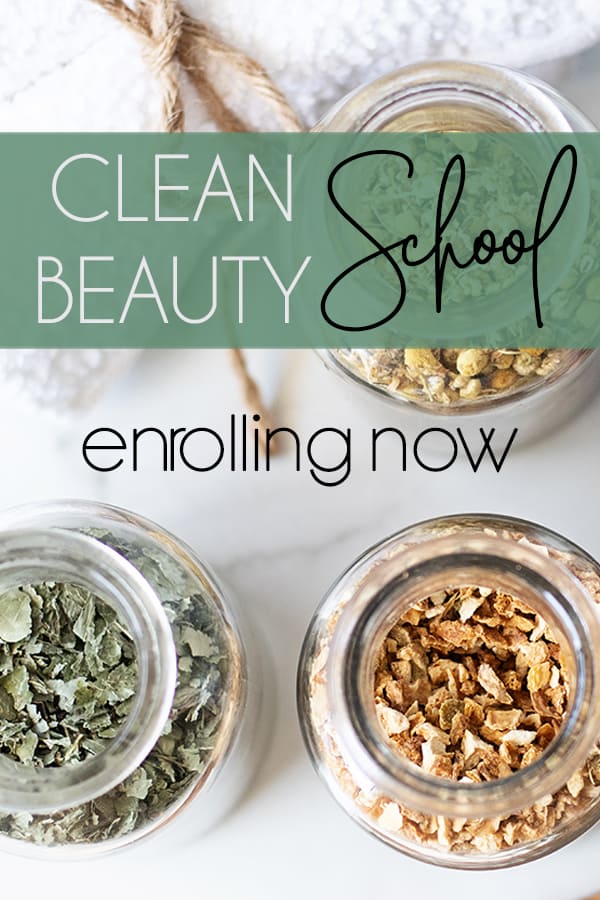 BONUS
You'll receive a fun bonus Beauty School Binder to record your clean beauty recipes, plan your skin care routine, and keep track of everything!