Are you ready to get your hands on an all natural creamy hydrating face cream?
Look no further! This recipe for a DIY Aloe Vera Face Cream quenches the thirst in your skin and improves the oil the production.
We all know our skin is our largest detoxifying organ. What we put on our skin matters, as it affects the health of our skin and is absorbed into the body.
That's why I've replaced all my skincare products loaded with chemicals for natural bath and body products. I find that making things at home not only solves that issue but the products last longer.
This post contains some affiliate links for your convenience, read full disclosure policy.
This recipe makes more than double most face creams out there! It just might be worth its weight in gold as a highly effective moisturizer by combining:
coconut oil: an antibacterial and natural emollient
lavender essential oil: soothes and nourishes all skin types
jojoba oil: vitamins and minerals essential for healthy skin
aloe vera gel: antibacterial, anti-inflammatory, and a natural humectant
Related: Renew Life-Less Lips with an Easy to Make Lip Scrub
Related: Take Control of Your Skin with a Aloe Vera Face Wash
How to make Aloe Vera Face Cream:
Add a half cup of coconut oil, two tablespoons jojoba oil, and one and a half tablespoons beeswax pastilles into a double boiler. If you do not have one, substitute for a glass or metal bowl over a pan of boiling water. Heat until melted, mixing with a whisk. Let mixture cool, approximately one to one and a half hours.
Once cooled slowly add one cup of aloe vera gel while blending with a hand mixer. Blend until light and fluffy. Add five to eight drops of lavender essential oil and blend once more. Spoon face cream into a glass jar.
Notes: This DIY aloe vera face cream recipe will last three to four months. Store a small amount in the bathroom for use and the remaining amount in the fridge to extend the shelf life. Yields: 5 ounces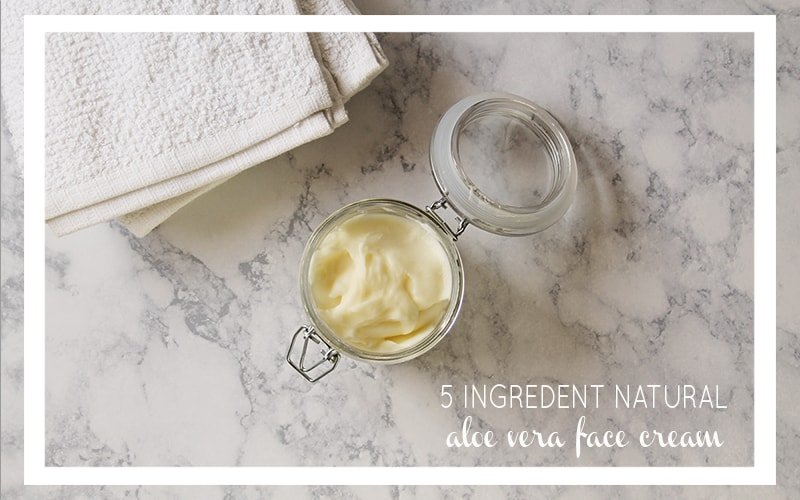 P.S. The step to completely cool the mixture is a must to create a smooth silky cream. However, if you're short on time, speed up the cooling by placing it in the fridge.
It's been more than a year since I started using this homemade aloe vera face cream. I am happy to report, my hormonal acne is under control and the oily sheen I used to get midday is a thing of the past!
I use this every day with my Cleansing Aloe Vera Face Wash. What natural changes have you made to improve your skin? New to essential oils? Find how I got started here.