Trying to decide… is the Grove Collaborative for you?
Trying to decide… is the Grove Collaborative for you? In my experience with the Grove Collaborative in the last two years, it has saved me time, money, and stress.
If you're on a path to green living you've likely come across the beautiful images and buzz about the Grove Collaborative. But, perhaps you're having a hard time deciding – is the Grove Collaborative for you… I was in your shoes 2 years ago and today I'd like to share my experience with you!
This post contains some affiliate links for your convenience, read full disclosure policy.
Related: 20 Essentials for Green Living
Related: How to Deodorize Your Fridge
The Best Delivered to Your Door
For me, the best part about Grove Collaborative is they had made it so easy to find the best natural products all in one place! Everything is organized by category and you can read reviews for every product by fellow members so you can quickly find what you need.
So, instead of running to the store several times a week for household supplies (which I did for years) I just hop on my phone and add it to my pantry at the Grove. Shipments are totally customizable, so I only get what I need, when I need it! Is the Grove Collaborative for you? Give it a try today and grab a free cleaning kit from Mrs. Meyers here.
What Can You Find at the Grove Collaborative?
They specialize in curating a variety of non-toxic household, beauty, cleaning, personal care products. They carry all of my favorite natural brands, including Seventh Generation, Aura Cacia, Mrs. Meyers, Acure, Dr. Bronner's, and more. It's so convenient to cross off several things on my list with a click of a button! Here's a short list of some of the things I use from the Grove.
glass cleaning bottles and wool dryer balls
toothpaste (Dr. Bonner's cinnamon is my favorite) and toothbrushes
essential oils for DIY cleaning and beauty recipes
dishwashing brushes and Mrs. Meyer's dish soap
microfiber cleaning cloths and scoring sponges
personal care items (for Aunt Flows monthly visit)
beeswax wrap and parchment paper
liquid castile soap and sal suds
coconut oil and carrier oils
Want more green recipes for home and beauty? Grab your free copy of my Beginners Guide to Natural Living Book and don't miss my No-Nonsense Natural Bathroom Cleaning Methods.
Maybe you're still on the fence, is the Grove Collaborative for you? Well, there's one sure way to find out! Give it a try and gain a free Mrs. Meyer's cleaning kit (to keep if even you cancel)! That's right Grove has a 100% happiness guarantee, which means they'll also refund whatever you send back! Yep, easy returns and refunds. You can also choose to delay an order, get it sooner, or ship every other month. On top of that the GROVE PRICE MATCHES! If you find a better price, send Grove an email and they will match it. And if you join the VIP program like me you'll get free shipping on every order and free products too! It's good customer service like that which makes the Grove stand out.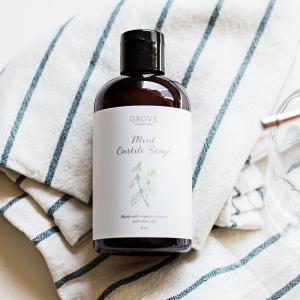 In my experience with the Grove Collaborative in the last two years, it has saved me time, money, and stress. I love the free shipping and all the goodies. I've gotten free lip balm, glass cleaning bottles, castile soap, face scrub, kitchen towels, and the list goes on! It's really one of the best choices I've made to create a non-toxic home.