3 Ways to Make a Luxurious Natural Milk Bath – Fit for a Queen
Soak it all and let your inner Cleopatra shine with three ways to make a luxurious natural milk bath. Including pure organic ingredients fit for a queen!
Cleopatra, the last pharaoh of Ancient Egypt, is renowned as quite possibly the most beautiful woman in human history. She is known throughout the world for her stunning beauty, radiant skin, and rose fragrance.
She is said to have bathed in milk, lavender, and rose petals to keep her skin soft and youthful. (Can you picture it too?)
It should come as no surprise that her unique natural beauty routines still inspire us today. And these three ways to make a luxurious natural milk bath bring her beauty to life!
This post contains some affiliate links for your convenience; read; our full disclosure policy.
How Do You Make a Natural Milk Bath Like Cleopatra?
The history books say it all, and lucky for us, we can experience one of Cleopatra's legendary milk baths at home!
For a soothing soak fit for a queen, start with coconut powdered milk to soften and moisturize the skin. Then add baking soda to detoxify the body and Epsom salts, along with pink Himalayan salt to relieve stress and sore muscles.
Base Supplies to Make Milk Baths:
Next, infuse your bath with one of the following combinations of dried flowers, herbs, and essential oil blends to relax the mind and body. Then soak it all and let your inner Cleopatra shine with these three luxurious natural milk bath recipes:
Stress Relief Milk Bath
If you're looking for natural stress relief, this milk bath recipe is something to try! Let heady, floral rose oil, and sweet orange infuse your bath while mineral salts dissolve your tension. And imagine each thought of stress floating away on a rosebud.
Goodnight Moon Milk Bath
I coined this milk bath after my daughters' favorite bedtime story, "Goodnight Moon" by Margaret Wise Brown. It has all the right ingredients for a soft end to the day, containing geranium and lavender known for aiding a sound slumber.
Wake Up Milk Bath
Not all milk baths need to be enjoyed surrounded by candlelight after dark. A milk bath can also be enjoyed in the dewy, soft morning light. This natural milk bath is designed to help you start the day feeling refreshed with zesty lemongrass and invigorating eucalyptus with a touch of sweet ylang-ylang.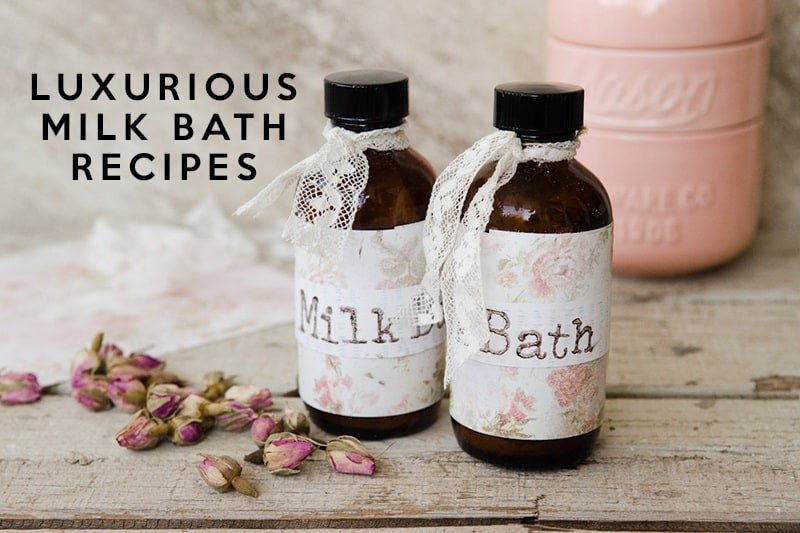 Make It:
Add coconut powdered milk, baking soda, Epsom salts, and pink Himalayan salt to a medium mixing bowl. Lightly whisk to combine thoroughly.
Next, choose your milk bath recipe and add all dried herbs. Whisk to combine. Begin adding drops of essential oils while continuously whisking for a balanced fragrance. Store in an airtight container.
To Use: Pour half of a cup of milk bath into a warm bath. Then slip in and soak.
Note: Each Recipe Yields 24 ounces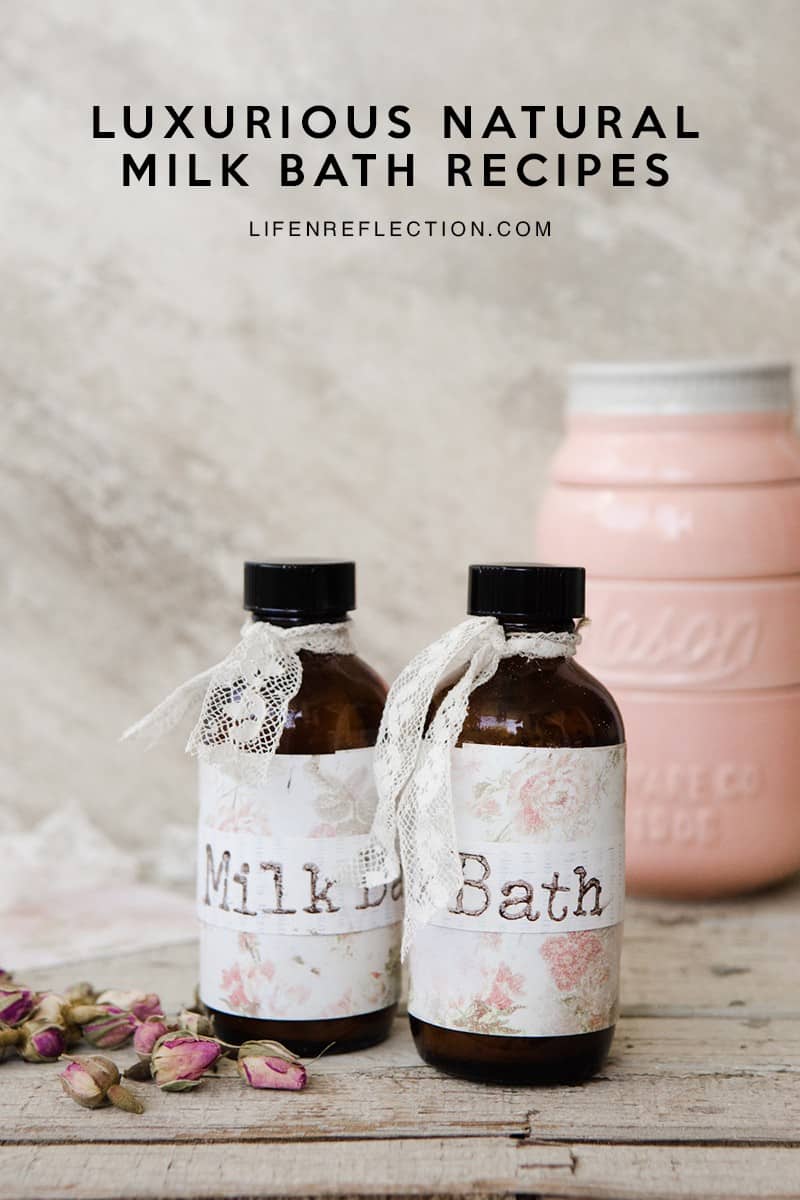 Whip up my easy chamomile lavender body wash while you make a bath fit for a queen. Then lock in moisture after your royal soak with luxurious whipped body butter!!
P.S. Wondering how this beautiful packaging came about? Check out the fun tutorial at Flourish, the official blog of Willow and Sage magazine! I am teaming up with Flourish this week to share these extra special recipes and packaging not found in the magazine's current issue.
I use essential oils everyday and not just in luxurious milk bath recipes. I use them in my natural skincare routines, household clean up, relaxation, and quick fixes like taking the itch out of an insect bite. Find many of my must have essential oils in this versatile starter kit.
Wouldn't this be a perfect gift for a bride or mommy-to-be? Pin these natural milk bath recipes to try each, and tag #lifenreflection on Instagram to share yours with me!