Say Goodbye to Dry Skin with the Ultimate DIY Whipped Body Butter
A few years ago when we moved from sunny, warm Texas to the depths of winter in Illinois I experienced dry skin like never before. And in no time, dry red patchy areas of eczema showed up on my skin. The skincare regimen I had used in Texas for more than decade didn't work in the cold dry air of the north. Learning to get rid eczema without steroid creams took time and dedication. This post contains some affiliate links for your convenience, read full disclosure policy.
Combat Eczema
I thought I was one of the unlucky few who suffered from dry skin that itched so bad, I would compare it the sting of a fire ant. But, as it turns out dry skin is very common, half of the population suffers from those itchy patches. I learned that are several natural remedies to combat eczema. Staying hydrated can make a big difference in preventing dry skin. So, drink plenty of water and eat foods like watermelon that have a high water content. Sleep can also affect your skin and not getting at least six hours can raise the likeness that you'll wake up with dry skin.  Soaking in a milk bath with oatmeal and magnesium rich Epsom salt helps to reduce inflammation and ease itchiness. Try my three favorite recipes for a luxurious milk bath here.
Related: Renew Life-Less Lips with an Easy DIY Lip Scrub
Related: How to Make your Own Perfume
Your Dry Skin Will Drink Up This DIY Whipped Body Butter
When comes to lasting relief from eczema or severely dry skin, nutrient dense body butters and carrier oils are essential. They pack a powerful combination of vitamins and minerals that work to boost the health of vulnerable skin. And each provides intense moisturizing benefits, that your skin will literally drink up! Learn in-depth knowledge about skin-loving body butters and carrier oils in my free DIY natural bath and body beginners course.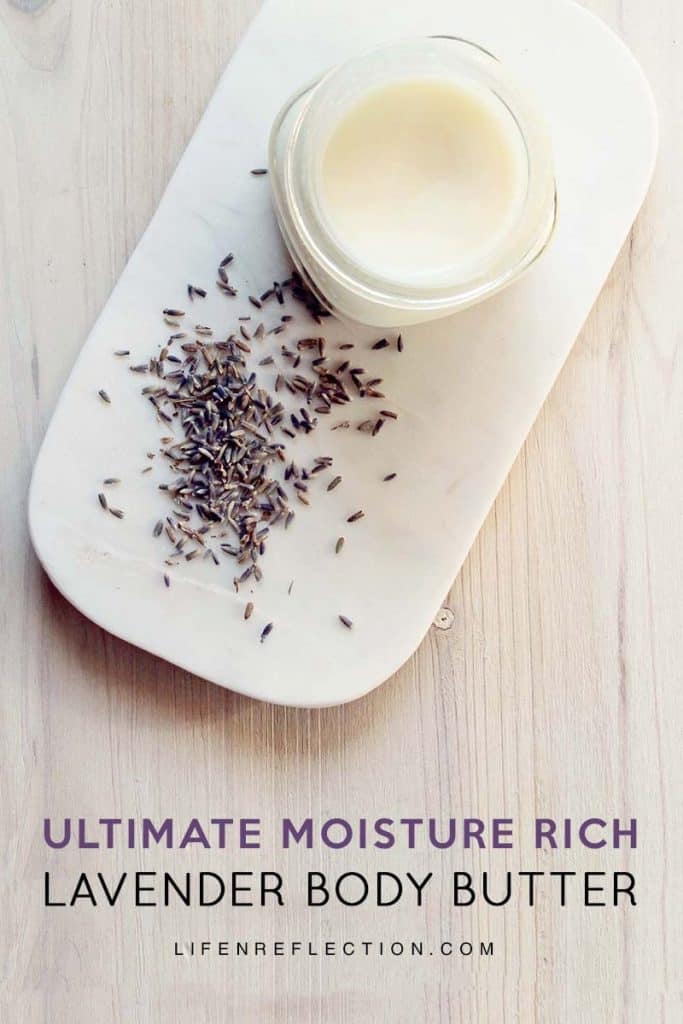 Ingredients to Make Whipped Body Butter:
6 tablespoons shea butter
6 tablespoons cocoa butter
1/2 cup coconut oil
1 teaspoon sweet almond oil
1 tablespoon vitamin E oil
1/2 teaspoon lavender essential oil
2 to 4 airtight 8 or 4 ounce containers
How to Make DIY Whipped Body Butter:
Add 6 tablespoons of cocoa butter, 6 tablespoons of shea butter, and 1/2 cup of coconut oil into a double boiler. If you do not have one, substitute for a glass or metal bowl over a pan of boiling water.
Heat butters and coconut oil until melted, mixing often with a whisk. Once melted add 1 teaspoon of sweet almond oil and 1 tablespoon of vitamin E oil to the mixture. Whisk well to combine. Cover and place mixture in refrigerator for one hour or until firm.
Using a hand mixer, whip until creamy and light. Add 1/2 teaspoon lavender essential oil and mix again to blend. Spoon whipped body butter into airtight containers. Whipped body butter may seem extra moist after whipping, no worries it will firm up after a few minutes.
Yields: 2 1/2 cups
[bctt tweet="Your skin will drink up this all natural whipped body butter!" username="lifenreflection"]
The next time you feel a case of the itchies coming on take long warm milk bath. Then lather on this all natural DIY whipped body butter for lasting relief. P.S. The last steps to chill and whip the butter together are essential for a smooth, silky cream. I know you'll be dying to try it (especially if your skin feels like you just stepped in a fire ant mound) – but don't skip the final steps.
Save
Save