Lemon Vanilla DIY Bubbling Bath Soak Recipe
Got a case of the "Mondays"? Turn your week around with a lemon vanilla DIY bubbling bath soak recipe!
Sometimes I find myself wanting to crawl back into bed when I can't seem to get in the groove and get to work. Seeing my week of tasks to complete: writing assignments, meetings, photo shoots, and laundry (need I say more), can give me a bad case of the "Mondays."
If you've got a case of the "Mondays" right now, turn your week around with a DIY Bubbling Lemon Vanilla Bath Soak.
Because it's difficult to stay in a sour mood with the cheerful, fresh scent of lemon essential oil combined with creamy sweet vanilla oil. But this bubbling bath soak has more than a heavenly scent; it's loaded with benefits for the skin and a few surprises I know you'll enjoy!
For your convenience, this post contains some affiliate links; read the full disclosure policy.
Related: 10 Intoxicating Rose DIY Beauty Recipes

Soak in the Benefits
Relax and gently exfoliate with mineral salts, lemon peel, and a newly discovered favorite, toasted quinoa flakes. If you haven't heard of toasted quinoa flakes, created by I Heart Keenwah, they are USDA organic and fair trade for starters. They can be substituted in just about any skin care recipe using rolled oats. Quinoa is packed full of protein and amino acids, which strengthen and hydrate skin.
In addition to quinoa, ease sore muscles with magnesium in the mineral salts. Then moisturize with skin-loving, sweet almond oil. Lift your mood with cheerful lemon essential oil and the playful bubbling effect provided by all-purpose liquid castile soap. Then watch, to your surprise, as the toasted quinoa floats on top of the water and melts into the bath.
Related: Everything You Need to Make Bath Bombs
How To Make Bubbling Bath Salts
All it takes a few extra steps and one ingredient to turn any bath soak recipe into a bubbling bath soak.
What ingredient is it? Liquid castile soap is the secret ingredient to bubbling bath salts. Dr. Bronners castile soap is favorite to use. It's all natural and comes in a variety of scents such as lavender, eucalyptus, and peppermint. For this bath soak recipe I choose the unscented castile soap, so I could let the lemon and vanilla shine.
DIY Bubbling Bath Soak Ingredients
DIY Bubbling Bath Soak Recipe:
Cover a baking sheet with parchment paper and set aside. In a medium glass mixing bowl, combine liquid castile soap, sweet almond oil, lemon essential oil, and vanilla essential oil. (Plant Therapy also makes a lemon cupcake essential oil blend that is just as fabulus.)
Blend these ingredients together using a whisk and add mineral salt. In order to thoroughly coat the mineral salt, whisk for one to two minutes.
Next, spread coated bath salts over the prepared lined baking sheet in a thin, even layer. Let stand overnight to absorb the ingredients. Then, scoop the bath salts into a mixing bowl. Add toasted quinoa flakes and lemon peel.
To combine, stir well while breaking up any clumps with a wooden spoon. Pour the bubbling lemon-vanilla bath salts into an airtight container.
Yields: 24 ounces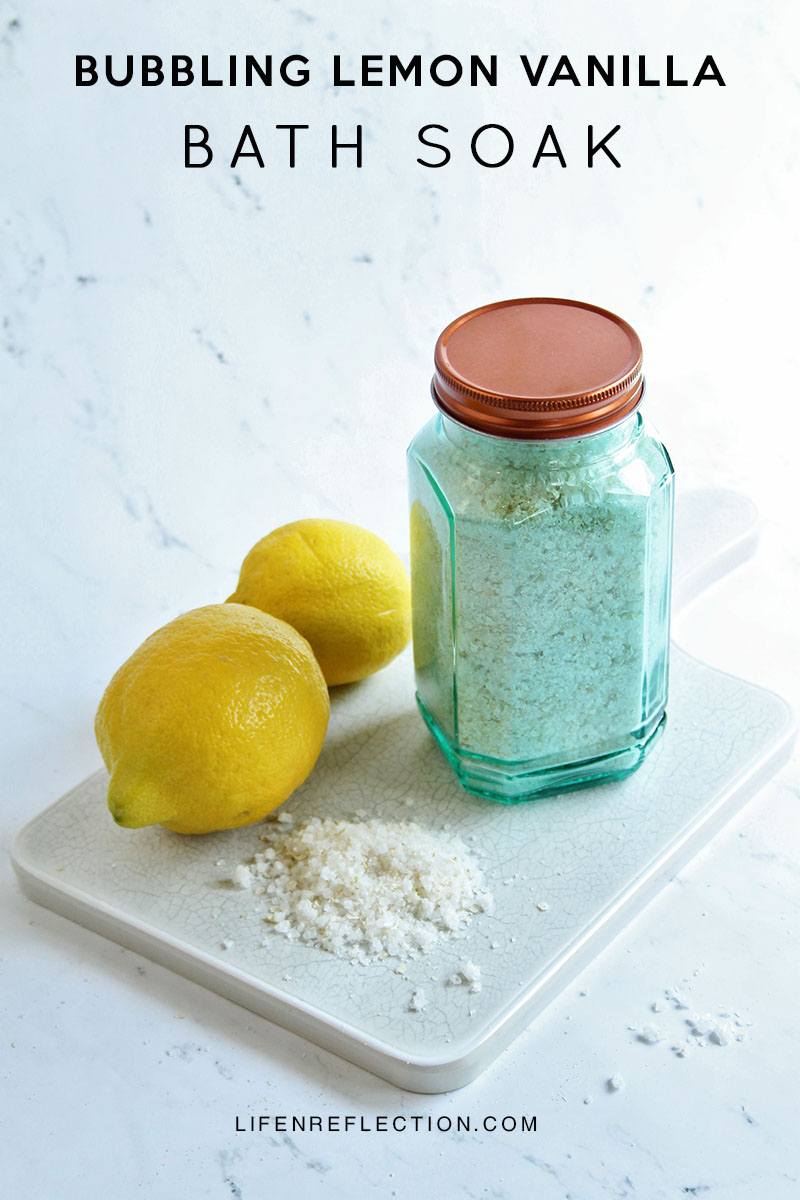 To Use Bubbling Bath Salts:
Scoop a ⅛ cup of the bubbling bath salts into running bath water. Then watch the bubbles form! Step in an enjoy the yummy scent of lemon and vanilla while mineral salts, sweet almond oil, and quinoa work their magic.
Want to add a printable bath soak apothecary label to your jar of this bubbling lemon vanilla bath soak? Find a set of six on a standard letter-size sheet in the Simple Living Library.

This recipe for a DIY bubbling lemon vanilla bath soak is the perfect solution for a case of the "Mondays." To additionally soften dry skin, try my Exfoliating Grapefruit Poppy Seed Scrub.
Don't miss the free printable bath soak apothecary label above. New to essential oils? For a detailed look at what essential oil is, read more here.