Tired of Spending $$ Money on Laundry Soap Every Month?
Here's how you can make French lavender DIY laundry detergent in five quick minutes. Homemade with just five simple ingredients for HE washing machines.
Do you have a toddler who goes through a few changes of clothes a day too? Playing outdoors, painting, drawing, and regular spills can make the laundry pile up quickly. And that's just for one member of our household! Add in everything else we need to wash and the amount of money we were spending on a laundry detergent was too high.
Why Not Buy Cheap Laundry Detergent?
Like most cleaners, store-bought laundry detergents are filled with a variety of chemicals known to cause health risks. Beginning with surfactants related to lung, eye, and skin irritation (Bondi, 2015). Continuing to fragrances that cause headaches, skin irritation, and aggravate asthma (Dodson, 2012). In addition to hormone disruptors such as nonylphenol ethoxylate (Bechi, 2010).
Yeah… just a reason or two why I don't recommend buying cheap laundry detergent to save money.
This post contains some affiliate links for your convenience, read full disclosure policy.

Related: Cleaning with Essential Oils
Related: Stupid-Simple DIY Cleaning Kit
Have you entertained the idea of making your own DIY laundry detergent?
Well, you're not alone. In fact, I had been thinking about making DIY laundry detergent powder for more than a year. Yeah, I know, usually, I'm not a procrastinator. I'm a do-it-yourself person to the core!
"Why Did I Wait So Long To Make DIY Laundry Detergent?"
What was stopping me from making my own? First, it was finding a recipe for homemade laundry detergent without borax. I know borax is a natural cleaning agent and many people use it to clean including Kristen at Live Simply. But, due to the sensitive skin in our house, I myself and toddler included I choose to not include borax.
Instead, I opted to use washing soda, it neutralizes and eliminates odor while combating stains. And I found it performs the same function in laundry detergent recipes and store-bought options as borax does.
Secondly, I knew I needed to include castile soap in the recipe to lift dirt and stains. And to make DIY laundry detergent for our HE washer is needed to be grated finely. Somehow I pictured in my mind grated the soap would be so tiring and such a long process. Which is why I made liquid laundry soap first!
Luckily just around the time I used up all the liquid laundry soap I made, I discovered something that changed everything! I didn't have to finely hand grate the castile soap to make powder laundry detergent. Turns out, I could grate it once and pour the soap right into my food processor – what a game changer! Here's how you can make homemade laundry detergent in five quick minutes too.
French Lavender Laundry Detergent Powder Ingredients:
1 bar lavender castile soap
¼ cup Epsom salt
1 cup washing soda
2 tablespoons citric acid
2 teaspoons lavender essential oil
How To Make Homemade Laundry Detergent Without Borax:
Using the grater attachment on a food processor, insert one bar of lavender castile soap and shred. Pour grated soap into a bowl and swap out attachments to the standard one. Then pour grated soap back into the food processor bowl. (If your food processor is missing a grater attachment, simply hand grate into the food processor bowl.)
Next, add one cup of washing soda, a quarter cup of Epsom salt, and two tablespoons of citric acid. Place the lid on the food processor and pulse on mix until ingredients are powdery.
Pour the powder laundry soap into a large glass mixing bowl. Add two teaspoons of french lavender essential oil while stirring to blend well. Pour blended french lavender laundry soap into an airtight container until use.
Can you use this homemade laundry detergent for HE washers?
You may be wondering why everyone asks this. Well, it's an important question. HE washing machines stand for High Efficiency. And one of the key reasons is to save water. According to Energy Star and Consumer Reports HE washers use on at least one third less of water!
This is awesome, but this means it works quite differently than standard top load washers. Therefore this powder laundry detergent recipe doesn't contain a sudsing agent, but the powder needs to be fine – make sure you use your food processor to fine ground everything. And according to the team at The Spruce powder, liquid, and tablet homemade laundry detergent works well for HE washers.
How Much Homemade Laundry Detergent Per Load Should You Use?
For powder laundry detergent in an HE washer use the guide below. To use liquid laundry detergent see here.
Small Loads Use: ½ tablespoon
Regular Loads Use: 1 tablespoon
Large Loads Use: 1 ½ tablespoons
How to Use Homemade Laundry Detergent For Hard Water:
Actually, including Epsom salt in the recipes helps to clean and naturally soften your wash. And there's one easy step that you can do for homemade or store bought detergents when washing clothes in hard water. Just add your detergent directly to the drum of the washing machine before adding soiled laundry. I've never found any clumps or white spots of soap on our clothes when I do just that!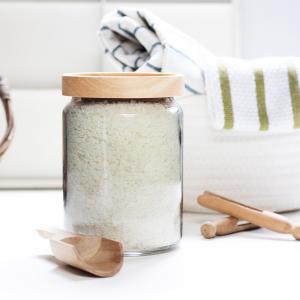 Cleaning up your laundry routine is a great step on the path to a natural lifestyle! Being more intentional about what we buy, use, eat, and make is key to living naturally. If you're looking to detox your skin care or just waste less. I'm here to help!
References:
Bondi, C. A., Marks, J. L., Wroblewski, L. B., Raatikainen, H. S., Lenox, S. R., & Gebhardt, K. E. (2015). Human and Environmental Toxicity of Sodium Lauryl Sulfate (SLS): Evidence for Safe Use in Household Cleaning Products. Environmental Health Insights, 9, 27–32. http://doi.org/10.4137/EHI.S31765
Dodson, R. E., Nishioka, M., Standley, L. J., Perovich, L. J., Brody, J. G., & Rudel, R. A. (2012). Endocrine Disruptors and Asthma-Associated Chemicals in Consumer Products. Environmental Health Perspectives, 120(7), 935–943. http://doi.org/10.1289/ehp.1104052
Bechi, N., Ietta, F., Romagnoli, R., Jantra, S., Cencini, M., Galassi, G., … Paulesu, L. (2010). Environmental Levels of para-Nonylphenol Are Able to Affect Cytokine Secretion in Human Placenta. Environmental Health Perspectives, 118(3), 427–431. http://doi.org/10.1289/ehp.0900882