Get Motivated to Clean with a Simple DIY Cleaning Kit
Do you often lack the motivation to clean? Well, if you said "yes," you're not alone. The task itself can feel so overwhelming even when your home isn't a complete mess. Regularly cleaning spaces in our homes like the bathroom or kitchen can be done quickly given the right tools for the task. And creating DIY cleaning solutions is easier than you think.
Not only can you create natural zero waste cleaners that are highly effective, but they are still safe for every member of your household.
It's time to STOP searching in your laundry room, pantry, or under the sink for a dozen different cleaners!
This post contains some affiliate links for your convenience; read the full disclosure policy.
Related: Stuck on How to Properly Clean your Fridge?
Related: Daydreaming of an Organized Linen Closet?
What Do You Need to Start Creating an Effortless Natural DIY Cleaning Kit?
You only need to gather a few supplies to start building your cleaning kit. It's likely you have most on hand already. But, if you've been storing them in spaces all over your home. Like cleaning towels in the linen closet, scrub brushes in the kitchen, and the dustpan in the closet – that's a problem we're gonna fix!
All of this disorganization can be added up to wasted time spent searching for things.
Which can lead to the motivation you did muster up deflating quickly. Like a cheap party balloon!
So, take the time now to designate a cleaning caddy or basket. Then fill it with the cleaning tools below.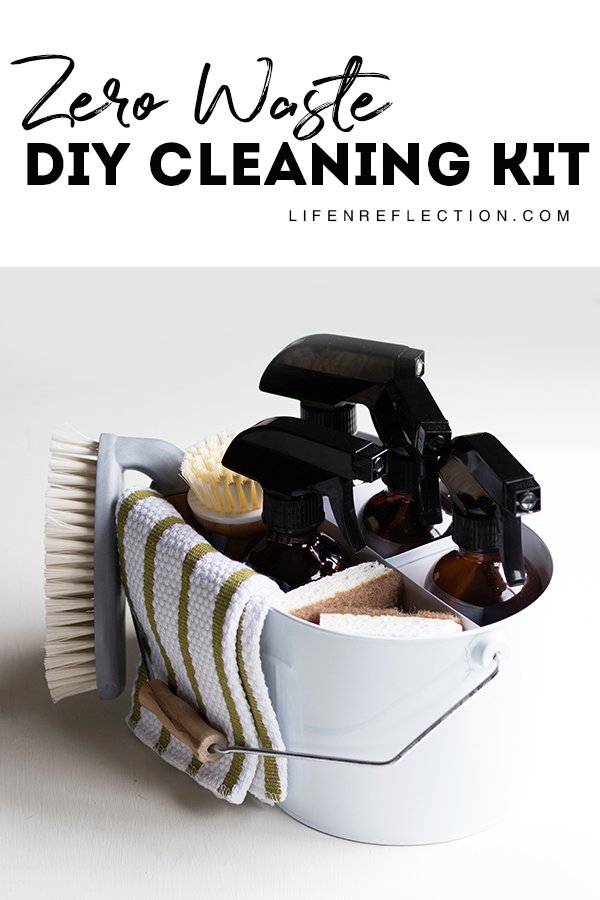 The first step to creating a zero waste DIY cleaning kit is repurposing a basket in your home or purchasing a metal caddy like the one in the photos above to designate for all your cleaning needs. I found mine for a bargain at Target, but this caddy designed for cleaning looks even better! Just make sure whichever you choose is big enough for what YOU need. And make sure it's easy to clean if need be.

Scrub Brushes and Sponges
I recommend buying reusable sponges, such as a reusable cellulose sponge cloth or coconut fiber scrubbing pads. And look for natural brushes made from bamboo like this 4 piece set or those made with replacement heads made with non-treated wood or recycled materials. I purchase scrub brushes and sponges for my DIY cleaning kit at the Grove Collaborative. Read more about why I use the Grove Collaborative here.

You'll need a variety of cleaning spray bottles to hold your homemade cleaners. And if you are planning to include any citrus essential oils, such as lemon essential oil, in your DIY cleaners, you'll want to use glass bottles only. This starter set of 15 amber glass bottles is the way to go!

For quick spill cleanups and dusting central air vents, among other things, you'll need a small dustpan and brush set. Preferably one with a good grip, bamboo handle, and natural bristles. This metal dustpan set will do perfectly and is small enough to tote from room to room.
As for floors, a large wood handle broom and metal dustpan work best. Find all my natural homemade floor cleaners for tile, wood, and more here. 

If you're going green then, it's time to stop the paper waste. That's really what zero waste living is all about – finding ways to reduce waste. So, put an end to paper towels or disposable wipe cleaners in your home. Believe it or not, you'll save money by picking up just one set of microfiber cleaning cloths or organic dish towels.

Grab all the seasonal cleaning checklists for spring, summer, fall, and winter in the Simple Living Library!
You might think you need a bunch of expensive ingredients or space in the garage to make your own cleaning solutions. But, that couldn't be further from the truth.
It only takes a few basic ingredients to make DIY cleaners. And just like the tools you've already gathered, you will likely have most of these lying around too.
Baking soda, also known as sodium bicarbonate, is a naturally occurring substance—best known for its use as a scouring agent and odor absorber.  Baking soda is also used in cleaning recipes to fight against dirt, grease, and odors. This cleaning agent alone is a must-have for your cleaning arsenal; I buy it in a one-pound bag here.

Castile soap is a concentrated vegetable-based soap made of ingredients you can actually pronounce. This soap is gentle on the skin and effective against dirt, grease, and unwanted germs. Castile soap can be used to clean just about anything and everything: your face, your shower, and even your dirty dishes! Yes, I'm a fan!! If you haven't tried it, start with a sample set.
Essential oils not only provide a wonderful natural fragrance to homemade cleaners but also contain powerful disinfecting properties. If you want to learn how to clean with essential oils, read more here for tips on choosing the best essential oils to clean your home naturally.

Sal Suds is Dr. Bronner's tougher version of soap, although its chemical makeup makes it a detergent, not a soap. Sal Suds is formulated to conquer tough cleaning projects such as unforgiving grease and stubborn dirt. And the Environmental Working Group gives it an A. Sal Suds is basically a tougher version of castile soap.
Vinegar contains 5% acetic acid that fights against bacteria on your surfaces. Although, because vinegar is acidic, it can cause some etching on granite, marble, or stone surfaces. Test it in an inconspicuous area or substitute rubbing alcohol for vinegar when needed. Regardless of its limitations, vinegar is a great all-purpose tool for your natural DIY cleaning kit.
Alcohol
Yep, we're talking about rubbing alcohol, isopropyl alcohol, and straight-up vodka.  Just don't use your husband's fancy vodka – go for the cheap stuff! Vodkas' high alcohol content happens to be perfect for killing germs and even mildew or mold. And it really helps shine chrome and glass in addition to killing odors. Rubbing alcohol and isopropyl alcohol are also antiseptic if you want to skip the liquor store.
It is easy to create a DIY zero waste cleaning kit ready to use room by room. Fill it with safe and effective homemade cleaners like the recipes below to get the job done, no matter the task!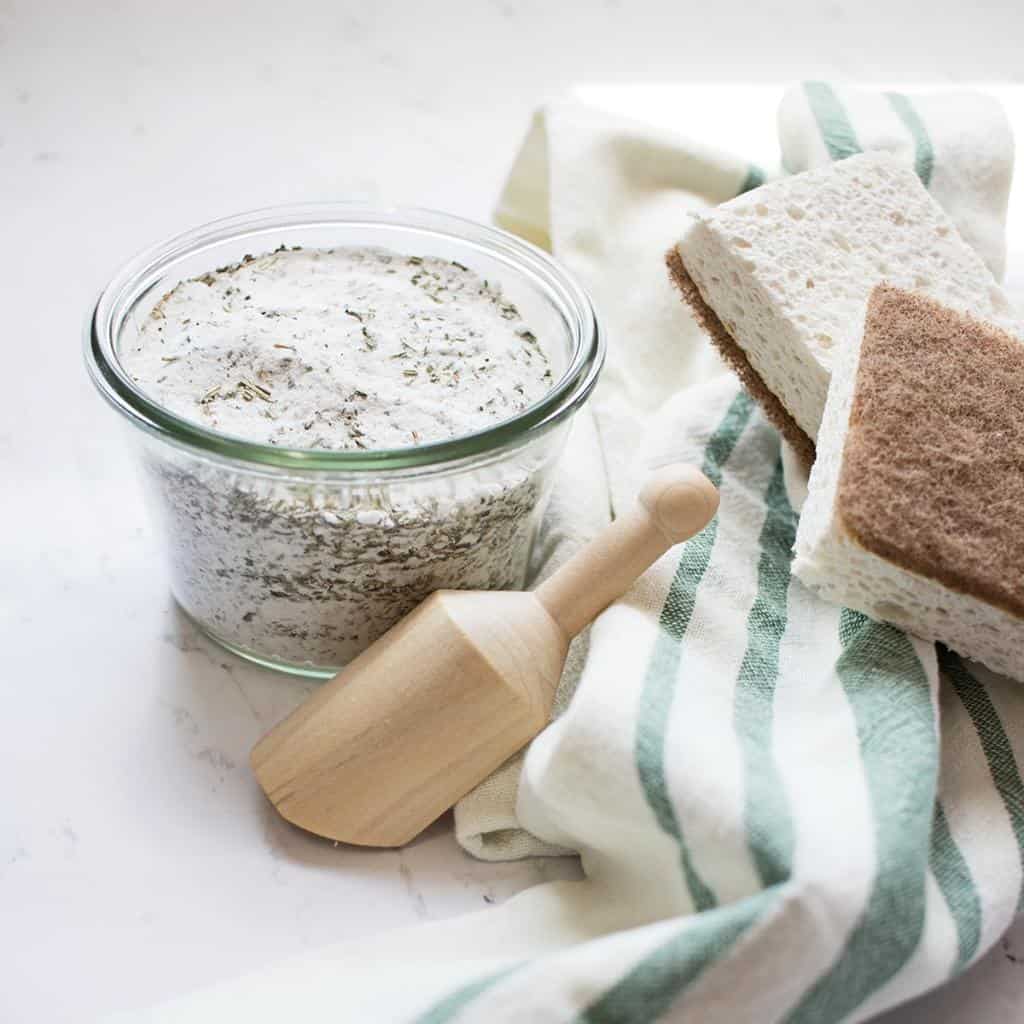 Cut through tough stains and brighten your kitchen sink with an all-natural, very effective herbal homemade scouring powder. It's affordable, easy to make, and it will make your kitchen sink clean and shiny!
Save time and money by making a natural daily shower spray a part of your daily cleaning routine. Just a few quick sprays every day after showering can keep mold, mildew, and soap scum away. Plus, the fresh scent of tea tree essential oil leaves your shower smelling clean.
Yeah, that's a win! Use this vinegar-free green cleaning recipe to fight soap scum on fiberglass, tile, marble, natural stone, and glass showers. For tips on tackling soap scum check out my Ulitmate Bathroom Cleaning Checklist!
This solution can be applied to much more than just countertops. It holds the simplicity of using just ONE cleaner for almost everything. The next time you're in a pinch to clean your home, grab a few cleaning cloths and a bottle of All-Purpose Natural Surface Cleaner.
Remove dust and help keep bugs away on your wood surfaces with this recipe for an all-natural Lemon Cedar Dust Spray and Polish. Boost your home cleaning with the cheerful scent of fresh lemons and cedar wood's warm, woodsy aroma all from essential oils!
Use the deodorizing abilities of lavender in this DIY carpet powder. Apply it to your high traffic, carpeted areas such as the living room carpet, stairs, and hallways. Once you try it, you'll want to use it every time you clean! And if come across any stains, this DIY natural carpet stain remover will do the job.
Don't miss this timesaving, completely effortless DIY Stainless Steel Cleaner. It's a must in my zero waste cleaning kit! If you tried a standard all-purpose cleaner, you'll likely found it doesn't work to clean stainless steel. In fact, I bet it made it even worse! Luckily, I found a solution a few years ago and haven't stopped using it since.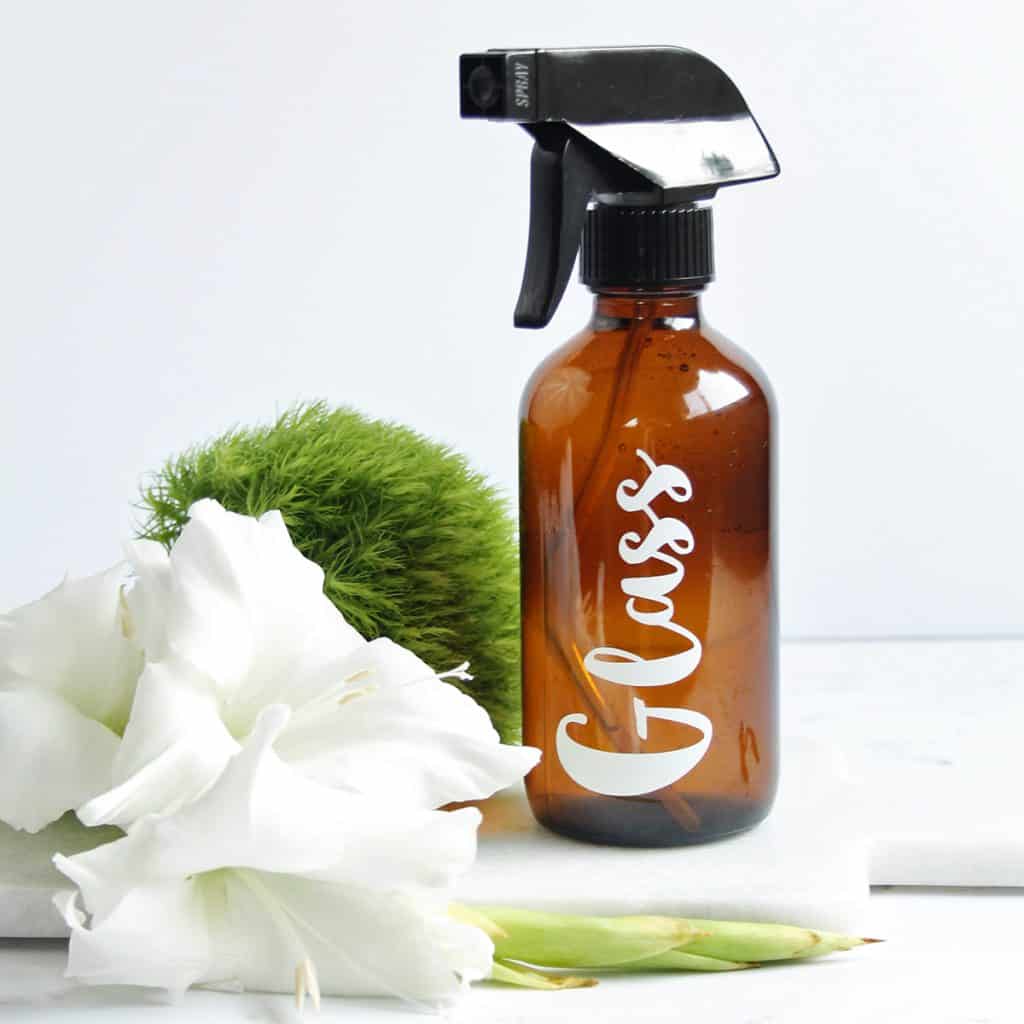 This recipe for a natural Streak-Free Glass Cleaner creates a professional foam spray without chemicals. And it's incredible for cleaning photo frames, mirrors, windows, and glass cupboard doors too!
Now, I could paint you a picture of a sparkly clean, clutter-free home. Or I could talk about the invisible bacteria lurking on your kitchen counters and in the bathtub… Instead, let me give you some creative ways to get motivated to clean.
Create a cleaning playlist with tunes to keep you motivated, just like the one you made for the gym. But throw in a little Frank Sinatra for dancing with the broom.
My mother always says to dress for the occasion. So, make get yourself a frilly apron and a pair of cute rubber gloves. Or go all out and play your part as the French maid, costume in all!
Think of your cleaning caddy like your junior high locker. Deck it out with magnets or personalize with paint and stencils. Either way, make it your own!
Creating a natural DIY cleaning kit makes regularly cleaning any room of your home stupid-simple! No wasting time on finding tools or wasting money on a dozen different cleaners. Pull it all together in one afternoon and you'll immediately see the difference the next time you clean! And so will your spouse if you order that french maid outfit…
What's your favorite zero waste cleaner? Did I leave something out? Share it with me in the comments below or send me a DM on Instagram at @lifenreflection. Pin this zero waste DIY cleaning kit to simplify your cleaning days!