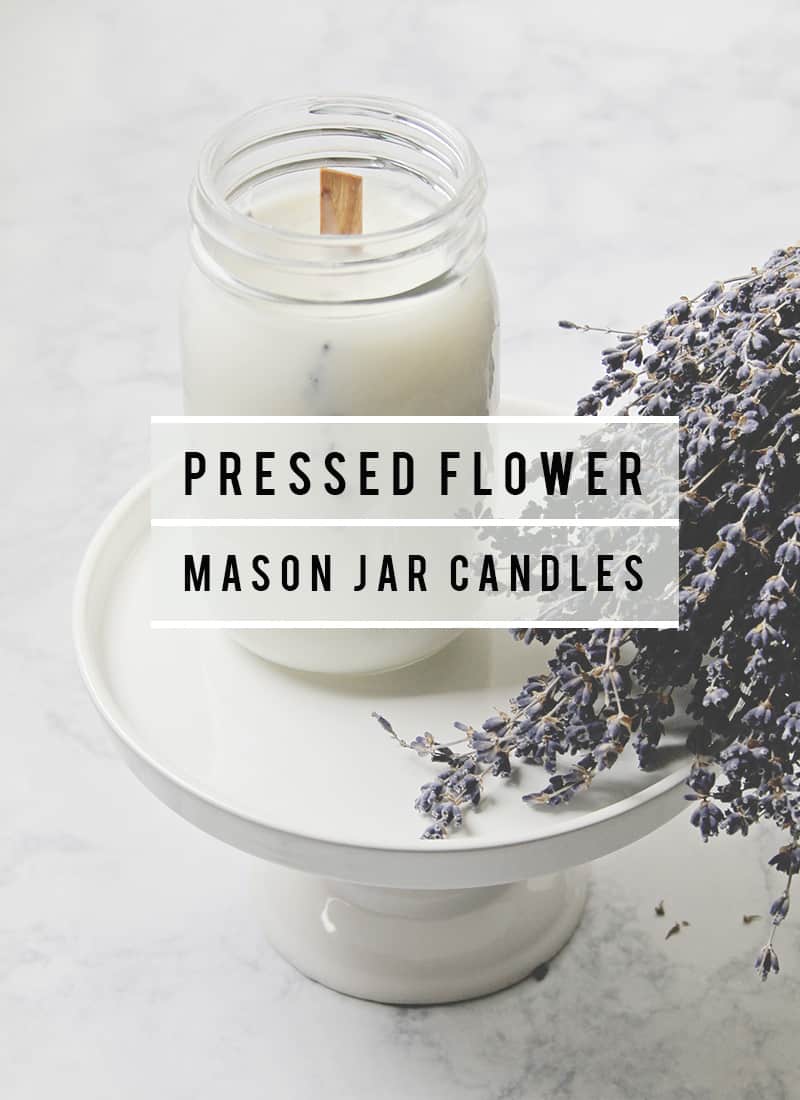 What is quite possibly the best way to fragrance your home?
Candles of course! Not only will they fragrance your home, they also make a beautiful decoration; especially in mason jars.
Save your lavender cuts from the garden or purchase a dried bundle at the farmer's market to make these natural soy candle mason jars. Once you've learned the technique below to make pressed flower candles you can really experiment and try flowers or even dried herbs from the garden. Such as mint and basil leaves. They really make a natural artful statement in candles and home decoration.  This post contains some affiliate links for your convenience, read full disclosure policy.

Supply List for Pressed Flower Mason Jar Candles:

Instructions to make Pressed Flower Mason Jar Candles:
Using glue dots adhere wood wick clips to the center base of each jar. Insert wood wicks and cut wicks to just meet the top of the jar, set aside.
Cut 12 sprigs of dried pressed lavender to the fit inside mason jars below the seal line, set aside.
Fill a large saucepan with about 2 inches of water and place it on the stove to heat. Place soy wax flakes in a metal candle, pouring pitcher and set inside the large sauce pain. Heat until melted using the double broiler method. Whisk often and heat until melted. Remove from heat immediately to avoid wax becoming too hot. Let wax cool to 120°F to 125°F before adding essential oils.
While cooling, use a 1/4 teaspoon measuring spoon to carefully add a line of hot wax inside a mason jar, while lying on it's side. Place one sprig of cut dried lavender into the wax. Lightly pour another 1/4 teaspoon of wax over the sprig. Repeat for the second jar. Return to the first jar and rotate the an inch or two and repeat to add another sprig of lavender. Continue onto each mason jar has the 5 to 7 sprigs of lavender.
When wax has cooled add essential oils and whisk to combine. Carefully pour scented soy wax into prepared mason jars. Let cool 30 minutes to 1 hour or until wax is hard and white. Place lids on jars to  close.
Note: Always burn soy candles long enough for the wax to melt across the container before blowing out the flame. This will avoid a tunnel forming in the wax and lowering the life of the candle.
Yields: 2 – 8 oz mason jar candles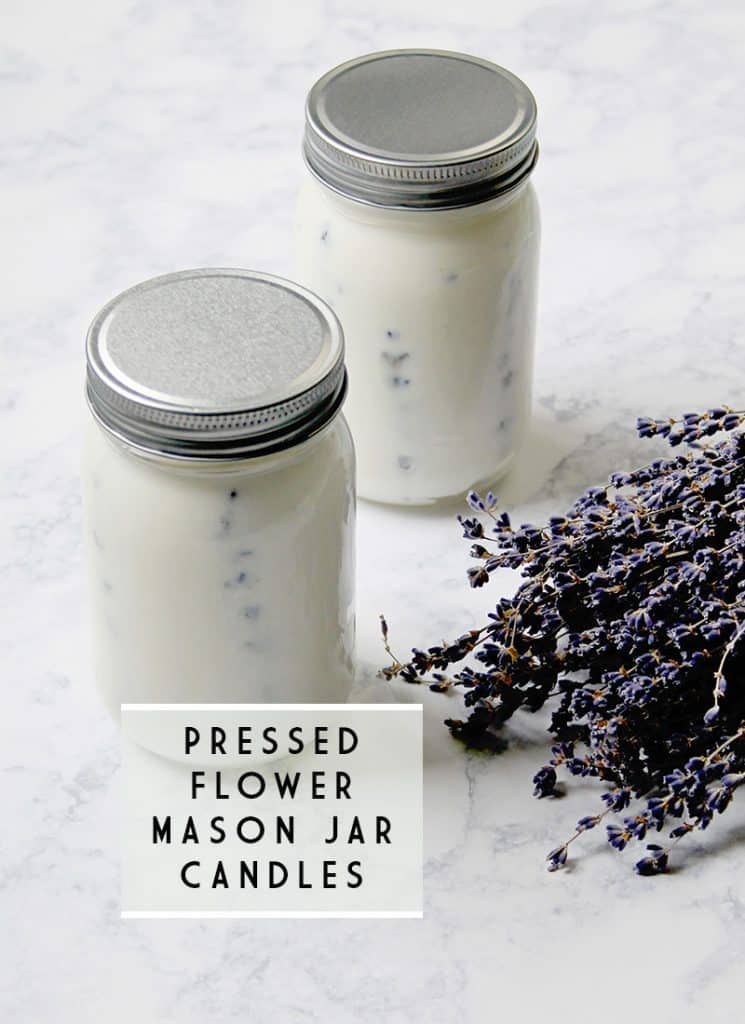 Now, light the crackling wood wick to enjoy the calming aroma of lavender and neroli in any room of your home. Save the extra candle for rewarding gift. Want more green recipes for home and beauty? Grab your copy of my Beginners Guide to Natural Living Book free!

Natural soy candles are hands down the best way to fragrance your home! Click To Tweet