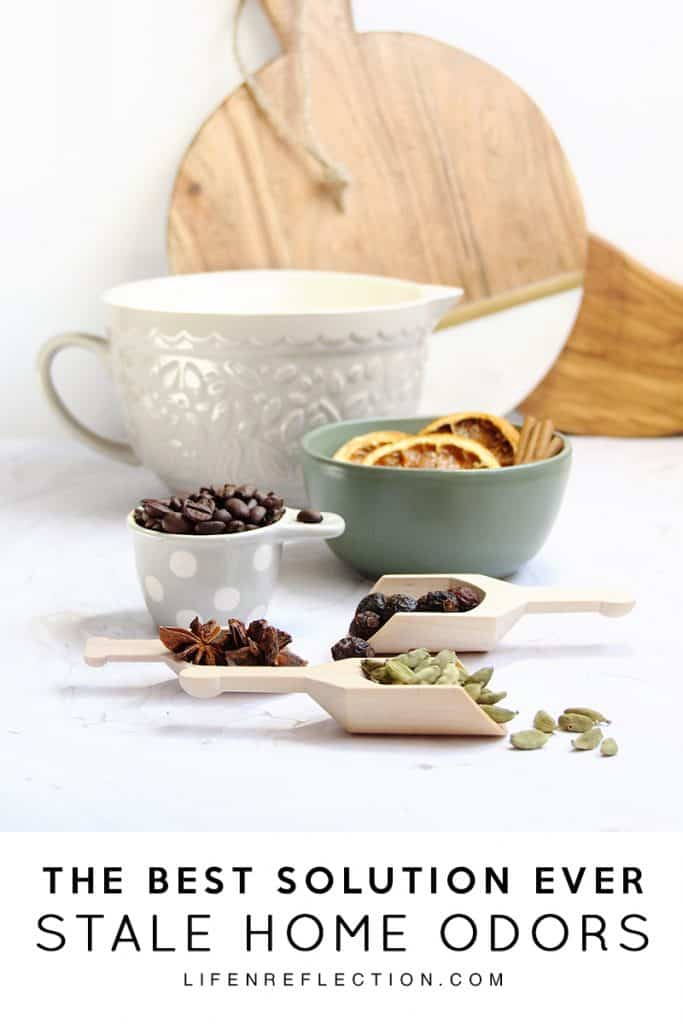 Banish Stale Odors with a Powerful Homemade Winter Spice Potpourri
As the winter months stretch on our homes can become stale. Without the windows and doors closed to keep the cold out, everyday household odors are trapped inside. I never miss a fresh spring breeze more than after my husband cooks seafood or fries a steak in his cast iron skillet.
The exhaust fan over the stove just doesn't do it. And while I love natural room sprays like my Winter Pine Room Spray, they are best used for a spritz in the kitchen after taking out the trash or freshening up the bathroom.
Room sprays just don't cut through some odors!
This post contains some affiliate links for your convenience, read full disclosure policy.
Make Your Home Smell Amazing with a Simmering Homemade Winter Spice Potpourri
No worries, I've got you covered and it doesn't require dangerous chemicals either. Did you know the Environmental Working Group rates the average room freshener at a D to F for significant hazards to health and the environment?
I challenge you to banish any odor in the home within 10 minutes of simmering this homemade winter spice potpourri! No joke, it is incredible and you really only need simple ingredients from your kitchen cupboards.
The combination of whole coffee beans, cinnamon sticks, and cardamom pods will make your home smell like the dreamiest sugar cookie latte. Try flavored coffee beans too like hazelnut or vanilla for more dreamy aromas.
Related: 10 Must Have Essential Oils
Related: Surprisingly Easy Spiced Chai DIY Candle Melts
Simmering Homemade Winter Spice Potpourri Ingredients:
3 to 5 cinnamon sticks
1 tablespoon whole cardamom pods
1/4 cup whole coffee beans
2 to 4 whole star anise
3 dried or fresh orange slices
1 tablespoon juniper berries
4 cups water
How to Make Homemade Winter Spice Potpourri:
Measure out dry ingredients and add to a medium stockpot. Pour 4 cups of water over dry ingredients and bring to a boil. Boil potpourri 2 to 3 minutes. Then reduce heat to a simmer. Simmer up to 4 hours, adding an additional 1/2 cup of water every half hour as needed.
This simmering homemade winter spice potpourri is my go-to after my husband has cooked until his "heart's content". It is hands-down the best solution ever to banish funky, stale odors in the home!