Can't Fall Asleep?
Being able to get a full night's sleep as an adult is hard.
Our fast-paced modern lives with endless distracting screens and daily stressors have caused an epidemic of sleep loss.
Many of us toss and turn at night, having trouble to our brains off.
This post contains some affiliate links for your convenience; read the full disclosure policy.
It truly comes down to this:
SLEEP –
GET ENOUGH…
and you'll feel like you are walking on sunshine.
DON'T SLEEP WELL…
and you're going to have a difficult time just making it lunch.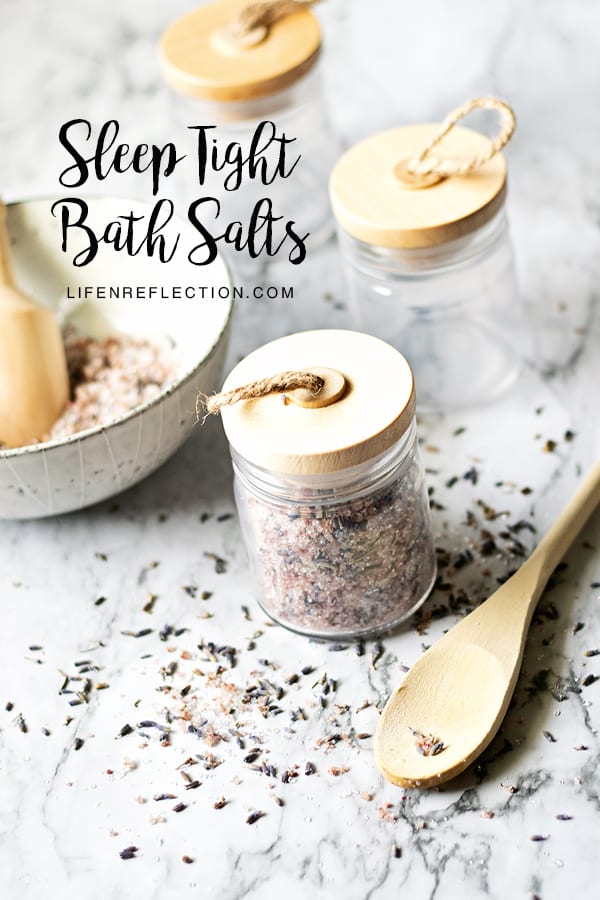 How do you claim more days walking on sunshine?
Short of tossing your phone out the window and canceling Netflix, we can use an age-old tradition to get the rest our minds and bodies need.
A restorative sleep-inducing bath ritual to ease away end-of-day anxieties and lull us to sleep is exactly what we need!
While just turning off our modern distractions is helpful, a bath filled with mineral salt and essential oils aids in calming the mind and body.

Related: All Natural Sleep Spray
Related: Easy Homemade Bubble Bath
How does Mineral Salt Baths Help You Sleep?
As mineral salts like Epsom and Dead Sea Salt dissolve in warm bath water, magnesium is absorbed by the skin, helping to replenish magnesium levels in the body.
And magnesium, did you know, helps improve sleep by promoting feelings of calm and relaxation from the effect of serotonin.
A deficiency of magnesium actually causes lower serotonin levels! And is often recommended as a supplement for sleep disorders.
This all happens by adding mineral salts to your bath in addition to reducing irritability and relaxing muscles. That's a win-win in my book!

Make Sleep Tight DIY Bath Salts for a Better Nights Sleep
This bath salts recipe combines Dead Sea Salt known to detoxify and cleanse the body with essential oils, rose sugar, and lavender buds to create a luxurious bath soak.
Dead Sea Salt contains 21 minerals in total! Calcium, iodine, potassium, and zinc, in addition to magnesium, help replenish the body's serotonin levels.
Blended with lavender buds, lavender essential oil, cedarwood essential oil, and vetiver essential oil to soothe the skin and boost sleep. Learn more about the best essential oils for sleep and relaxation at Oily Chic.
Along with rose sugar made with rose petals to naturally fragrance and nourish the skin.
Sleep Tight Bath Salt Ingredients:
½ cup dead sea salt
½ cup rose sugar
10 drops lavender essential oil
2 drops vetiver essential oil
4 drops cedarwood essential oil
¼ cup lavender buds
1 airtight eight-ounce jar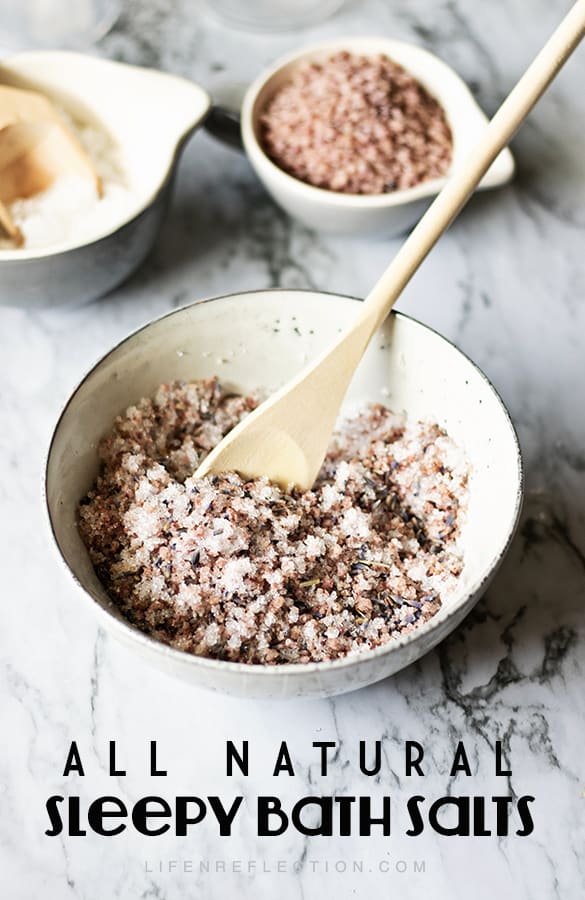 How to Make Bath Salts for Sleep:
In a small bowl, combine half of a cup of dead sea salt and rose sugar. Stir to mix and add 10 drops of lavender essential oil, 2 drops of vetiver essential oil, and 4 drops of cedarwood essential oil.

Stir well to blend thoroughly. Then add a fourth of a cup of lavender buds to the bath salt mixture. Fill an airtight jar with bath salts and store until use.
How to Use Sleep Tight Bath Salts:

Pour two to four tablespoons of Sleep Tight Bath Salts into a warm bath. Soak in the magnesium and boost serotonin for twenty to sixty minutes. Try it anytime if you've been having trouble sleeping.
You May Also Like: 10 Things for the Best Bath Ever
You May Also Like: Make a Rich Spiced Milk Bath
Create this Sleep Tight Bath Salt Recipe to relieve stress and tension before bed leading to a better night's sleep. I can attest these sleep-inducing DIY bath salts worked like magic to improve my sleep! And they make the PERFECT gift for anyone in your life that is having a hard time getting a good night's rest.