Top 5 Essential Oils for Fall Signature Scents
Who isn't drawn to colorful fall foliage, apple orchards, fall festivals, pumpkin patches, and cool crisp nights? With Autumn in full swing, I've been combining my favorite essential oils for fall to create signature scents. Then, I use the scents to infuse candles, room sprays, and more. All of which provide a comforting, uplifting aromatherapy for the season. This post contains some affiliate links for your convenience, read full disclosure policy.
How to Create Signature Scents using Essential Oils for Fall
Creating DIY signature scents with essential oils for fall is not only easy, it's fun! You'll be amazed by how many fall scents you can create with essential oils. Forget the unnecessary chemicals in air fresheners sprays, plug-ins, and candles as the store. If you are creating an autumn diffuser blend use a combination of 4 to 6 drops of essential oils. For fall infused room sprays start with the base recipe in my Pumpkin Spice Room Spray then substitute with your own signature scent. To create your own signature soy wax candle do the same with my Apple Blossom Candles and replace the essential oils with your choices. Try your signature fall scents in an odor eliminating carpet refresh powder too, recipe here. Using the list below of essential oils for fall below to get started!
Myristica fragrans
Spiced Cider / Pumpkin Pie / Harvest Time
Zingiber officinale
Trick or Treat / Gingersnap / Fall Leaves
Elettaria cardamomum
Crisp Cool Air / Autumn Bonfire / Pinecone Trial
Syzygium aromaticum
Spice Cake / Chai Tea / Pumpkin Spice Latte
Abies balsamea
Autumn Walk / Fall Breeze / Autumn Rain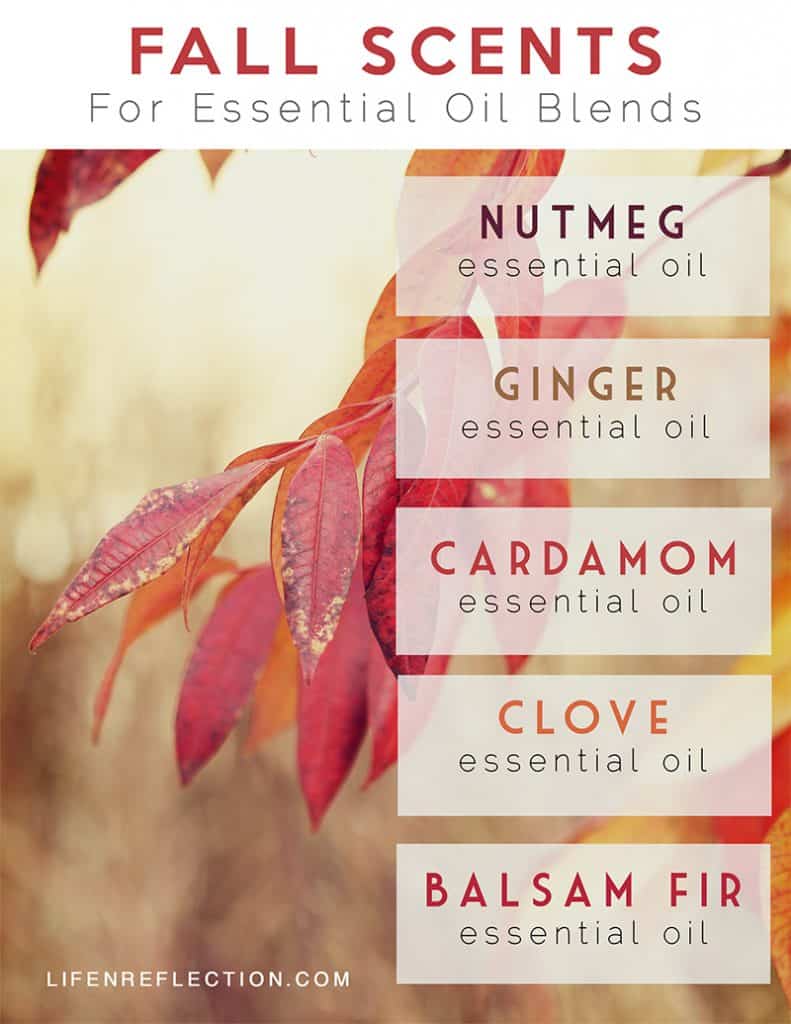 Printable Reference Guide of Essential Oils for Fall
Use this easy, printable reference list of essential oils for Fall to help you create your own Signature Fall Aromas. Grab it and many more printables in the Life-n-Reflection Resource Library.
I love creating my own signature scents using essential oils to match the season. Find my favorite Fall aromatherapy recipes in my book Aromatherapy: A Practical Guide for Home and Family.
Save