Is it good to exfoliate your lips with a DIY Lip Scrub?
This cinnamon DIY lip scrub and natural lip plumper is the best way to exfoliate and plump up lips. Made with just four ingredients for fuller, rosy lips!
Let me make this easy for you – YES, it's good to exfoliate your lips!
Even if you don't wear lipstick often or fuss with makeup, a lip scrub is a key to removing dead skin.
You see, exfoliating your lips removes the buildup of dry skin and allows moisturizes, such as a lip balm, to rebalance the lipid layer. The routine of using a DIY lip scrub actually keeps your lips fuller, healthier, and hydrated.
This post contains some affiliate links for your convenience; read the full disclosure policy.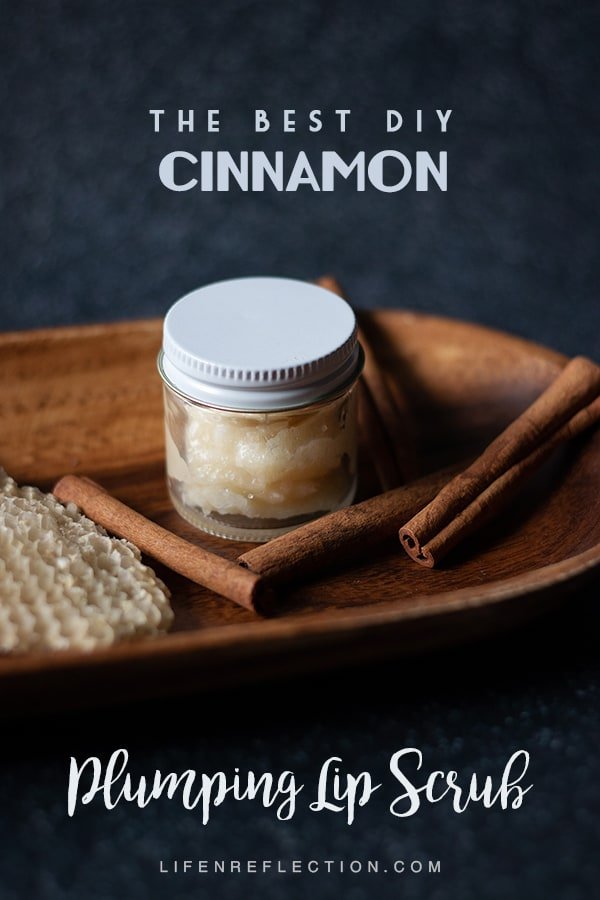 And a good DIY lip scrub not only exfoliates it also contains moisturizing agents too! Such as coconut oil that cleanses, hydrates, and leaves your lips with a beautiful sheen. And honey which is antibacterial, full of antioxidants, and draws in moisture to soften and soothe dry lips.
Many women dream of soft pouty lips. And some of them are willing to go under the knife to get them! Which is not only expensive but risky!!
Did you know you get soft pouty lips without the risks of spending thousands of dollars?
This DIY lip scrub recipe doubles as natural lip plumper!
Related: Cinnamon Honey Lip Balm
Related: Winter Skin Care Basics
How do you make a plumping lip scrub?
It starts with a common spice – cinnamon.
Cinnamon stimulates blood flow to the skin as a natural lip plumper. Combine it in a DIY lip scrub with a short massage to lips, and you'll have soft, voluminous lips guaranteed!
Cinnamon essential oil is the best way to create a lip plumper scrub as it has a large amount of cinnamon extracts. One little inexpensive bottle will make more lips scrubs than you can use!
But, you can exchange 1 teaspoon of ground cinnamon in the recipe for essential oil if needed.
Within just a few minutes of using, you'll see beautiful fuller lips looking back at you in the mirror. And the results will last for a few hours, plenty of time for a night out on the town!
Cinnamon DIY Lip Scrub Ingredients:
How to Make a Cinnamon DIY Lip Scrub & Plumper:
Add 2 tablespoons coconut oil, 2 teaspoons of honey, and 1 tablespoon granulated sugar to a small bowl. Mix with a fork until a scrub appears.
Add 4 drops of cinnamon bark essential oil. Blend with fork and spoon into a small jar or lip scrub tins.
What is the best way to exfoliate your lips?
Here's how to a use a lip scrub to exfoliate lips the best way:
Apply lip scrub plumper to lips with fingertips.
Gently massage scrub onto lip in a circular motion to get the moving beneath the skin with cinnamon. (You will feel a tingling sensation. If you feel a burning sensation remove it at once and make the scrub again with less cinnamon. Some people are sensitive to spices.)
Continue to massage for 1 to 2 minutes in order to remove dead skin cells.
Leave the scrub and natural lip plumper mixture on lips for 3 to 5 more minutes. This allows coconut oil and honey to moisturize and repair the skin. And the cinnamon to continue stimulating blood flow resulting in fuller lips.
Gently wipe clean with a damp warm washcloth and pat dry.
You May Also Like: 20 Things Women with Beautiful Skin Know
You May Also Like: DIY Scalp Scrub & Detox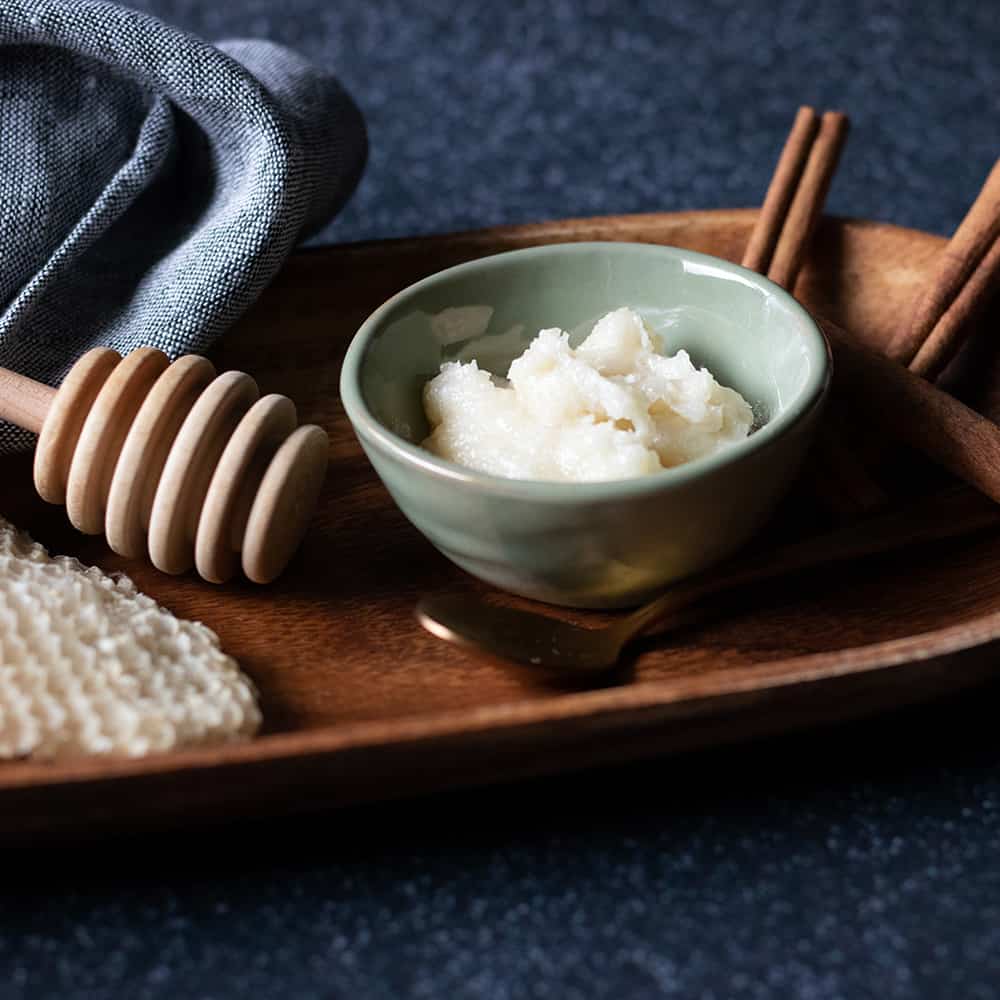 Enjoy fresh and plump, rosy lips with this Cinnamon DIY Lip Scrub & Natural Lip Plumper. Repeat a few times a week as you please.
I love to apply this cinnamon lip plumper before my husband, and I go out for the evening, just the two of us. For rosy full lips anytime, I apply homemade Cinnamon Honey Lip Balm. It makes my lips moisturized and lends a rosy appearance thanks to cinnamon without lipstick!
Pin these steps to plumping lips at home with a DIY lip scrub to add to your beauty routine. Have you made this? Tag #lifenreflection on Instagram to share yours!