Simmering Citrus Summer Stove Top Potpourri
Replace your typical air fresheners with a citrus summer stove top potpourri recipe.
I'm always after ways to bring the outdoors in and live seasonally. One of the best ways to do that is with scent.
In the cooler months of the year, I crave spicy aromas such as cinnamon, clove, and nutmeg. (If you're reading this and it's cold outside – grab my recipe for a simmering winter spice potpourri.) But, when things heat up, it's fresh citrus scents all around!
My go-to for scent is candle making, but sometimes I want something that will fill our entire home with a gorgeous aroma. A stove stop potpourri is an excellent way to clear the air and usher in a new season.
What is a stove top or simmering potpourri?
A simmering or stove top potpourri is essentially a mix of dry and wet ingredients that you boil in water. It's an excellent way to replace typical air fresheners.
With this citrus summer stove top potpourri recipe made up of simmering scents of lemon, lime, and vanilla, you can create a home fragrance without using a candle, wax melting, or diffusing device.
For your convenience, this post contains some affiliate links; read the full disclosure policy.
Related: My Secret to a Spring Fresh Home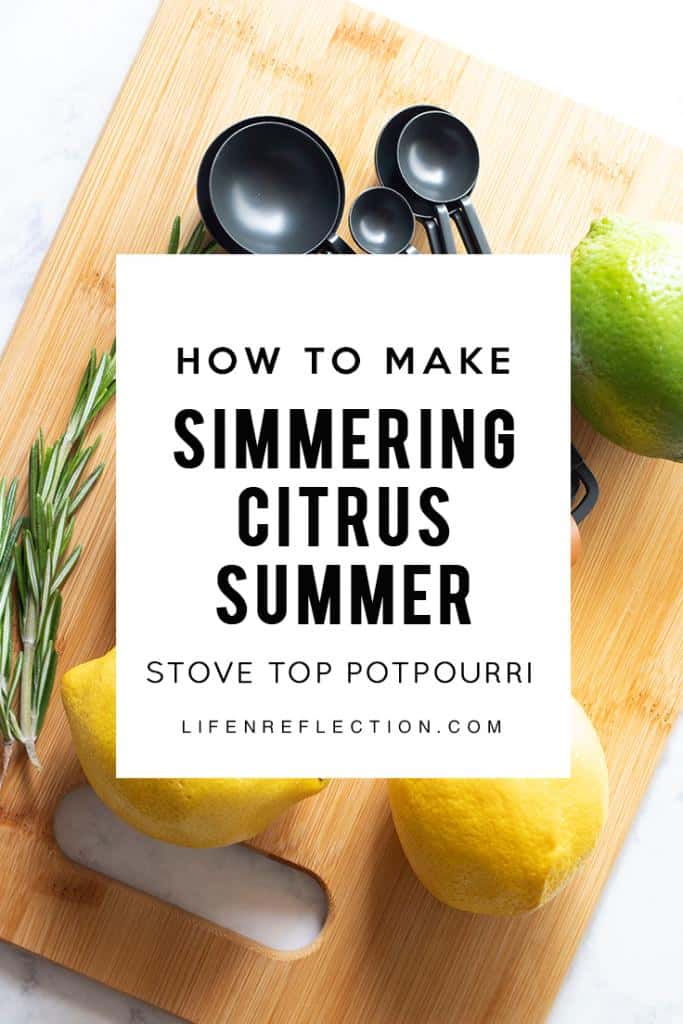 Why boil a stove top potpourri?
Well, maybe you haven't heard the Environmental Working Group rates the average room freshener at a D to F for significant health and environmental hazards. Thankfully, this simple simmering potpourri recipe will fill your home with fresh summer scents without any health hazards!
Unlike chemical fragrances that mimic the real deal, the aroma will last throughout the day even after you've stopped simmering this summer stove top potpourri.
Can you really boil potpourri? Absolutely, it's a lot like making mulled cider. You will need to keep an eye on it and continue to add a half cup of water about every half hour you choose to simmer it.
Have no fears; it's really simple. I like to simmer potpourri when decorating for the season or entertaining guests. In both instances, I'm in the kitchen a lot! So, it's easy to keep a watch on the potpourri. You'll likely find occasions that work best for you, too.  
Related: How to Make a Perfectly Fresh DIY Linen Spray

Creating a Simmering Stove Top Potpourri Perfect For Summer
You'll be surprised how simple it is to create a stovetop potpourri with just a handful of ingredients from your kitchen pantry! It's a simmering potpourri I come back to often.
I've found it's a great way to use lemons or limes past their prime. So, save this recipe to use when you find a lemon or lime that has lost its appeal.
Citrus Summer Stove Top Potpourri Ingredients:
4 cups water

2 lemons

1 lime

2 tablespoons vanilla extract

3 rosemary sprigs
How to Make Summer Stove Top Potpourri:
Slice one lime and two lemons. Place citrus slices in a large stockpot. Then add 3 fresh sprigs of rosemary and 2 tablespoons vanilla extract.
Next, pour 4 cups of water over the ingredients and bring it to a boil. Boil potpourri for 2 to 3 minutes. Then, reduce the heat to a simmer. Simmer for up to 4 hours, adding an additional 1/2 cup of water every half hour as needed.
Bring the outdoors in with simmering lemon, lime, vanilla, and rosemary scents. And replace your typical air fresheners with this citrus summer stovetop potpourri recipe.
What's New?
Save this easy simmering potpourri to your DIY Pinterest board, and while you're there, be sure to follow Life-n-Reflection for more inspiring ideas.