If I had the notion that soap making was this easy, I would be a soap manic by now!
After baking all day on a late Sunday afternoon last summer my mother and I sat across from each other flipping through pages of in depth soap making books. We had been talking about making handmade soap for a least year and we were itching to get started! The books were filled with all the tools we would need, safety instructions for working with lye, how to store soap, and the list goes on. The more we read the more we felt our dreams of making handmade soap would never come true.
Several months later as the leaves turned gold and crimson on the trees, I came across a soap making project on Pinterest that said you could make soap in less than 10 minutes. Shocked and skeptical, but interested I clicked the link to visit the website. "When what to my wondering eyes should appear", but a soap making recipe without a workshop full of tools, scary safety instructions, or lye! The recipe used an utterly simply natural goat milk soap base. I found pounds of it at my local craft store! Wouldn't you know the next weekend, our dreams of soap making came true!! And yours can too, try our simple handmade recipe for Lavender Goat Milk Soap below. This post contains some affiliate links for your convenience, read full disclosure policy. 
If I had the notion that soap making was this easy, I would be a soap manic by now! Click To Tweet
Supply List for Lavender Goat Milk Hand Soap:

1 tablespoon dried lavender buds

1/4 teaspoon rubbing alcohol

square silicone soap mold

soap knife
Instructions to make Lavender Goat Milk Hand Soap:

Clean the square silicone mold, dry and spritz with rubbing alcohol. Set the soap mold aside and chop up the goat milk soap base using a soap knife into small chunks. Toss chopped soap into a medium bowl. Place the bowl in the microwave and melt on 30 second intervals, stirring intermittently to avoid burning. Remove melted soap promptly from the microwave.
Add lavender essential oil to melted soap and whisk to combine. Add dried lavender buds and whisk thoroughly. Pour lavender soap into prepared silicone mold. Spritz with rubbing alcohol to remove bubbles in soap. Let soap cool in mold for 1 to 2 hours or until solid before removing from mold.
Yields: 2 soap bars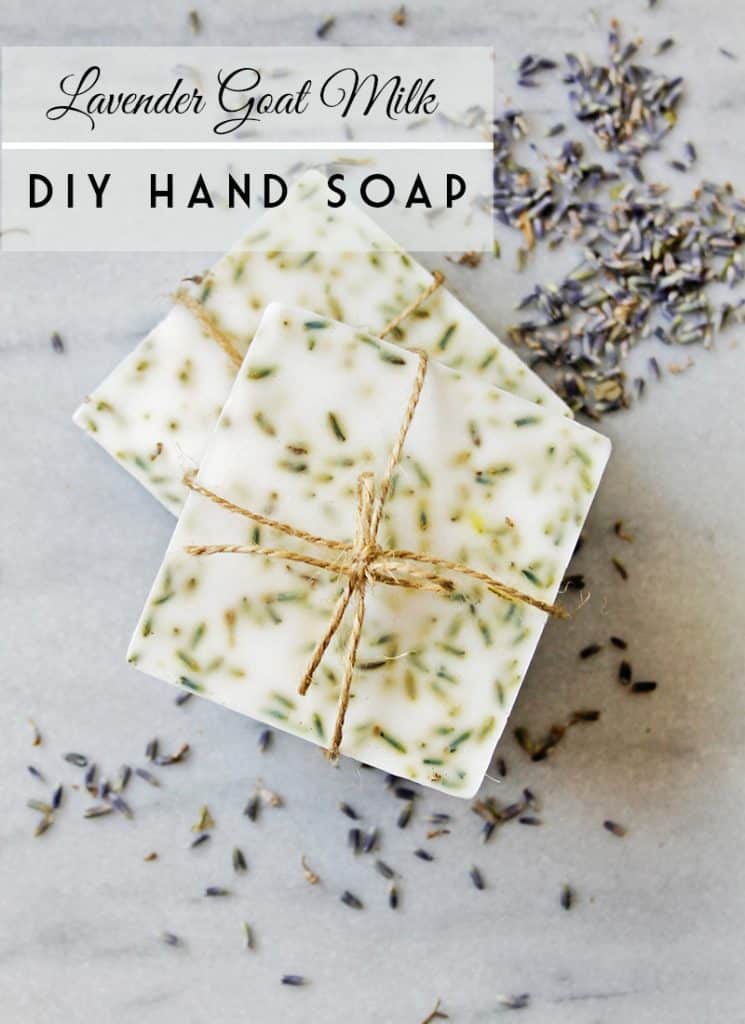 I just love how creamy, soft this soap is and the lavender buds just make it oh so pretty! Right? If you love the fragrance of lavender essential oil don't miss my recipes for Lavender Rose Bath Fizzies and Vanilla Lavender Linen Spray.  P.S. Watch for this recipe and more in my column of Willow and Sage magazine!
Want more green recipes for home and beauty? Grab your copy of my Beginners Guide to Natural Living Book free!