Indulge in an enriching Mint Lavender DIY Mineral Bath with ingredients right from your herb garden.
For thousands of years, pink Himalayan salt has been known for its many benefits. Packed with numerous minerals that are important for health – including calcium, iron, copper, iodine, zinc, magnesium, manganese, phosphorus, sodium, potassium, and selenium. No wonder, it is a favorite choice by many to soak in!
Pink Himalayan salt is so mineral rich, soaking in a bath of it helps our skin and bodies to absorb minerals. In fact, it's called dermal absorption when the skin soaks up minerals. The benefits of soaking in a mint lavender DIY mineral bath doesn't end here…
This post contains some affiliate links for your convenience, read the full disclosure policy.
Related: How To Create Authentic Green Tea Body Butter
Related: Everything You Need To Make Bath Bombs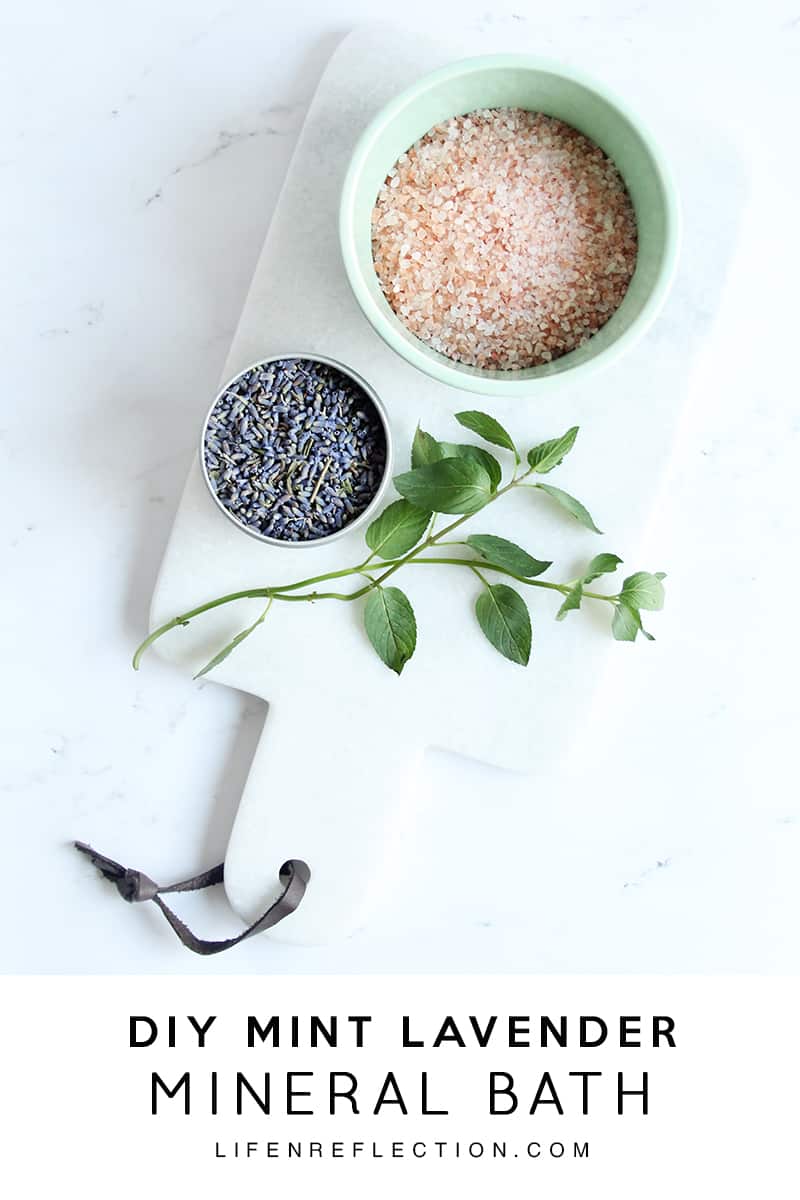 Additional Skin Loving Benefits of a Mint Lavender DIY Mineral Bath
When you immerse yourself in this mineral bath recipe you can sing the praises of apricot kernel oil too. Popular for its anti-aging benefits, apricot kernel oil is an extreme moisturizer. It absorbs quickly into the skin while providing deep moisturizing and anti-aging benefits. Add lavender essential oil to soothe and nourish the skin. While creating a relaxing environment with its well-loved aroma. Learn more about lavender essential oil in my article of 10 Must-Have Essential Oils or try it in my soothing recipe for Lavender Goat Milk Hand Soap too.
Create an at Home Spa Retreat
Indulge in a spa-like retreat at home with the addition of fresh-cut or dried herbs from the garden. I added chocolate mint leaves fresh from my herb garden. It literally smells like chocolate mint!
You can substitute it with popular lemon balm mint found out most grocery stores. Either will add a fresh invigorating aroma to the mineral bath. Last, I tossed in lavender buds I dried in my dehumidifier. Soaking in a hot bath with herbs floating atop the water and gracing your skin is a grounding experience.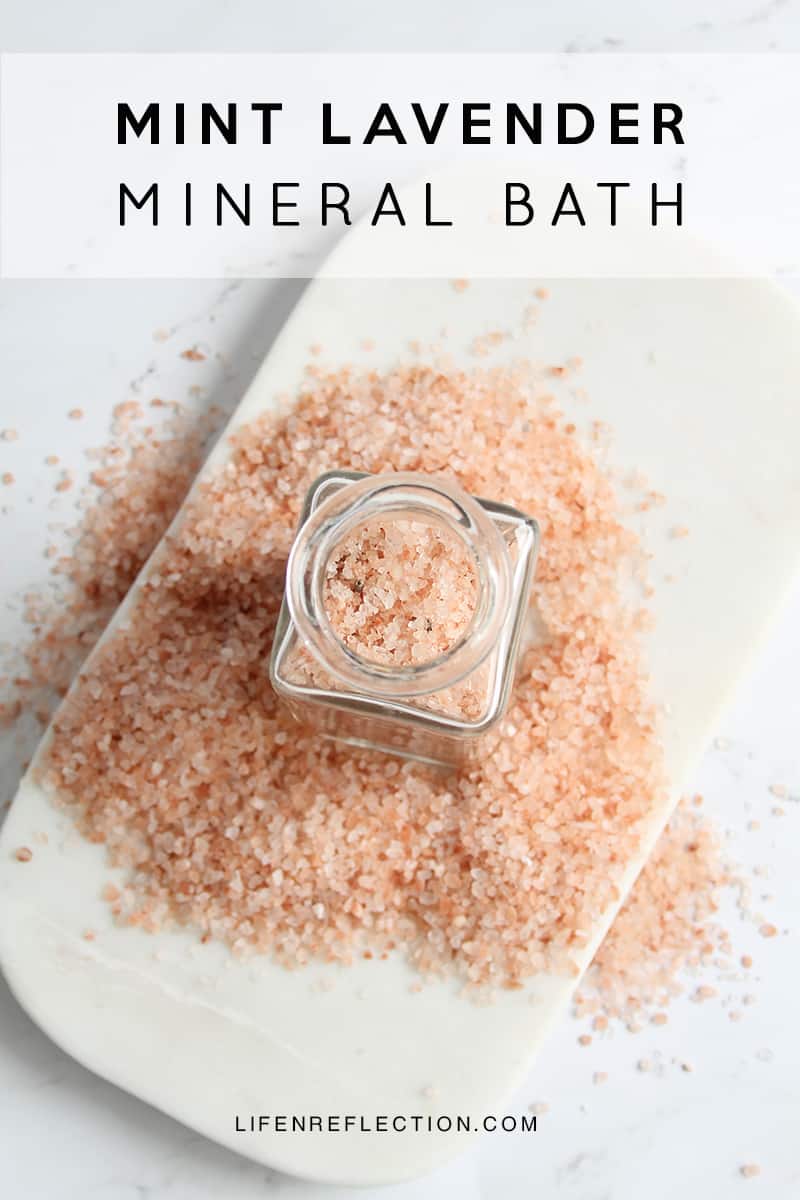 Ingredients for a Mint Lavender DIY Mineral Bath
1 cup pink Himalayan salt
4 drops lavender essential oil
1 teaspoon apricot kernel oil
4 chocolate mint leaves
1 teaspoon lavender buds
How to Make a Mint Lavender DIY Mineral Bath
Chop 4 chocolate mint leaves and set aside.
In a medium mixing bowl combine 1 cup pink Himalayan salt and 1 teaspoon apricot kernel oil. You can substitute apricot kernel oil for sweet almond oil if needed. Whisk well to evenly coat.
Add 4 drops of lavender essential oil and whisk to thoroughly blend fragrance.
Next, add prepared chopped mint leaves and 1 teaspoon lavender buds.
Last, whisk to blend in herbs. Pour mint lavender DIY mineral bath into airtight containers (These are the ones I used!).
Yields 8 ounces
Add a trendy yet practical label to this mint lavender DIY mineral bath. Grab it and many more printables in the Simple Living Library. Print the mineral bath label on sticker paper or on lightweight card stock and attach it with clear packing tape.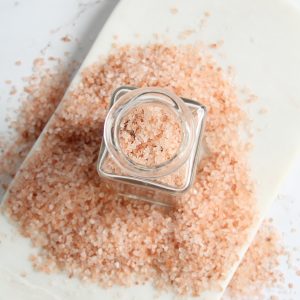 Pour 2 to 4 tablespoons of mint lavender DIY mineral bath into running bathwater. Step in and enjoy a relaxing herbal bath soak.  If you enjoy making things for yourself too check out the Clean Beauty Bootcamp!
To use as a body scrub, scoop a small amount into your hand and massage in a circular motion into your skin. Avoid contact with eyes and rinse with water. Repeat one to two times per week for smoother softer skin.