In a pinch with little time to clean? Turn to this DIY all purpose natural surface cleaner!
This DIY all purpose natural surface cleaner works as one cleaner for almost everything! Clean your windows, microwave, sink, shower, oven, and more.
If you're in a time crunch to clean? Do you have guests arriving sooner than expected or a toddler who's recently given up their morning naps? Either will leave with little time to clean up!
If you find yourself in a similar situation this recipe for a DIY all-purpose natural surface cleaner will be your new best friend! Don't let the word surface fool you – this cleaning solution can be applied to much more than just counter-tops.
It holds the simplicity of using just ONE cleaner for almost everything.
According to Good Housekeeping, a cleaning mixture of 50% white vinegar, 50% water, and essential oils is an effective natural cleaner. And that's exactly what we are going to create here with essential oils known for their cleaning abilities. Ready to give it a try?
This post contains some affiliate links for your convenience, read the full disclosure policy.
Related: DIY Natural Stain Remover Spray

What's in it?
This recipe starts with vinegar, a great all-purpose tool for your natural cleaning toolbox. It contains 5% acetic acid that fights against bacteria on your surfaces! Although, because vinegar is acidic, it can cause some etching on granite, marble, or stone surfaces.
Test it an inconspicuous area or substitute rubbing alcohol for vinegar in the ingredients below. Rubbing alcohol also gives counter-tops with a sheen a streak-free finish. This recipe for an all-purpose cleaner includes the following powerful cleaning essential oils:
Lemon Essential Oil
You can't go wrong with the fresh, zesty aroma of lemon essential oil! It is a powerhouse in homemade cleaning recipes. Lemon essential oil is commonly used to de-grease, remove stains, and deodorize. That zesty aroma wipes out strong, unpleasant odors!
CLEANING BENEFITS:
Stain-Lifter
Plant-Based
Natural Cleaning Agent

Odor Eliminator

Non-Toxic
Multi-Purpose
Rosemary Essential Oil
Rosemary essential oils' natural properties make it a great addition to homemade cleaning solutions. I love to combine rosemary essential oil with lemon, peppermint, or lavender for a lovely fresh scent.
CLEANING BENEFITS
Clean Herbal Scent
Plant-Based
Non-Toxic
Naturally Derived
Natural Cleaning Agent
Eucalyptus Essential Oil
A natural cleaner at heart, eucalyptus essential oil is powerful against troublesome dust mites and other pests. Use it to deter pests on your linens and in your cupboards. Its clean smell is also effective against stinky bathroom odors.
CLEANING BENEFITS
Odor Eliminator
Plant-Based
Non-Toxic

Insect Repellent

Fresh Clean Scent
Naturally Derived
Clove Essential Oil
The warm, spicy scent of clove essential oil is often instantly familiar because of its connection with fall and winter traditions. Pumpkin pie anyone? The oil comes from flower buds of the clove tree in exotic Indonesia, Madagascar, and the Melaka Islands. It is an effective moth repellent and commonly used as an air freshener.
CLEANING BENEFITS
Insect Repellent

Plant-Based
Multi-Purpose
Non-Toxic

Odor Eliminator
Related: Heavy Duty DIY Natural Kitchen Cleaner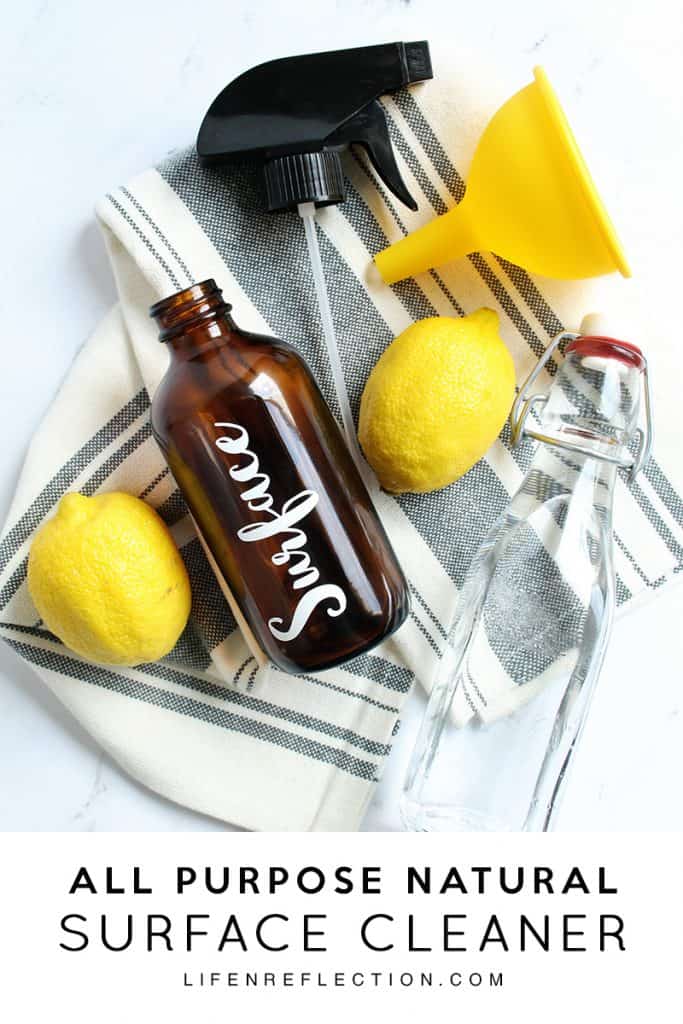 How Do You Make An All-Purpose Surface Cleaner with Natural Ingredients?
DIY All-Purpose Surface Cleaner Ingredients:
4 ounces distilled water
4 ounces distilled white vinegar
3 drops clove essential oil
2 drops rosemary essential oil
3 drops eucalyptus essential oil
4 drops lemon essential oil
How to make a DIY All-Purpose Natural Surface Cleaner:
Pour four ounces of water and four ounces of vinegar into a glass spray bottle using a funnel. Remove the funnel and add 3 drops clove, 2 drops rosemary, 3 drops eucalyptus, and 4 drops of lemon essential oil.
Place the spray nozzle on the bottle. With the spray nozzle turned off, shake well to combine. Keep in mind citrus essential oils should be stored in glass containers (these are the amber glass spray bottles I use). Yields: 8 ounces
Use this natural solution to clean:
Windows
Carpet Stains
Oven
Microwave
Mirrors
Toilet
Sink
Shower
Floors
Shake before each use. Spray DIY all-purpose natural surface cleaner on the desired surface and wipe clean with a cloth. Want more green recipes and tips for home and beauty?
So the next time you're in a pinch to clean your home, grab a few cleaning cloths and a bottle of this DIY All-Purpose Natural Surface Cleaner. Then spray down your bathroom, kitchen, or toy room and wipe clean!

YOU MAY ALSO LIKE:
Pin this natural cleaning recipe to your Pinterest cleaning board, and while you're there, follow Life-n-Reflection for more DIYs! Did you know you can tag #lifenreflection on Instagram to share your natural cleaning tips?