To Scrub or Not to Scrub
Cut through tough stains and brighten your kitchen sink with an all-natural, very effective herbal homemade scouring powder. It's affordable, easy to make and it makes my kitchen sink clean and shiny!
There are many cleaning products out there that claim to be a "no-scrubbing" wonder.  And I can attest that in some cases this is quite true. For example, my recipe for daily shower spray doesn't require any scrubbing. But, it really works best as an in-between (extend the clean) after using my DIY bath and shower scrub weekly or bi-weekly.  And it really does make cleaning easier, so the soap scum doesn't build up like concrete!
Who doesn't want to make cleaning easier?
Unfortunately, the no-scrubbing cleaners only work so well or for so long. Some things you just have to give a scrub! Like the kitchen sink – tea, coffee, and pasta sauce can really dirty things up. And it doesn't matter if you have a stainless steel sink or white stone farmhouse sink like me. You're going to notice the filth.
This post contains some affiliate links for your convenience, read full disclosure policy.
Related: 20 Staples for Green Living
Related: Easy Natural DIY Carpet Stain Remover Recipe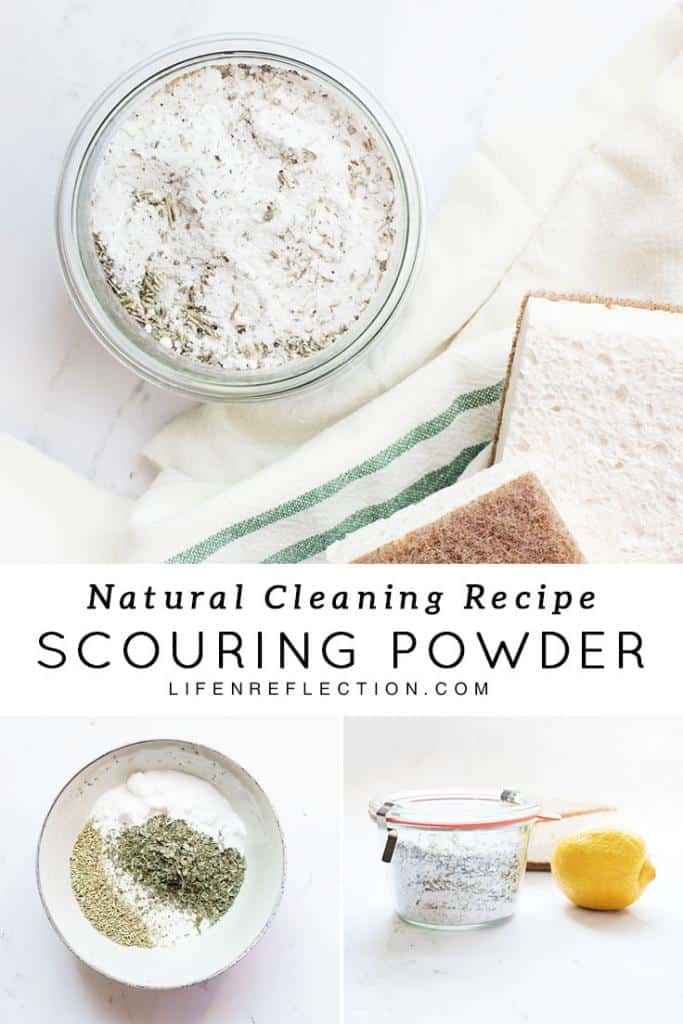 Why make your own homemade scouring powder?
First off it's perfect for cleaning the filth and grime off of porcelain, fiberglass, and stainless steel sinks. Secondly, one of the most popular scouring powders on the market has a safety rating of "F" by the Environmental Working Group (source). They found it contained 146 different chemicals including chloroform, formaldehyde, and benzene. … Which might explain the strong flumes and warning to wear gloves. Luckily we can make our own homemade scouring powder without harmful chemicals and for incredibly less cost! This cleaning recipe is all-natural, very effective, and totally customizable too!!
5 Benefits of Using Herbal Homemade Scouring Powder
#1 It's Cheap: In my experience, you can pick up a box of baking soda for $1 or less. That is significantly less expensive than any store-bought cleaner. And if you buy it in a one-pound bag like this one you can use it for other cleaning recipes such as my lavender carpet powder or fridge deodorizer. Also known as sodium bicarbonate, baking soda is a natural disinfectant that fights against dirt, grease, and odors.
#2 It's Effective: While baking soda is often used as a scouring powder. Some stains such as hard water and wine require stronger cleaning methods. Washing soda, also known as sodium carbonate is extremely alkaline. It very effective against hard water because it binds to the minerals and lifts stains. And this recipe includes citric acid (find an organic 1 lb bag here). Found abundantly in lemons and limes, citric acid is incredibly helpful at removing calcium deposits, hard water stains, lime, rust, and soap scum.  
#3 It's Multi-Surface: This herbal scouring powder can be applied on porcelain, stainless steel, fiberglass, and most stovetops. As always with a new cleaner, spot test a small area first.
#4 It's Safe: A safe cleaning recipe for kids and pets. Chlorine and borax free equals worry-free. And did I mention there are no flumes!
#5 It's Easy: This herbal homemade scouring powder is so so easy to make! It'll scrub away tough stains and reduce scratches with just a few ingredients. And you customize the recipe with dried herbs and essential oils you have on hand.
Herbal Homemade Scouring Powder Ingredients:
½ cup washing soda
½ cup baking soda
1 ½ teaspoons citric acid
¼ cup rosemary leaves, dried
¼ cup lemon balm, dried
3 drops rosemary essential oil
How to Make Herbal Homemade Scouring Powder:
In a small glass mixing bowl combine ½ cup washing soda, ½ cup baking soda, and 1 ½ teaspoons citric acid. Mix together using a metal whisk, then add ¼ cup rosemary leaves and ¼ cup lemon balm. Begin to mix once more and while whisking add 3 drops of rosemary essential oil. Store in an airtight container.
To customize this recipe exchange the rosemary or lemon balm for another herb such as lavender or eucalyptus. And the same goes for the essential oil. I choose rosemary essential oil for its natural cleaning properties which make it a great addition to homemade cleaning solutions.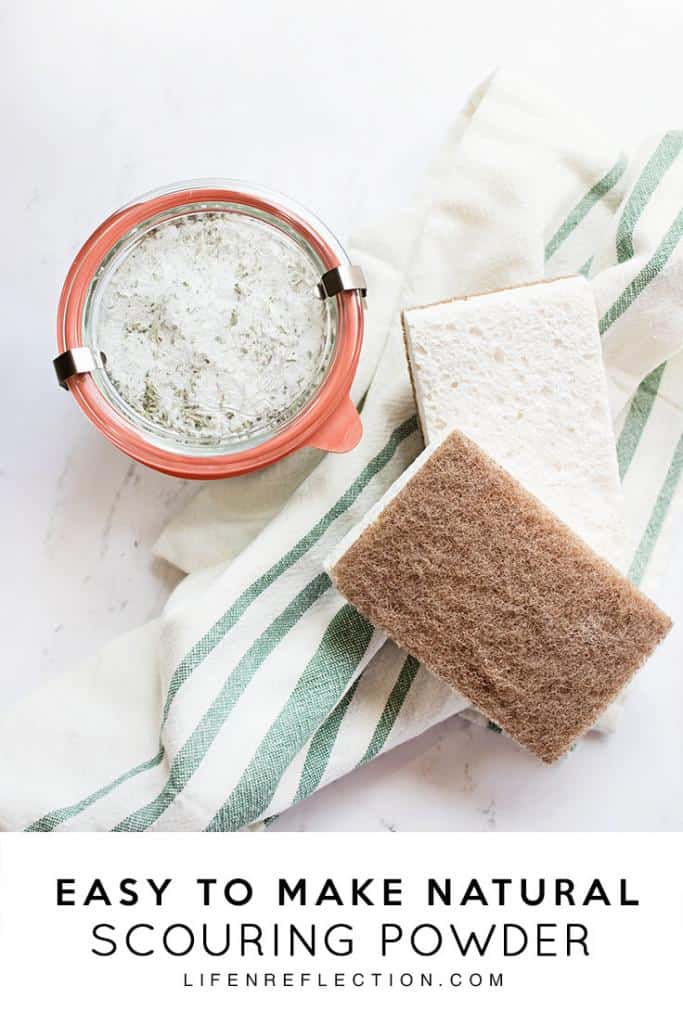 How to Use Herbal Homemade Scouring Powder
Rinse surface you're cleaning such as the kitchen sink with water. If I have a lemon going too soft for lemon water, I like to squeeze the juice over the sink first.
Then sprinkle a small amount of scouring powder on the area. Be sure to test spot a small area first. Using a scrubbing brush or sponge scrub the surface. Then rinse with hot water.
For sinks, bathtubs or pots and pans fill with a half ratio of hot water and distilled white vinegar after scrubbing. Let stand for 15 to 20 minutes before draining.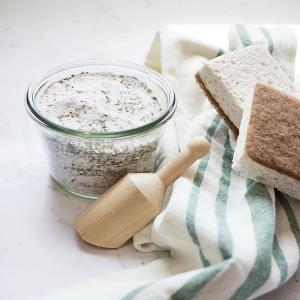 I love making this herbal homemade scouring powder. It's affordable, free from harsh chemicals, and it makes my kitchen sink clean and shiny! If you're not up to creating your own homemade cleaners yet, grab a free natural cleaning kit from the Grove Collaborative.