Easy Natural Carpet Stain Remover
Is it just me or do you seem to accumulate more carpet stains during the holiday months in your home? Maybe it's all the extra guests or the hot cocoa by the Christmas tree? Either way, once the turkey is carved, presents are unwrapped, and the tree is down the carpet stains start to appear. With a toddler in the household there's no way I'm spraying chemicals all over to get those stains out! So, what's a green living girl to do? Why, make her own natural carpet stain remover of course.
What makes it work?
For starters, hydrogen peroxide binds and lifts the stain. While baking soda works to remove dirt and grime. Then orange essential oil, also called sweet orange oil swoops into work it's magic on tough stains! Derived from the outer peel of the common orange, it like most citrus oils acts as a natural degreaser and combats stains without harsh chemicals. I've used this natural carpet stain remover on new and old stains with great success! For colorful or dark carpets use white distilled vinegar in place of hydrogen peroxide, as it can bleach carpets. This post contains some affiliate links for your convenience, read full disclosure policy.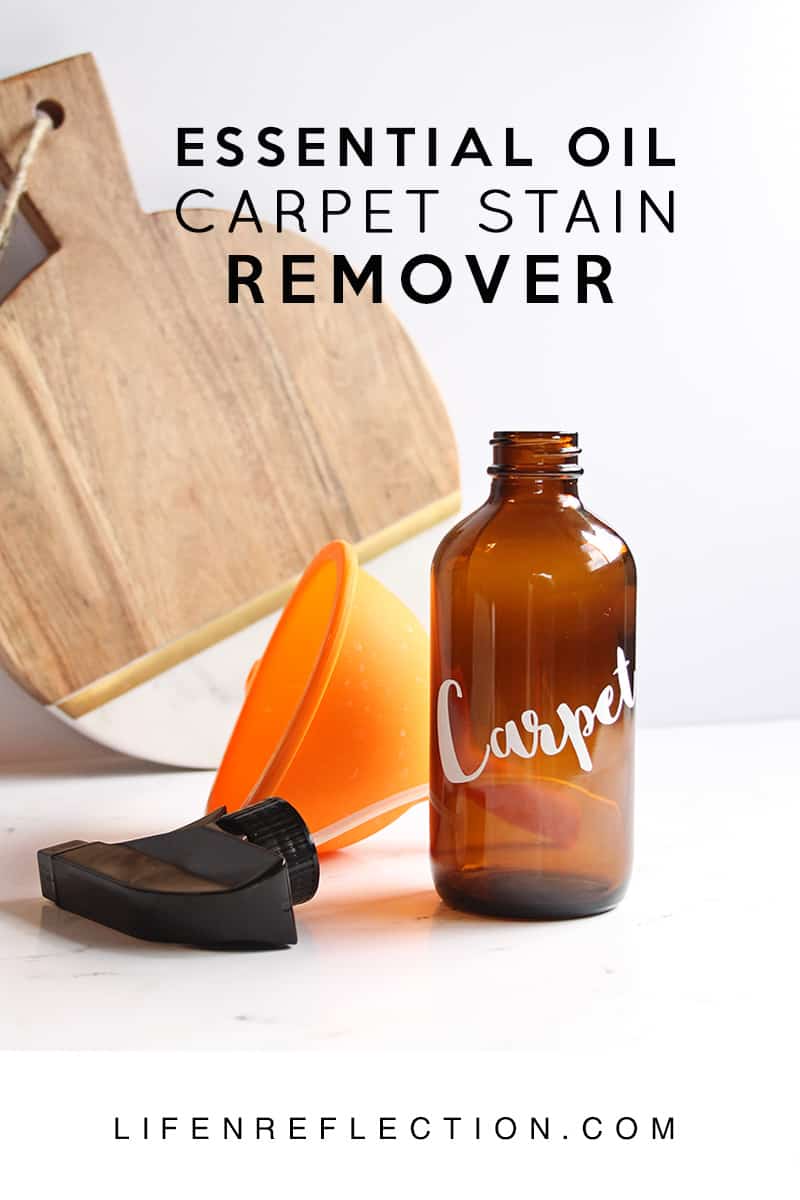 Supplies for a Natural Carpet Stain Remover
1/4 cup baking soda
1/4 cup warm water
6 drops orange essential oil
1/4 cup hydrogen peroxide or distilled white vinegar
1 glass spray bottle, 8 ounces
How to make a Natural Carpet Stain Remover
In a small mixing bowl combine baking soda and warm water. Whisk to combine and partially dissolve. Using a funnel pour water mixture into spray bottle. Add 6 drops of essential oil and pour in hydrogen peroxide or white distilled vinegar. Place the nozzle on the spray bottle and shake well to combine. Keep in mind, citrus essential oils should be stored in glass containers.
To Use Natural Carpet Stain Remover
As always, begin by testing a small area with a new cleaner. Shake before use. Then spray carpet stain and let sit for 15 to 30 minutes.  Then add a small amount of warm water as needed and scrub the stain. Wipe clean with a microfiber or moisture absorbing cloth. Want more green recipes for home and beauty? Grab your copy of my Beginners Guide to Natural Living Book free!
If you uncover some hidden surprises, a.k.a. ugly carpet stains after the holidays too, mix together a bottle of this easy natural carpet stain remover. Spray it on and sit back and relax with another cup of hot cocoa while it works it's magic. Then scrub away to reclaim your beautiful, or in my case not so ugly carpet. I love using essential oils to naturally clean our home, if you would like to know more, check out how I got started with essential oils  I began with. P.S. Don't miss my 20 Must Have Green Living Essentials including my staples for making DIY cleaners!
Save
Save