Save Money with 6 Cleaners to Stop Buying Today!
This is one of the easiest and effective tactics to save money, pay off debt, or just have extra cash without starting a side hustle!
The simplicity of changing your spending habits can really put money back in your pockets. Especially, when you stop buying things you regularly spend money.
This post contains some affiliate links for your convenience, read the full disclosure policy.
Why Natural?
Unfortunately, many popular household cleaners unbeknown to the consumer are truly toxic. According to the Environmental Working Group, the average household contains 62 known toxic chemicals. That's more than one too many in my book!
I know from experience one of the biggest challenges to living a more natural lifestyle is cleaning the home.
Honestly, learning to live more in-line with nature is all about consciously making better choices every day.
What Do You Need to Start Making Cleaning Solutions?
You may be thinking you'll need a bunch of expensive ingredients or space in the garage to make your own cleaning solutions. But, that couldn't be further from the truth.
It only takes a few basic ingredients to make DIY cleaners. And you will likely find that you have most of these laying too. Find a quick list of cleaning ingredients here.
Skip the Overwhelm
First, let me point out, you don't have to start making all of the natural cleaners below today!
Start by choosing one of the cleaners to stop buying and start making. Then as you use up a store-bought cleaner replace it a homemade version.
But, once you make one you'll see how easy it is and you'll likely start adding up the savings too. Just think how much you'll save when you don't have to add the cost of these to your grocery list every month…
6 Cleaners to Stop Buying and Start Making: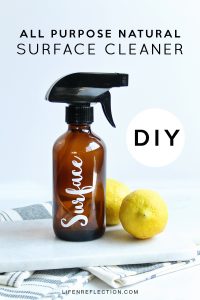 This solution can be applied to much more than just countertops. It holds the simplicity of using just ONE cleaner for almost everything. The next time you're in a pinch to clean your home, grab a few cleaning cloths and a bottle of All-Purpose Natural Surface Cleaner.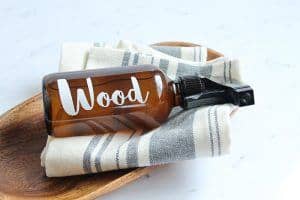 Remove dust and help keep bugs away on your wood surfaces with this recipe for an all-natural Lemon Cedar Dust Spray and Polish. Boost your home cleaning with the cheerful scent of fresh lemons and cedar wood's warm, woodsy aroma all from essential oils!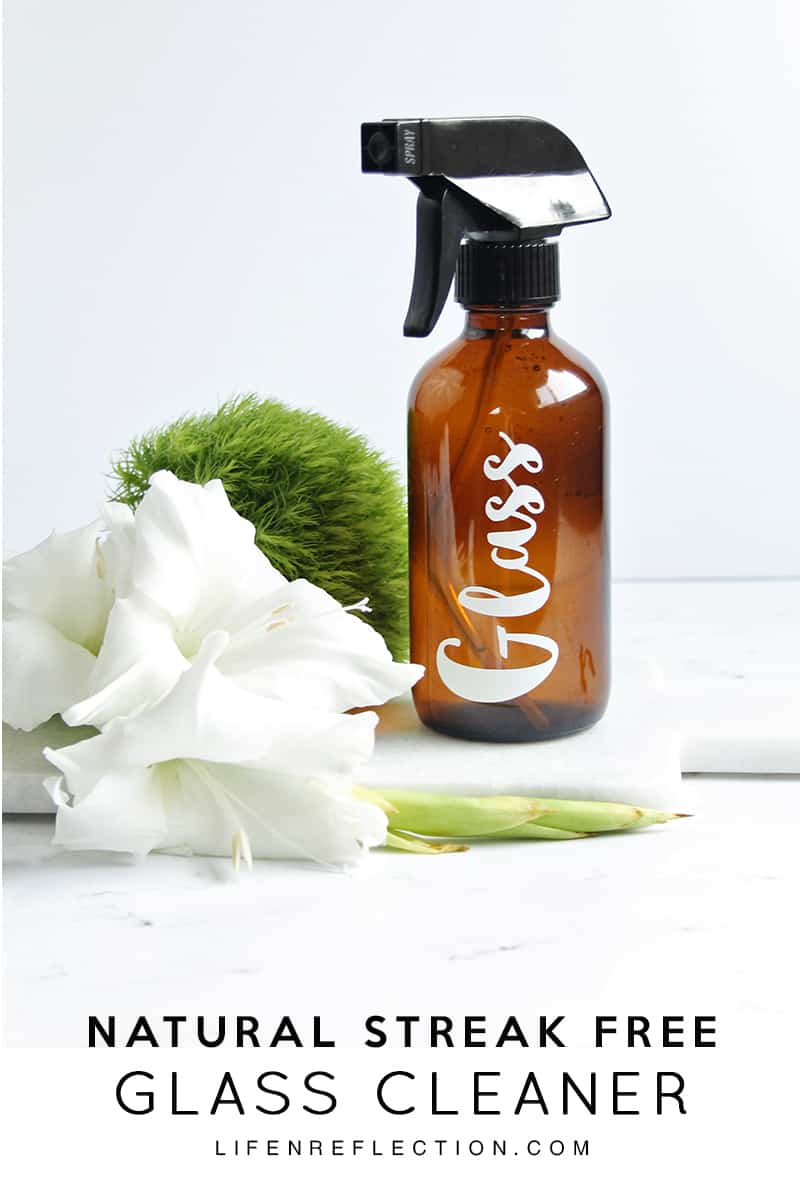 This recipe for a natural Streak-Free Glass Cleaner creates a professional foam spray without chemicals. And it's incredible for cleaning photo frames, mirrors, windows, and glass cupboard doors too!
Mix together a batch of my favorite Lemon Myrtle Carpet Refresher. Sprinkle is over rugs and carpet and let stand for 5 to 10 minutes before vacuuming to reduce odors and release the fresh clean scent of lemon myrtle essential oil!
The living room, stairs, and hallways that can collect quite a lot of dust and pet dander. Once you try it, you'll want to use it every time you vacuum!
This recipe for a heavy duty DIY Natural Kitchen Cleaner works well for all surfaces. It has the power to de-grease and remove grime from your kitchen without chemicals. I use it clean up spills on your stove top and in the microwave.
If you uncover some hidden surprises, a.k.a. ugly carpet stains, mix together a bottle of this easy natural carpet stain remover using orange essential oil. Spray it on and sit back and relax while it works its magic. Then scrub away to reclaim your beautiful carpet.
You can truly make each natural cleaner with staples you may already have. Check out my must have Green Living Essentials and you'll see exactly what I mean.
Are working towards green goals this year too? See my 5 Point Checklist to reach your goals and use my handy printable goal tracking log. Grab it and more printables, checklists, and reference guides in the Life-n-Reflection Resource Library.
I love using essential oils for naturally cleaning our home grab an essential oil
starter kit
to start making these natural cleaners! Not ready to make DIY cleaners? Then grab a free 5 piece Mrs. Meyer's natural cleaning kit from the
Grove Collaborative
.