Looking for a heavy-duty Natural Polishing DIY Tub & Shower Scrub?
Living in hill country if you will, we have hard water. I mean seriously hard water. When we installed a new water softener a few years ago, we had to spend a day without a softener after uninstalling the one that wasn't doing the job.
Or so we thought
… It turns out it wasn't doing that bad of a job. Without the softener, our water was straight up orange! And all that iron in the water made it smell like blood. I had to brush my teeth with distilled water that I had on hand for making skincare products and stuff.
Long story short, our shower, sinks, and a cast iron bathtub can really acquire hard water stains. Maybe you're wondering the same – "How can I get my bathtub white again?" This DIY tub and shower scrub does the job without harsh chemicals!
For everyday bathroom clean up or let's be honest, in between deep cleanings – I use my Daily Natural Shower Spray to help keep everything white and clean.
Related: Foolproof Methods to Naturally Clean the Microwave and Oven
Related: Clever Strategies to Naturally Spring Clean

What can you clean with it?
Use this natural scrub to clean the most non-porous surfaces. Meaning do not use it on marble, granite, or wood. This solution can be applied to much more than just the shower. It even works well to polish pots and pans!
This post contains some affiliate links for your convenience, read full disclosure policy.
Tile
Grout
Toilet
Sink
Shower
Pots
Pans
Floors
DIY Tub & Shower Scrub Cleaning Ingredients
1 cup baking soda
1/4 cup + 1 tablespoon liquid castile soap
2 tablespoons water
4 drops lavender essential oil
8 drops lemon essential oil
1 glass airtight container, 8 ounces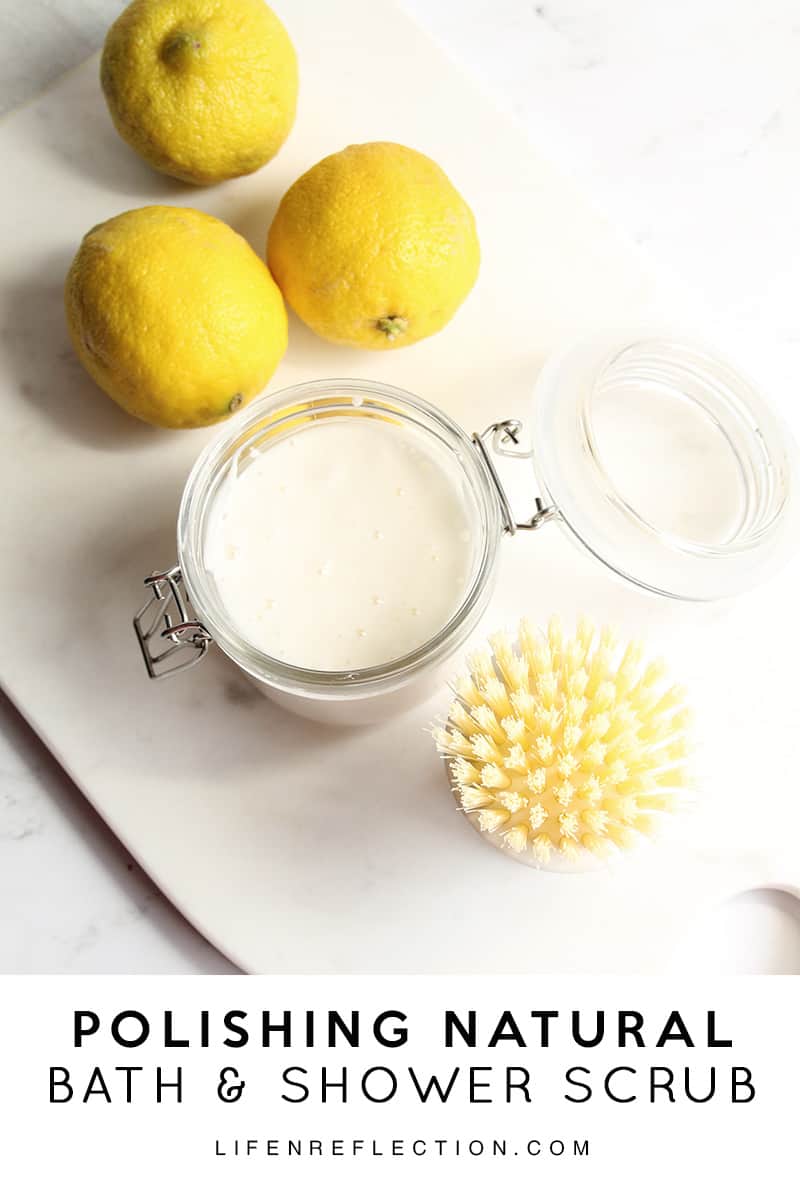 How to Make a Non-Toxic DIY Tub & Shower Scrub Cleaner
In a small, glass mixing bowl combine baking soda, liquid castile soap, and water. Stir to combine until a thick mixture forms. Add 4 drops of lavender essential oil and 8 drops of lemon essential oil. Stir once more to thoroughly blend essential oils. Scrub will be a soft paste. If the scrubs' consistency it too dry add more water. If it is too wet add more baking soda. Keep in mind, citrus essential oils should be stored in glass containers. Use scrub within 2 to 3 months.
How to Clean your Bathtub and Shower:
As always, begin by testing a small area with a new cleaner. Dip a soft-bristle brush into the homemade tub and shower scrub. Then start scrubbing surfaces. Rinse with water and wipe clean with a damp cloth. Repeat as necessary and use a cotton swab dipped in hydrogen peroxide for dark grout stains as needed.
If you have seriously hard water too or your shower just needs a deep cleaning, I hope you find this recipe for natural DIY tub and shower scrub helpful! I love using essential oils for naturally cleaning our home, learn more here. P.S. Don't miss my No-Nonsense Winter Cleaning Checklist! Grab it and many more printables in the Simple Living Library.