Fall Favorite DIY Essential Oil Pumpkin Spice Candles
What are your favorite autumn scents? Apple, Pumpkin, Caramel, Cinnamon, or Pecan?
If apple is your favorite, don't miss my recipe for Apple Blossom Soy Candles. For me, the sweet, spicy aroma of popular pumpkin spice is my must-have fall scent!
This post contains some affiliate links for your convenience, read full disclosure policy.

Create Your Own
Did you know you can create your favorite fall scents without chemical fragrance oils? All it takes is a few essential oils! Learn more here, where I share my Top 5 Essential Oils for Fall.
Then grab a Printable Reference Guide of Essential Oils for Fall in the Life-n-Reflection Resource Library. Use it as a reference list of essential oils for Fall to help you create your own Signature Fall Aromas.
Ingredients for Essential Oil Pumpkin Spice Candles:
4 medium wood wicks and clips
2 lbs soy wax flakes
4 candle pots, 8 ounce
1/8 ounce orange essential oil
1/4 ounce cinnamon essential oil
1/8 ounce clove essential oil
1/8 ounce ginger essential oil
How to Make DIY Essential Oil Pumpkin Spice Candles:
Using glue dots adhere to wood wick clips to the center base of each candle pot. Insert wood wicks and cut wicks to just meet the top of each pot, set aside.
Fill a large saucepan with about 2 inches of water and place it on the stove to heat. Place soy wax flakes in a metal candle pouring pitcher and set inside the large saucepan. Whisk often and heat until melted using the double broiler method. Remove from heat immediately to avoid wax becoming too hot. Let the wax cool to 120°F to 125°F before adding essential oils.
Once the wax has cooled add essential oils and whisk or swirl to combine. Carefully pour the scented soy wax into prepared candle pots. Let cool 30 minutes to 1 hour or until the wax is hard and white.
Note: Always burn soy candles long enough for the wax to melt across the container before blowing out the flame. This will avoid a tunnel forming in the wax or shortening the life of the candle.
Yields: 36 ounces or 4, 8-ounce candle pots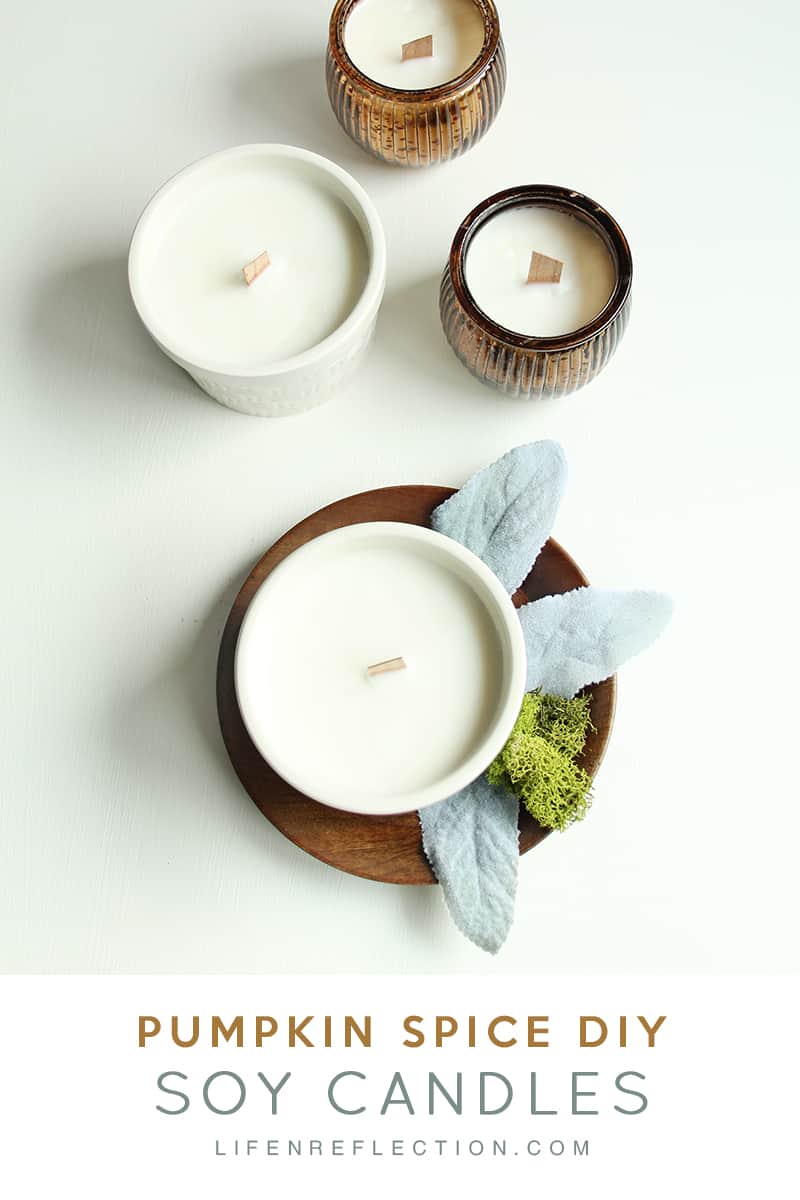 I love creating my own signature scents using essential oils to match the season. Find my favorite Fall aromatherapy recipes in my book
Aromatherapy: A Practical Guide for Home and Family
.