Herbal Sage Chamomile Bath Tea Bags
These sage chamomile bath tea bags are one of the best ways to soak up chamomile bath benefits. You're sure to enjoy the luxury of a DIY herbal bath tea too. 
Sometimes we need reminding to fill our days with little luxuries. It can be as simple as a really good hand cream applied before bed, body scrub applied in the shower, or a tube of lip balm tucked into every pouch, purse, and drawer ready for use.
Other luxuries might include lighting candles for dinner, enjoying a long bath soak with homemade bath salts, or arranging fresh flowers. These little luxuries can give us a sense of calm and comfort, whatever they may be. 
What small ways do you treat yourself?
This soothing herbal bath tea recipe is one small luxury your body and mind will enjoy. Made with chamomile tea, whole sage leaves, and Epsom salts poured into muslin bath tea bags, they are just the answer to declutter your thoughts and lift away the stress of the day.
This post contains some affiliate links for your convenience; read the full disclosure policy.
What can you use for tea bags in the bath?
I've tried a few different things to make bath tea bags, and these two options are the easiest to use again and again. 
Option #1:
Start with large squares of cheesecloth, muslin, or even old-fashioned flour sack towels. Fill their center with about two tablespoons of the sage chamomile bath tea ingredients below. Then pull up each corner, twist, and tie off the top or secure with twine or ribbon. 
Option #2: 
For those of us who prefer a simplified DIY, you'll appreciate the use of muslin or cheesecloth bags. They were initially designed to cook and steep ingredients into stews or stuff the turkey. Nowadays, we find them used more often for crafts and hobbies. 
All you need to do is fill a bag halfway and tie it closed for use for bath tea. The contents can be emptied after use, and the bag can be rinsed and washed in the laundry if needed. 
Related To: Oats + Chamomile Soap Recipe
What herbs can I put in my bath water to make bath tea?
You can choose from a wealth of herbs with skincare benefits for use in bath tea. But, you may find it easiest to use bath tea bags from the options above to avoid clogging the drain with large dried herbs like the whole sage leaves in this herbal bath tea recipe.
Here's a closer look at each herb I choose: 
Chamomile, Matricaria recutita
Chamomile is one of my favorite herbs for creating calming skincare recipes. The scent of chamomile alone makes me feel relaxed. Did you know it's an annual that acts like a perennial in zones 4 -7, giving you beautiful delicate chamomile flowers year after year in your garden? 
Can you put chamomile in your bath? While commonly used as bedtime tea, this soothing herb can be used in the bathtub as well. In fact, a chamomile bath is known to aid in the relief of dry skin conditions such as eczema, rashes, and bug bites. I still remember my mother making a chamomile bath to relieve my itching from the chickenpox and bugs bites. When my siblings got into poison ivy, a chamomile bath was the place to be too. 
It turns out she was onto something because chamomile has anti-inflammatory, antibacterial, anti-fungal, and antiseptic properties. Thanks, Mom. 
Sage, Salvia officinalis
I love the look and feel of sage, fresh or dried. It's a perennial woody herb, closely related to rosemary, often called "sister herbs." Yet the two have very different appearances. For example, rosemary has spiny leaves, while sage has full leaves. 
Many varieties of sage are harvested and dried for burning the leaves to release negative energy from your surroundings and contribute to your well-being, a practice begun by Native Americans. In aromatherapy, sage is used to clear the mind, banish stress, and promote clarity. Who couldn't benefit from these at times?
How do you use sage in a bath? And what does sage do to the skin? Sage leaves are rich in antioxidants as well as antibacterial and astringent properties, making them effective in soothing inflammation and purifying the skin.
By combining slightly sweet calming chamomile bath benefits and herbal clarifying sage bath benefits with the abilities of Epsom salt to soothe muscles aches and joint pain into a bath tea – you have not just a little luxury. But, also a therapeutic soothing spa treatment in your hands!
Related To: Softening Chamomile + Lemon DIY Lip Balm
How To Make Bath Tea More Than Luxury
These handcrafted sage chamomile bath tea bags are one of the easiest ways to soak up bath tea benefits. They have a wide variety of uses that can benefit everyone (who couldn't use more stress relief, clarity, calm skin, and relaxed muscles?) 
Bath Tea Bag Ingredients:
3 tablespoons whole sage leaves
¾ cup Epsom salt
3 tablespoons chamomile tea or flowers
How to Make Herbal Bath Tea Bags:
First, prepare your bath tea bags of choice. I choose these easy-to-use cheesecloth tea bags because I love that they are washable and long-lasting. Open six tea bags and make sure they are clear of any threads or debris. Then fold the cuff of the bag over to make them stand upright. 
Now pour ¾ cup of Epsom salt into a small bowl. If you want to add chamomile or sage essential oils, now is the best time to add them to the salt so you don't have a wet mess. 
Next, pour three tablespoons of chamomile tea or chamomile flowers into the salt and gently stir to incorporate. 
You can add your three tablespoons of whole sage leaves now to the bath tea or place a few into each tea bag as I did. 
Scoop approximately one tablespoon of bath tea into each bag. Unfold and tie closed.
How to Use Bath Tea:
To get the most bath tea benefits, follow these steps! 
Tie your bath tea bag around the bathtub faucet and let water run through the bag while the bathtub fills.
Once the bathtub is full remove the bath tea bag from the faucet and place in the water to steep while you soak.
Squeeze out the liquid from the bag every so often into the bath water or onto areas of the skin that are itchy or dry.
After soaking in the herbal bath tea, don't throw away the bag. Instead discard the contents, rinse the bag, and hang it to dry until the next use.
Now it's your turn to soothe and pamper yourself with these DIY sage chamomile bath tea bags. The crisp, clean notes of sage softened with the slightly sweet, floral notes of chamomile will clear away unwanted distractions and offer you a reset.
Did I mention these herbal DIY bath tea bags are travel friendly and just the thing you need to lift away the stress of traveling?
Prefer a Printable Recipe?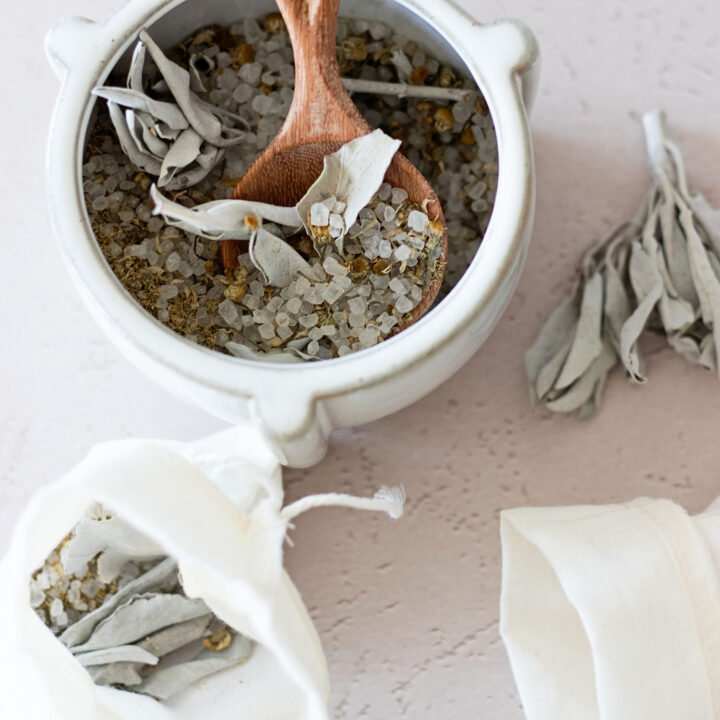 Sage and Chamomile Bath Tea Bags
Here's how to make herbal bath tea bags with chamomile and sage to calm, soothe, and lift away the stress of the day.
Materials
3 tablespoons whole sage leaves
¾ cup Epsom salt
3 tablespoons chamomile tea or flowers
6 cheesecloth tea bags
Notes
Did I mention these herbal DIY bath tea bags are travel friendly and just the thing you need to lift away the stress of traveling?
Recommended Products
As an Amazon Associate and member of other affiliate programs, I earn from qualifying purchases.
YOU MAY ALSO LIKE: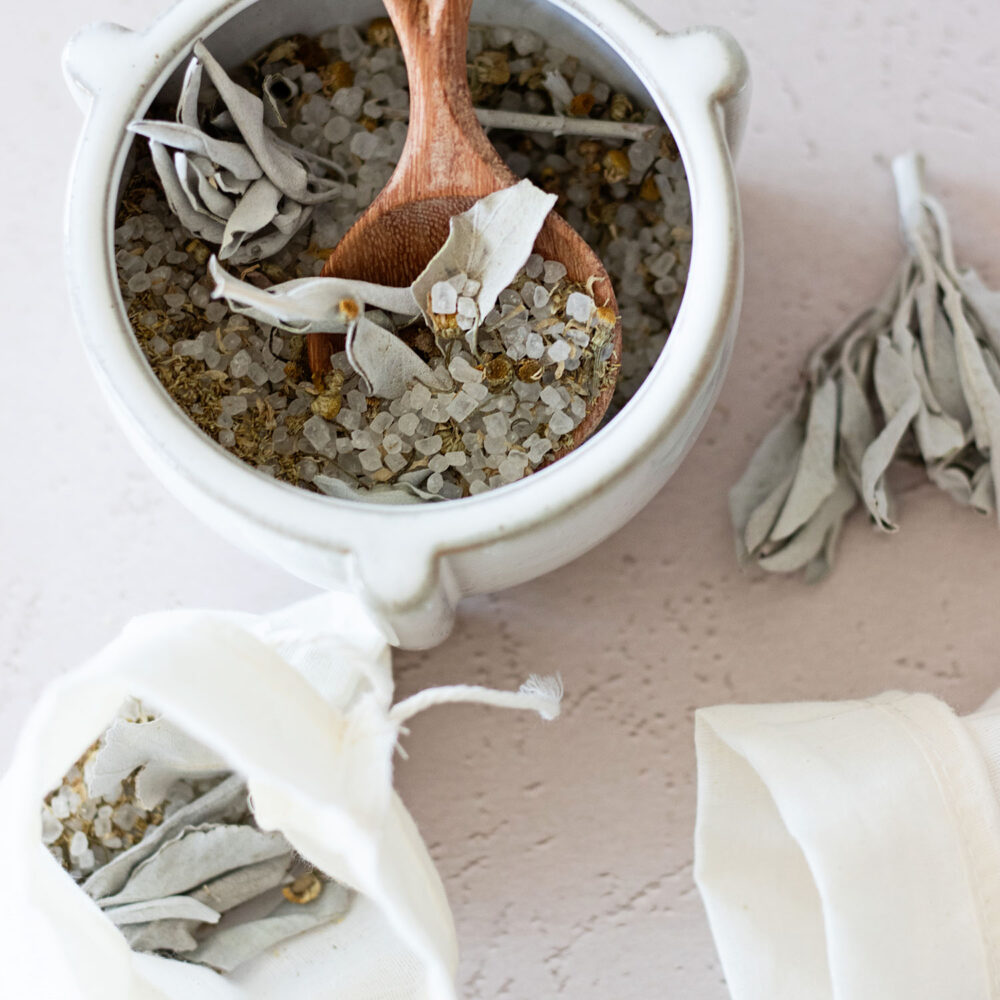 Pin these steps on how to use a bath tea and make your own handcrafted sage chamomile bath tea bags. Tag #lifenreflection on Instagram to share yours with us.