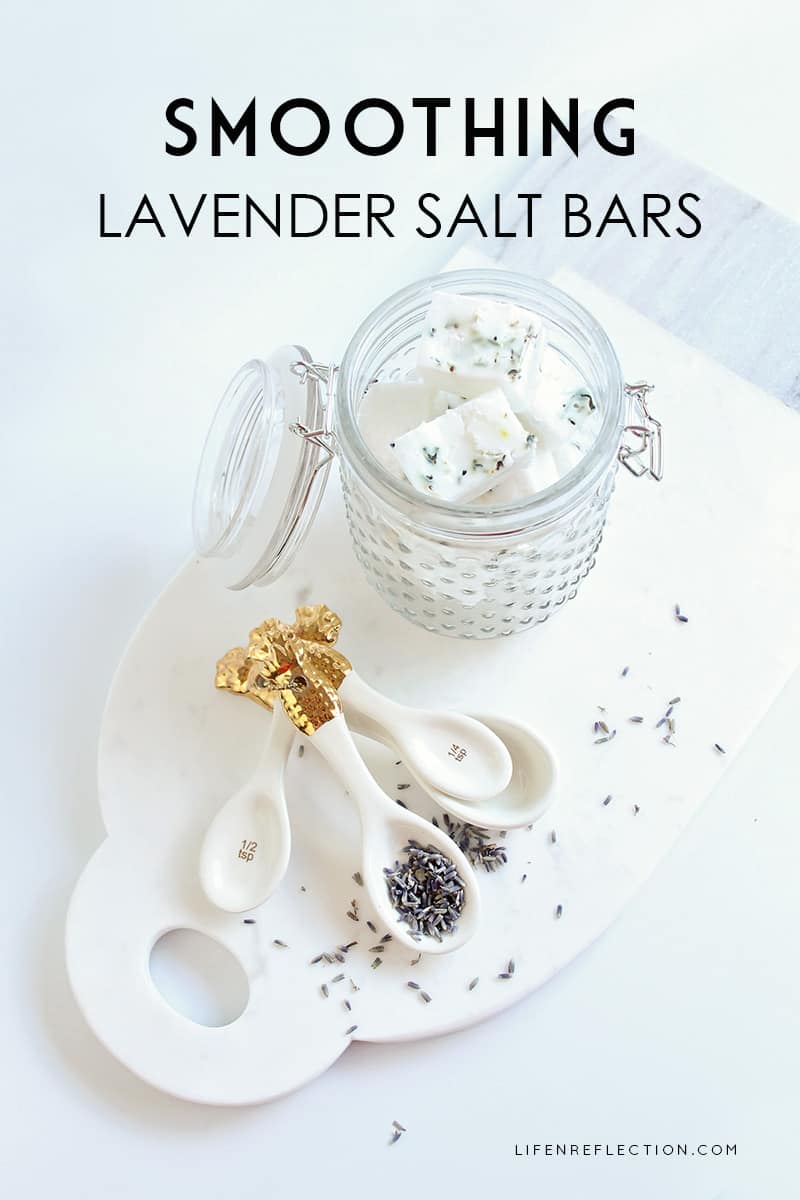 Exfoliate, smooth and moisturize your skin with an all-in-one Smoothing Lavender Salt Bar.
It only takes a few minutes to create these amazing soft, melt in the shower smoothing lavender salt bars! First, start with a great natural soap base, like goats milk for its moisturizing abilities. Next, add vegetable glycerin for the melting effect. Then, add a scoop of mineral salt to exfoliate in addition to all its benefits. This post contains some affiliate links for your convenience, read full disclosure policy.
For fragrance I've chosen the likely the most popular essential oil, (and my favorite) lavender essential oil. Known for its calming capabilities and soft floral scent, lavender essential oil is a must have. Check out My Top 10 Must Have Essential Oils. You can of course add your favorite essential oil to this recipe. Last, I added lavender buds because I they are so pretty and I grow my own lavender!
Keep in mind these smoothing lavender salt bars will be a little messy. Messy can be fun right? If you are looking for a lavender soap to enjoy without the mess see my recipe for Lavender Goat Milk Hand Soap. You can use it for everything, not just your hands.
Supplies for Smoothing Lavender Salt Bars:
1 lb goat milk soap base
½ cup mineral salt
3 tablespoons vegetable glycerin
2 teaspoons lavender buds
20 drops lavender essential oil
Soap knife
Silicone rectangle soap mold
Heat resistant silicone spatula
Large glass measuring bowl
Instructions to make Smoothing Lavender Salt Bars:
Sprinkle ½ teaspoon of lavender buds into 4 rectangles of your soap mold and set aside.
Chop up goat milk soap base using a soap knife into small chunks. Toss chopped soap into a medium glass bowl. Place the bowl in the microwave and melt on 30 second intervals, stirring intermittently to avoid burning. Remove melted soap promptly from the microwave.
Pour vegetable glycerin and lavender essential oil into melted soap base. Stir well to combine. Working quickly, add mineral salt to lavender soap base, stir and pour into prepare soap mold.
Let soap cool in mold for 1 to 2 hours or until solid before removing from mold. Chop Smoothing Lavender Salt Bars into small rectangles. Store at room temperature in an airtight container.
Yields: 16 mini salt bars
All-in-One: Exfoliate, Smooth and Moisturize Click To Tweet
Smoothing Lavender Salt Bars are perfect for shower. Place one salt bar in the palm of your hand and rub into rough or dry areas. Lock in moisture after the shower with Whipped Body Butter. Learn to make more skin loving products in my free Beginner Natural Bath and Body Course!