Sweet Caramel Pumpkin Hand Scrub
The leaves have put on their annual color show and are beginning to fall at rapid speed! Autumn is my favorite season and I tend to clinch onto it for as long as I can. So, while the colorful leaves are dwindling I'm bring the essence of the season indoors. From my Natural Fall Potpourri, Pumpkin Spice Essential Oil Candles to my Harvest Moon Soaking Salts I'm enjoying all fall has to offer! And today's recipe for a sweet caramel pumpkin hand scrub is "icing on the cake"! Oh, that reminds me, I should make my great grandmother's date cake for Thanksgiving… You can find the recipe in my cookbook Bittersweet Walnut Grove Fall Thyme.
If you'rve baking this season too, then you likely have everything you need to make today's recipe in your kitchen. It takes just six ingredients to whip up this fall masterpiece! I keep a jar by kitchen sink to replenish my hands after washing dishes and the like. This post contains some affiliate links for your convenience, read full disclosure policy.
Ingredients for Sweet Caramel Pumpkin Hand Scrub
1 cup coconut oil, unrefined
2 cups brown sugar
½ cup canned pumpkin, pure
2 teaspoons ground cinnamon
½ teaspoon ground nutmeg
1 teaspoon caramel extract
2 airtight containers, 8 ounce
How to make Sweet Caramel Pumpkin Hand Scrub
Combine coconut oil, brown sugar, and canned pumpkin in a large mixing bowl. Stir with a fork until scrub forms. Add ground cinnamon, ground nutmeg, and caramel extract. Stir well to thoroughly combine. Spoon mixture into an airtight container. Use within in two to three months. If any separation occurs, simply stir the mixture and it will be good as new.
Yields 16 ounces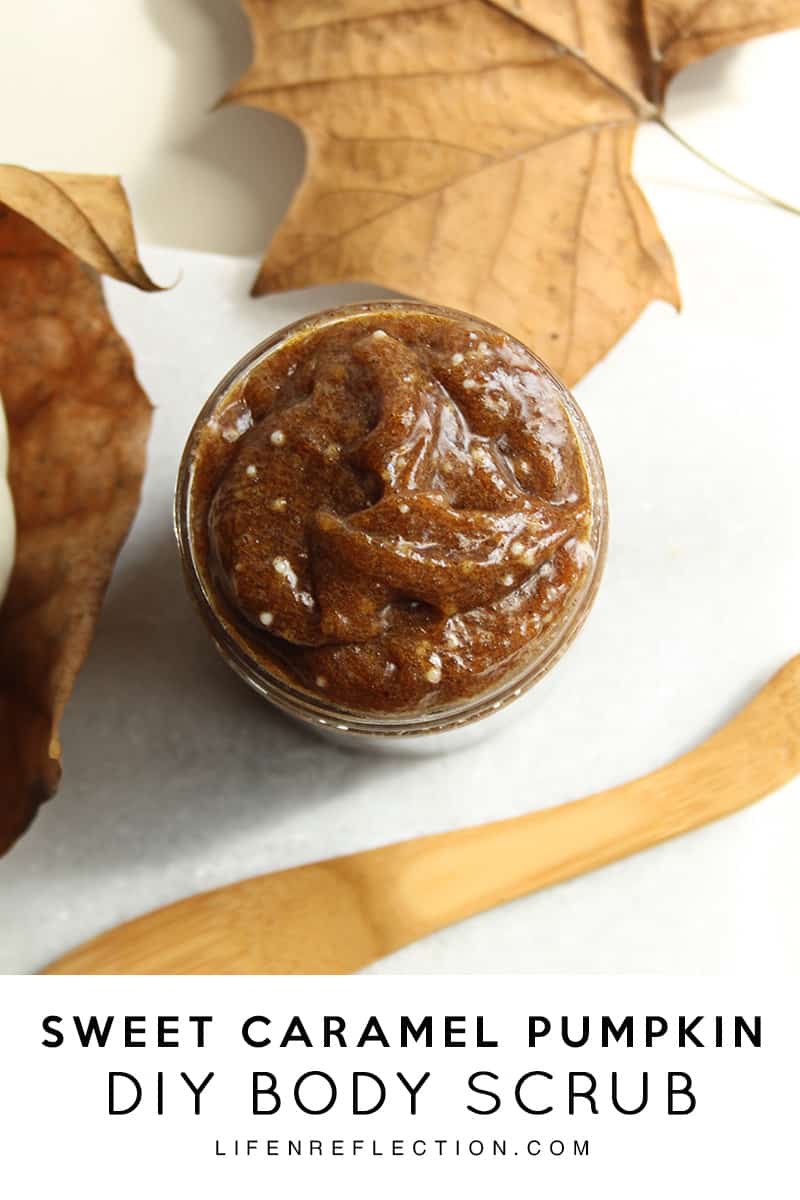 To Use
Scoop a small amount into your hand. Massage in a circular motion into your skin. Avoid contact with eyes and rinse with water. Repeat as often as you like. This scrub can also be applied as a body scrub. Follow up with my recipe for Pumpkin Lavender Body Butter for some serious moisturizing! If you enjoy making things for yourself too check out my beginners natural bath and body course.

Here's to hanging onto the fall spirit with Sweet Caramel Pumpkin Hand Scrub! Did I mention it smells incredibly delicious without any nasty chemical fragrances? Honestly, it is edible, but I would consider the date cake first!
Share your projects too: Made by You Mon / Project Inspired / Create Link Inspire / Totally Terrific Tue / Reader Tip Tue / Talk of the Town /  Wow Me Wed / A Little Bird / Favorite Things / Inspirational Gallery /  I'm Lovin' It / Home Matters / Create and Celebrate /