Need a Quick Hair Volumizing Spray?
You might have heard other women say that their hair is so flat because they are cursed with thin hair. Sadly, thin hair or thick hair has nothing to do with it. Your hair can be lacking volume from a multitude of other things.
What causes flat hair or a lack of hair volume?
Hair Loss
Oily Hair
Scalp Build Up
Damaged Hair
Overuse of Hair Products
Using the Wrong Hair Products
Other than the issue of hair loss, basically using the wrong hair products and not having a consistent hair routine all add up to flat hair. For example, if you apply dry shampoo, hair volume powder or hair volumizing mousse you will see a temporary improvement in volume. However, many of these products end up clogging the pores in our scalp causing scalp buildup and oily hair.
The gals are Hello Glow said it well, "Finding the right hair products can be similar to playing roulette, and the cost of trying to figure out what works well for you can become very expensive, very quickly."
This post contains some affiliate links for your convenience, read full disclosure policy.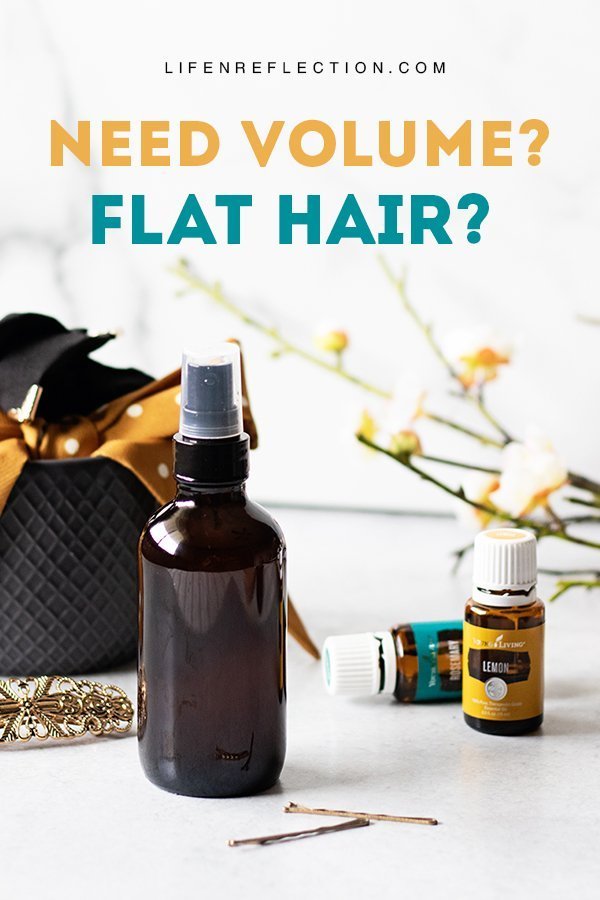 How can I increase my hair texture and volume?
You'll need to regularly apply a combination of ingredients well known to add volume while delivering essential nutrients.
One of the easiest ways to do this by making your own hair volumizing spray to not only add a temporary boost of hair volume but also to gradually make your hair thicker with use over time.
Start with dead sea salt containing 26 minerals beneficial to building healthy hair. Followed by some of the best essential oils for hair and aloe vera gel. Known as the "wand of heaven" by Native Americans, aloe vera not only makes a great hair mask it also adds volume to hair without creating buildup. Add to it castor oil, made from castor seed containing omega-6 fatty acids and ricinoleic acid for thicker, stronger, shinier, voluminous hair.
How does castor oil increase hair volume? Popular in hair and skin products, castor oil helps to protect hair from damage, while moisturizing each hair follicle and increasing volume. Honestly, if you're not using castor in your hair routine, you're missing out!
Related To: DIY Scalp Scrub
Related To: Easy Hair Spray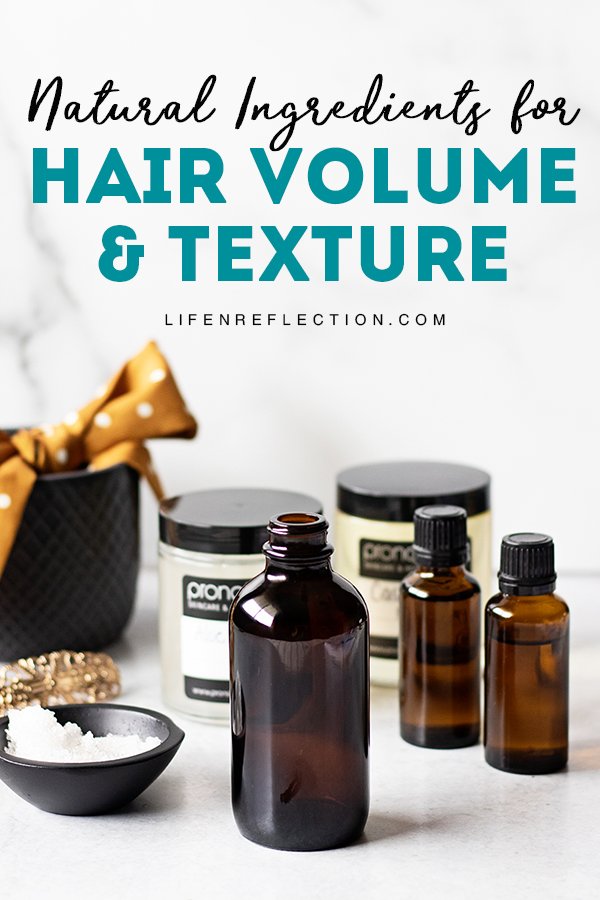 How does a hair volumizing spray work?
Simply put a volumizing spray focuses on the hair shaft to give volume throughout your mane. Best applied to damp hair, it coats each lock and adds a slight stiffness. As the hair dries it pushes against each other and creates volume giving you gorgeous, bouncy hair volume!
Aloe Vera Hair Volumizing Spray Ingredients:
How to Apply A Volumizing Spray
Towel dry just-washed hair.
Add a detangling spray as needed and section off hair to gently comb through using a wide-tooth comb.
Start from the bottom and slowly work your way up before moving onto the next section.
After combing apply volumizing spray into each section.
Continue to style as usual.
HOW TO MAKE A HAIR VOLUMIZING SPRAY
Mix together ½ cup aloe vera gel and 1 cup water in a small glass measuring cup for easy pouring. Whisk together until the aloe vera gel blends into the water.
Next, add 1 teaspoon of dead sea salt and 1 teaspoon of castor oil to the aloe vera mixture. Whisk to combine while adding 4 drops of rosemary essential oil and 2 drops of lemon essential.
Pour into a glass spray bottle using a funnel. Shake before each use.
I've found this natural hair volumizer adds the perfect amount of bounce and volume without making my hair oily or sticky. Want more tips on how to add volume to your hair naturally? Give one of these fifteen tips for natural hair volume a try!
15 Ways to Add Volume to Hair
Skip messy volumizing powder or mousse and swap for an easy hair volumizing technique!
1. BLOWDRY UPSIDE DOWN:
Flip your head upside down and begin blow drying, preferably with a negative ion ceramic hair blow dryer and without a brush. This hair trick allows gravity to lift your roots away from your scalp for maximum volume. When your hair is more than halfway dry, flip your head back over and finish ends with a soft ceramic brush.
2. TRY A RINSE:
Use a simple aloe vera hair rinse to nourish your hair once or twice a week. In the process, you'll add volume by removing excess oil from your roots. You'll literally feel the weight lift off your hair after using this rinse!
3. BEWARE OF WHERE YOU APPLY CONDITIONER:
Always apply conditioner after shampooing. BUT steer clear of your scalp! Only apply conditioner from ends to mid-length. Putting conditioner to your roots will likely equate to greasy, flat hair in no time.
4. GIVE IT A SCRUNCH:
Start by applying a light amount of condition to hair as described above. Then comb through with a wide-tooth comb and scrunch it in the shower. Do not rinse the conditioner. Pat dry your hair after stepping out of the shower. Apply the DIY volumizing spray shared above, scrunching it with your hands as well. Allow to air dry or blow-dry upside for an incredible tousled look, full of volume!
5. MAY THE BEST PLANS WIN:
Planning ahead makes all the difference when it comes to great hair. Apply this natural hair volumizer spray to damp hair and twist into small buns. Fasten each bun with a bobby pin and allow to dry overnight. Carefully untwirl each bun in the morning a set with hairspray. Have you tried my DIY hair spray?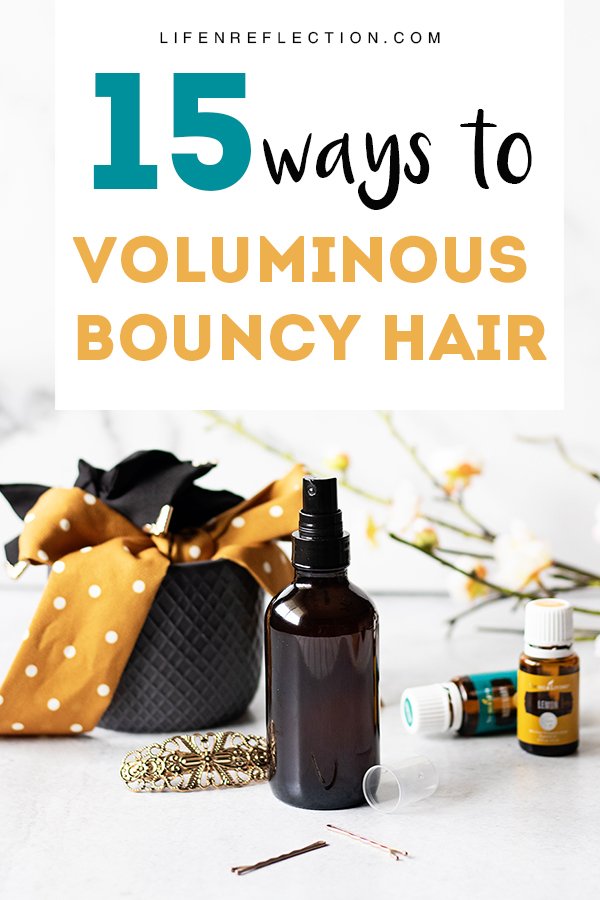 6. KISS BOBBY GOODBYE:
Want more volume? Ditch the bobby pins and use velcro rollers. This set of 31 rollers for less than $10 will lift your hair away from your head and really add volume. And they stay put while blow drying! Don't try to sleep in these. Blow dryer hair until about 75 percent dry and then section off areas to roll-up. Set with the cool setting on your blow dryer and spritz with hairspray after unrolling each.
7. IT'S ALL IN THE HANDS:
A great way to stop flat hair is by spraying your styling product into your hand. Then use your fingertips to dab product where you need volume, texture, or smoothing.
8. FLIP YOUR PART:
This is a really easy trick that you can do anytime during the day when your hair needs a lift. Simply switch your part to give roots a quick lift. Actually changing up your hairstyle regularly can keep your roots from clinging to a well-known area.
9. OPT FOR A CLASSIC:
Use hairspray a classic hair product and household staple since 1948. Avoid store-bought options that contain drying alcohol or worse plastics! Instead, make your own soft-hold hairspray to keep flyaways at bay without decreasing your volume.
10. JOIN THE "NO POO" TEAM:
Put the breaks on shampooing your hair every day. Overwashing strips hair of its natural oils leaving it dull and limp. Start working toward only shampooing three to four times a week for better natural volume.
11. USE THE RIGHT KIND OF DRY SHAMPOO:
Get acquainted with the right dry shampoo and you two will be fast friends! While a dry shampoo powder works fine, it can be messy. I prefer the spray form. You might too. Find my recipe for DIY dry shampoo spray here for long-lasting volume.
12. GIVE IT A TEASE:
First let me say, I don't recommend using this technique often. Instead, save it for special occasions like weddings, when you need your style to last no matter what! Separate hair into sections. One by one, hold each section of hair straight up toward the sky. Then using a fine-tooth comb, backcomb hair toward the roots two to three times. Then apply dry shampoo spray to the roots. Brush through with your fingertips and smooth down.
YOU MAY ALSO LIKE:
13. EASY LIFTING:
If flipping your head upside down makes you feel dizzy, you can use a large soft round bush – the bigger the better, to lift your hair away from your crown. Wrap two-inch sections of hair around the brush. Aim your blow dryer at your scalp and pull upward for volume.
14. DETOX YOUR SCALP:
Product buildup leads to more than an itchy scalp – say droopy, dippy, dewy hair three times fast. Add a clarifying scalp scrub to your hair routine at least once a month to clear clogged hair follicles and remove buildup for healthy, shiny, voluminous hair.
15. FIND YOUR INNER LAURA INGALLS WILDER:
Wearing your hair up in a bun, braids, or perhaps a bonnet can give your roots a lift. See how I use this tip below for my dream hair.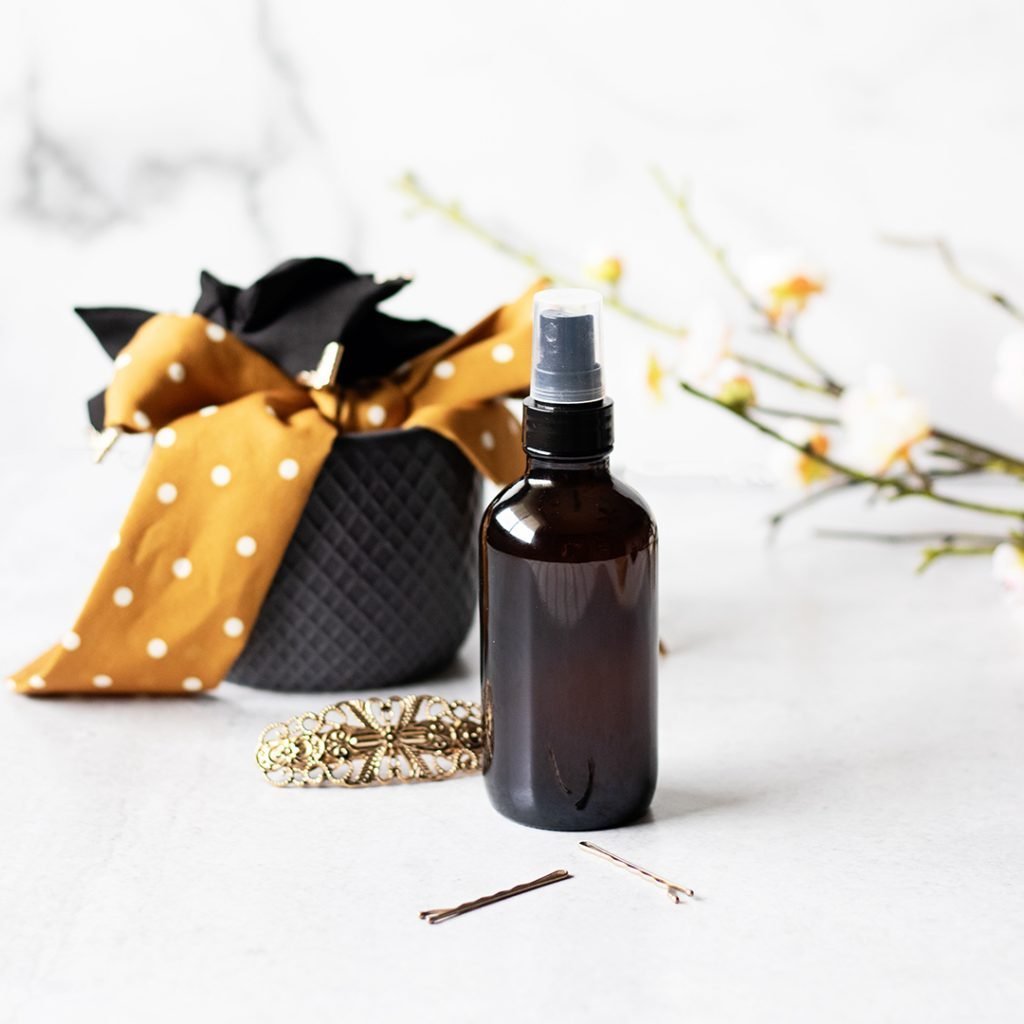 We always want we don't have right?
Growing up I wanted bouncy, curly hair like the "Noxzema Girl". In high school my mom finally let me perm my hair. I had super long hair and with a spiral perm, it looked just like hers! But as I matured my blond hair got darker and I started adding blond highlights too. By my first year in college, I had killed my hair, it literally broke off!!
Needless to say, if I had known how to make this volumizing spray I would have skipped all that trouble and all those chemicals. Nowadays, when I want bouncy hair I apply this aloe vera volumizing spray to freshly washed hair. Then braid it before bed. The next morning I've got all the bouncy, volume, and waves a girl could want. If you're craving bouncy hair to give this spray a try!
What was your biggest hair mistake? How do you add volume to your hair? Share it with us in the comments below. And pin this easy volumizing hair spray to make later and tag #lifenreflection on Instagram to share yours.