Why Every Woman Needs an Aloe Vera Hair Mask
I don't how it happens… the power went out, your phone wasn't connected to the charger, the phone was connected to the charger, but wasn't connected to the wall outlet??? Either way, your alarm did not go off and you woke up incredibly late!
After throwing on yesterday's pants and the first blouse you grabbed from the closet, you enter the bathroom and look in the mirror – horrified!
It's not last night's mascara or a new blemish that has you concerned, it's a pile of deep fried grease that should be resembling hair that's turned this morning into a NIGHTMARE!
Don't get me wrong, the tousled, beach waves are in and dry shampoo spray to stretch out the days between shampooing. But, this is beyond the wonders of dry shampoo!
You see, overly, greasy scalp comes with it's BFF "uncontrollably itchy" before the days end. And when those two get together, their other friend dandruff often shows up.
If these "friends" are hanging out all too often on your scalp and dry shampoo just isn't working as well as it did – it's high time you were introduced to an Aloe Vera Hair Mask!
This post contains some affiliate links for your convenience, read the full disclosure policy.
How Does Aloe Vera Help Hair?
Aloe vera is often called a miracle plant. You see, it's quite a unique plant with thick leaves that contain a gel-like substance inside. This substance consists of 20 minerals, 12 vitamins, 18 amino acids, and 200 phytonutrients.
Aloe vera is an ideal remedy for resolving a majority of hair woes. And a DIY aloe vera hair mask is one of the best ways to apply this natural hair remedy.
Related: Quick Dry Hair Remedies
Related: Clarifying Scalp Scrub
A recent article from Elle magazine brought this to light, "Aloe is the perfect low-cost hair mask… By nature, aloe vera is naturally anti-inflammatory, antimicrobial and antibacterial. By helping moisturize the scalp, it effectively helps prevent or reduce overall dandruff."
Seriously, one could write a book on the benefits of aloe vera for hair. Instead, let me make it easy for you with a quick list of reasons why you'll love using aloe vera in your hair.
Aloe Vera Benefits for Hair:
Adds strength and luster to hair
Repairs dead skin cells on the scalp with proteolytic enzymes
Promotes natural hair growth
Reduces scalp inflammation and redness
Helps to maintain the pH balance of the hair
Acts as a conditioner, leaving your hair smooth and shiny
Locks in moisture to maintain hydration
Assist in combating dandruff with its antifungal properties
Relieves an itchy scalp
Hydrates with its natural high water content
Protects hair from the environment
Combats frizzy hair with its similar composition to keratin
Includes a similar pH level to hair's natural pH level
Helps to nourish and rejuvenate the hair
So, there's no doubt aloe vera is a powerful natural remedy for hair! Learn how to use an aloe vera hair mask to cleanse and nourish hair below.
Deep Clean Your Scalp with an Aloe Vera Hair Mask
No matter if you've been over-shampooing or over applying styling products resulting in a greasy, oily scalp an aloe vera hair mask is the deep clean you need. It cleanses each hair follicle effectively stripping away excess sebum oil and residue from hair products (source).
That being said, aloe vera does not remove all of you natural hair oils, which are vital to a healthy scalp and locks. Unlike other clarifying hair products, aloe is cooling and soothing when applied to the scalp. And gentle enough to cut through the build-up without irritating your scalp or damaging your hair (source).
Make a DIY aloe vera hair mask infused with essential oils for hair, argan oil, and castor oil to not only remove build-up and soothe an irritated scalp but also to strengthen hair follicles and create shiny, lustrous hair.
DIY Aloe Vera Hair Mask Ingredients:
If you would like to use aloe vera from your plant grown at home use these simple steps to extract aloe vera gel from a leaf.
How to Extract Aloe Vera Gel:
Snip off a leaf from the aloe vera plant at the base.
Using a spoon, scrape out the gel-like substance from inside the leaf.
How to Make an Aloe Vera Hair Mask:
Add 4 tablespoons of aloe vera gel, ½ teaspoon argan oil, and 1 teaspoon castor oil to a small bowl.
Then add 3 drops of lemongrass essential oil and 2 drops of rosemary essential oil to the aloe vera.
Beat together using a fork. Note: If you are using fresh aloe vera from the leaf, you may need to blend it with a hand mixer for better consistency.
Store the aloe vera serum in a small, airtight jar until use.
How to Apply an Aloe Vera Hair Mask:
Apply an aloe vera hair mask as a pre-shampoo hair treatment. Massage a quarter size amount into your scalp and leave on for at least 10 minutes.
If your hair is feeling dry or looking frizzy, you can work this DIY hair serum into the length of your hair too. Then braid it or twist it up in a bun and allow the mask to work its magic!
After rinse first, then shampoo and you'll be left with soft, healthy hair and a clean, breathable scalp.

You May Also Like: Simple Summer Skin Care Routine
You May Also Like: DIY Anti Frizz Spray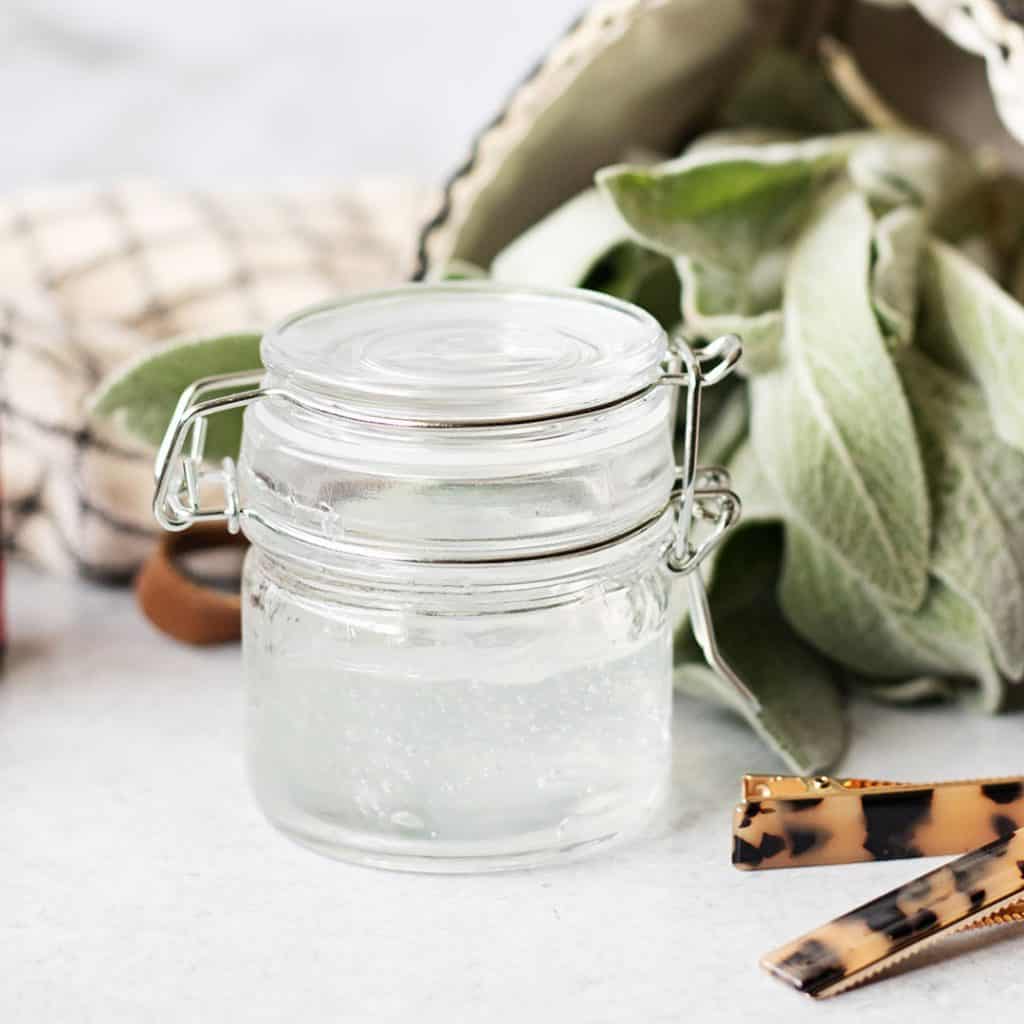 This hair remedy comes in handy anytime you start to notice build up your scalp or greasy hair soon after washing. Or make this DIY aloe vera mask a part of your natural hair care routine every 3 weeks. Use aloe vera's benefits to maintain healthier, lustrous, softer hair.
Pin this easy hair mask for later and tag #lifenreflection on Instagram to share your hair tips and tricks.