Coffee Eye Cream for Puffy Eyes?
If you are no stranger to the wake-up call of a steaming cup of coffee, just wait till you try it on your puffy eyes in the morning!
Caffeine is one of the most popular ingredients you can use to reduce eye puffiness and dark circles according to the experts. Its anti-inflammatory properties decrease swelling by constricting blood vessels under the eye without even a tickle.
Caffeine is the BEST NATURAL ingredient in my book to use in puffy eye cream.
This post contains some affiliate links for your convenience, read full disclosure policy.
Related: DIY Lip Plumper
Related: Easy Natural Face Toner
What Causes Puffy Eyes?
Puffiness around the eyes is caused by an excessive accumulation of fluid in the surrounding skin tissue. Because the skin around the eyes is very thin, swelling and discoloration a.k.a. puffy eyes and dark circles can be quite prominent. GAH!
Many associate puffy eyes and its counterpart dark under eye circles with a lack of sleep. But, I'm here to report they can be caused by a number of factors.
8 Things That Cause Puffy Eyes
SLOW DOWN ON THE NACHOS – overconsumption of salt can cause fluid retention under your eyes, not to mention other places.
Stop Watching "The Notebook" or reading anything by Nicholas Sparks, crying leads to puffy eyes.
DRINK UP – Dehydration is synonymous with a lackluster appearance, think flat hair, dull skin, and bags under your eyes.
Let me spell it out for you, get some SLEEP! Not enough shut-eye and overall fatigue can cause dark circles to be your #1 feature!
"Ah-choo"… seasonal allergies and sinus issues play a major role in puffy eyes.
Aging in itself can be the cause of dark circles or under-eye bags.
One too many margaritas can certainly add to dehydration and a need for a miracle eye cream.
Where stress leads, sleep escapes and dark circles follow. Self care techniques anyone?
How Do You Get Rid of Under Eye Bags?
While consuming less salt, getting some R&R, and drinking more water can all contribute to preventing bags under your eyes – what can do you if you already have them? Use a tightening eye cream containing caffeine to reduce puffiness and illuminate your under eyes.
What can caffeine do for your under eye bags?
fight free radicals
decrease puffy eyes
tighten skin
reduce dry circles under eyes
You've likely come across a coffee bean caffeine eye cream in a department store. Don't worry you won't have to shell out $35 dollars for half an ounce here.
This clean beauty recipe for a DIY coffee eye cream comes at quite a bargain and it makes 2 whole ounces. Which truly goes a long way when comes to our under eyes. I find it lasts me months.
DIY Coffee Eye Cream Ingredients:
How to Make Coffee Infused Oil:
Let's start with the coffee-infused oil. It takes about 1 hour but the result is worth it. Plus, you can just set it to simmer on low and let it infuse, while you eat one last nacho or have a margarita?
Using a double boiler add few inches of water to the base saucepan and bring to a boil. Reduce heat to low and pour 1 cup of almond oil and ½ cup of fresh, unused coffee grounds or beans into the top saucepan.
Simmer for 1 hour, stirring occasionally. Add more water to the base saucepan if it evaporates. Be cautious to not overheat the oil as it will destroy the benefits of the oil.
After simmering for 1 hour, let cool. Then using a fine cheesecloth or paper towel strain oil over a jar. The oil will store for 1 to 2 years in an airtight container.
DIY Coffee Eye Cream for Puffy Eyes:
Now we are ready to start making this Coffee Infused Tightening Eye Cream! Using the double boiler again (after washing it of course) add a few inches of water to the base saucepan and bring to a boil.
Then reduce heat to low and add ⅛ cup beeswax to a large glass measuring bowl. Place it over the base pan of the double boiler and simmer over low heat until the beeswax is melted.
Next, add ½ teaspoon jojoba oil, ⅛ cup coconut oil, ½ teaspoon vitamin E oil, and ⅛ cup coffee infused oil individually to the measuring bowl. Stirring each time you add an ingredient.
Remove from heat and transfer to an airtight container. I recommend small jars, balm tins, or even lip balm tubes for eye creams.
Place container(s) of coffee eye cream in the refrigerator to solidify before use. Store in your beauty bag or in the refrigerator.
YOU MAY ALSO LIKE:
What's the Best Way to Apply Coffee Eye Cream for Puffiness?
While many women save skincare for the evening it is not the best time to apply an eye cream. For one, it could possibly seep into your eye while you sleep – ouch! And secondly, who cares if your eyes are puffy while you sleep? More importantly, our skin needs a refresher in the AM. Applying coffee eye cream to your puffy eyes in the morning after balancing with toner is best. If your bags are really "packing it", store your puffy eye cream in the fridge. The cooling effect can boost in the aid of decreasing puffiness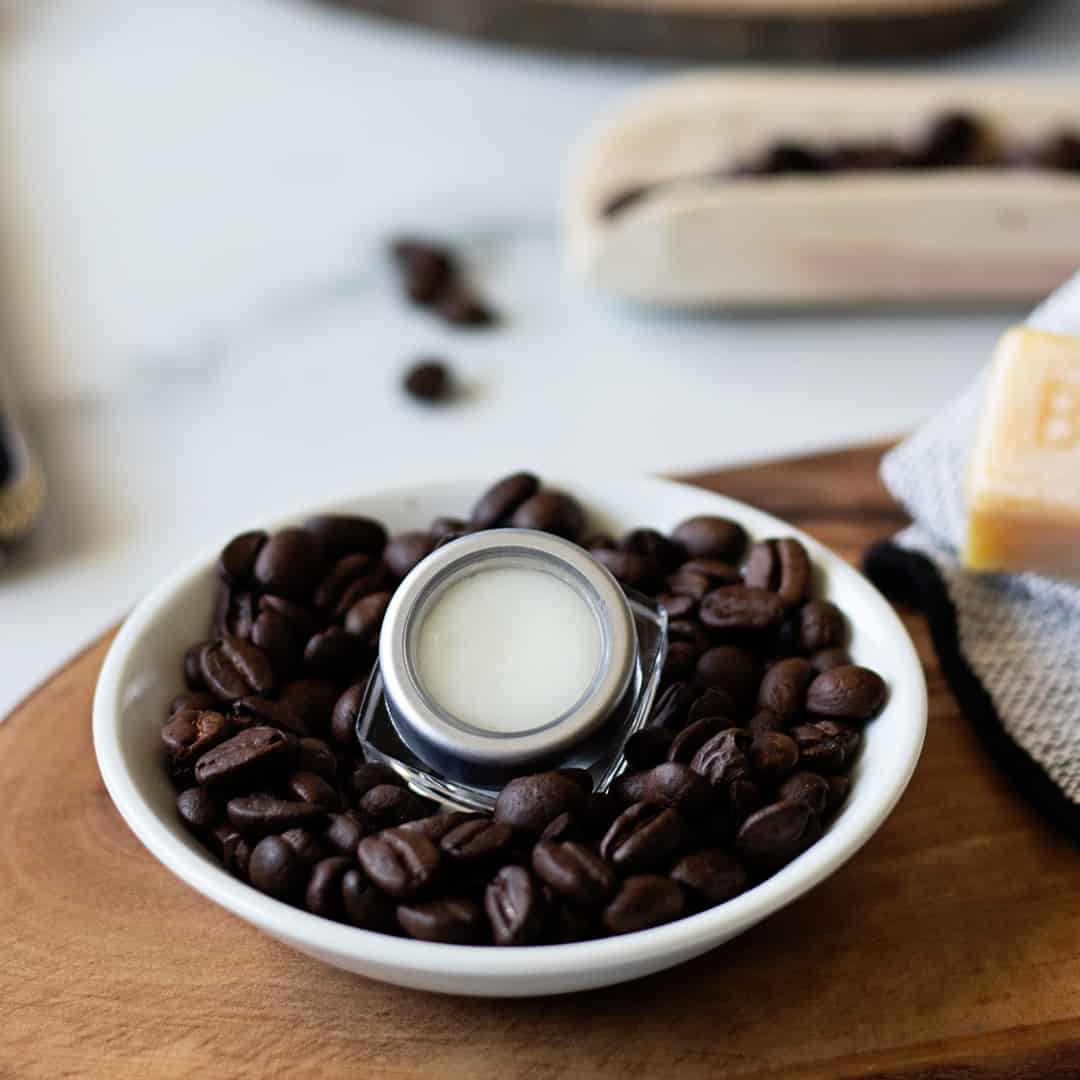 Apply this DIY coffee eye cream each morning so you can look bright-eyed and bushy-tailed without compromising your clean beauty routine. Try the benefits of caffeine on other areas of your skin with a Coffee Body Scrub.
Have you tried an under eye cream for puffy eyes? Tell us in the comments below. Pin this coffee eye cream to make later and tag #lifenreflection on Instagram to share yours.