All Natural Tightening DIY Coffee Eye Cream
If you think coffee is incredible from your steaming hot mug, just wait until you try it on your skin!! Did you know caffeine and coffee can benefit our skin in multiple ways?  Oh yes!
What can coffee do for your skin?
fight free radicals

decrease puffiness

tighten skin

reduce under eye circles
Maybe you've come across it in department store eye creams. Don't worry you won't have to shell out $35 dollars for half an ounce here.
This recipe for an all natural DIY coffee eye cream comes at quite a bargain and it makes 2 whole ounces. Which truly goes a long way when comes to our under eyes.
This post contains some affiliate links for your convenience, read full disclosure policy.
Related: Renew Life-Less Lips with a Kissable Sugar Cookie Lip Scrub
Related: Top 5 Natural Beauty Brands
DIY Coffee Eye Cream Ingredients:
⅛ cup beeswax pastilles
½ teaspoon jojoba oil
⅛ cup of coconut oil
½ teaspoon vitamin E oil
⅛ cup coffee infused oil, don't worry I'll teach you how
2-ounce jar
How to make Coffee Infused Oil:
Let's start with the coffee-infused oil. It takes about 1 hour but the result is worth it. Plus, you can just set it to simmer on low and let it infuse.
Using a double boiler add few inches of water to the bottom saucepan and bring to a boil. Reduce heat to low and 1 cup of almond oil and ½ cup of fresh, unused coffee grounds or beans to the top saucepan.
Simmer for 1 hour, stirring occasionally. Add more water to the bottom saucepan if it evaporates. Be cautious to not overheat the oil as it will destroy the benefits of the oil.
After simmering for 1 hour, let cool. Then using a fine cheesecloth or paper towel strain oil over a jar. Oil will store for 1 to 2 years in an airtight container.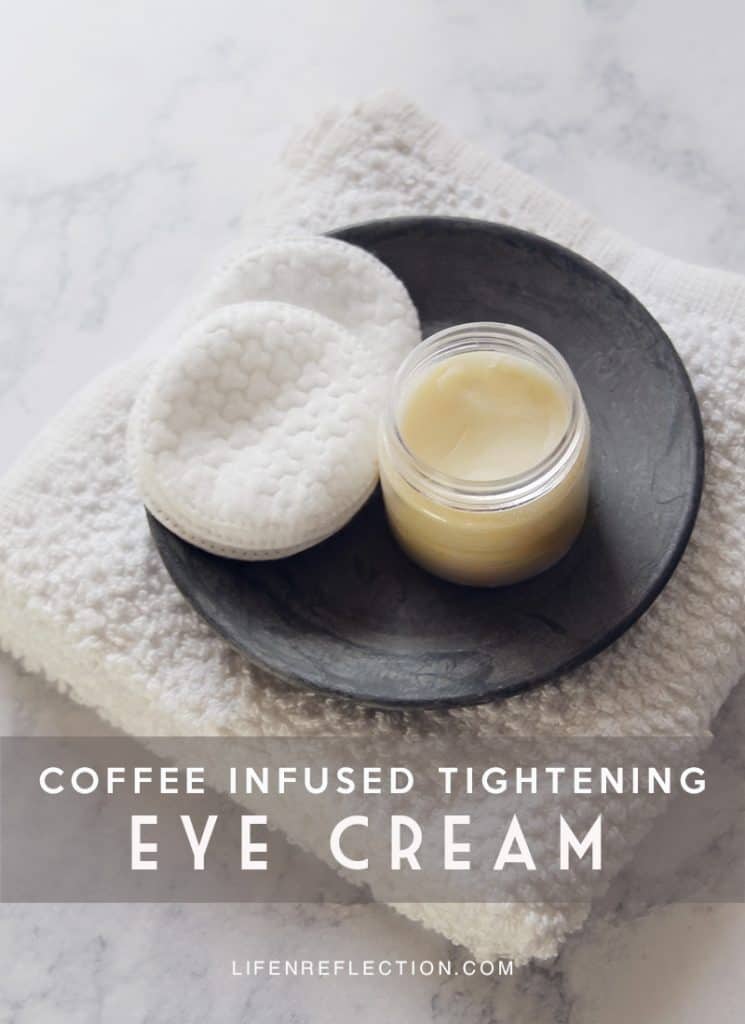 How to make DIY Coffee Eye Cream:
Now we are ready to start the Coffee Infused Tightening Eye Cream. Using the double broiler method again add beeswax to a large glass measuring bowl. Simmer over low heat until beeswax is melted. Next, add jojoba oil, coconut oil, vitamin E oil, and coffee infused oil individually to the measuring bowl. Stir each time you add oil.
Remove from heat and transfer to an airtight container. I recommend jars or tins. Place container(s) of tightening DIY coffee eye cream in the refrigerator to solidify. You can keep in your beauty drawer or in the refrigerator if you have puffy eyes. The coolness will help reduce puffiness.
Yields: 2 ounces
Try the benefits of caffeine and coffee on other areas of your skin… with my recipe for Hazelnut Coffee Body Scrub.