Making DIY Soap for a LOVE of Citrus
This pink grapefruit exfoliating DIY soap is a winning combination of grapefruit and pink Himalayan salt for replenishing skin.
This homemade soap recipe came from my love of grapefruits' fresh, sweet, citrus aroma. I'm quite a fan of citrus fruits and use lemon every day to clean our home.
Often revered as the fruit of paradise, grapefruit offers so many benefits for our health and skin!
So, with an urge to create another exfoliating soap like my Lavender Salt Bars, and thought, why not combine pink Himalayan salt with pink grapefruit?
This post contains some affiliate links for your convenience; read the full disclosure policy.
How is grapefruit good for the skin?
Grapefruit is a subtropical citrus fruit first cultivated in Barbados in West Indies as a hybrid fruit from a cross between Pomelo and sweet orange.
It was named after grapes because it grows like clusters similar to grapes. Grapefruits are widely cultivated here in the United States, particularly in Florida and California.
The fruit provides a number of benefits for the skin due to its huge content of vitamins and minerals.
Skin benefits of grapefruit not to be overlooked!
High in Vitamin A, B, and C antioxidants. Grapefruit renews damaged skin, improves softness and elasticity by stimulating the production of collagen in the skin.
Natural amino acids present in grapefruit soften and firm the skin. And lycopene is a powerful antioxidant that works to protect and repair cells. At the same time, potassium shields against UV rays lighten age spots and smooth wrinkles.
Not bad for a DIY soap recipe! Right?
Especially when you consider all the other skin-loving ingredients included, such as vitamin E oil, shea butter, and pink Himalayan salt.
If you haven't peeked at the ingredients yet below, it's the coarse pink Himalayan salt that gives this homemade soap its exfoliating power.
Plus, it looks really pretty on top of the soap!
Related: 20 Ingredients for DIY Natural Skincare
Related: Key Lime DIY Sugar Scrub Bars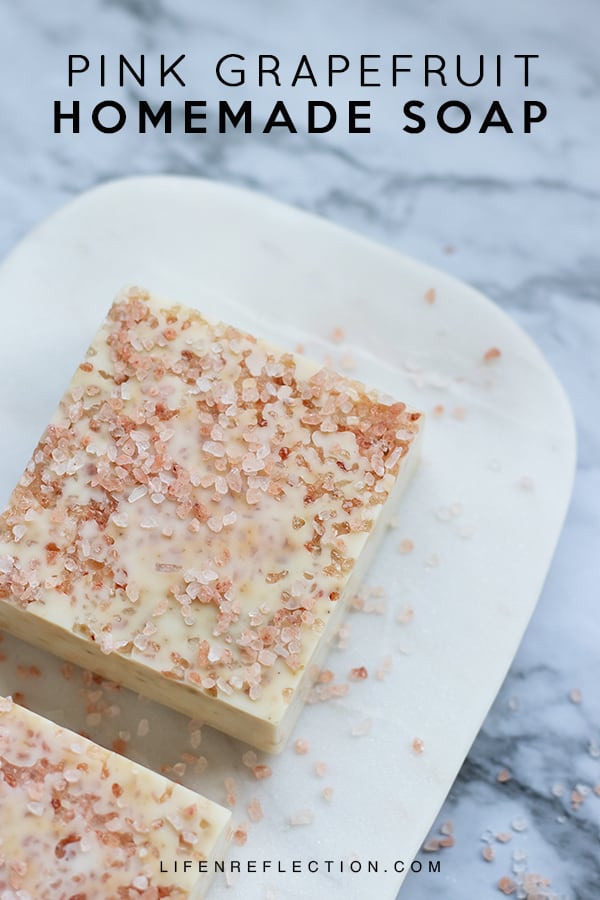 Pink Grapefruit Exfoliating DIY Soap Ingredients:
¼ cup coarse pink Himalayan salt
1 teaspoon beetroot powder
15 drops grapefruit essential oil
1 teaspoon grapefruit juice
½ teaspoon vanilla powder
1 teaspoon vitamin E oil
How to Make Pink Grapefruit Exfoliating DIY Soap:
First, prepare your liquid ingredients by combining one teaspoon of grapefruit juice and vitamin E oil with 15 drops of grapefruit essential oil.
Prepare your dry ingredients in a tiny glass bowl; combine 1 teaspoon of beetroot powder for color and a ½ teaspoon of vanilla powder for scent.
Sprinkle four squares of the silicone soap mold with a quarter cup of pink Himalayan salt.
Next, chop one pound of shea butter soap base into small chunks, using a soap knife,—place in a microwave-safe bowl. I recommend a large glass liquid measuring cup with a spout for easy pouring. Microwave soap at 30-second intervals for 2 to 4 minutes, stirring in between sessions until melted.
Remove from heat, working quickly before soap sets add the bowl of wet ingredients to the soap, followed by the dry ingredients. Stir well and thoroughly combine.
Note:
Soap will have a strong pink color at first. Unfortunately, this slowly fades as the soap sets. If you would like a stronger pink color, try adding 5 to 10 drops of natural food coloring like this kind.
Once combined, carefully pour pink grapefruit exfoliating soap into the prepared soap mold. Spritz with rubbing alcohol to remove bubbles in the soap.
Then, let the soap cool in the mold for 1 to 2 hours or until solid before removing. Some salt crystals will come off the soap when you first remove it. This DIY soap recipe makes four bars of exfoliating soap.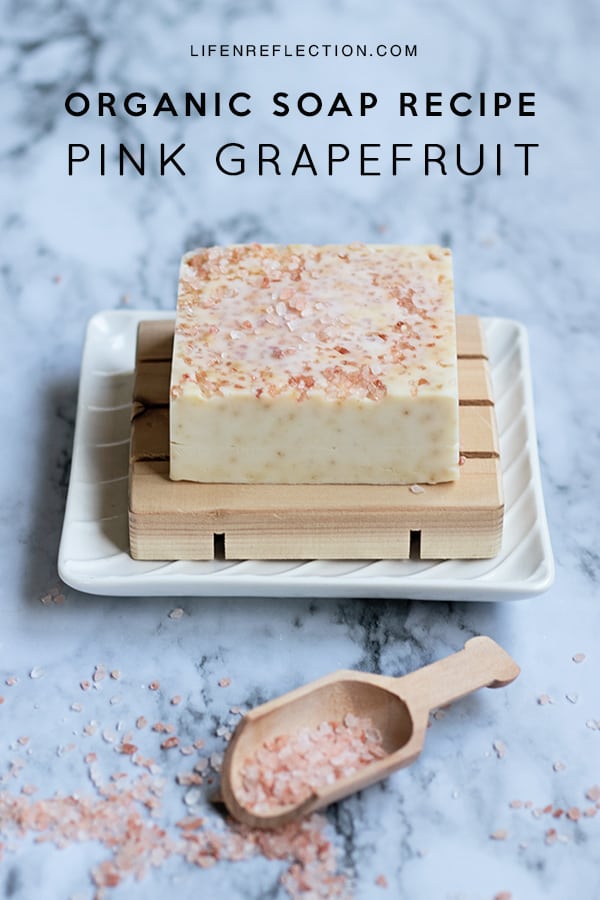 Pink grapefruit exfoliating DIY soap is perfect for a lightweight daily exfoliation. Remove dead skin cells and replenish skin with the winning combination of grapefruit and pink Himalayan salt!
For a deeper exfoliation, use my grapefruit poppyseed scrub once or twice weekly.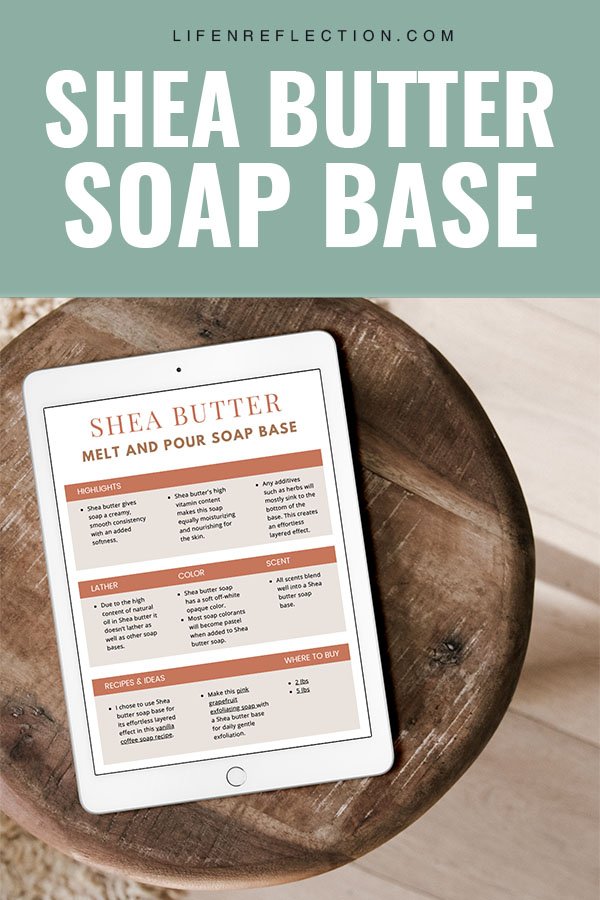 Have you tried this soap recipe? Please share it with us. Tag #lifenreflection on Instagram!