DIY Natural Skincare Essential Ingredients (updated for 2019)
I know from experience, making your own natural skincare products can be intimidating.
There's a big difference between making natural household cleaners or chemical free candles and DIY natural skincare products.
The difference is you're placing it on your skin!
Which is actually, all the more reason to try.
When we are expecting our daughter, I thought about our baby taking her 1st bath and it encouraged me to look closer at all the bath and body products I was using.
What was I putting on my skin? Truth be told, I needed more than a dictionary to read most of the product labels.
What did I do?
I dove right into making my own natural bath and body products!
However, the funny thing is, I started with a bubble bath. In light of expecting, a long soak in the bath did wonders for my pregnant body.
As a result, now I make everything from face wash to sugar scrubs.
In the process I discovered something – I really only need a few simple ingredients to make all my natural skincare products.
All things considered, it is easier than you think! Therefore, I compiled this list of 20 must-have ingredients to make DIY natural skincare products as a guide for you.
In addition, I've included several of my favorite recipes to help you get started!
This post contains some affiliate links for your convenience, read full disclosure policy.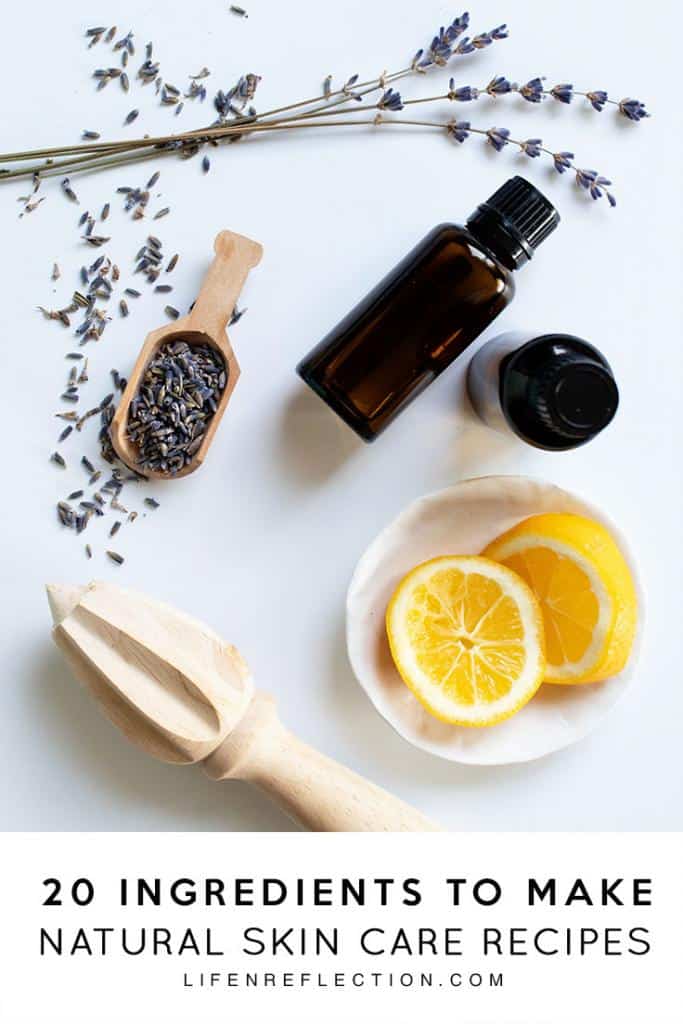 20 Essential Ingredients for DIY Natural Skincare
Castile soap is a concentrated vegetable-based soap made of ingredients you can actually pronounce. This soap is gentle on skin and effective against dirt, grease, and unwanted germs.
Castile soap can be used to clean just about anything and everything: your face, your shower, and even your dirty dishes! Yes, I'm a fan!!
#2 Sugar
Natural sugars such as coconut sugar, brown sugar, and pure cane sugar are a must have for creating sugar scrubs.
Sugar works well as a gentle natural exfoliant for the skin compared to coarse salts. It's a key ingredient for DIY lip scrubs like this one.
Want to know the secret ingredient to make bath bombs fizz? It's citric acid and it's all natural ingredient often used to preserve food at home when canning.
Sometimes you can find it at your local grocery store in a very small spice jar with a very big price. But, I've found it here in a one pound resealable bag for so much less. Find it my recipe for garden rose bath bombs.
#4
Essential Oils
Essential oils not only provide a wonderful natural fragrance to homemade skin care products but also contain many skin loving properties.
Learn more about how to get started with essential oils and don't miss my 10 must have essential oils for home and beauty here.
Aloe vera is antibacterial, anti-inflammatory, and a natural humectant. It's an incredible moisturizer for the skin among other things.
I use it daily in my cleansing aloe vera face wash and aloe vera face cream.
Used for its skin-soothing benefits, witch hazel is a plant-based substance made from the witch hazel shrub. It's a staple in my homemade facial toner.
I use it in place of water to make bath bombs. It's doesn't cause as much fizzing loss to occur when you need to add just a little more moisture to a bath bomb mix.
#7 Fresh And Dried Herbs
I love having fresh herbs within in reach to use in my beauty recipes. Even if you don't have a green thumb you certainly keep the plant alive long enough to get your money worth or opt for dried herbs.
Herbs not only make our homemade beauty recipes smell heavenly, but they also have a multitude of benefits.
Chamomile, eucalyptus leaves, lavender, and lemon balm are some of my favorites to use.
Natural carrier oils can make a big impact on the health and condition of your skin. They are packed with vitamins and antioxidants essential for healthy skin.
There are a variety of carrier oils available such as apricot kernel oil, grapeseed oil, sweet almond oil, and more – find the right carrier oil for your skin type here.
This may seem like an odd addition, but loose leaf tea is quite handy for natural beauty and hair care. I love to add herbal teas to soaps and bath tea recipes.
You can simply drop five tea bags into your bath for quick use or make a rich spiced chai latte bath for a relaxing self-care treat.
Body butter comes in a variety of textures rich and thick, soft and creamy, each with purpose and benefit for the skin.
They are all from natural sources such as kernels and fruit trees. Cocoa, shea, mango, and avocado are of my favorites to use in soaps, lotions, lip balms, body washes, and creams.
Each is solid at room temperature with different melting points. Learn all about how to use natural body butter here.

Take it from the skincare experts at Hello Glow, "There are some ingredients that you almost can't go wrong with DIY skincare. And honey is definitely at the top of the list."
It's a natural humectant that draws in moisture, antibacterial, and full of antioxidants! Pour one cup of raw honey into your bath while it's filling to moisturize, soften and soothe dry skin.
There are so many uses for vegetable glycerin, I always keep two bottles on hand! I love the way it softens everything it touches.
I use it to make handmade soaps, hair de-tangler, bubble bath, and many other DIY natural skincare products.
You can even use it straight out the bottle by adding a teaspoon to your bath to soften skin.
Thanks to Epsom salts, bath bombs do much more for our bodies than moisturizing the skin.
Named after a small town in England where it is was discovered in 1618, Epsom salts are known for their powerful ability to relieve aches and pains. They break down the build-up of lactic acid which causes muscle pain.
Add a ½ cup of Epsom salt to your next bath or try them in my recipe for a bubbling lemon vanilla bath soak.
Goat milk soap base is specially formulated to suspend additives evenly throughout the soap.
Meaning if you add lavender buds or chamomile flowers from the garden to your homemade soap they won't sink to the bottom of the soap like it would in other soap base types.
It's an all natural skin-loving choice for making soaps. Try in my recipe for lavender goat milk soap.
Natural beeswax is an excellent way to thicken beauty products. I use it to make salves and lip balm.
It's a strong antiseptic that reduces inflammation and inhibits the growth of bacteria on the skin.
You can find it here in a one pound bag of beeswax pellets. The pellets also known as beeswax pearls are very easy to measure out and use, versus cutting or grating a bar of beeswax.
Old Fashioned Rolled Oats, colloidal oatmeal, and quinoa are great all-natural skin softening additions to the bath.
The cellulose and fiber from the oats make an effective skin soother for itchy, irritated dry skin.
The process of grounding oatmeal and suspending it in liquid creates colloidal oatmeal that is more readily absorbed into the skin. Find oatmeal in my recipe for lavender rose oatmeal bath fizzies.
Popular among health food advocates who seek it for the nutritional value of its abundant trace minerals.
Pink Himalayan salt also contains electrolytes and the ability to relieve aches and pains.
Mineral salts break down the build-up of lactic acid, which causes muscle pain. Indulge in an enriching DIY mint lavender mineral bath made with pink Himalayan salt.
As an antioxidant, vitamin E oil helps to protect cells from free radical damage. It is a great nourisher and moisturizer for the skin and hair.
Use vitamin E oil to make natural skin care products such as tightening eye creams, hand lotion, and heel salves.
Arrowroot powder or starch is a powder extracted from the roots of the arrowroot plant.
It is a great herbal remedy for various skin issues, high in potassium, iron, and B complex vitamins.
Often used in talcum powders and cosmetics as a moisturizing thickening agent. Arrowroot powder also absorbs moisture and odors, which makes a great ingredient for natural deodorants.
Rose water is a beauty ingredient like no other. Rose is known to soothe, soften, brighten, and tighten the skin.
It plays a key role in these rose DIY beauty recipes to support the appearance of youthful-looking skin while promoting an overall healthy complexion.
Put it into Practice
You truly can use these ingredients to replace just about any skincare products you are currently using that has an ingredients list you can't read either.
I've included a link where possible in the list above, for some of my go-to places for picking up these staples.
I hope this list of 20 essential ingredients for DIY natural skincare serves as a reference guide for you to utilize anytime. Bookmark it or pin to come back to this guide again.
I forecast my fascination for whipping up homemade natural skin care products will continue to grow well into the future. Undoubtedly, once you begin making your own DIY natural skin care products you may have the same forecast!

Do you have normal, dry, mature, oily, or combination skin? Take our Skin Type Quiz now to discover yours!