Confused By Skin Care Ingredients?
Avoiding these five skin care ingredients can improve your skin and your health. Plus, don't miss the 10 skin care ingredients to love below!
Have you ever picked up a skin care product, turned it over to scan the ingredients, and pulled a blank? I've been there, feeling completely clueless as to what is inside that bottle with a pretty tree or sprig of lavender across it. Being confused by this is quite a dilemma, especially when you or a family is dealing with a skincare issue.
This post contains some affiliate links for your convenience; read the full disclosure policy.

Here's the Thing – Labels Can Be Deceiving!
Don't be fooled by product labels that are pretty to look at and/or remind you of nature. It's the label on the backside of the product that we should use for our decision-making.
Related: Does Your Skin Need A Change?
Related: What Can't A Simple Lip Scrub Do?
Understanding product labels
Deciphering product labels can be a challenging process. But, it's a challenge I am willing to take since the Food and Drug Administration does little to regulate ingredient safety (FDA 2012). In fact, federal law allows companies to leave some chemical ingredients off of their product labels (FDA 2011).
Needless to say, we have our work cut out for us! Start by familiarizing yourself with these five skin care ingredients to avoid below. Anytime you see one on a product, put it back on the shelf.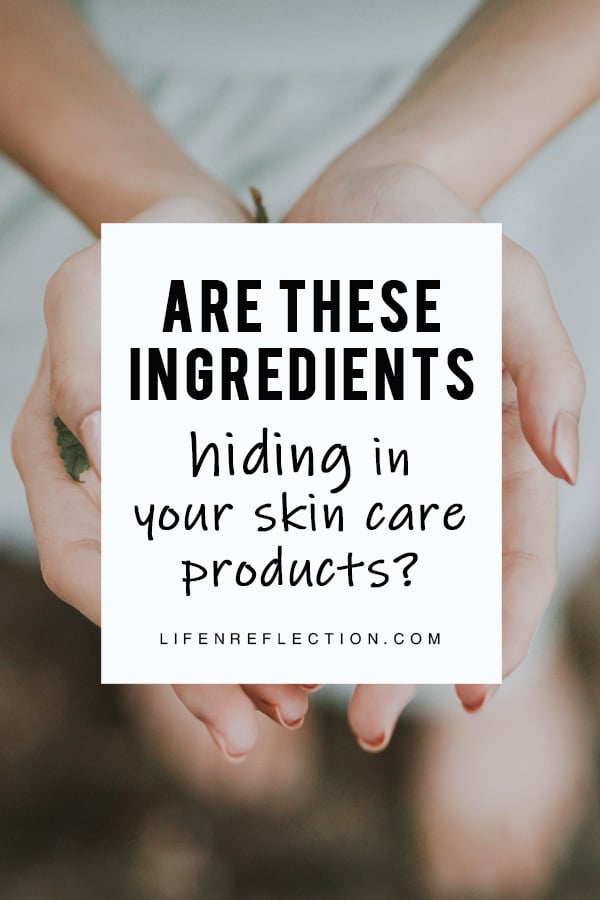 What Skin Care Ingredients Should You Avoid?
#1 Sodium Laureth Sulfate
Also known as sodium lauryl sulfate (SLS) is an ingredient used to create a foaming product often used with pump dispensers. SLS is a harsh detergent and strong skin irritant (Turkoglu, 1999). You may have read before here that it caused me to be hospitalized at the age of 6 due to severe skin lesions, which is why it's on the top of my list.
Commonly found in foaming hand soap, body wash, bubble bath, and shampoo
#2 Parabens
A common preservative to increase shelf life, parabens are made up of a family of chemicals and found in 75-90% of all beauty and skincare products sold in the U.S. Parabens are a hormone disruptor reported to cause reproductive and fertility issues in addition to skin cancer and breast cancer (Gomez 2005).
Commonly found in conditioner, makeup, face wash, shampoo, and lotion
#3 Phthalates
Used to help products stick to the skin, phthalates soften and increase the flexibility of plastics in skincare products. Phthalates come with serious concerns for males, children, and expecting mothers (Swan 2005). U.S. Congress actually banned their use in many children's products!
Commonly found in lotion, body mist, deodorant, and hairspray
#4 Fragrance
This is where companies can really get away with including a lot of chemicals in a product without including each on the label! Why? Because fragrance is considered a trade secret.
Fragrance, parfum, or perfume listed on a product label are terms used to virtually mask 1000s of ingredients. Many of which are known carcinogens and endocrine disruptors (FDA 2011).
Commonly found in body spray, hand sanitizer, body wash, and perfume
#5 BHA
Butylated hydroxyanisole (BHA) is a synthetic antioxidant used to extend shelf life. BHA is classified as "reasonably anticipated to be a human carcinogen" by the National Toxicology Program linked to skin depigmentation and endocrine disruption.
Commonly found in lipstick, diaper cream, face cream, and body butter
What ingredients should you look for in skin care products?
Ingredients that are not only natural but multipurpose, like sweet almond oil, are what you should be looking for. Some may be as simple as honey that you find in your kitchen cupboards, while others may require a quick shopping trip online like bentonite clay.
You see, by using natural ingredients and remedies, your skin will show a dramatic improvement over time as each method works toward the overall health of your skin.
A natural resource of nutrients, vitamins, enzymes, and skin-boosting acids, honey is a skin care ingredient to love! Becca, organic lifestyle and green beauty specialist at Organically Becca, says it's her favorite skin care ingredient. Use in her recipe for a Manuka Honey Face Mask.
And Kay, an eco-friendly specialist at Paws and Pines, says "Try using raw honey as a face wash as it's naturally antibacterial and moisturizing. It's been key to minimizing my breakouts. The stickiness takes a little bit to get used to, but it's worth it for the results!' I couldn't agree more, and I use it in my daily fash wash recipe too.
Recommend for: face masks, lip scrubs, face wash, and hair masks
Used for decades as a natural skin care ingredient and native Morocco, argan oil not only benefits the skin but boosts the health and shine of hair. Argan oil is rich in antioxidants, omega-6 fatty acids, linoleic acid, and vitamins E and A.
Popular among many healthy living advocates, Kristi at Healthy and Lovin It recommends it as well as Ivanna at Earth Gypsy Evie for your face, body, and hair.
And Nadia at Body Unburdened says, "Carrier oils such as argan oil are filled with antioxidants, which help neutralize aging free radicals and prevent sebum oxidation (a major player in adult acne).
Carrier oils also help keep skin clear by helping to break up the gunk clogging pores and regulate the skin's own oil production. And of course, carrier oils provide amazing moisture, and moisturized skin not only heals more rapidly but also looks more plump and youthful."
She struggled with adult acne for years, during which time she applied a lot of harsh, incredibly irritating, and drying products to her skin. When she hesitantly started using oils, it was like a tall glass of water, superfood-packed smoothie, and warm hug all at once for her skin.
Now her skincare needs have changed from anti-acne to anti-aging, yet they are still the cornerstone of her skincare routine.
Recommend for: face wash, hair masks, facial oil, conditioner, and face cream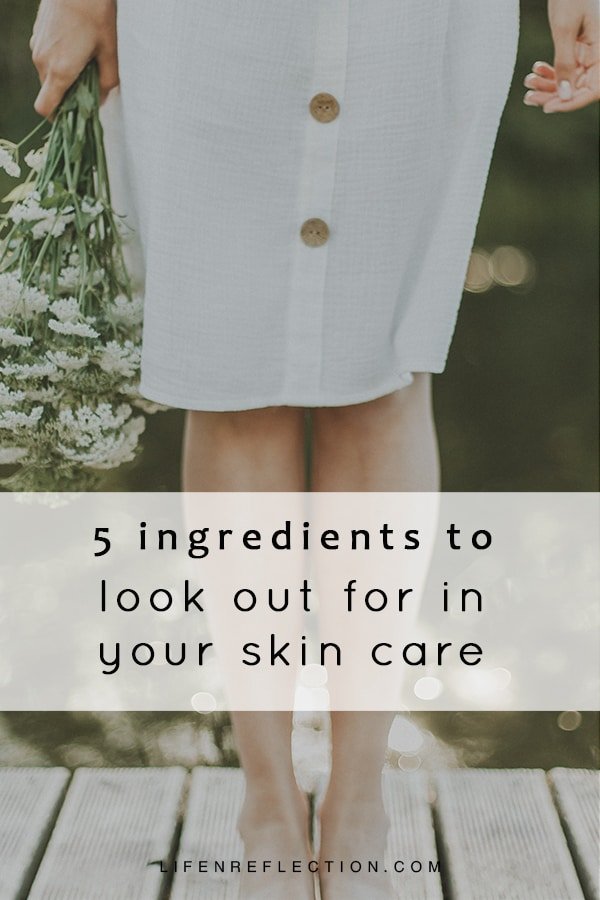 Also known as cocoa butter, it is a rich moisturizer high in vitamin E. And its' pure nondeodorized form, cocoa butter smells just like chocolate, in case you didn't know.
I use a Chocolate Mint Nourishing Heel Salve to lock in moisture like nothing else I've tried! Apply it to dry, cracked, or rough areas on feet—Shelby at Fit As A Mama Bear, loves to use cacao butter in her easy lip balm recipe.
Recommended for: body cream, lip balm, lotion, and salves

The delicate petals of roses are bursting with antioxidants to reduce inflammation and repair skin. In addition to antibacterial and antiseptic properties to help improve a multitude of skin issues. It's a skin care ingredient to love as it supports youthful-looking skin while promoting an overall healthy complexion.
Adrienne at Whole New Mom says rosehip seed oil is her favorite natural skin care ingredient, and I can see why. Use it in a wealth of rose beauty recipes here. And don't miss Chelsea's DIY Rose and Hyaluronic Acid Face Serum, the Esthetician and College Professor behind Reclaiming Vitality.  
Recommended for: bath bombs, face oil, hand cream, and body scrubs
Clay:
There's clay for just about every skin type. Kaolin clay is the mildest of all clays and is suitable even for those with sensitive skin. It helps to stimulate circulation within the skin, all while gently exfoliating and cleansing skin. Sara at DIY and Kawa recommends bentonite clay for acne. Try it in her bentonite clay mask.
French green clay is often referred to as the powerhouse of all clays. This natural skin care ingredient helps to absorb impurities and toxins in the skin. French green clay contains many benefits, including iron, aluminum, titanium, magnesium, potassium, calcium, and sodium.
Recommended for: makeup powders, face masks, soap, scrubs, and body masks
Used in Africa for hundreds of years as natural skin care ingredient, shea butter is an excellent moisturizer for dry skin and frizzy hair. Addie at Old World New says, "Shea butter works wonders for both my skin and my hair."
Danielle, the editor of Willow and Sage Magazine, says, "Shea butter stands out above the rest when it comes to natural skin care ingredients." She uses it to hydrate and revitalize her dry, sensitive skin. Kerry at Clean Pretty Wise agrees shea butter is a wonderful ingredient and super moisturizer.
Recommended for: hand cream, conditioner, shaving cream, and body wash

A favorite natural skin care ingredient among many, essential oils contain a wealth of skin-loving properties in addition to their unique scents. Jasmine at Wild Green Life says, "100% pure essential oils are my favorite ingredient in all my DIY natural skin care recipes. I love frankincense the most because it supports healthy cellular regeneration. It can also be used to help heal minor skin irritations, cuts, bruises, and burns!"
And Eileen at Sensitive Souls Coach says she loves to blend frankincense essential oil with coconut oil for repairing dry, dehydrated skin. While Heather at Heather LeGuilloux says she always has melaleuca essential oil on hand to help purify her pores to reduce common imperfections of the skin, such as blemishes. Start with Plant Therapy's most popular essential oil kit!
Recommended for: facial serum, bath bombs, soap, perfume, and face cream
Also known as floral water. Unlike essential oils, which require huge amounts of plant matter and large distillation equipment to distill even a small amount of oil, floral waters can be made at home. They are used in everything from personal cosmetics to home fragrances to food. Learn all about floral water from the experts at The Herbal Academy. Marlene Adelmann, Clinical Herbalist and Founder of The Herbal Academy, says, "Lavender, rose, calendula – hydrosols, we love them all!"
Recommended for: body mist, facial steams, soap, perfume, and toner
You're likely aware of the many benefits of almonds, but have you used sweet almond oil? It's anti-inflammatory, antibacterial, antiviral, and antiseptic. It has a lovely light scent that blends well with other carrier oils, body butter, or essential oils. Millason at Simply Natural Mama says it's her most valued natural skin care ingredient.
And Tanya at Lovely Greens says, "Sweet almond oil is light, moisturizing, and versatile. I use it to make handmade soap, body balms, lotions, body oils, and many other beauty recipes. It's also inexpensive and relatively easy to get a hold of.."
Recommended for: face masks, lotion, bath bombs, soap, and body oil

Commonly known for its sunburn healing properties, aloe vera contains more than 75 active ingredients. This includes amino acids, enzymes, fatty acids, vitamins, minerals, salicylic acid, and the list goes on!
Aloe vera's antimicrobial, antifungal, and anti-inflammatory properties are what make it my favorite natural skin care ingredient to fight acne. I use it daily in my cleansing aloe vera face wash and aloe vera face cream.
Recommended for: hair serums, face wash, toner, face cream, and body oil

You May Also Like: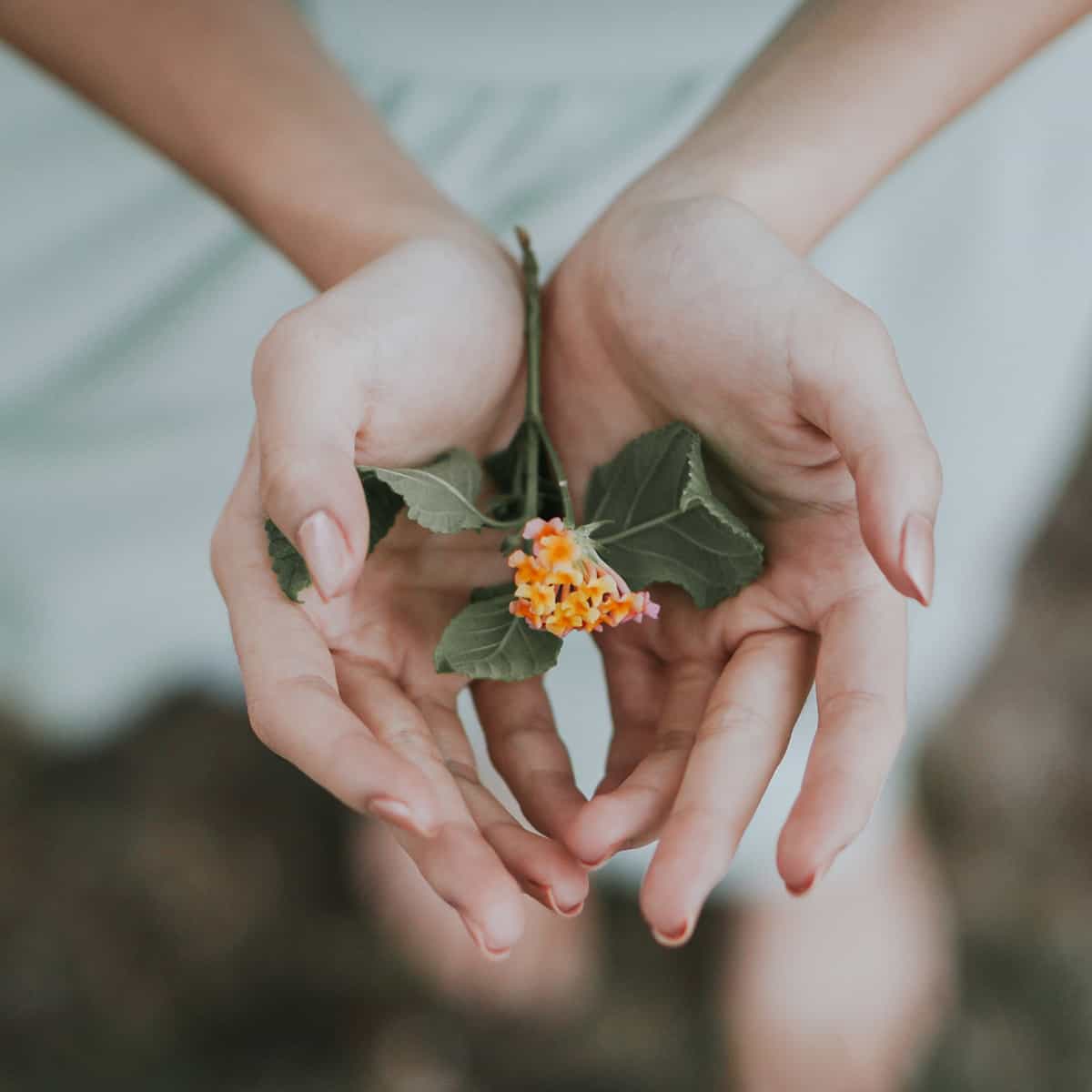 While the list of skin care ingredients to avoid may seem endless, starting to remove these five will not only improve your skin but your health as well. So, start looking more closely at ingredients on product labels rather than the design.
If you're ready to venture into natural skincare read how I reached out to 20+ experts from various backgrounds, asking them to share their glowing skin here.
Have you considered making your own skincare products? Get your hands on this set of natural skincare ingredients from Pronounce Skincare to create 15+ customized recipes. It's a simple, cost-effective way to begin adopting a natural skin care routine while knowing exactly what you're putting on your skin!

References:
FDA (U.S. Food and Drug Administration). 2012. How FDA Evaluated Regulated Products: Cosmetics. Last updated on April 4, 2012.
FDA (U.S. Food and Drug Administration). 2011. Guidance for Industry: Considering Whether an FDA Regulated Product Involves the Application of Nanotechnology (Draft Guidance). http://www.fda.gov/RegulatoryInformation/Guidances/ucm257698.htm
Turkoglu, M., Pekmezci, E., and Sakr, A. (1999), Evaluation of Irritation Potential of Surfactant Mixtures. International Journal of Cosmetic Science, 21: 371-382. doi:10.1046/j.1467-2494.1999.211920.x
Gomez E, Pillon A, Fenet H, Rosain D, Duchesne MJ, Nicolas JC, et al. 2005. Estrogenic activity of cosmetic components in reporter cell lines: parabens, UV screens, and musks. Journal of Toxicology and Environmental Health 68(4): 239-251.
Swan SH, Main KM, Liu F, Stewart SL, Kruse RL, Calafat AM, et al. 2005. Decrease in anogenital distance among male infants with prenatal phthalate exposure. Environmental Health Perspectives113(8):1056-61.