5 Quick Soap Recipes for Melt and Pour Soap Bases
Look no further than these quick soap recipes for melt and pour soap if you want to know how to make homemade soap fast.
I love making soap for our home and family. And it shows – you should see my linen closet. Its shelves are stacked with homemade soaps and candles. 
But, if I'm being honest, I can be impatient when it comes to waiting to enjoy my DIYs. Like taking the first bite of a cookie fresh from the oven before it's cooled, I can't help but want to lather up with a new soap recipe. 
That's why I use melt and pour soap. It's as simple as it sounds; just melt and pour. If that wasn't easy enough, soap making with a melt and pour soap base speeds up the process! 
Can you believe I can whip up a handful of homemade soaps in just 15 minutes?
This post contains some affiliate links for your convenience; read the full disclosure policy.
Why are Melt and Pour Soap Recipes Quicker?
Traditional soap making typically takes four to six weeks for the saponification process to complete. Whereas melt and pour soap bases have already gone through the saponification process of the oils reacting with lye.
So, how long does melt and pour soap take to set?
Technically a melt and pour soap base is cured before it leaves the manufacturer and makes its way to you. This means after you melt it, mix in any optional ingredients (think honey, lavender buds, or essential oils), and pour it – melt and pour soap is set after it hardens. And that generally takes 15 minutes for little soaps and up to an hour at most for loaf soaps. 
Melt and pour soap recipes are incredibly quicker in comparison to traditional cold process soap making!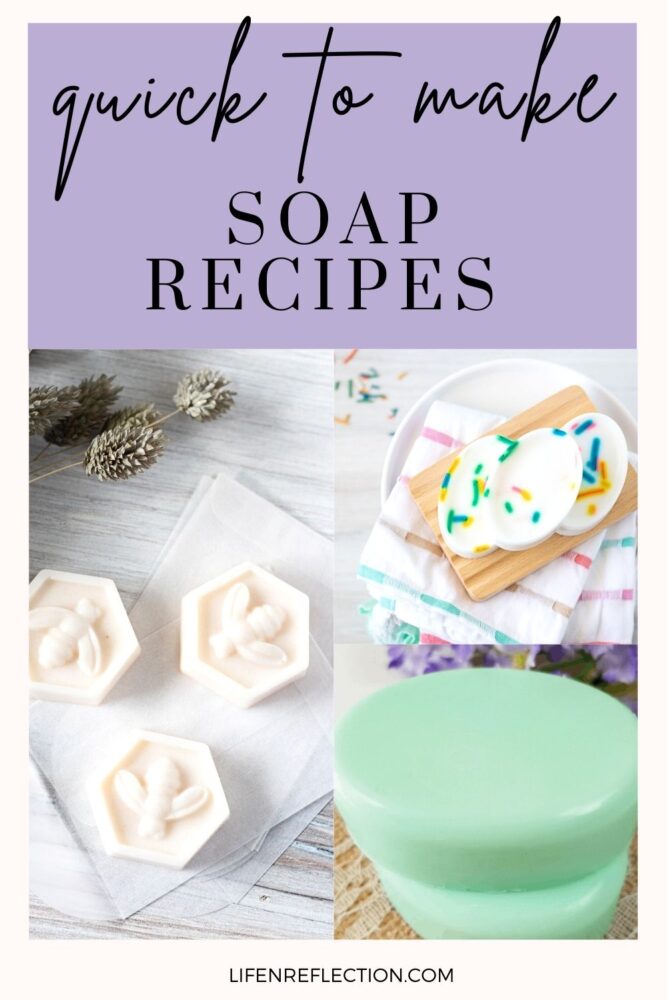 And another thing,
Rebecca at Soap Deli News points out, "To make cold process soap, you will need quite a few more ingredients. This is because you are creating your soap base from scratch. You will need water, fats (oils or butter), and lye. And, of course, you also need to use additional equipment to make cold process soap."
Let's be honest, not all of us want to bring lye into our kitchens or spend a large amount of money on soap-making equipment. 
So if you want to know, how do you make homemade soap fast? The answer is a quick melt and pour soap recipe! 
Every melt and pour soap recipe begins by using a melt and pour soap base. Choose coconut, aloe vera, shea butter, or goat milk, to name a few. There's quite a variety available! I most often select one for its scent, color, lather, or benefits for the skin I'm after. Want to make soap for your skin type? It's easy when you start with our 8-point skin type quiz and a detailed review of 10 melt and pour soap bases!  
Refine your search for the best melt and pour soap base for your soap making ideas with our printable soap-making guides in the Simple Living Library.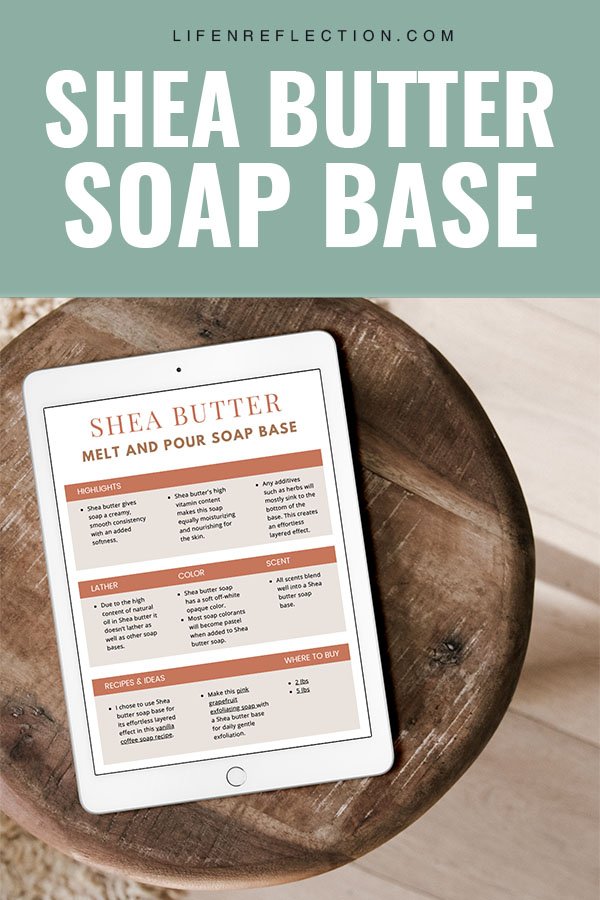 Related To: Creative Soap Making Add-Ins
Related To: Best Soap Molds I've Tried
5 Quick Soap Recipes for Melt and Pour Soap Bases
This lemon honey soap recipe is the bee's knees –  it looks like a honeycomb smells like honey and takes only a few minutes to whip up! And it all begins with the beautiful golden glow of a honey soap base; no soap colorant is needed. 
– All together, it's a nourishing soap bar with an uplifting scent of sweet honey and fresh lemon. 
This cucumber melon soap recipe will have your senses ready and on point with its unique, refreshing fragrance. And I can't get enough of its cheerful mint green color too. Together they immediately bring my mind to the garden in summer.  If you're looking for a cucumber soap recipe, you're going to love this one.
Coffee soap is a treat for your skin and your nose. Truth be told, coffee soap benefits are quite numerous. Did you know the caffeine in coffee can give your skin a good jolt, just like it does for you from your morning latte? And it's great for all skin types too!
Make this coffee soap with a shea butter melt and pour soap base and real coffee grounds for a fresh bright-eyed-and-bushy-tailed appearance!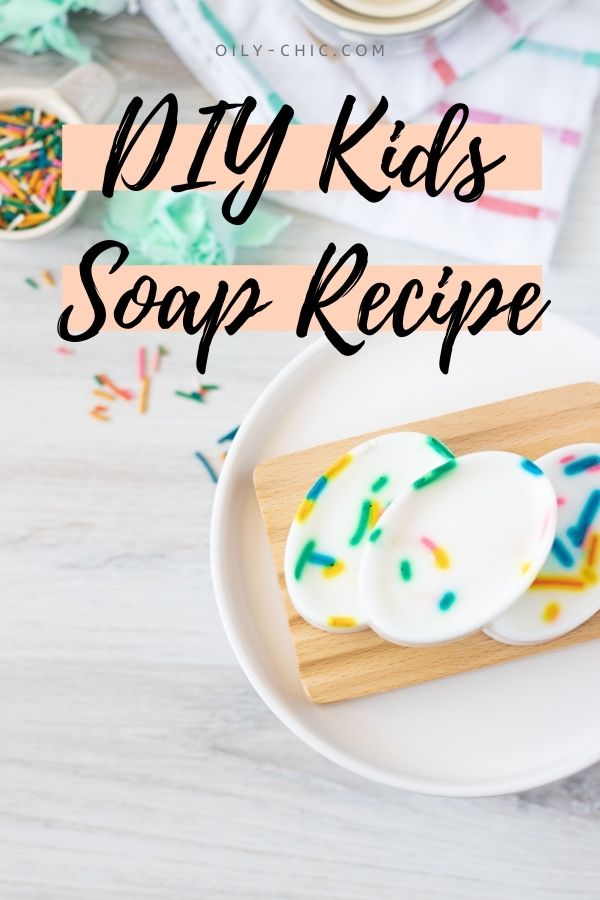 This confetti soap for kids is bizarrely easy to make! You can make this super cute kid-friendly soap recipe from scratch in no time.
Kids love CAKE – especially confetti cake, popularly called Funfetti cake for good reasons. How can you not have fun with all those confetti sprinkles? 
Whip up a batch of melt and pour soap that looks like confetti cake, smells like confetti cake, and just screams fun.
I've made this honey and goat milk soap recipe several times. It's not only quick to make, but it is also quite nourishing for the skin. In the cold, dry months of years, I turn to it to keep our skin feeling soft and hydrated. Adding a little vitamin E oil and vanilla creates a rich sweet lather that makes me go back to this melt and pour soap recipe again and again.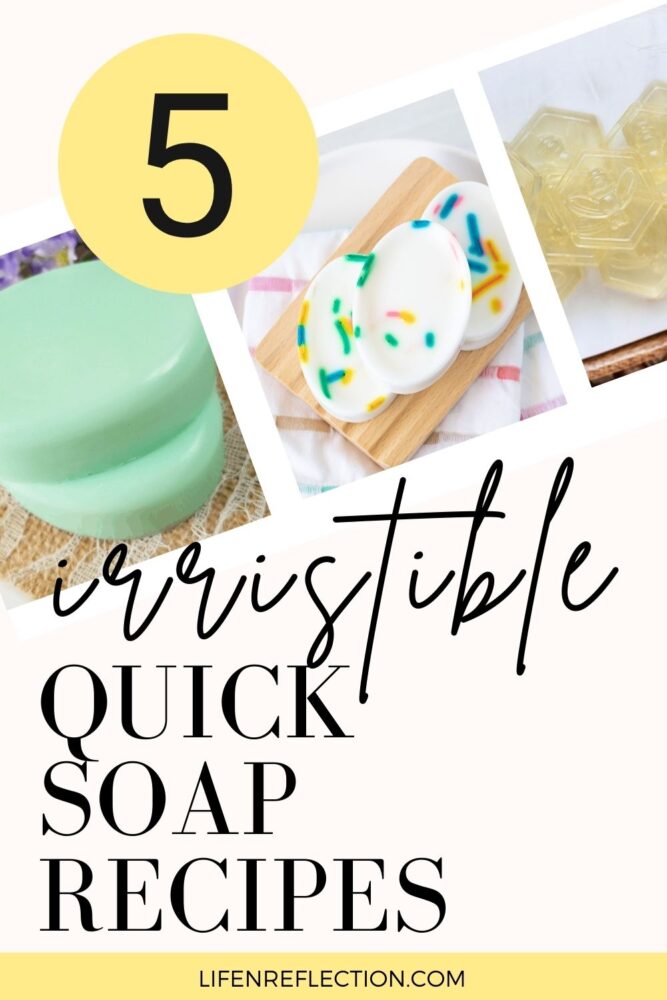 As you can see, even quick soap recipes make beautifully handcrafted soap!
And each soap recipe makes easy handmade gifts for friends and family. Slip a soap bar inside a transparent glassine bag to give as a gift, or place a soap inside a metal tin for the perfect zero waste gift! Don't miss my fan favorite Holiday Essential Oil Gift Making book if you are looking for more handmade gift ideas. It's an incredible resource to make luxurious yet simple gifts. Which one of these quick soap recipes are you going to make first? 
YOU MAY ALSO LIKE:
Have you made soap using a melt and pour soap recipe? I'd love to see it! Tag #lifenreflection on Instagram to share yours. And don't forget to pin this list to come back to soon for quick soap ideas.