Does the thought of making honey and goat milk soap intimidate you?
I love making soap for our family and especially for handmade gifts. But making soap with lye is just not an option for me with a little one underfoot. If you know me well, you'll know I don't give up easily. Maybe it's from my upbringing or maybe it's because I'm an enneagram 7…
Nonetheless, I discovered how to make goat milk soap with honey and all sorts of other creative soap making ingredients without scary lye or latex rubber gloves (which I'm allergic too).
Want to know how to make soap without lye? That's easy! Let me introduce you to a melt and pour soap base recipe.
This post contains some affiliate links for your convenience, read full disclosure policy.
Why use a melt and pour soap base?
A melt and pour soap base like my favorite goat milk soap base makes it so easy to make homemade soap without lye (active lye that is). And it's as simple as it sounds – melt and pour!
You see by using a goat milk soap base that has already gone through the saponification process – you skip the hassle and risk of working with active lye. And milking a goat for that matter!
If that wasn't easy enough, making soap with a melt and pour soap base really speeds up the process!
Can you believe I made these adorable honey and goat milk soap bars in 15 minutes? And that includes the time it took to gather the supplies.
So, as you can see the result is still a beautifully handcrafted soap even if it's made the easy way. You get to choose the melt and pour soap base, soap shape, size, color, scent, and additives like honey, lavender flowers, or orange zest. And by doing so you can choose soap making ingredients with benefits for the skin too!
Related To: Jasmine Aloe Vera Soap Tarts
Related To: Pink Grapefruit Exfoliating Soap Bars
Goat Milk and Honey Soap Benefits:
Regardless of how easy it is this honey and goat milk soap recipe boasts many benefits for the skin. The goat milk soap base contains a great source of many vitamins and nutrients to nourish the skin. As well as the anti-inflammatory properties of goat milk to soothe itchy skin and rich fats to moisturize the skin.
What does honey do in soap? The addition of raw honey beefs up the moisturizing power, adds a sweet scent and helps the preserves the soap as honey is antibacterial.
How can you add honey to melt and pour soap?
I've been asked a few times on Instagram about adding honey to soap. Even THE Soap Queen herself has a lot to say about this! She recommends adding no more than ½ teaspoon of honey per pound of soap. And she is right! Adding more than that causes the soap to become too soft and increasing sweating or what's called glycerin dew. Check out the Soap Queens honey test in melt and pour soap recipes. It's a great visual!
But, with the right combination of honey and goat milk an ultra-smooth, creamy soap can be made.
I've made this honey and goat milk soap recipe several times. It's not only quick to make but it is also quite nourishing for the skin. I turn to it in the cold, dry months of years to keep our skin feeling soft and hydrated. Adding a little vitamin E oil and vanilla extract creates a rich sweet lather that makes me go back to this melt and pour soap recipe again and again.
This honeycomb and bumblebee soap mold just adds to its' beauty. This recipe will fill half of the soap mold to make 10 soaps. And doubling the recipe will fill the whole soap mold to make 19 soaps.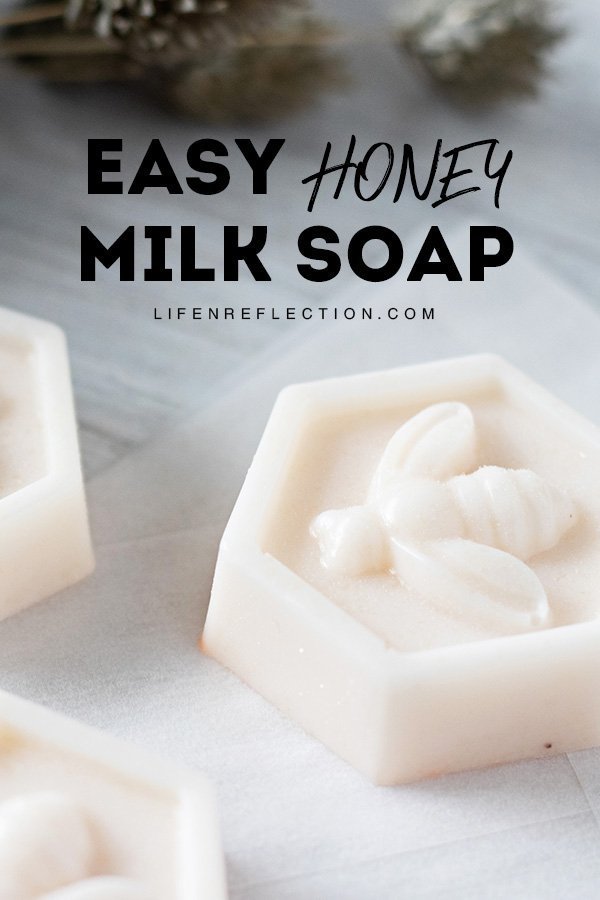 SOAP INGREDIENTS OR SUPPLIES:
How To Make Honey and Goat Milk Soap:
1. Prepare the honeycomb silicone mold by cleaning, drying, and spritzing with rubbing alcohol.
2. Carefully slice 1 pound of goat milk soap base into cubes that are approximately ½" to 1" in size using a soap knife.
3. Scoop the sliced goat milk soap base into a large glass measuring cup. Place it in the microwave and melt the soap base in 30 seconds intervals, stirring intermittently to avoid burning.
4. Remove the melted soap base promptly from the microwave and add ½ teaspoon raw honey, ¼ teaspoon vitamin E oil, and ⅛ teaspoon vanilla extract. Blend thoroughly together using a non-stick heat resistant spatula.
5. Pour the honey and goat milk soap into the prepared honeycomb silicone mold. Carefully distribute evenly between sections to avoid overflow.
6. If needed, spritz with rubbing alcohol to remove bubbles in the soap. Then allow soap to cool in the mold for one to two hours or until solid before removing.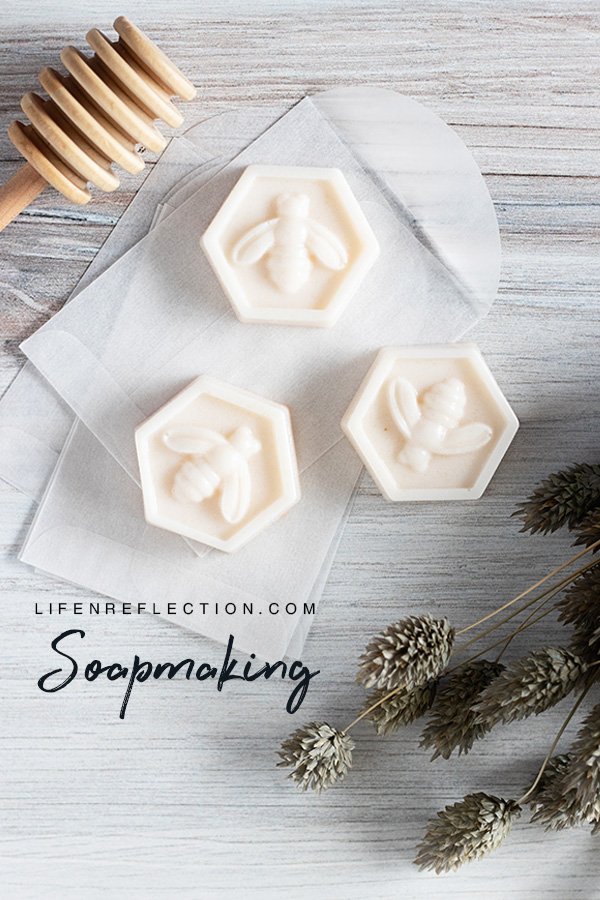 Packaging Handmade Soap for Gifting
This honey and goat milk soap recipe make easy handmade gifts for friends. The finished soaps have a classic bumblebee and honeycomb shape that makes each look expensive and elegant.
Slip one inside a small, transparent glassine bag to gift. Or place a soap inside a metal tin for the perfect zero waste gift! If you are looking for more handmade gift ideas don't miss my fan favorite Holiday Essential Oil Gift Making book. It's an incredible resource to make luxurious, yet simple gifts for everyone on your list!
Speaking of gifting…
I teamed up with some friends to bring you more handmade gift ideas! Click each one to get all the details and check out my Insta stories this week for lots of behind the scenes!!
DIY Wax Air Fresheners with Essential Oils:
Make DIY air fresheners with Cari at Everything Pretty. Each is made simple ingredients like essential oils, beeswax, and soy wax. They are perfect for closets, drawers, or anywhere that needs a little freshening up and make a beautiful zero waste gift too!
8 Giftable Room Spray Recipes:
Essential oil rooms sprays are so easy to make, smell amazing, and have
incredible aromatherapy benefits! During the holidays I love to switch our room sprays out for festive scents. Check out these 8-holiday room spray
recipes to help you get into the Christmas spirit or give as gifts at Our Oily House.
Handmade bath bombs always make for a fun gift! To celebrate the upcoming holidays turn them into Bath Bomb Ornaments with Lydia at Lydi Out Loud. Add scents of the season and make festive with red and green sprinkles. They not only make a perfect holiday gift but a full sensory experience!
DIY Mocha Mint Cupcake Melt and Pour Soap Recipe:
This mint chocolate cupcake soap recipe is easy to make with melt and pour soap. These soap cupcakes from Carol at Total Wellness Choices are adorable and are scented with a natural mocha mint fragrance oil. The unique soap mold makes the super process easy. And they make a great holiday gift for friends, teachers, or anyone who loves fun soap.
Holiday Stovetop Potpourri Gift Ideas:
Irena of Country Hill Cottage and I share a love stovetop potpourri. Simmering potpourri recipes make your house smell like Christmas and are wonderful homemade holiday gift ideas. Her tutorial comes with free printable labels and gift tags for packaging and gifting too!
Learn how to make these DIY essential oil ornaments in 30-minutes or less
to add a natural fragrance to your tree this holiday season with Rebecca at Soap Deli News. These quick & easy ornaments can be scented with your favorite holiday essential oil blend and make lovely DIY holiday gifts too!
DIY Holiday Cupcake Bath Bombs:
Make these festive holiday bath bomb cupcakes with Celiné at Tweak & Tinker. There are two designs to choose from – one candy cane peppermint and one Christmas tree. This easy recipe contains nourishing oil, clay, and essential oils. Both choices make for a pretty handmade gift.
This is one of the simplest melt and pour soap recipes I've made. Not only does it make easy handmade gifts for friends and family, but the rich lather and sweet scent make them irresistible not to keep one for yourself.
Have you made soap with a melt and pour soap recipe? I'd love to see it! Tag #lifenreflection on Instagram to share yours. And don't forget to pin this recipe to make soon.