Looking for Creative Soap Making Ideas? Discover 20 Natural Soap Making Ingredients!
Discover 20 natural soap making ingredients, so you'll never run out of ideas for your homemade soap recipes!
Whether you're a seasoned soap artisan or a beginner to soap making, one thing is certain: the quest for unique, skin-loving ingredients is the heartbeat. When commercially made soaps often conceal a host of questionable components, it's no wonder that the desire to craft your own natural soap, rich in wholesome elements, has surged in popularity.
Now, more than ever, we're acutely aware of the connection between what we apply to our skin and our overall well-being. Mass-produced soaps can be laden with ingredients that, let's face it, neither our skin nor our health truly adores.
The moment you turn over a typical bar soap and scan the ingredients list, the truth often emerges – that many contain components that are best left untouched. You'll likely spot at least one notorious culprit – harsh detergents, synthetic fragrances, and unpronounceable chemical additives. These, my friend, are the red flags! If it includes any of these five ingredients, put it back!
If such ingredients have irritated your skin and caused frustration- you're in the right place. In this comprehensive guide, I'm unveiling 20 natural soap making ingredients that add nourishment and beauty to soaps.
This post contains some affiliate links for your convenience; read the full For your convenience, disclosure policy.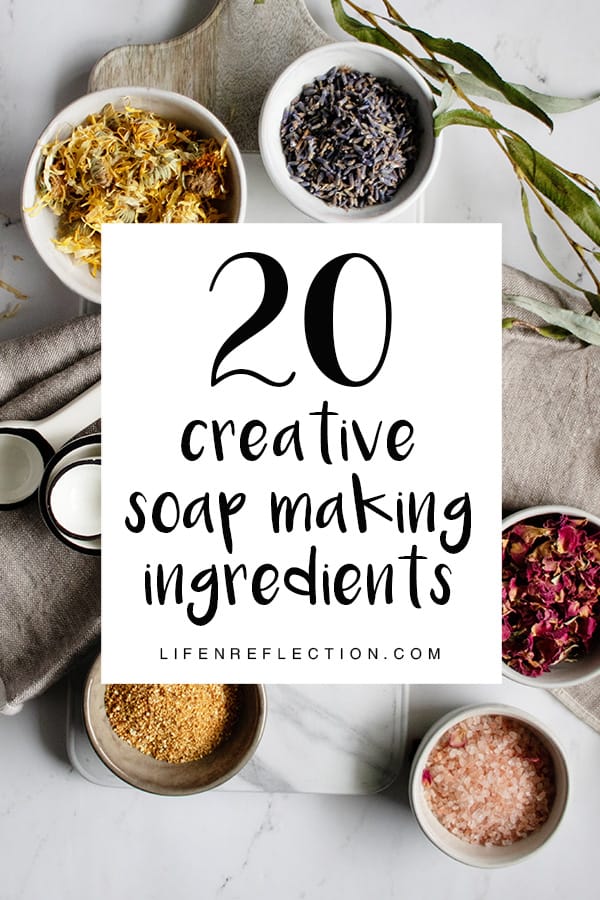 Natural Soap Making Doesn't Mean Boring
Just because you're skipping commercial ingredients doesn't mean your handmade soap has to be boring!
There's something truly magical about creating your soap from scratch. It's a craft that marries artistry and science, where you're both the alchemist and the artist. Handcrafted soap isn't just about cleansing; it's about nurturing your skin, tantalizing your senses, and embracing a holistic approach to self-care.
So, if you think natural soap equals no color or no scent. You've been misled. You can still color soap any shade with natural food coloring, clays, botanical powders, or natural mica powder. And fragrance is all too easy with essential oils!
Not to mention, you can create unique textures and patterns, too, using natural soap making ingredients. With these twenty creative soap-making ideas, you can have it all!
Related: The Easiest Way to Make Soap
20 Creative Soap Making Ingredients
These natural soap ingredients aren't just a list; it's an invitation to curate your own personalized soap that caters to your creativity and your skin's needs. So, if you're ready, let's dive into these unique natural soap making ingredients together!
#1 Citrus Rinds: exfoliation + color + scent
Many are drawn to the fresh scent and bright colors of citrus fruits. Orange, lemon, grapefruit, or lime all make wonderful additions to soap. Citrus fruits are high in antioxidants and vitamins A, B, and C. These help combat free radicals and lend a radiant glow to the skin.
Use citrus rinds and powders to color and scent soap, in addition to exfoliation.
SOAP IDEA – Make DIY lemon zest soap, perfect for everyday kitchen clean-up!
#2 Oatmeal: soothe dry skin + decoration
Old Fashioned Rolled Oats, colloidal oatmeal, and quinoa are great all-natural skin-softening additions for natural soap making. The cellulose and fiber from the oats make an effective skin soother for itchy, irritated, dry skin.
The process of grounding oatmeal and suspending it in liquid creates colloidal oatmeal that is more readily absorbed into the skin. Add it to your next natural soap recipe, or start with an oatmeal soap base!
OATMEAL SOAP RECIPE – This blue cornflower oatmeal soap recipe for dry skin is packed with vitamins, minerals, and moisturizers that thirsty skin craves!
#3 Coffee Grounds: exfoliation + color + scent
Most known for a morning caffeine jolt, coffee can also give your skin a jolt! It's packed full of antioxidants, making it naturally anti-aging and detoxifying.
Best of all, it is a natural astringent that makes your skin tighter and firmer. And who doesn't love the aroma of coffee?
CHECK OUT – my easy Coffee Soap Recipe!
#4 Lavender buds: scent + decoration
Popular for its scent, lavender is a lovely natural soap making ingredient. Known to promote restful sleep, it's a no-brainer to include in soap. Combine dried lavender buds with lavender essential oil for soap scent and decoration.
SOAP IDEA -Make DIY lavender goat milk soap for a relaxing bath.
#5 Shredded Coconut: exfoliation + decoration
This pairs well with citrus scents and makes a beautiful natural soap ingredient. As a carrier oil, coconut is packed with intense moisturizing benefits for the skin. Learn more about using carrier oils with the Oils By Skin Type Chart in the Simple Living Library, including a dozen soap making printables and more!

#6 Seeds: exfoliation + decoration
Poppy seeds, apricot seeds, and chia seeds are clever ways to add exfoliation to soap bars. And I love how they appear to float within the soap.
CHECK IT OUT – with my zesty lemon poppy seed soap recipe!
#7 Matcha powder: color + exfoliation
Rich in antioxidants, anti-inflammatory, and anti-aging properties, green tea has amazing beauty benefits. You can apply green tea in an abundance of natural ways to help smooth, hydrate, tighten, and brighten your skin.
Add loose-leaf tea for exfoliation or matcha powder for color. I love the soft green color it makes in these DIY Match Matcha Bath Melts.
#8 Pink Himalayan salt: harden soap + exfoliation + color
Remove dead skin cells and replenish skin with Pink Himalayan salt! Mineral salts break down the build-up of lactic acid with the help of electrolytes to reduce muscle aches and pains.
Salt in any form also hardens soaps and provides exfoliation.
SOAP IDEA – make pink grapefruit exfoliating DIY soap, perfect for a lightweight daily exfoliation.
#9 Candelua Flowers: color + decoration + scent
Have you seen these in person or held them in your hand? Dried calendula flowers are big compared to most dried herbs. And the color doesn't fade in soap, like other herbs. If you're not using herbs from your garden, check out these gorgeous calendula flowers ready for soap making!
#10 Cocoa Powder: color
Rich in antioxidants called flavanols, cocoa powder or cacao powder is a multipurpose natural soap making ingredient. How? Flavonols are a powerful antioxidant that fights free radicals, making skin youthful for longer! How's that for multipurpose?
#11 Rose Petals: scent + decoration
Rose is well known to soothe, soften, brighten, and tighten the skin. Rose petals and rose buds are beautiful natural soap making ingredients. And the scent is powerful! Don't miss these 10 ways to harness the power of rose in skincare recipes.
#12 Activated Charcoal: detox + color
There's something to be said about activated charcoal's unmatched ability to remove toxins from the body. It works like a vacuum to remove all the gunk deep within our skin.
SOAP IDEA – make a marble appearance in soap like this recipe for Charcoal & Lavender Soap.
#13 Vitamin E Oil: moisturizer
As an antioxidant, vitamin E oil helps to protect cells from free radical damage. It is a great moisturizer for the skin and hair. Use vitamin E oil as a soap additive in your next soap bar. I use it in many of my soap recipes.
SOAP RECIPE – Add vitamin E to soap with this simple milk and honey soap recipe.
#14 Chamomile Flowers: scent + decoration
Used around the world as relaxing bedtime tea, chamomile has incredible skin benefits. Its gentle nature is anti-inflammatory that calms dry, itchy skin. And chamomile flowers add a beautiful scent and decoration to soap.
SOAP IDEA –  make chamomile soap in your kitchen with gentle, natural ingredients for dry skin relief.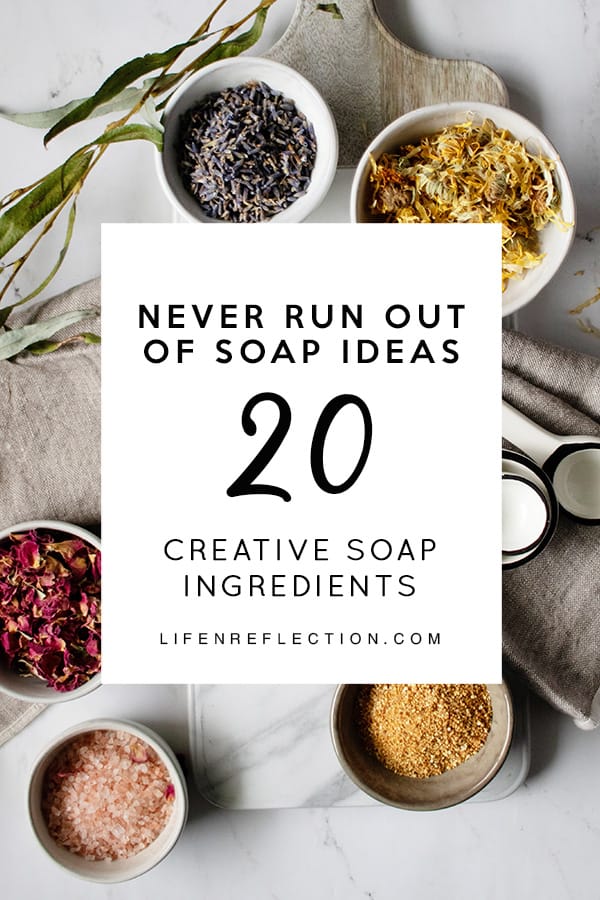 #15 Essential Oils: scent
If you're looking for a natural soap ingredient to add powerful scents – essential oils are it!
They not only provide wonderful natural scents to soap but also contain a wealth of skin-loving properties. Learn more about getting started with essential oils, and don't miss my 10 must-have essential oils for home and beauty here.
#16 Rosemary Sprigs: scent + decoration
Rosemary's naturally antibacterial and antiseptic properties make it a great natural soap making ingredient. I love to combine it with lemon, peppermint, or lavender for a lovely fresh scent.
SOAP IDEA – see just how pretty it is as a soap additive in this Refreshing Rosemary Citrus Soap recipe.
#17 Loose Leaf Tea: decoration + exfoliation
This may seem like an odd addition, but loose-leaf tea is quite beautiful in natural soaps. I love to add herbal teas to soaps and bath tea recipes. It's fun to recreate your favorite drink into a soap bar! Butterfly pea flower tea, for example, creates a beautiful blue soap color!
SOAP RECIPE – If you want to know how to make soap with tea, you'll find this tea soap recipe is the easiest to follow!
#18 Beet Root Powder: color
I started using beetroot powder to color soap, bath bombs, and other natural skin care goodies because it only takes a little with a rich hue. Later, I found out it has numerous benefits for the skin, such as potassium, folate, vitamin C, and antioxidants!
#19 Honey: increase lather
A natural resource of nutrients, vitamins, enzymes, and skin-boosting acids, honey is a natural soap making ingredient to love! Honey is a natural humectant that is antibacterial, draws in moisture, and is full of antioxidants! You can even start with a honey soap base for DIY soap.
SOAP IDEA – See it come to life in these 10 ways to make honey soaps!
#20 Loofah: exfoliation + decoration
Embedded in soap, a loofah helps exfoliate dry skin, allowing your moisturizers in soap to fully nourish your skin and leave it feeling ultra-smooth!
SOAP RECIPE – learning how to make loofah soap is easy with my loofah soap bar recipe.
Now, you can transform your handmade soaps with these creative soap ingredients! But these ingredients aren't just about creating soap; they're about elevating soap-making to an art form, a celebration of nature's finest gifts.
WHAT'S NEW?
What creative soap making ingredient are you going to try first? Pin this for later so you never run out of soap making additives and ingredient ideas! Tag #lifenreflection to share your soap-making ideas!