Summer Rain Creamy Homemade Body Wash, Made in Minutes
It's been a while, in fact, it's been more than a year since I shared a homemade body wash recipe.
But, you know what? Body wash is one of the few skin care products you can change frequently with ease and without regret!
My Chamomile Lavender Body Wash, for example, is so easy to make you could finish it quicker than it will take you to read this article.
Body wash is something you can change just to use your new scent combination obsession. And it's totally worth it in just a few minutes you'll have enough to last a few months.
Then you'll be asking yourself why you didn't make it sooner.
This post contains some affiliate links for your convenience, read full disclosure policy.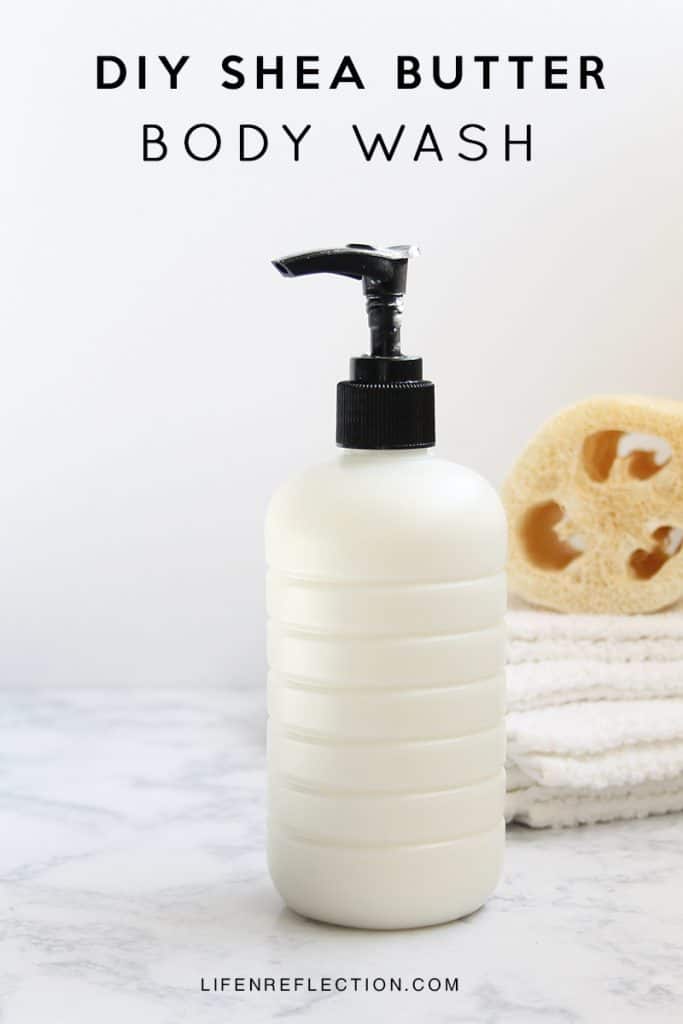 What makes this homemade body wash creamy and smooth?
A unique combination of nourishing natural ingredients for the skin. Find my 20 Essential Ingredients For DIY Natural Skincare recipes here.
Soap doesn't need to be just soap. We can load it up with skin-loving ingredients and our favorite scents.
Check out what I used to make this homemade body wash recipe below:
Also known as refined shea butter and unrefined shea butter. It has a lightly nutty scent and melts on contact with the skin. High in vitamins E, A, and F shea butter is an intense moisturizer known for healing dry scalps, cracked heels, and eczema.
Popular for its anti-aging benefits, apricot kernel oil is an extreme moisturizer. It absorbs quickly into the skin while providing deep moisturizing benefits.
Castile soap is a concentrated vegetable-based soap made of ingredients you can actually pronounce. This soap is gentle on skin and effective against dirt, grease, and unwanted germs.
Castile soap can be used to clean just about anything and everything: your face, your shower, and even your dirty dishes! I use it in my aloe vera face wash, liquid laundry soap, heavy-duty kitchen cleaner, and more!
But, when comes to a homemade body wash, it's best to choose a Castile soap to meet your skin type needs.

Do you have normal, dry, mature, oily, or combination skin? Take our Skin Type Quiz now to discover yours!
A powerhouse for natural skincare products, aloe vera gel is antibacterial, antiviral, antifungal, antioxidant, anti-inflammatory and an astringent. Known to support the healing of sunburns, cuts, and wounds quickly.
Find it in my recipe for an Aloe Vera Face Cream that quenches the thirst of my skin and improves the oil production.
An excellent humectant vegetable glycerin attracts water and helps to maintain moisture in the skin. And it feels incredibly smooth on the skin!
Essential oils not only provide a wonderful natural fragrance to homemade skincare products and cleaners but also contain powerful cleaning properties. Learn more about why I use essentials oils every day here.
Related To: Bath Bomb Beginners Guide
Related To: How to Switch to Clean Beauty
Homemade Body Wash Ingredients
How to Make Homemade Body Wash
1. Using the double boil method, melt shea butter on low heat or in the microwave at 30-second intervals.
2. Remove mixture from heat once melted and set aside. In a medium bowl combine apricot oil, aloe vera gel, and vegetable glycerin.
3. Stir well and pour in melted shea butter. Continue mixing and each drop of essential oil.
4. To reduce bubbles pour the mixture into a bottle using a funnel. Next, pour liquid castile soap into the bottle as well and then remove the funnel.
5. Place the pump dispenser on the bottle and swirl to blend together.
You May Also Like:
This creamy homemade body wash lathers up quite nicely and the scent combination smells like clean summer rain.
As you wash you can feel the combination of shea butter, apricot oil, and vegetable glycerin adding a protective layer to your skin as the water beads up.
After washing lock in moisture with one my favorites Moisturizing Pumpkin Lavender Body Butter and exfoliate once or twice a week with one of Summer's Best DIY Body Scrubs!
Have you made this natural body wash recipe? Tag #lifenreflection on Instagram to share yours. Or Pin this summer fresh beauty recipe to make later.