Tired of Tangled Hair?
Have you been contemplating trading your knotted tangled hair for a pixie cut or wig? Girl, I've been there!
There are few things more annoying than constant knots and tangled hair.
Not only does your hair look like a family of rats made a nest in it, trying to detangle hair is painful. I know the nerve-racking sound of hair ripping out and getting stuck in your brush when the rats have moved in. As well the pain of a tender scalp from that unnecessary horror.
And if the pain, annoyance, and appearance of tangled hair weren't enough, it generally makes matters worse by causing breakage and splitting. When it comes to trading your knotted crown for smooth tangle-free hair the first step is understanding what causes it.
This post contains some affiliate links for your convenience, read full disclosure policy.
What Causes Tangled Hair?
For many, this hair problem starts in the shower. This is why you'll hear your friends asking, "Why is my hair so tangled after washing?".
What exactly causes hair tangling? Like most hair problems there are several factors involved that lead to tangled hair and all are related to your hair care routine!
1. Poor Hydration
Get this – when our hair is lacking moisture it causing tension and friction between our locks – think frizzy hair. Then the outer layers of the hair shaft break and you have tangled hair.
2. Too Much Heat
And if dehydrated hair causes tangles you can bet blow-drying and heat styling is often the culprit. Heat can significantly dry out hair causing it to be brittle and lead to tangles.
3. Avoiding the Brush
It's only human instinct to avoid something that we know without a doubt will cause pain. But, not detangling and brushing your hair at least once daily will contribute to the build-up of oil and hair product residue. Don't leave your scalp begging (or should I say itching) for a detox scrub or clarifying rinse.
4. Sleeping with Wet Hair
Rather you prefer to shower at night before bed or it's the only time a shower will fit into your schedule, it can become a nuisance for hair. Going to bed with wet hair is a big no-no!
Our hair is most fragile when wet. Tossing and turning or just snuggling your pillow can easily cause breakage and a wealth of tangles. How do you keep your hair from tangling at night if you must go to bed with wet hair? Braid your hair, put it up in a bun, or wear a lightweight t-shirt hair towel to prevent tangles.
5. Canceling Hair Appointments
No matter how well we take care of our hair, over time our ends will become dry and old causing us to develop split ends. And if you haven't noticed split ends are buddy-buddy with tangles. So, canceling your hair appointment is not a good idea! Don't go for long periods of time without a trim.
With all these factors involved, it's all too easy to find yourself with a crown of tangles. I've found all it takes is adding a few natural remedies for tangled hair into your routine.
Related To: Quick Dry Hair Remedies
Related To: Easy DIY Volumizing Spray
How to Get Rid of Tangled Hair
Use this step by step hair routine to avoid tangles and put an end to your frustration using the best detangler products and detangling tips!

Apply A Weekly Hair Mask for Hydration
The first step in a hair routine to prevent tangles is applying a weekly hair mask to hydrate and smooth dry cuticles. If your hair tends to be on the oily side go with our aloe vera hair mask to moisturize without clogging pores while strengthening hair follicles ad creating shiny, lustrous hair.
And for normal to dry hair apply a deep conditioning hair mask with protein-rich ingredients to detangle knots, coils, and even curls. This organic hair mask will leave your hair nourished, soft, voluminous and strong.

Applying Conditioner The Right Way
When tangled hair is an issue, merely shampooing is not enough! The best conditioner for tangled hair provides a slip to the hair making it easy to comb through.
An eco-friendly solid conditioner bar is not only plastic-free and zero waste, it deeply hydrates dry hair with cocoa butter, coconut oil, and vitamins. And helps tame frizzy hair! If you're not sure which is best for your hair start with a sampler pack of shampoo and conditioner bars.
To apply a solid conditioner bar hold it in the palm of your hand. Then run the bar across your hair in circular motions no higher than the tops of your ears. Then pull your hair over one shoulder and work the conditioner bar down the length of your hair, focusing on the ends.
Place your conditioner bar in a handy in-shower storage container and massage the conditioner through your hair. Leave the conditioner on for an additional 2 minutes for maximum hydration.
Next, before rinsing any conditioner gently comb your hair with a detangler comb that you can keep in the shower like this one. This hair tip will give you a great headstart to avoiding tangled hair.
Then, depending on the nature of your hair you may not want to completely rinse out the conditioner. A solid conditioner bar doubles as a leave in conditioner for more manageable, tangle-free hair without weighing it down.
However much you decide to rinse out always rinse with cool to cold water. Rinsing hair with cold water at the end of your in-shower hair routine closes the cuticles and helps to prevent breakage and knots from forming.

The Correct Way to Towel Dry Hair
First and foremost don't dry your hair like you would for a pet! Rubbing your hair vigorously after washing can cause breakage and hair loss. Not to mention it creates frizz and tangled hair.
Gently squeeze the water out of your hair prior to exiting the shower. Then gently wrap it up in an organic bamboo hair towel for fast drying. Did you know bamboo dries faster than cotton? And this hair towel is designed to be frizz-free. Organic knit cotton hair towels like this one are great too!

Use a Detangler Brush for Tangle-Free Hair
Have you gone through numerous brushes and combs trying to get rid of tangled hair and horrific knots?
Using a brush that won't break hair strands is extremely important. Brushing out knots, tangles, and matted hair can be very painful. So a girl has got to use the best tools for the job!
Start by separating your hair into sections. Then use your fingers to detach knots if you can. Next, choose a specially designed detangler brush or detangler comb for wet and dry hair. Both options help to gently remove tangles without pulling as much as other brushes and combs.
Avoid brushing wet hair, wait until it's at least damp. Start combing or brushing at the ends and work your way up to the roots. Be patient with yourself and work in short motions section by section.
Use a Detangler Spray For Additional Aid
A great detangler spray or detangling serum can effectively soften strands and help you quickly work through knots. So, for intense knots apply a small amount of detangler spray to the area. Then gently brush downwards or work through it with your fingers to separate the tangled hair.
What you want in a detangler spray is a slip. This easy recipe for a natural DIY hair detangler spray includes vegetable glycerin and vitamin E oil to provide just the right amount to slip to "melt" the tangles away.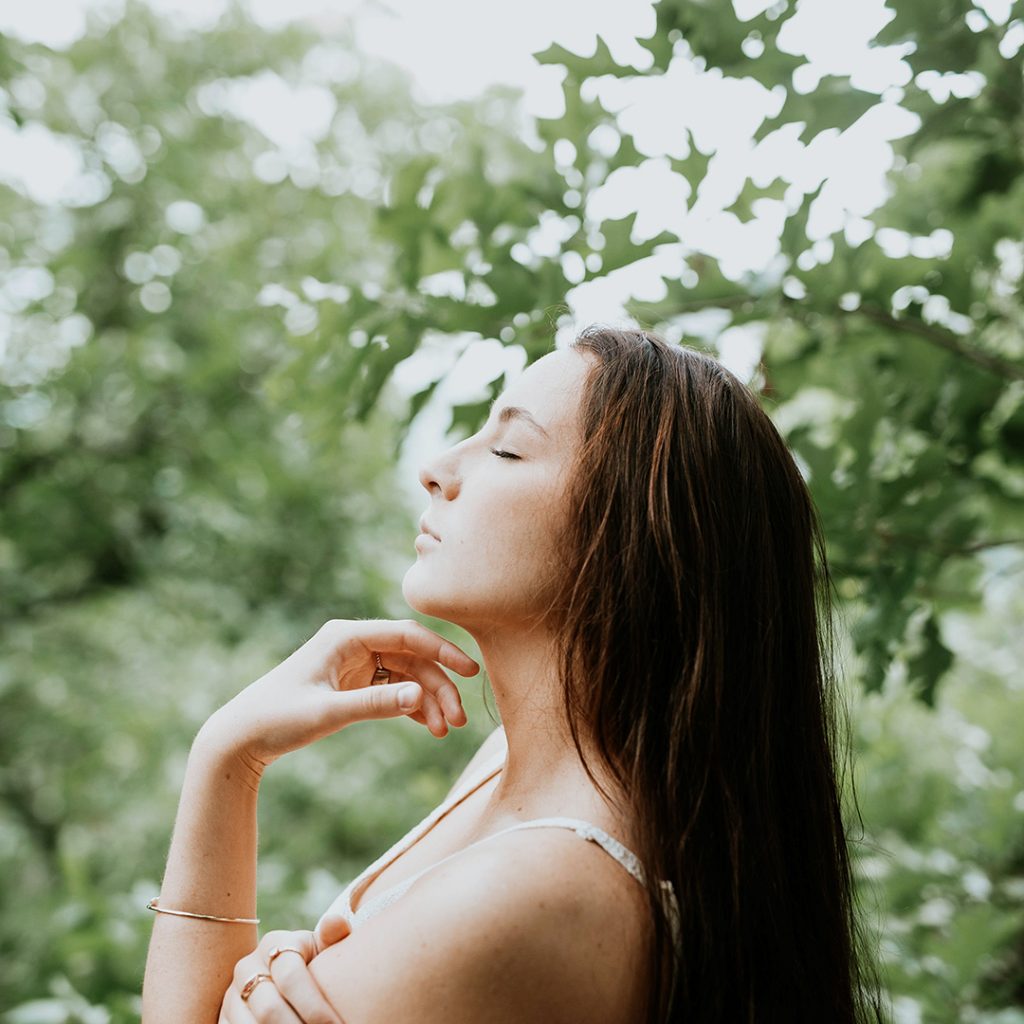 How do you deal with tangled hair?
Have you tried any of these detangler brushes or techniques in your hair routine? Let me know in the comments.
I've found using the right detangling tools and taking it one step at a time improved my hair dramatically. I haven't found a knot in my hair in ages and I can detangle my hair with ease in just a few minutes a day.
Pin these tips to get rid of your tangled hair and tag #lifenreflection on Instagram to share your hair and beauty tips and tricks with us.