Why is Hair SO Hard to Maintain?
I compare maintaining healthy hair to maintaining a thriving garden. Just like gardening, haircare begins at the roots! And nearly every step and choice you make for your hair or garden factors into the outcome.
Hair Care is just like Gardening!
Over Shampooing = Over Watering
Too Much Heat = Too Much Sun
Cheap Hair Conditioner = Cheap Plant Food
Chemical Hair Treatments = Chemical Weed Killers
Unhealthy Scalp = Unhealthy Soil

See what I mean? Without proper care, our hair will look like a weedy, unloved garden.
Give your hair some love with a nourishing aloe vera hair rinse. What is a hair rinse? It's like the best plant food! A hair rinse can be applied after shampooing and conditioning or in place of both on a no-poo day. Either way, it's the final step and you do not rinse after.
This post contains some affiliate links for your convenience, read full disclosure policy.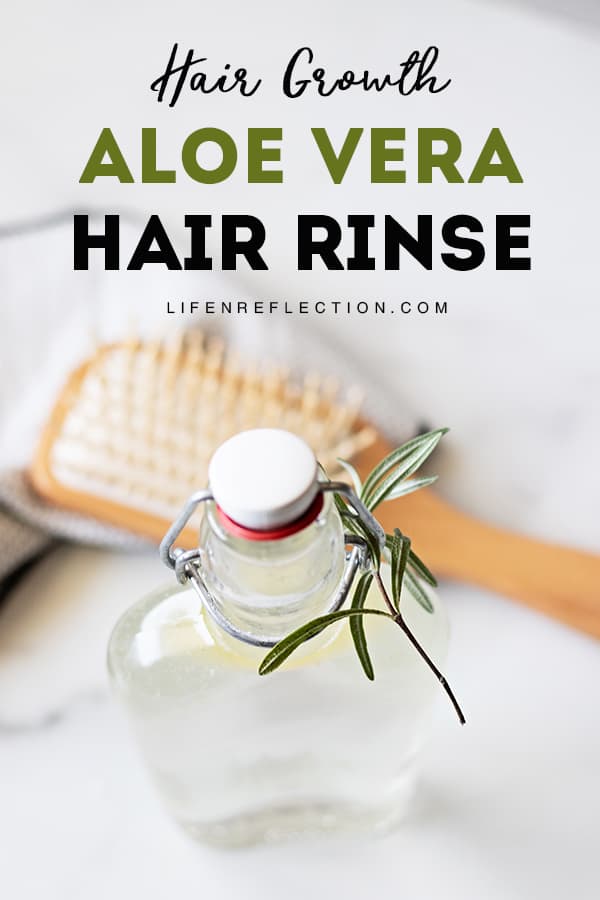 Why Use A Hair Rinse?
Depending on the ingredients of a hair rinse it can do a number of things to maintain healthy hair. Such as:
Adding volume and improving shine
Calming frizz and minimizing flyaways
Reducing dandruff and hair loss
Moisturizing and strengthening the hair shaft
Balancing oil production and pH levels
Repair damage and boost hair growth
Clarifying roots and unclogging hair follicles
Related To: Frizzy Hair Home Remedies
Related To: DIY Shea Butter Hair Conditioner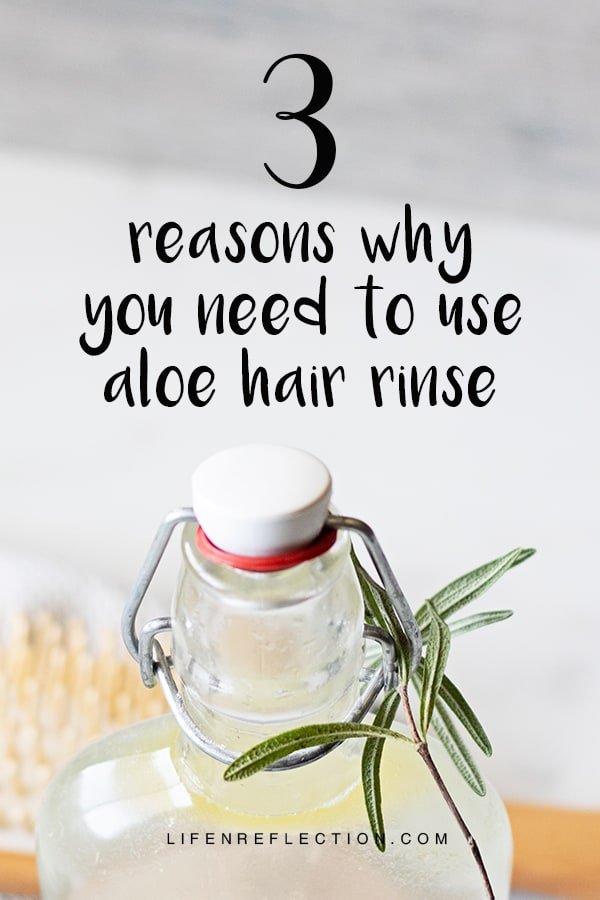 Why use aloe vera juice for hair?
Using aloe vera for hair is nothing new. It is loaded with over two hundred, YES 200 nutrients that can solve a multitude of hair problems. From dandruff to hair loss and split ends aloe vera is like Miracle-Gro for hair.
But, when it comes to a hair rinse you'll want to use aloe vera juice. Not aloe vera gel.
Aloe vera juice works differently than aloe vera gel. You see aloe vera gel contains thickening agents that help tame frizz by gently stiffening hair. Which is why is the number one ingredient in my DIY anti-frizz spray!
On the other hand, aloe vera juice will close hair cuticles, enhance curly or wavy hair, and improve shine without any stiffening. Just make sure you purchase good aloe vera juice, not the kind with added sweeteners for drinking. I picked up mine from my local co-op food market. But you can find the same one from Lily of the Desert on amazon too.
What Makes This Aloe Vera Hair Rinse Incredible?
#1 Deep Cleans Oily Hair and Adds Volume
Unlike other most store-bought hair rinses, this aloe vera rinse doesn't damage hair while gently stripping off excess sebum oil and residue buildup from the hair follicle (source). Instead, it nourishes your hair in the process and adds volume by removing excess oil from your roots. You'll feel the weight lift off your hair after using this rinse!
#2 Cleanses and Soothes an Irritated Scalp
Aloe vera removes excess oil when applied to the scalp as well. Its natural anti-inflammatory, antimicrobial, and antibacterial properties effectively help prevent and reduce overall dandruff. Which is why I use it in my aloe vera hair mask recipe. In addition, vitamin E oil and a blend of essential oils in this DIY hair rinse assist in soothing irritation.
#3 Strengthens and Repairs Hair
On top of soothing scalp issues, aloe vera is an incredible natural hair conditioner. Its chemical composition is similar to keratin, a naturally occurring protein in hair cells. This is in addition to aloe vera's 20 amino acids and castor oil, a well-known elixir for hair combined to strengthen hair and add luster.
#4 Encourages Hair Growth
I am often asked, "Can you use Aloe Vera for Hair Growth?" Aloe vera contains vitamins A, C, E, and B-12 which boost cell turnover and promotes healthy growth while reducing hair loss (source). So the answer is yes, you can use this aloe vera rinse for hair growth!
Aloe Vera Hair Rinse Ingredients:
½ cup aloe vera juice
½ cup purified or distilled water
¼ teaspoon vitamin E oil
½ teaspoon castor oil
6 drops rosemary essential oil
4 drops juniper essential oil
2 drops geranium essential oil
1 airtight 8-ounce container
How to Make an Aloe Vera Hair Rinse:
Pour a ½ cup of aloe vera juice and a ½ cup water into a standard glass measuring cup. Blend together using a whisk until a consistent liquid is formed.
Next, add ¼ teaspoon of vitamin E oil and ½ teaspoon of castor oil to the aloe vera mixture. Whisk again and last add 6 drops rosemary, 4 drops juniper, and 2 drops geranium essential oils to the mixture.
Pour the aloe vera hair rinse into an 8-ounce container. A pump bottle works great well.
How To Use A Hair Rinse
A hair rinse is basically the last step to washing your hair. It is very simple to use and only adds less than a minute to your hair routine. Yet, with such a little time commitment you can provide your hair and scalp with a wealth of nutrients to grow hair naturally with a soft, silky finish. Here's a step by step checklist for using a DIY hair rinse.
Brush your hair to remove tangles and avoid knots or breakage before stepping into the shower.
Apply shampoo to wet hair, lather, and rinse.
Next, apply condition your hair. Start at the roots and work your way up while avoiding your scalp. Leave the conditioner on for 5 or more minutes. Shave your legs or try a body scrub while you wait.
After rinsing the conditioner out of your hair. Shake the aloe vera hair rinse and gently pour over your hair.
Squeeze out the excess liquid in your hair and Voilà your done!
You may also find this aloe vera hair rinse helpful in between washing on a no-shampoo day. How often should you use a hair rinse? Once or twice a week is best.
You May Also Like:
Did I mention this aloe vera hair rinse has such a fresh scent? Have you tried a hair rinse in your natural hair routine before? Leave your experience in the comments for me. Pin these DIY hair rinse to whip up later and tag #lifenreflection on Instagram to shares!