The Best Wax for Candles By Type: Knowing Which Candle Wax to Use
Find the best wax for candles by type in our handy printable chart. Make pillars, votives, tea lights, containers, floating, or massage candles with the most suitable candle wax for the job!
Candle making has become an incredibly popular hobby in the last ten years. Partly due to candle makers who have turned a practical DIY into a form of art! And a large part is due to the accessibility and variety of candle wax types.
In fact, before the 1990s, there were only two options available – beeswax and paraffin wax. Nowadays, soy wax, coconut wax, palm wax, and countless blends of candle wax are just a click away from being delivered to your door.
Each candle wax type has unique qualities, and some only fit specific types of candles. That's right, when it comes to making pillars, votives, containers, tea lights, or floating candles, for example, we're faced with knowing which is the best wax.
This post contains some affiliate links for your convenience: read the full disclosure policy.
So, which type of candle wax is better?
With so many choices, we have to ask ourselves, "What is the best wax to use for making candles?". The answer truly depends upon what type of candle you want to make!
I've put together this quick guide to discovering the best wax for candles by type to make this process so much easier. Scroll down to the kind of candle you want to make, and you'll find a list of the best candles waxes for that type. I have also included links to each wax and tutorials on how to make each candle type.
And don't miss the free printable chart for quick reference below!
Related To: How to Choose a Candle Wick
The Best Wax for Candles By Type
Whether you are making a container candle or a freestanding candle such as a pillar, you need to know what candle wax works best. Scroll through this guide to find a quick answer and pin it to come back to again.
BEST WAX FOR CONTAINER CANDLES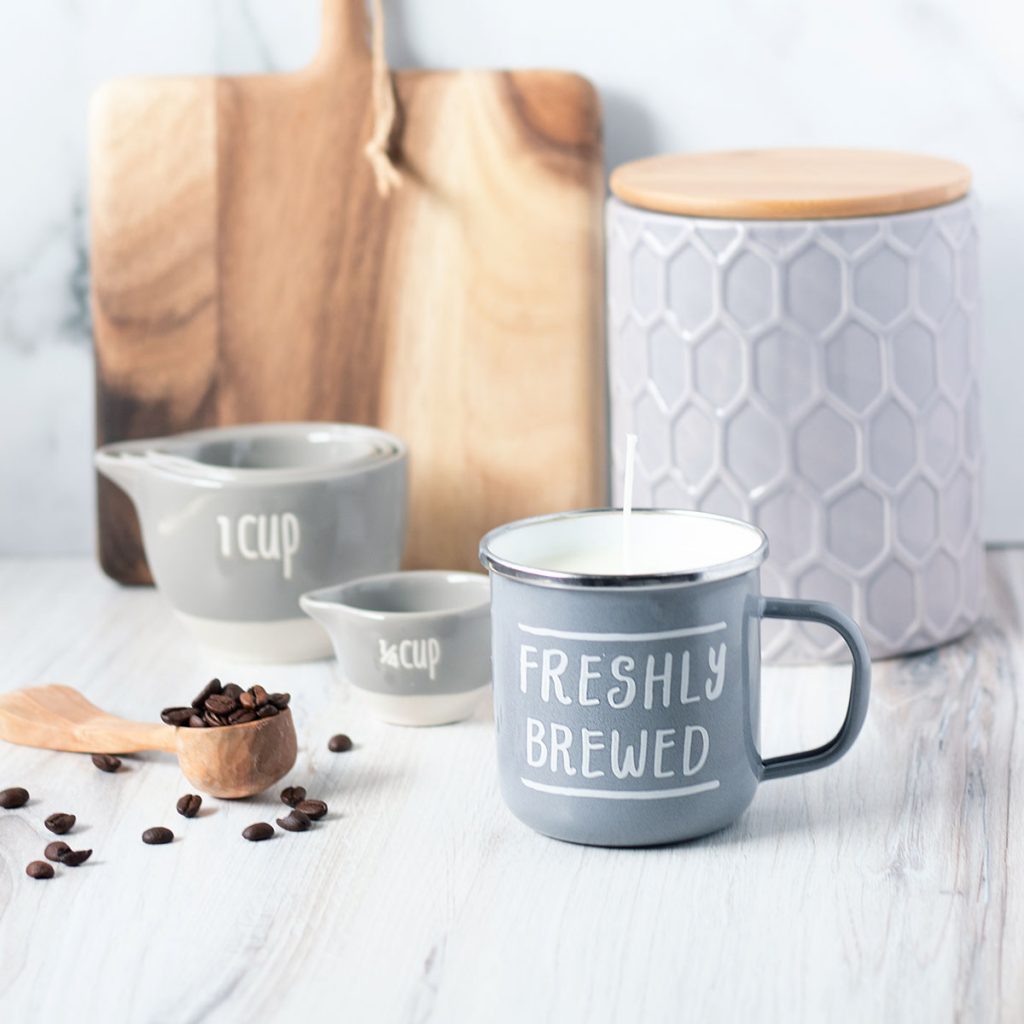 Container candles are by far the most popular candles and the easiest type of candle to make. My favorite container candles I've made are apple blossom jars, lavender travel candles, and coffee mug candles. As you can see, candles can be made in a variety of containers, such as glass, metal, and ceramic. (Not sure if your container is safe to use for a candle? Check out our list of candle containers to avoid.)
But, like all candle types, it comes with its own needs. So, what is the best container wax for candles? Because container candles are poured directly into the container and do not have to be removed from a mold or stand on their own, you can use virtually any wax type. 
However, shrinkage can be a problem. Meaning the candle wax can pull away from the container. This is why single-pour, also called one-pour wax blends, were created. They are softer waxes that do not shrink and allow a candle maker to pour the wax just once.
You can make your own soft container wax by blending 10% coconut candle wax into standard soy wax. Or you can purchase soy wax made for container candles such as these:
BEST WAX FOR VOTIVE CANDLES
Votive candles are a common candle used in decorating. Most are 2 ½ inches in height and are made in basic white to a rainbow of colors votives that can be easily adapted to your decorating style.
While votive candles are designed to be placed in containers to hold them while they burn, they have different needs than container candles.
For example, votive candles are made in candle molds (see how I use dixie cups to make votive candles) and need to be released from the candle molds. You need some shrinkage for this to happen easily without causing the votives to break. Therefore, you need to use harder wax to make votive candles. But you don't need them to be as hard as pillar candles. So what should you use? 
Soy Wax blended with White Beeswax
Keep in mind if you use a softer wax, you must place the votive candles in heat-resistant containers to burn them, or they will melt into a flaming liquid puddle. And be prepared for two to three pours to achieve smooth tops.
BEST WAX FOR WAX MELTS
Wax melts are essentially candles without wicks! Instead of lighting a wick, wax melts are slowly warmed to melt the wax and release the fragrance. Can you use any wax for wax melts? Yes and no…
Like votive candles, wax melts are made in molds and require some shrinkage to release from the mold easily. But, they are designed to melt in a wax warmer, and therefore, a wax with a low melting point is best. 
What is the best wax to use for wax melts?
Organic Soy Wax Beads – designed for wax melts
Soy Wax blended with White Beeswax
If you haven't made wax melts before? Check out my herbal beeswax wax melts tutorial pictured above.
BEST WAX FOR FLOATING CANDLES
Floating candles create an instant ambiance with the calming effect of candlelight reflecting on the water. They are somewhere between the size of wax melts and votives. And like wax melts, floating candles need to be released from a mold, so some shrinkage is required. 
But, they need to be hard enough to support themselves while burning on top of the water. So, floating candles need wax with a higher melting point to help them keep their form, such as Golden Brands 444 soy wax, which is how I make my floating candles. Or you can make a blend of 25% beeswax and 75% soy wax for a harder, long-lasting floating candle. 
Soy Wax blended with White Beeswax
BEST WAX FOR WAX TARTS
Wax tarts, also known as wax melts, emit scent as they slowly melt in a wax warmer. See the wax choices to make these in the wax melts section above. 
BEST WAX FOR PILLAR CANDLES
Pillar candles come in all shapes and sizes, but the one thing that sets them apart from other candles is the need to stand on their own. (And, of course, must be placed on a heat-resistant surface to burn.)
So, like votives, pillars require some shrinkage to be removed from a candle mold, yet need to be hard wax to maintain their shape as they burn. Also, be prepared to make a 2nd or 3rd pour when making pillar candles.
What is the best wax for pillar candles?
BEST WAX FOR MASSAGE CANDLES
Awe, massage candles; stay tuned if you haven't experienced one yet. I'll be sharing a tutorial here soon after I finish testing several. They require a blend of body butter, a carrier oil, and soft wax, and they have similar needs as a container candle. But, when it comes to massage candles, the most important thing to remember is the wax must be skin-safe! 
These are the best skin safe waxes for massage candles:
NatureWax C-3 Soy Wax
Coconut Wax blended with NatureWax C-3 or Yellow Beeswax
BEST WAX FOR TAPER CANDLES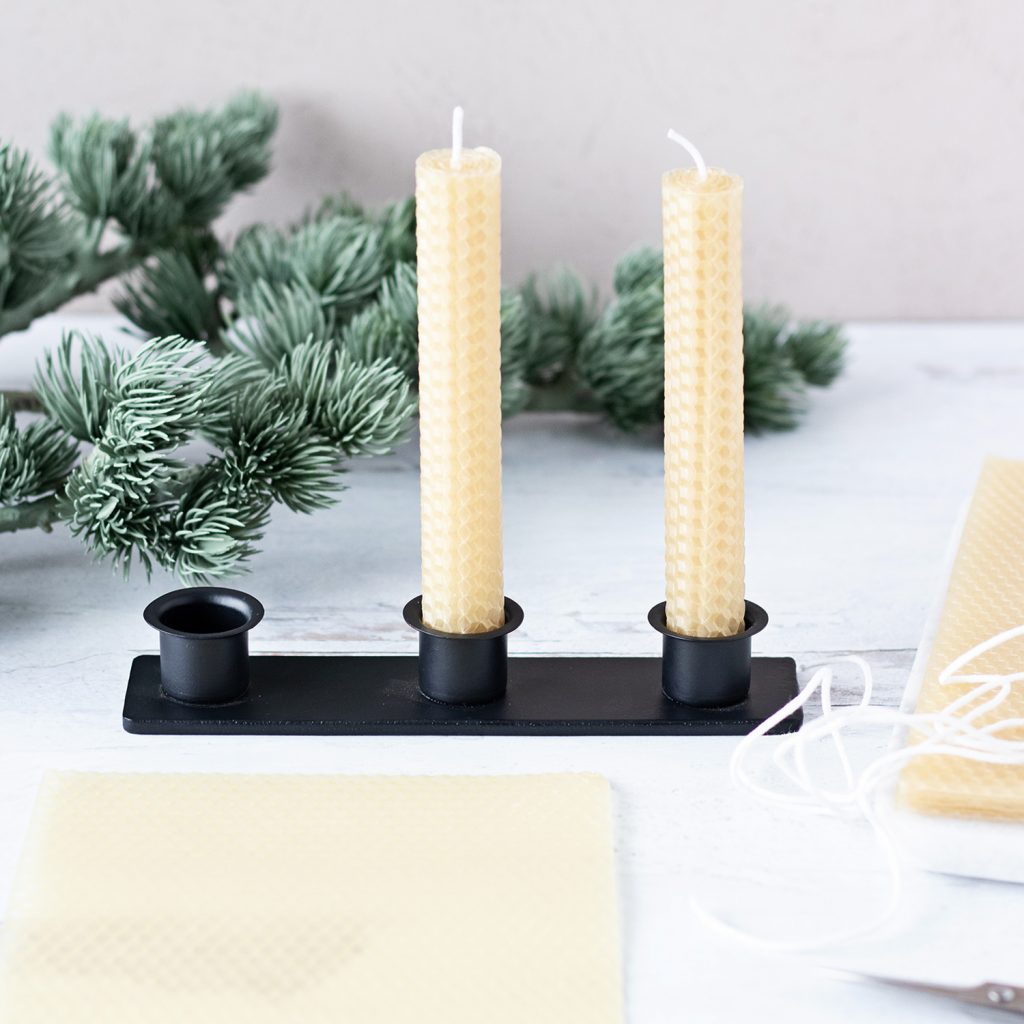 Tapered candles are long, slender candles that need support to stand upright. They are made in varying lengths from 10 to 18 inches. You can make taper candles with the waxes listed above for pillar candles, or you can use beeswax sheets.
I quickly fell in love with the experience of hand-rolling delicate sheets of beeswax with a natural honeycomb texture. They truly have a timeless appeal, but the best part s is how extremely easy they are to make! See for yourself in this rolled beeswax taper candle how-to.
BEST WAX FOR TEA LIGHT CANDLES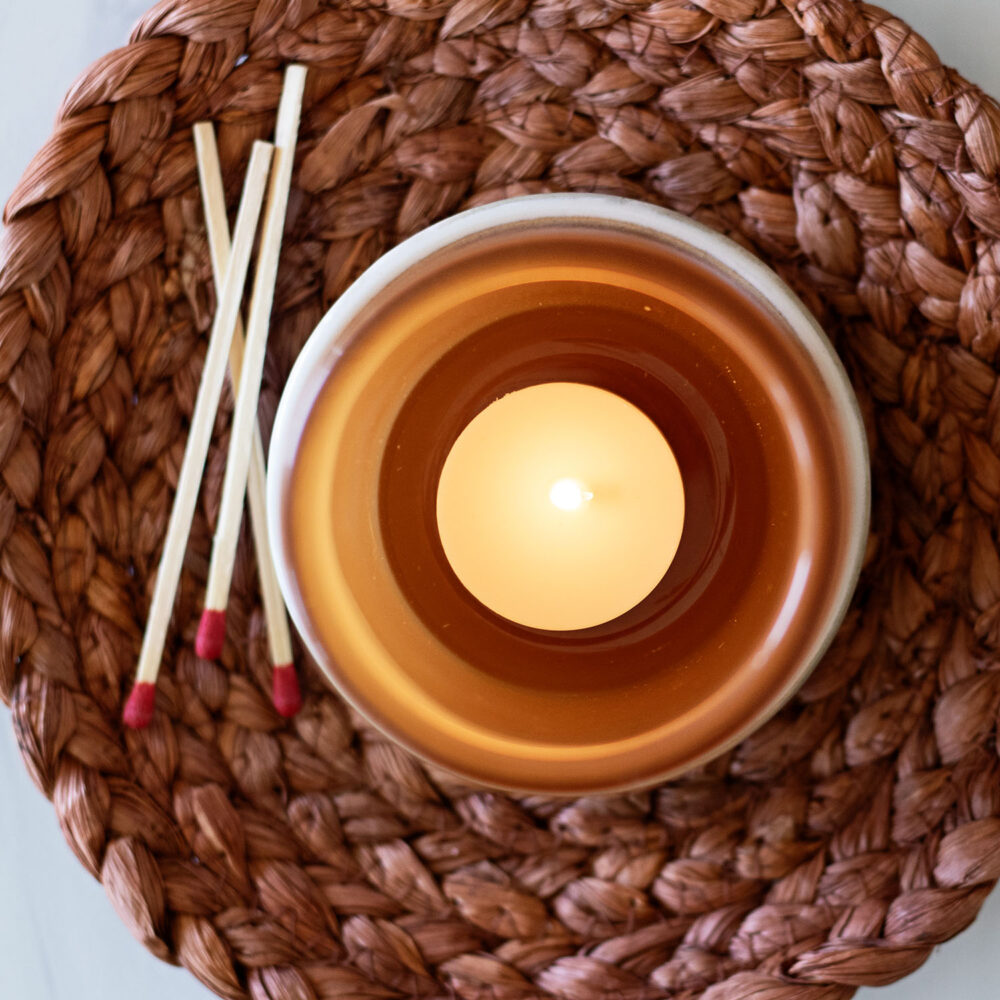 Who doesn't love the look of tea lights grouped together to dress the dinner table or set the mood around the bathtub with candlelight? Tea lights are small candles with 1 ½ inch diameter and around ¾ inch tall.
Just as votive candles must be placed in a heat-safe container to burn, so must tea lights. They also need some shrinkage in the wax to remove them from a mold if you are using a mold. I use this silicone mold to make DIY tea lights. And add coconut oil to beeswax.
Golden Brands 415 Soy Wax
Want a simple comparison of candle wax types? Quickly grasp benefits for each candle wax type with our Candle Wax Swipe File in the Simple Living Library.
One of the first choices we have to make as candle makers is choosing the best candle wax for the type of candle we want to make. I hope this simplifies the process for you and helps you better results.
YOU MAY ALSO LIKE:
Pin this guide to the best wax for candles by type and Tag #lifenreflection on Instagram to share your candle-making with me.