DIY Pressed Flower Candles – The Easy Way
These DIY pressed flower candles are the easy way to make candles at home with pressed flowers. Learn how to press flowers to make a botanical candle in minutes!
If you've read my book Creative Candles Made Simple, then you know I'm addicted to candle making and have no intentions of stopping. These DIY pressed flower candles are some of the easiest candles I've made yet. But you wouldn't know it by looking at them!
The smooth round shape of the glass, creamy soy wax, and pressed flower bouquets would have you thinking otherwise.
How do you make pressed flower candles in a jar? There are a few ways to go about it, but this is by far the easiest!
So, if you've tried other pressed flower candle tutorials that required an iron, heating a spoon over an open flame, or painting wax onto a pillar candle or jar, I'm sure you are ready for something much easier.
You'll be pleased to know you won't need any of the above to make these gorgeous pressed flower candles.
In this tutorial, I'll show you how to press flowers or where to buy them if you'd rather, and step-by-step instructions to make your own pressed flower candles in minutes.
For your convenience, this post contains some affiliate links; read the full disclosure policy.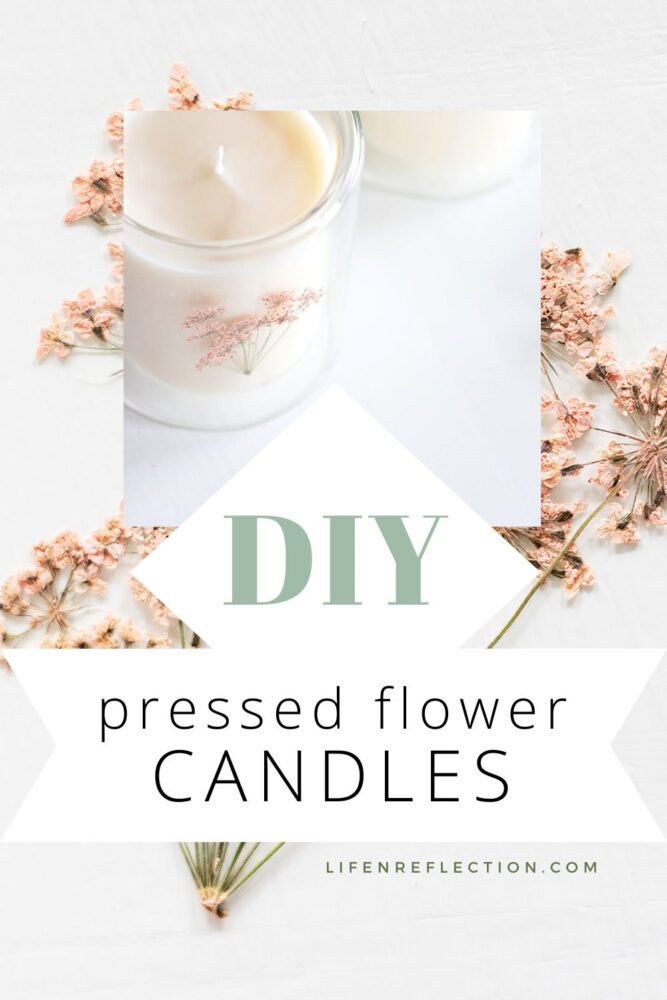 How Do You Press Flowers?
Before we jump into candle making, I want to share with you four ways to press flowers. Each work well, and one is not necessarily better than the other. The big difference in my experience is the time or effort involved.
One of the nice things about pressing flowers is that you enjoy flowers you've grown in your garden or saved from a memorable flower bouquet by preserving them.
Four Ways to Press Flowers
#1 Book Page Pressing
Tuck flowers in between pages of a book or journal. Close the book, place something heavy on top, such as more books, and wait several weeks for the flowers to press flat. The biggest advantage of this method is that it's free!
#2 Wooden Flower Press
The traditional method of flower pressing uses a wooden press. Place many layers of flowers between thin drying papers and sandwich them between the wood. Like book page pressing, this method also takes several weeks. 
#3 Iron Pressing
Place flowers between parchment paper and press firmly with a dry, hot iron for this flower-pressing technique. The results are fast, but it's easy to burn your flowers and your hands in the process.
#4 Microwave Press
This flower pressing technique is fairly new, but it works really well. In my experience, flowers kept their color better. And it only takes minutes to zap them dry and flat in the microwave with a microwave press. See an incredible before and after at Farmhouse Chic. 
Where can I buy pressed flowers?
If you don't have access to a garden or a bouquet ready to preserve, you might consider buying pressed flowers. On occasion, they can be found in the papercrafts area of your local craft store. But you can always order them online.
Just make sure you purchase flowers that are pressed flat. Most often, all types of dried flowers will pop up in a search for pressed flowers. I have my eye on this set of 100 natural pressed flowers, and I'm sure you can also find a set with colors you'll love. 
Related To: 3 Common Candle Making Questions
How Do You Make Pressed Flower Candles In A Jar?
Several years ago, I made my first pressed flower candles in mason jars, and it was taxing. I'm glad that making this pressed flower craft is more straightforward than the first. And it has everything to do with the jars!
Before, I used mason jars and had to carefully and awkwardly paint hot wax into the jars and press the lavender sprigs into the hot wax, and you get the picture. These candle jars help you avoid all that mess and awkwardness because they're made of translucent double-glass panes allowing room for pressed flowers!
Not only do they make this DIY project so much easier, but you'll also never have to worry about the candle flame reaching the pressed flowers. It's genius if you ask me, and Makesy is the only place I've seen this candle jar style. Use this link to save $10 off your first order at Makesy. 
See how easy they are to use with my candle tutorial below. Decorate your space with hand-poured soy wax candles with a pop of color and texture of the pressed flower bouquets displayed between the glass panes. You'll adore the dreamy silhouette it creates when lit.
Related To: Dried Flower Candle Melts DIY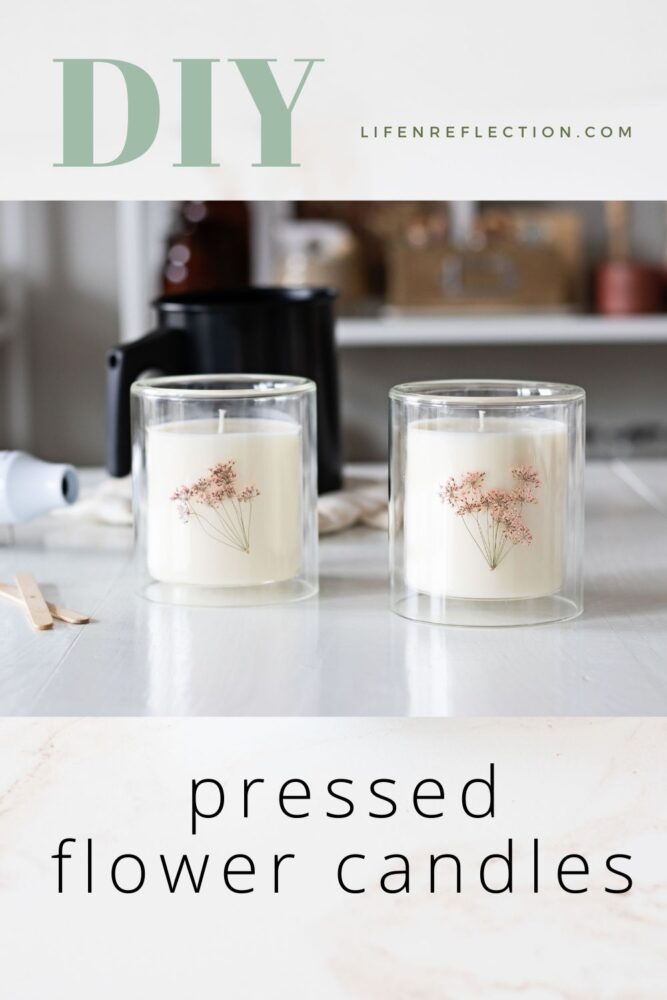 The Easy Way To Make DIY Pressed Flower Candles
These DIY pressed flower candles are the easy way to make candles at home with pressed flowers. However, if this is your first time making candles, you may want to check out our candle resource center or start with a beginner's candle-making guide.
Pressed Flower Candle Supplies
2 pressed flower bouquets
2 double glass 11-ounce candle jars
1.27 pounds soy wax 
1 ½ ounces candle fragrance
2 wick centering sticks (optional) 
How To Make Pressed Flower Candle Jars
1. Cover your area or line a cookie sheet with parchment or wax paper. Press the tab on the bottom of a natural cotton wick into a wick sticker tab. Then peel it off the sheet and place it centered in the base of each candle jar.  
2. Place a candle melting pitcher on a kitchen scale and tap tare weight. Then pour scoops of soy wax inside it until you reach 1.27 pounds. 
3. Now, place the melting pitcher filled with candle wax inside a saucepan filled with approximately 2 inches of water. Use the double boiler method to heat the wax on low up to 160°F.  Use a no-touch infrared thermometer to monitor the heat of the wax. Stir the wax slowly, yet often with a heat-resistant silicone spatula.
4. Once the wax has melted, allow it to cool to 150°F before adding 1 ½ ounces of your choice of candle fragrance. (Need some ideas? Take our candle scent quiz!) In order to thoroughly incorporate the fragrance into the slowly stir for a constant 2 minutes. 
5. After incorporating the fragrance into the candle wax, monitor the wax until it cools to 115°F (if you're using a different wax, refer to the temperature recommendation by the manufacturer). Warm the glass jars before pouring the wax for the perfect adhesion with a heat gun. 
6. Then, place an optional wick centering stick over each wick to help keep them straight during the curing process. After the candles have cured for 24 hours, flip the candle jars over and slip in your pressed flowers. Turn the candles back over and trim the candle wicks to ¼" with a wick trimmer. Wait three to seven days before lighting a candle for a strong scent. 
Print The Instructions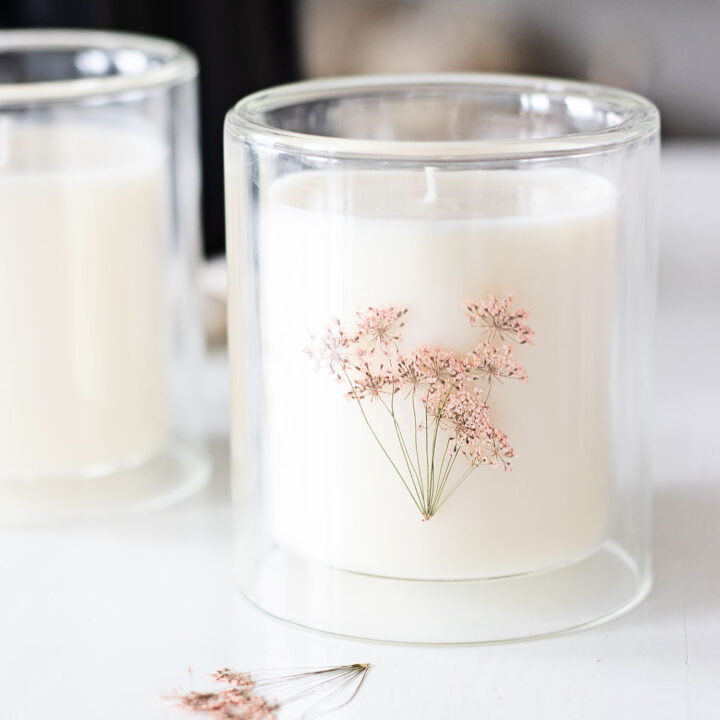 DIY Pressed Flower Candles
Yield:
2 pressed flower candles
These DIY pressed flower candles are the easy way to make candles at home with pressed flowers. Learn how to press flowers to make a botanical candle in minutes!
Materials
2 pressed flower bouquets
2 double glass 11-ounce candle jars
1.27 pounds soy wax
2 cotton wicks
1 ½ ounces candle fragrance
2 wick tabs
2 wick centering sticks (optional)
Notes
Wait three to seven days before lighting a candle for a strong scent. 
Recommended Products
As an Amazon Associate and member of other affiliate programs, I earn from qualifying purchases.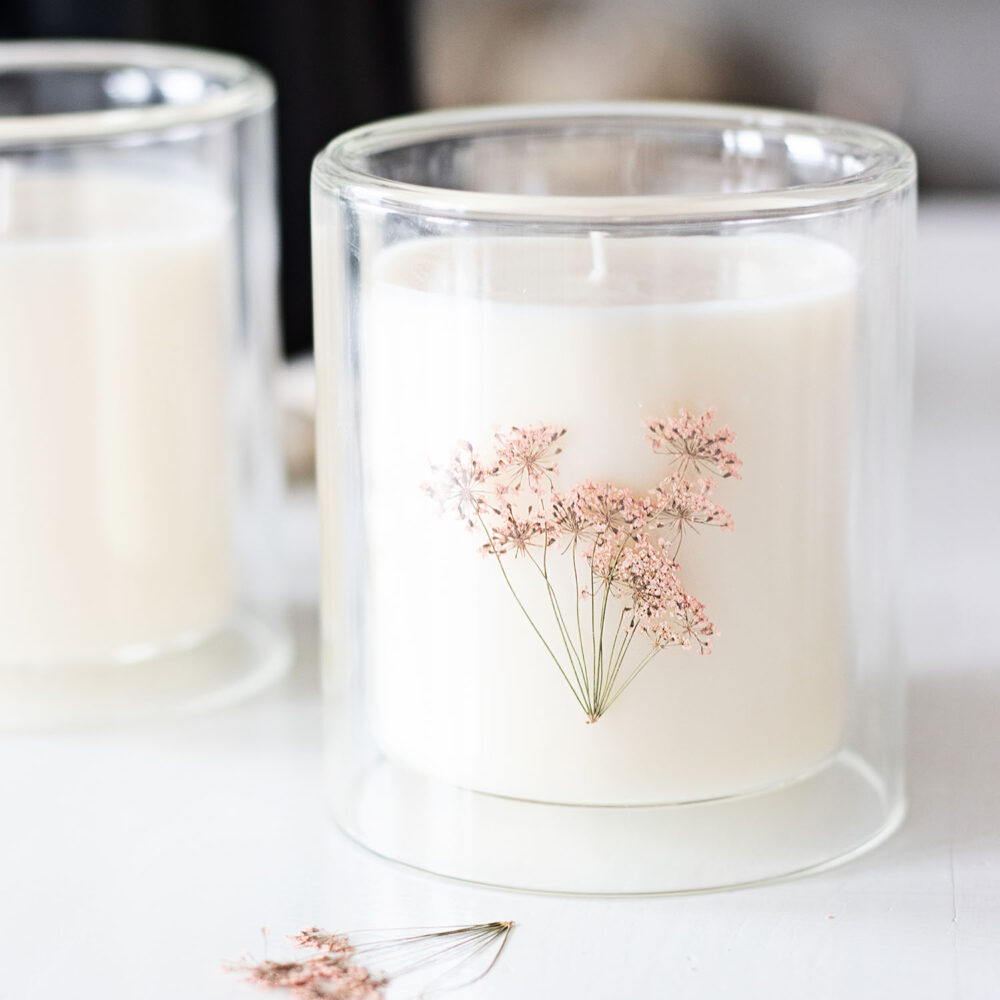 These DIY pressed flower candles make a dreamy statement with curvy double-glass panes and pressed botanicals. I can't get over how beautiful these candles turned out and how easy they were to put together!
YOU MAY ALSO LIKE:
Save these DIY pressed flower candles to your DIY Candle Pinterest board, and while you're there, be sure to follow Life-n-Reflection for more inspiring ideas.
Did you know you can Tag #lifenreflection on Instagram to share yours with me?