DIY Wine Crafts and Wine Bottle Recycling Ideas
Creative DIY wine crafts for the jar of wine corks or empty wine bottles you couldn't part with. Dive into these fun wine bottle recycling ideas and more.
Wine is an easy favorite of many; it makes for a great pairing at a fancy dinner, ladies' nights out, or a treat-yourself spa day at home. Am I right? Drinking wine is undoubtedly satisfying, but when it's all finished, what do you do with the empty wine bottle and cork? 
I don't know about you, but some wine bottles are just so beautiful that I feel almost guilty throwing them out. And it's only natural to feel reluctant to toss a wine bottle that was a gift from a trip or shared during a special occasion. 
Beauty and memorable moments aside, I'm a big fan of finding ways to upcycle items in my home in a unique and one-of-a-kind way. Like the 50 ways, I've learned to reuse candle containers. So, naturally, I thought there had to be something I could do with wine bottles and other ways I could use wine and wine corks too. It turns out there is a myriad of clever, crafty, outside-of-the-box ideas to recycle wine bottles and wine corks!
So if you have a jar of wine corks or a few empty bottles you couldn't part with, dive into the fun and creative ways to reuse wine bottles and wine!
For your convenience, this post contains some affiliate links; read the full disclosure policy.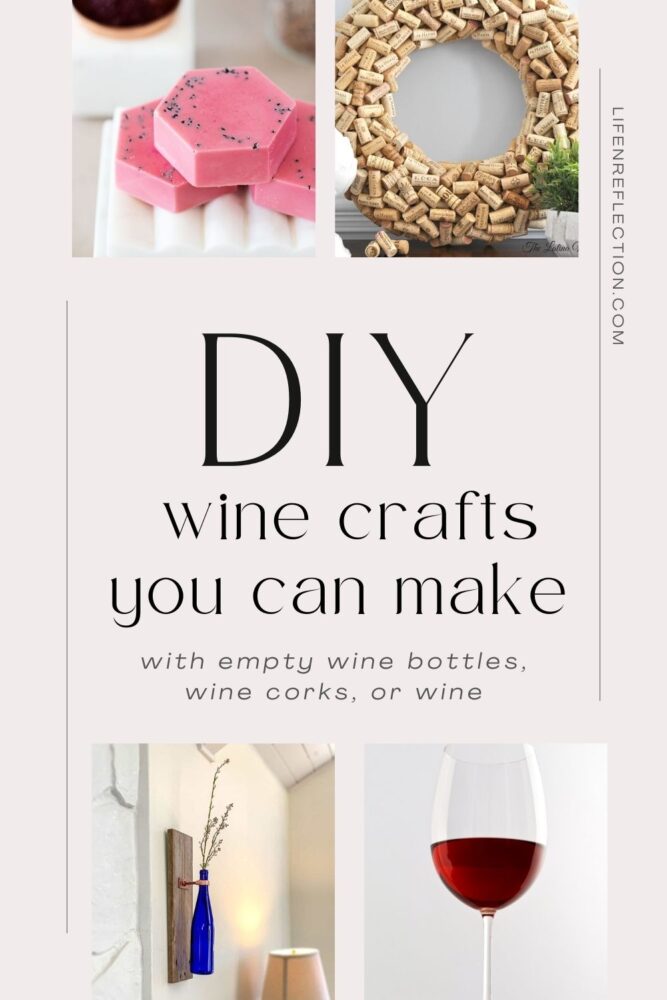 What can I make with empty wine bottles?
Put forth the effort, and there's almost an endless amount of things you can make with wine bottles. The thickness of a wine bottle glass also makes it a prime candidate for candle making as it can withstand the heat from making a candle. In contrast, a typical wine glass could explode with the heat of a candle due to the glass being much thinner. Definitely check out this list of containers to avoid if you plan to make candles in upcycled containers. 
Did you know if you have wine past its prime for drinking, it can be reused too? One of the handy things you can do with it is to use it to dye fabric. Add a splash of wine to a plain canvas bag, pillow cover, flour sack kitchen towel, or basic white tee.
Everyone knows getting wine stains off fabric can be nearly impossible to get out. So why not use it to your advantage? Bring new life to a stained shirt, apron, dinner napkin, or fabric swatch for a DIY. Either way definitely beats watching your money go down the drain (literally!) when you have to get rid of old wine.
Related To: 15 Candle Gift Ideas For Candle Lovers
What can I do with all my empty wine bottles?
If you ask me, one of the best things about an empty wine bottle is its versatility. You can make a statement decor piece for any season or holiday of your desires with a bit of paint and some seasonal items, and glue. It's seriously so easy it's addictive. You can even make pendant lights with wine bottles!
One super chic and stylish thing you can do with wine bottles is making them into luminaries. It doesn't require you to cut the glass, and you can even get creative and add your own touch to it! That's one of the best things about crafting, if you ask me.
Related To: Creative Ways to Use Lavender
So, whether you have empty wine bottles taking up space in your pantry or you just want some inspiration, let's get started with these inventive, original, and artistic ways to use any part of a wine bottle, from the wine inside to the cork on top!
Easy to Make DIY Wine Crafts and Wine Bottle Recycling Ideas for Anyone
If you're stuck on what can I do with empty wine bottles – Pump up the music, roll up your sleeves and get ready to upcycle with these easy-to-make wine craft and wine bottle DIYs. There's a creative idea for it all!
Red Wine Soap
It may surprise you, but this red wine soap actually contains quite the luxury treatment for your skin! It's packed full of antioxidants and vitamins to reduce inflammation and fight free radicals to decrease the signs of aging. Also, have I mentioned that smelling this merlot soap is a treat?
DIY Woven Wine-Cork Trivet
If you're looking for something unique and fun to add to your kitchen, this DIY woven wine-cork trivet will make the perfect addition or gift! It's so easy to make you'll be wondering why you didn't make this sooner!
Wine Bottle Candle
Perhaps you're someone that's simply been searching for what to do with empty wine bottles. This wine bottle candle is a perfect way to recycle wine bottles and makes for a great gift! The thickness of the wine bottle glass is safe for the heat of candle making, and the result? A gorgeous, one-of-a-kind candle!
Wine Bath Salts
It's been said that bathing in it is the only thing better than drinking red wine, but visiting a vineyard in Rome for a wine bath isn't on the calendar for most of us. Now with the creation of wine bath salts, we can enjoy the best of both drinking and bathing in wine without the expense of visiting a vineyard.
Wine Cork Wreath
Do you have a stash of saved wine corks that seems to be bottomless? This DIY wine cork wreath makes for a wondrous wreath all year round, as it can be customized to just about any holiday or color theme you desire. It's easy to make and is a perfect gift for any occasion!
Wine Bottle Luminaries
Simple, thrifty, and stylish. These wine bottle luminaries are an ingenious way to recycle empty wine bottles and use them in your year-round decor. Whether on your mantle, fireplace, or table, this is a beautiful and fun way to upcycle your used wine bottles!
Cork Planter Box
It's no secret that I am a garden girl by far. I simply can't get enough of the smell of blooming flowers or fresh basil in my home or yard. That's why when I came across this cork planter box, I was immediately in love. Not only does it give a needed revamp to basic planters and pots, but it makes for a great way to recycle my wine corks!
Wine Bottle Wall Vase
Don't let looks deceive you; this DIY is a lot easier to make than it seems. If you're willing to put forth the effort, this wine bottle wall vase is not only beautiful but will be a distinctive statement-maker with your guests!
So, what are you waiting for? Don't be afraid to pull out the bottles and corks and get crafty with them! There are so many clever ways to upcycle wine bottles and corks, and what better way to reward hard work than with a bath soak in wine bath salts?
YOU MAY ALSO LIKE:
Save these wine DIYS to your wine crafts and DIYs Pinterest board, and while you're there, be sure to follow Life-n-Reflection for more inspiring ideas.

Did you know you can Tag #lifenreflection on Instagram to share yours with me?