How to Reuse Candle Jars: 50 + Ways to Use Empty Candle Jars
Here are fifty-plus ways to reuse candle jars and four methods on how to clean candle jars and remove wax successfully!
Candles are one of life's great joys. Great candles smell amazing, look fabulous in our homes, and can even make us feel good. I am an avid candle maker and almost obsessively light candles in our home. (I mean, it seems wrong to write and teach about candle making without a candle glowing nearby.)
But, ultimately, what ends up happening is that I have a lot of empty candle jars on my hands! Most of which I either worked hard to source at a reasonable price or fell in love with immediately at a boutique or outdoor market. And I can't bring myself to just toss them away.
If you're a candle addict like me, I know you undoubtedly have a sprawling collection of burned-down, used-up candles too.
No matter if you made the candles, received them as a gift, or bought them yourself – there's a high chance you've stashed them on the laundry room shelves or at the back of a cupboard in the kitchen.
All because, just like me, you feel it would be wasteful to throw them out.
It's like those things you hold onto after a break-up when you're a teenager. You tell yourself the candle smelled so good, and you shared Thanksgiving and Christmas together… How can you just let it go? Ha Ha.
Instead, you should be asking, how can you reuse candle jars? I've found fifty ways to reuse candle jars in the bathroom, bedroom, kitchen, office, and more. You can give a candle container a second life by storing everyday items or graciously decorating your home after following my tips below to remove the wax and clean the containers.
For your convenience, this post contains some affiliate links; read the full disclosure policy.
How do you clean and reuse glass candle jars?
First of all, you'll know it's time to stop burning a candle when just ½ an inch of wax is left at the bottom of the jar. This is one of my candle care tips. But you'll want to remove the label before you start tackling how to get old candle wax out of a jar. 
How To Remove Label on a Candle Jar:
I use a couple of things to remove labels from candle jars. The first thing I try is straight-up lemon essential oil. Just apply it to the label and rub it with a cloth. 
I turn to my homemade heavy-duty kitchen cleaner or DIY disinfectant spray if that doesn't work. Apply a small amount to each label and gently rub it with a cloth to remove it. If all else fails to remove a label on a candle jar, soak the jar in hot, soapy water. 
Related To: How to Fix Candle Tunneling
4 Methods On How To Clean Candle Jars
How do you get old candle wax out of a jar? To reuse the container, a candle called home, there are four methods I've found to remove that wax from inside it next. I'm sharing each of them with you here! I recommend reading through each method and seeing the safety tips before beginning.
#1 The Freezer Method to Remove Candle Wax
This is a method I have used for years to remove candle wax from a container. You see, the wax contracts and becomes brittle when you place a candle in the freezer.
Place the candle container in the freezer for a few hours.
Then, remove the container from the freezer and flip it upside down on a folded kitchen towel.
The wax should just pop out. Use a butter knife to gently pry the wax out if it needs a little help. 
You can fill the container with white vinegar for stubborn candle wicks to loosen. Then, wipe out any leftover wax with an all-purpose cleaner or wash with hot soap and water.
#2 How to Use the Oven to Remove Candle Wax
If you have several candle containers you want to clean, the oven method might be your best option. Make sure you have removed the lid and any labels first. And as odd as it sounds, confirm the containers are heat-safe. I've found this method is ideal for how to clean candle wax off glass containers.
Preheat the oven to 200°F and line a baking pan with aluminum foil. Place the candle containers inside the lined baking pan and into the oven. Keep a very close watch on each container.
Carefully remove each from the oven once the wax has melted. Then, place the pan on a heat-safe surface. 
Using an oven mitt, pour the candle wax and wicks into a container you won't use again, such as a jelly or pasta jar. Allow the wax to cool before discarding in the trash.
Then, clean the candle containers with an old rag or paper towel. If needed, wash with hot, soapy water, but do not pour wax down a drain!
#3 The Quickest Method to Clean Candle Jars
If you have a small container or just a small amount of wax left in a candle jar, this is the quickest way to clean it.
After removing any labels, place the candle on a heat-safe surface.
Apply a heat gun designed for candle making or a hairdryer if you don't have one to the outside of the container. Use small circular motions pointing towards the areas where wax remains to soften it.
Once soft, scoop out the wax, like soft butter, into a disposal container or plastic shopping bag. And toss the wick and wick tab too.
Wipe the jar clean with an old rag or paper towel, and you're done!
#4 How to Clean Candle Jars with a Water Bath
A water bath is the simplest method to clean and reuse candle jars, and it works best for candles made of soy wax due to its low melting point.
To begin, place the drain stopper in your kitchen sink and fill the sink with hot water just past where the wax stops in your candle jars.
Remove the lids from each candle jar and place each candle in the water bath without getting water into the jar.
Allow the jars to bathe in hot water for approximately 30 minutes. The heat from the water will soften the wax and sometimes release the wax from the container with a pop.
Remove the containers from the water bath and place them on a kitchen towel. Then, like the method above, scoop the softened wax out and discard the wick into a disposable container.
Wipe clean with an old rag or wash with warm, soapy water as needed to finish. 
As a bonus, this method will also remove any labels on candle jars!
Safety Tips:
Don't Microwave Candle Jars
Never use a microwave to remove candle wax from a container. Even if the container is microwave-safe, the candle wick is most likely in place with a metal tab, and Microwaving it can explode your microwave and start a house fire!
Avoid Drains
When I say never, I mean NEVER EVER pour candle wax down a drain! The wax will cool and solidify. That results in clogged pipes wherever it solidifies.
No Overheating
Just a fair warning to be careful not to overheat candle containers or wax. As all candle makers know, wax, fragrance, and essential oils all have flashpoints.
Be Wary of Thin Glass or Fragile Containers
If a candle jar is made of thin glass or another fragile material, a water bath will be the safest option to remove wax. Both overheating and freezing could shatter fragile containers. 
Related To: Safe Containers for Candle Making
How can I reuse candle jars?
Now that you have removed every label and cleaned a candle jar or two or three or a dozen, it's time we answer, "What can I do with leftover candle jars?" So, here are over fifty ways I've learned to reuse candle jars so they don't end up in a landfill or take up space in my kitchen cupboards. 
50 Plus Ways to Reuse Candle Jars
Reuse Candle Jars for Bathroom Storage: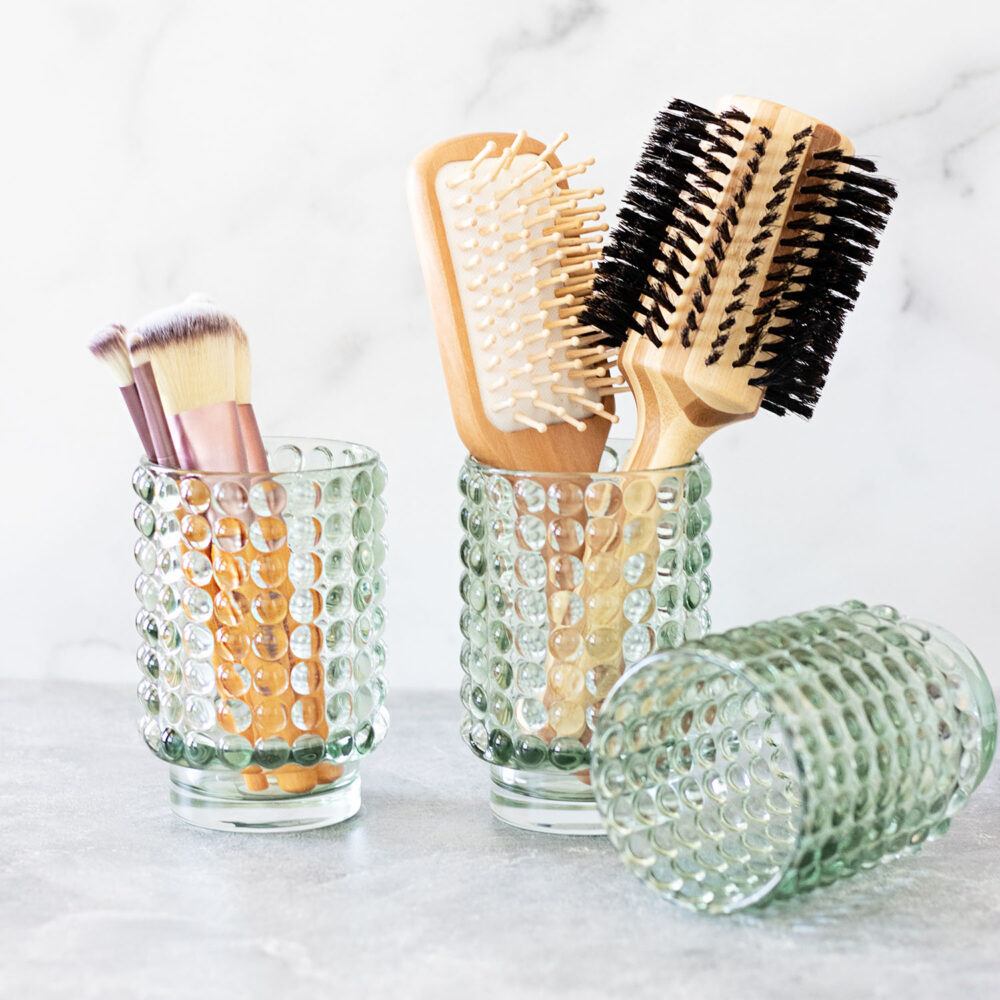 Candles have always found their place in the bathroom. Candlelit bath soak, anyone? Maybe it's not surprising that I've found many opportunities to reuse candle jars in the bathroom – eighteen in total if you add them up!!
– Use containers with or without lids to hold hairbrushes, scrunchies, barrettes, and hairpins.
– Tall candle jars are perfect for storing makeup brushes you use daily! The same goes for lip pencils, eyeliners, eyebrow pencils, mascara, and lipsticks. 
– You also reuse candle jars to hold makeup sponges, cotton balls, Q-tips, reusable cotton rounds (did you know I make my own?), and your jade roller too! 
– Use a leftover candle jar in the kids' bathroom to keep their toothbrush and toothpaste in easy reach.  
– Fill candle containers that have lids with your favorite bath salts. That's precisely what I did with my DIY wine bath salts! 
Give Candle Containers New Life on Your Desk
Office space, homework space, or artist space, you can give candle containers a new life on your desk. Not only can they help keep things tidy, but they can also add color to your desktop.
– Lidded candle containers are the perfect place to store paper clips and rubber bands fashionably.
– Wide-mouth candle jars are great for holding washi tape, ribbon, spools of thread, or other crafty supplies. And for a kid's zone, low wide-mouth jars look extra fun-filled with coloring crayons. 
– Taller candle jars can keep pens, pencils, paint brushes, scissors, a hole punch, and even blue light or reading glasses accessible in a cute way.
Repurpose Candle Containers as Plant Pots
This way to reuse candle jars has become so popular some candle companies include seeds to plant after the candle is finished, like this terracotta Glow and Grow candle and HyggeLight growing candle! For the container you already have, there are a lot of options too:
– Plant some herbs in your kitchen window or start seeds in used candle jars. Add a layer of small stones to the bottom of the jar for drainage before adding soil. 
– Create a terrarium with layers of small stones, soil, and moss in a wide-mouth candle container. Use a terrarium kit to make this even easier.
– Plant baby succulents in small candle containers.
– Tuck an air plant into any size candle jar.

Declutter Your Nightstand with Used Candle Containers
Who doesn't have a calming candle on their nightstand? It only makes sense to declutter your nightstand with a used candle container you adore. 
– Tuck a hand cream, essential oil roller for sleep, or DIY heel repair stick into a used candle jar on your nightstand.
– Keep a pen, small notepad, or TV remote within reach inside a tall candle jar without adding clutter to your bedside table. 
– Fill a wide-mouth candle jar with your go-to essential oils for sleep.
– Tuck a homemade sleep spray and sleep mask into a tall candle container. 
Reuse Candle Jars as Small Flower Vases
This is one of my favorite ways to reuse candle containers. It's so easy, and I don't have to commit to planting anything. 
– Fill a candle jar partly with water and arrange a small bouquet of flowers inside.
– For a low wide container, cut a single bloom, add water, and let it float. Speaking of floating, why not reuse candle containers for floating candles? Did you know you can make your own floating candles at home? 
Store Candle Supplies in Used Candle Tins and Jars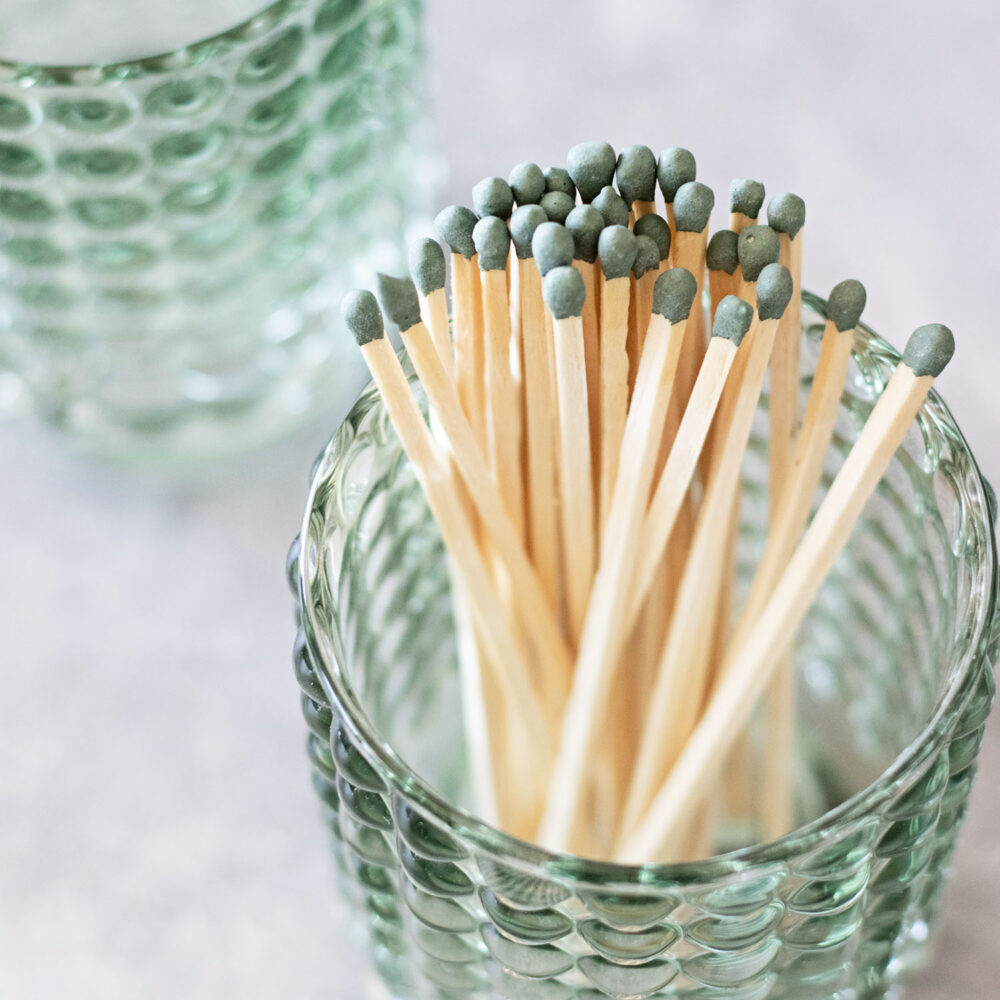 Yep, you read that right – the irony! Keep your candle supplies tidy by storing them in used candle tins and jars.
– Display your pretty matches in a used candle jar. Who can resist these colorful matches?
Why not store your candle snuffer or wick trimmer in tall containers? They're a must-have for candle care!
– Keep your candle wick centering devices or wick bars for candle-making in one place.
Put Used Candle Containers To Work in the Kitchen
Pull out those used candle containers hiding in your kitchen cupboards, give them a cleaning, and put them to work! 
– Keep a small candle container by the kitchen sink to safely hold your rings while you wash dishes.
– Store your homemade dishwasher soap in a large candle jar with a lid while you're at it. 
– Put chip clips and rubber bands inside a candle tin in the kitchen pantry.
– Help your scrub brushes dry faster when you use a tall candle jar as a scrub brush holder.
Reuse Candle Tins for Travel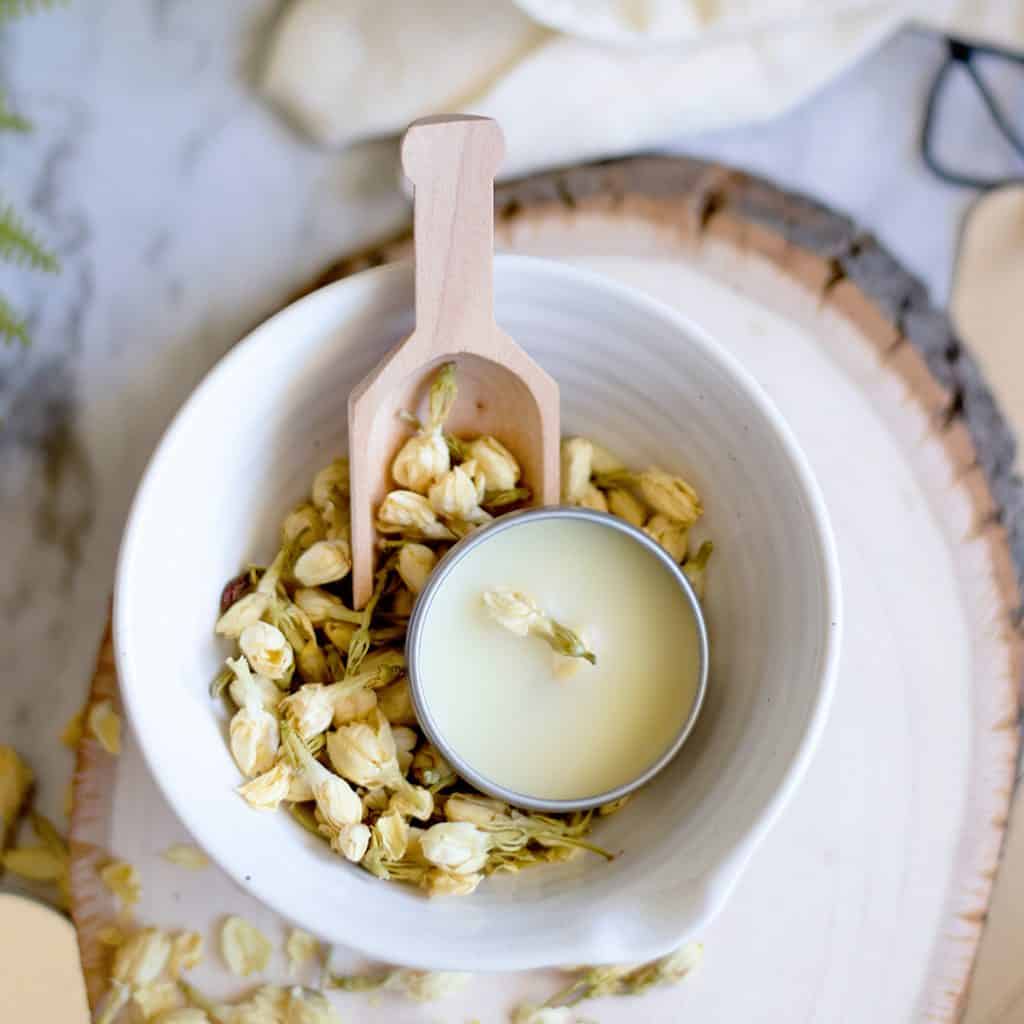 Can you reuse candle tins for travel? Of course you can! These metal tins are a great size. But these rose gold tins are more stylish. 
– Pop your soap, solid shampoo bar, or lotion bar into a small candle tin for travel.
– Never worry about a perfume bottle breaking in your luggage again when making solid perfume in a candle tin. (This totally happened to my mom!) 
– Coil phone charges and other cords that could get tangled during travel into a small candle tin.
– The same goes for jewelry like necklaces; put them and bracelets or rings in tin travel too.
Repurpose Candle Containers for Gift Packaging
Repurposing candle containers for gift packaging is a clever way to create a zero-waste gift wrap! 
– Tuck gift cards or other small gifts into candle tins. Stack three tins and tie them together with a ribbon.
– Fill small jars with homemade lip balms, hand cream, or chocolates. Then, wrap the jar in fabric or clear gift wrap and tie it with a bow. 
Make Your Own Candles with Used Candle Containers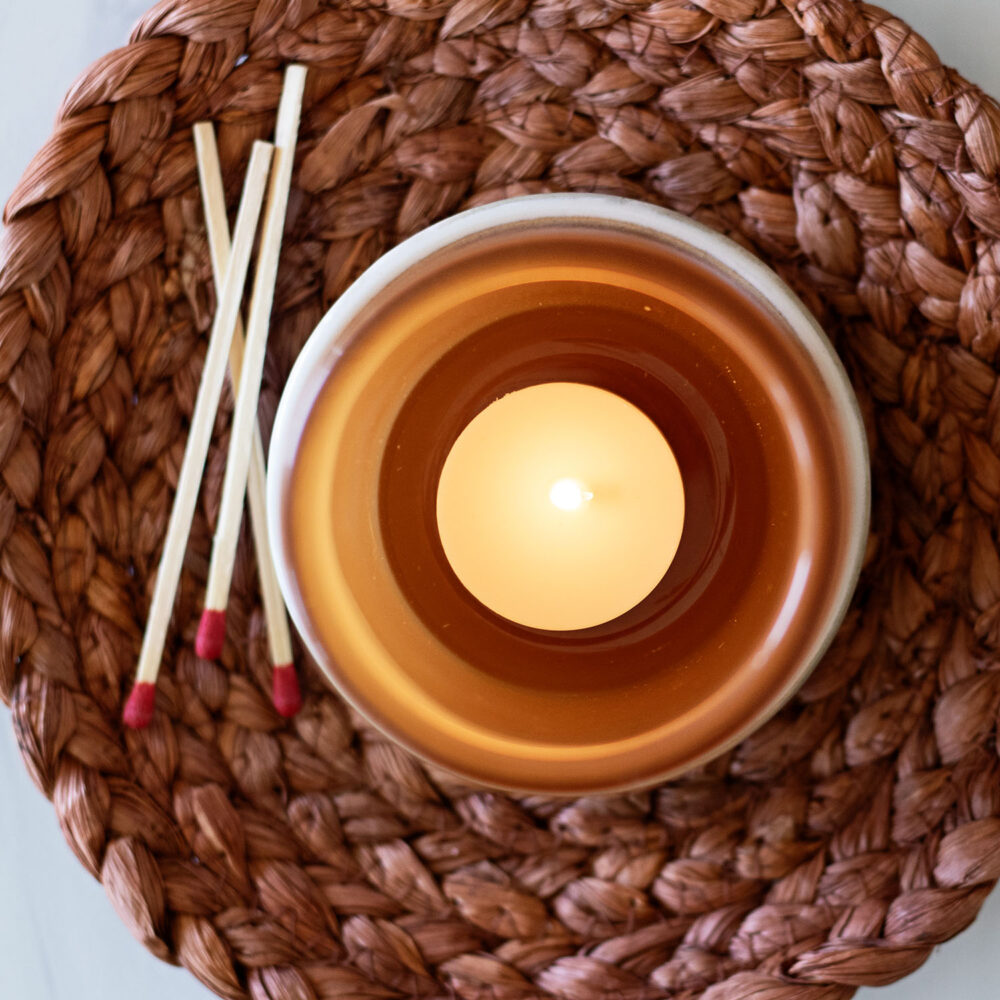 Perhaps reusing candle containers to make new candles is the best idea! You saw that coming, right?
– The easiest way to turn a candle container back into a candle is to pop a votive or tea light candle inside. Use my instructions to make your own votives and tea lights.
– Of course, the other way to reuse a candle container for a new candle is to place a new wick, melt candle wax, add a fragrance, and pour a fresh candle. Browse several DIY candle recipes here.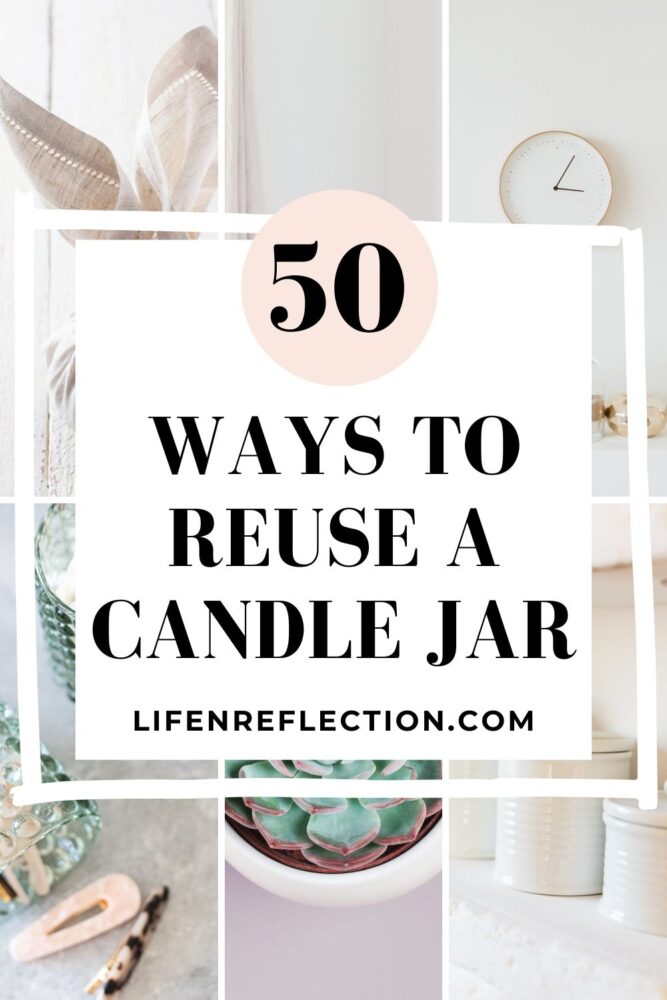 The next time you finish a candle, don't toss the container. Give it a second life after you've removed the wax and cleaned it with these fifty-plus ways to reuse it! 
There are probably even more ways to recycle candle containers for organizing, decorating, crafting, and gifting. If you've thought of one, share it in the comments below.
YOU MAY ALSO LIKE:
Pin these creative techniques to reuse candle jars now so you'll never run out of ideas! Tag #lifenreflection on Instagram to share your ideas with me.