Homemade Soap Packaging Ideas
Here are a dozen homemade soap packaging ideas, from simple gift wrap to eco-friendly soap packaging ideas. You'll find the best options to package soap here!
It's no surprise that I love making soaps. With the ability to customize and create lots of colorful and wonderful-smelling soaps, I can't help but let my inner creative artist take over when I make soap. As you can imagine, all this soapmaking causes me to have a lot of backstock soaps, more than I will probably ever get around to using.
So, what do I do with all these extra soaps filling my linen closets? One of the great things about soap is that they're also great for gift-giving! There is almost practically no occasion when soap would make a lousy gift. Throughout my years of soap gift-giving, I've discovered many creative and aesthetic ways to package soap.
As we find ourselves further into the year with more upcoming gift-giving events, I thought this would be the perfect time to share some homemade soap packaging ideas!
For your convenience, this post contains some affiliate links; read the full disclosure policy.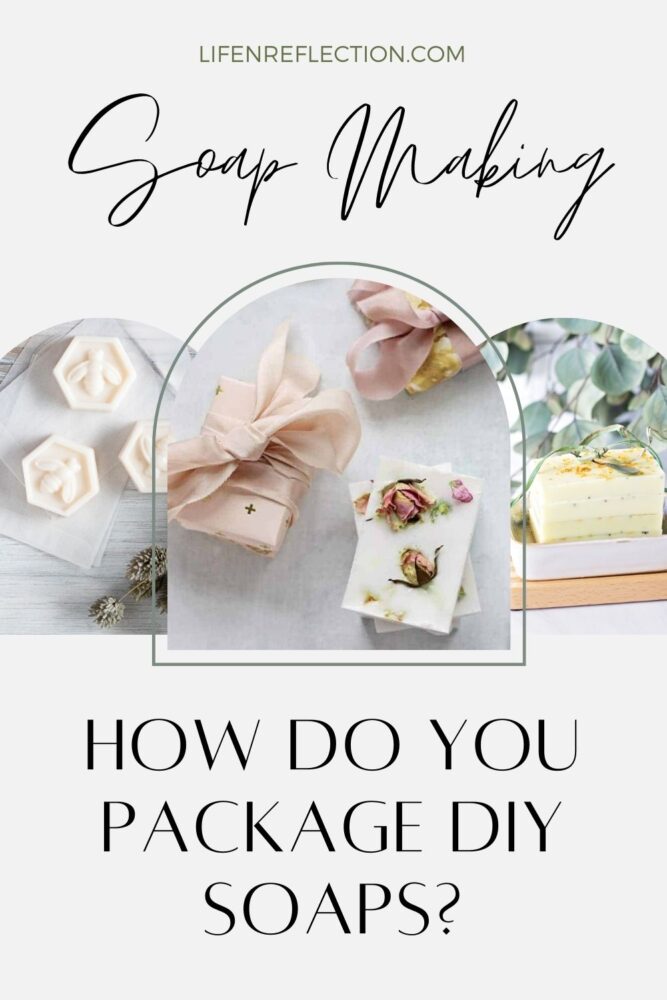 How do you package homemade soaps?
As you can imagine, there are plenty of ways to go about packaging homemade soap. From shrink wrap to muslin bags and kraft pillow boxes, you can use many things to package your homemade soap. I've got a huge list of ideas for you, but let's start with questions I get asked most often.
What kind of paper do you wrap soap in? A surprisingly popular choice is scrapbook paper! You can have prints or all sorts of colors to go with all different styles of soaps. (Plus, it's pretty cost-efficient!) You can also choose recycled or natural linen paper, which can quickly be stamped and embellished to personalize. Another practical yet beautiful option is eco-friendly greaseproof kraft paper.
How do you package, melt and pour soap? Some melt and pour soap types are known to sweat. Basically, beads of moisture will appear on the surface of the soap. This is why it is most often recommended to package melt and pour soap once it's cooled.
Find an in-depth look at each melt and pour soap type and several printable soap-making guides in the Simple Living Library to help you create your own customized soap!

Related To: 20 Melt and Pour Soap Recipes
How do you sustainably package soap?
We want to ensure our homemade is received just as it was made, which may require it to be wrapped in protective material. This is especially true for extra delicate soap and oddly shaped soaps. Sustainable packaging options can vary depending on when you're packaging the soap and when it will be given.
While it is commonly recommended to use plastic wrap, most of us prefer to aim for eco-friendly, sustainable packaging. DIY beeswax wraps can make a great alternative to plastic wrap. Soap savers made from natural fibers, wood soapboxes, and compostable glassine wax paper bags are also ideal for sustainable soap packaging.

Related To: Natural Living Gift Giving Ideas
What should I package my homemade soap in?
What should you package homemade soap in, and how do you package soap nicely? The possibilities are practically endless! But it's actually a lot simpler than you may think! Although, there's no perfect fail-proof packaging method. You may go through some trial and error because packaging and gift wrap is practically an art these days.
In fact, the sky's the limit with options like muslin bags, scrapbook paper, doilies and ribbons, biodegradable soapboxes, cheesecloth that can be cut to size, greaseproof kraft paper, twine, and the list goes on and on!
I suggest trying several of the soap packaging ideas below and then going about choosing what works best. Because the choice of your soap packaging is entirely up to you. If you sell soap, you may steer towards something cost-effective. Like me, if you make a lot of soap, you may want something simple and easy to duplicate. On the other hand, if you're gifting soap a few times a year, you may want to spend more time on the end result.
Just let your creativity run free and have fun with it! Sometimes, the process of packaging is just as fun as making the soap. There's no "should" thing when it comes to packaging soap because, in the end, everyone has different scenarios, different climates, and different timing situations. Use your best judgment and select what works best for you.
Follow along for our favorite homemade soap packaging ideas and some tips and tricks!
Homemade Soap Packaging Ideas That Are Perfect For Any Occasion
Ready to gift or package some soaps? So are we! Here are a dozen of our favorite ways to package soap for any occasion!
Wrapped with Fresh Herbs
You can finish your freshly made soap bars by wrapping each bar in brown wrapping paper with some twine, and a sprig of fresh rosemary or another herb like Erika did here. Think lavender, mint, or thyme too! It's a great way to let your soap ingredients shine.
Scrapbook Paper Lined Muslin Bag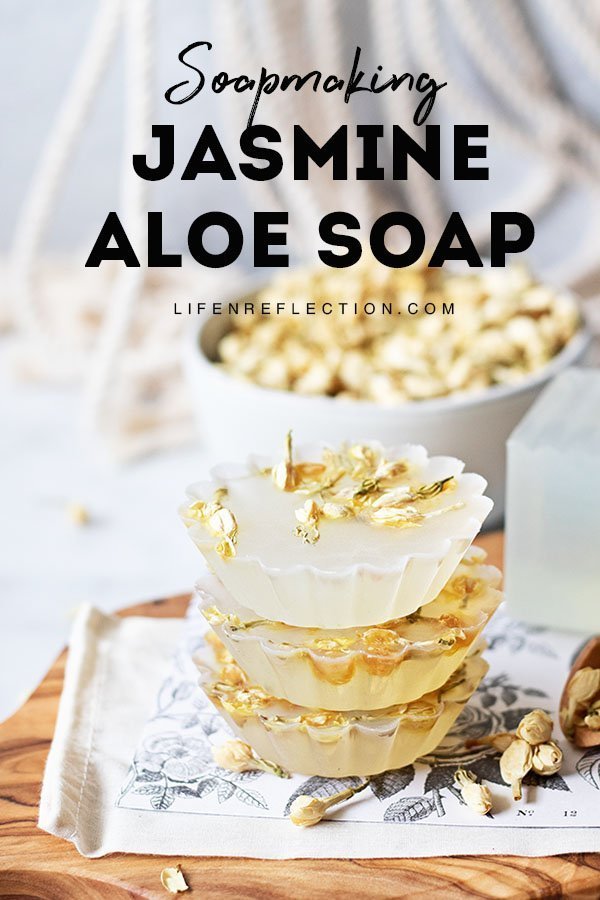 If you like simple and quick packaging but still chic, try this idea! Line a piece of floral printed scrapbook paper inside a slightly see-through muslin bag. It makes your handmade soap perfect for giving as a gift at any event!
Personalized Biodegradable Gift Box
Are you looking for a soap packaging idea a little more like a "gift box"? This beautiful box is personalized with a wooden monogram letter tied with jute on the top for a classy, elegant look. Isn't that the perfect bow for a wedding or bridal shower gift?
Butcher Paper and Washi Tape
Even if you're going to place soap inside a box, you may want to consider wrapping it with butcher paper first; that way, the soap doesn't sweat, and your gift box stays clean!
Stacked Soaps In A Tray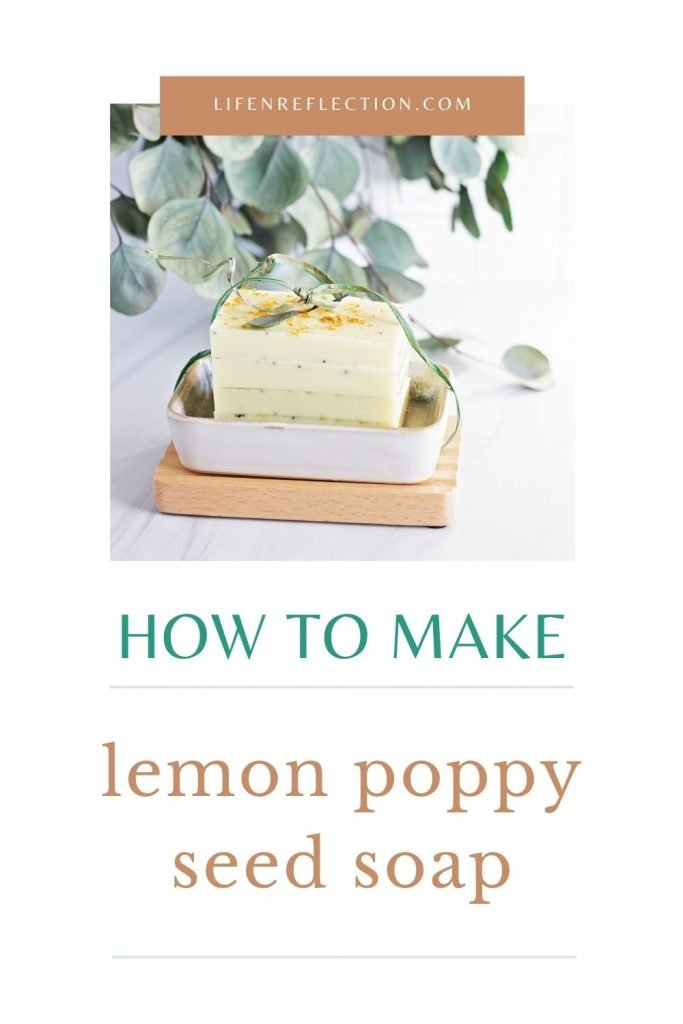 Perhaps you have multiple soaps you want to give, and you want to package them together! Try stacking the soaps in a soap dish and tying it all together with twine as I did for this lemon poppy seed soap recipe! This look can be achieved in minutes if you're rushed on time, and perfect for any soap size or shape. Even just a simple twine tie idea I used for my first soap recipe works, too.
Vintage Paper Wrap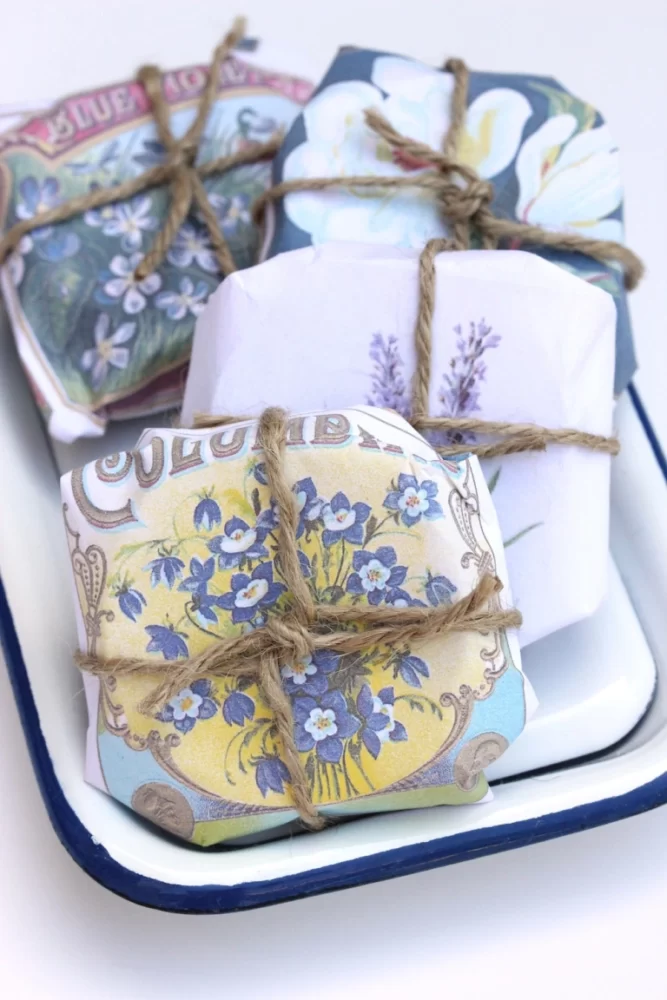 I love this homemade soap packaging idea to print some lovely vintage images to wrap up soaps and tie in garden string. I think vintage seed envelopes would also be a lovely idea for wrapping soap!
Clear Soap Bags with Washi Tape
The gorgeous pastel purple color highlighting lavender's delicate buds in these homemade lemon lavender soap bars is just too irresistible to put in a box. But I wanted to keep the lavender buds in place, so I slipped them into clear soap bags. Folded each closed and secured with butterfly print washi tape.
Gift Box and Ribbon
As Mother's Day is right around the corner, there's no way I couldn't include this packaging idea in this list! These feminine colors are a breeze to mix and match with patterned gift boxes and ribbons.
Ribbon Wrapped Soap On A Tray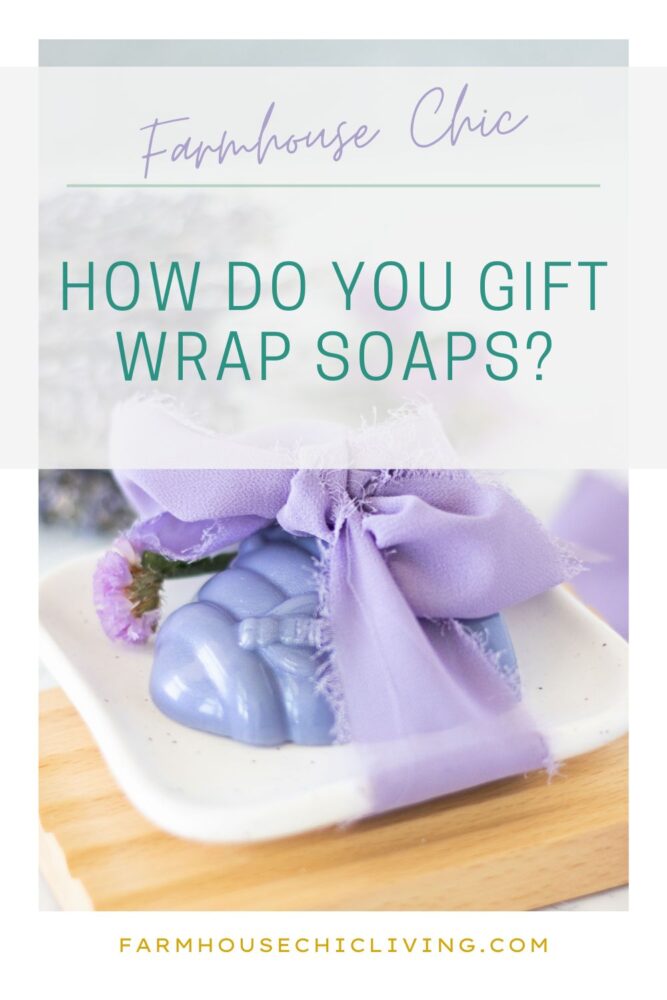 Handmade soaps make beautiful gifts that show you've put time, thought, and care into creating something special. Personalizing the scents, colors, and packaging is a great way to showcase a handmade gift. Farmhouse Chic shares this beautiful idea to gift soaps on a soap tray wrapped in raw chiffon ribbon.
Easy-to-Make Labels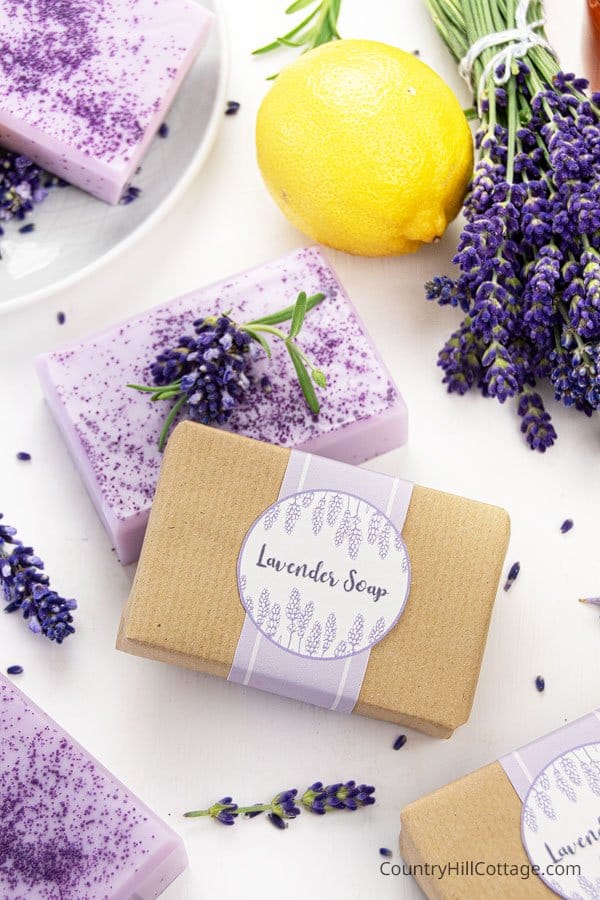 This homemade soap packaging idea comes with free printable labels! Whether you're looking to keep track of what soaps you have in stock or just wanna make it easier for who you're gifting. These easy-to-use printable labels are ideal for any soap occasion!
Simple Glassine Bags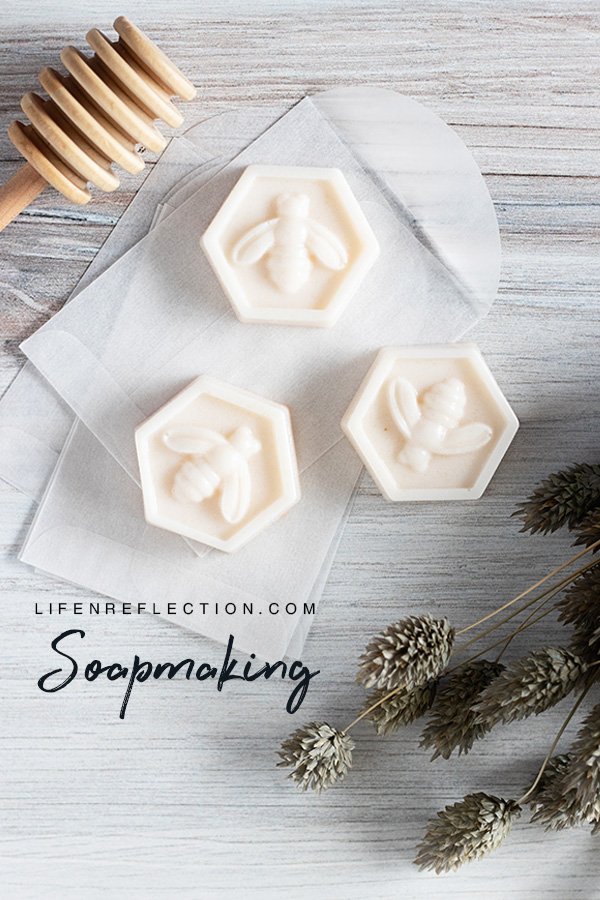 For handmade soaps that have a beautiful design, like these honeycomb-shaped soaps, why hide them? Slip one inside a small, transparent glassine wax paper bag for an elegant, eco-friendly look.
Colorful Gift Packaging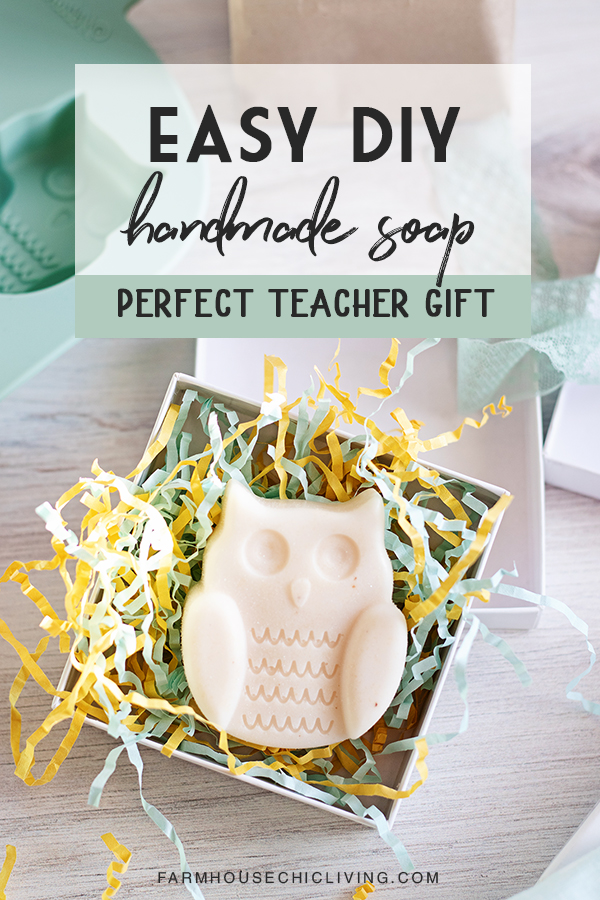 With the school year also coming to a close soon, this clever packaging idea for soaps makes an amazing gift for teachers. Perfect for spring, summer, or any season because you can customize the color and scent. You can reuse a jewelry box and shred your own paper for this sustainable soap packaging idea.
Pattern Paper Wrapped Soap
You know, packaging can be just as important as the gift itself, but it doesn't have to be complicated. One of the easiest ways to dress it up is with patterned paper. Use it as a band around the soap bar or wrap it like these soaps in botanical garden paper. This works best for soap that doesn't have a textured top because you can get a clean and even wrap.
Whether you've found an idea to package your homemade soap, an eco-friendly soap packaging solution, or a big burst of inspiration, I'm sure you'll agree the sky's the limit when it comes to soap packaging!
P.S. If you are looking for handmade gift ideas, don't miss my fan-favorite Holiday Essential Oil Gift Making Book. It's an incredible resource to make luxurious yet simple gifts for everyone on your list!
YOU MAY ALSO LIKE:
Pin these ten creative homemade soap packaging ideas now, and while you're there, follow Life-n-Reflection and Tag #lifenreflection on Instagram to share your ideas to package soap with me.