Wondering how to use a solid shampoo bar or if it works?
I've learned to make a lot of things on my quest toward a non-toxic simplified life. As for hair, a DIY conditioner was the first I successfully made. I made it with shea butter and other incredibly moisturizing ingredients to condition hair. Followed by homemade hair detangler and anti-frizz spray.
You see,
When I started making my own hair products I was dealing with dry split ends, frizzy hair that would NOT stay down (Lion King anyone?) and brush resistant tangles.
Looking back, I can see that my hair wasn't healthy and my need for ultra-straight, smooth hair at the cost of blow-drying and flat ironing wasn't doing it any favors.
As I began to replace drugstore hair products with a combination of my own and echo friendly options that I didn't know how to make – my hair took a complete 360…
From dull, dry, and frizzy
to SHINY, HEALTHY, and FRIZZ-FREE!
Switching to using a solid shampoo bar is a good part of that success. Rather you're starting a natural hair journey of your own or simply looking for a plastic free shampoo and conditioner – let me spill the beans about the pros and cons of using a zero waste solid shampoo bar.
This post contains some affiliate links for your convenience, read full disclosure policy.

Pros and Cons of Using a Solid Shampoo Bar and Conditioner
Pros
Whenever I talk about solid shampoo, I am always asked, "Do shampoo bars last longer?" – Well, take a look at how the two stack up.
The average bottle of shampoo is usually 16 ounces. If you use the recommended tablespoon that gives you 38 shampoo washes.
And the average solid shampoo bar can be used for 80 shampoos.
Which means a shampoo bar lasts twice as long as a bottle of shampoo! And if you wash your hair every other day, instead of every day, a shampoo bar will last 5 months!!
The same goes for conditioner, the best conditioner bars are highly concentrated and equivalent to 5 bottles of liquid conditioner. That's a huge difference, especially when you consider 40% of the plastic waste comes from product packaging. And 80 BILLION plastic bottles of shampoo and conditioner alone are added to landfills each year.
Which explains why solid shampoo and conditioner are highly recommended as a zero waste alternative!
On top of reducing waste and saving you money, solid shampoo bars are also known for their ability to bring hair back to it's shiny, voluminous self by cleansing residue and build-up caused by traditional hair products. Unlike detergent-based shampoos containing harsh chemicals such as sodium lauryl sulfate, that unnecessarily strip hair and the scalp of natural moisture and shine.
Essentially, the best shampoo bars give your hair volume and shine without adding build-up or drying your hair or scalp. In my opinion, solid shampoo is more than shampoo in the form of a bar.
Related To: Aloe Vera Hair Rinse
Related To: Quick Dry Hair Remedies
Cons
Solid shampoo bars and conditioners have a tendency to turn to mush if not stored properly. You can't leave your shampoo bar in a pool of water on the side of the bathtub or in the direct spray of the shower. It will melt away into an oily mess and waste your money!
Luckily, you can overcome this con with a few tips and products to store solid shampoo and conditioner. Each will keep your shampoo bar out of wet muck and allow it to stay dry. Inevitably making them last longer.
How to Store Shampoo Bars and Conditioner

Give your shampoo bar plenty of air in-between washes with an eco-friendly soap saver. Slip your best conditioner bar and solid shampoo into a soap saver and hang it to dry or place your bars on top of the soap saver to use as a soap dish. Whenever it needs cleaned tuck it into a delicates laundry bag and wash it on a regular cycle. Have you tried my zero waste laundry powder?

A soap dish can be a stylish, practical shampoo bar holder. Soap dishes are designed to keep your bar dry. Just make sure to keep it out of direct sunlight and away from heat. I love all the choices above made from natural materials like the sandstone soap dish and acacia wood soap tray. Their compact design makes it easy to store shampoo bars on your bathroom counter, shower shelf, or rack.

Like most things in life, solid shampoo bars need to breathe. The first storage container shown above is designed to hold an Ethique shampoo bar and conditioner bar. It may look like plastic but it's actually made from compostable materials and it has drainage holes in the tray along with a lid to let your bars breathe and keep them dry. Another option for a shampoo bar holder is this one made from bamboo fibers with a non-slip design at the bottom of the container.

A versatile shower rack also works great to allow air to circulate around your solid shampoo bar, conditioner, body soap, and loofah sponge. Wanna make your own body soap? Check out my beginners' guide to soap making here.

If you're storing shampoo bars during travel, I recommend taking a soap saver with you to drain and dry bars after use. Then tuck your bars into a simple tin. You can also use a drawstring cotton bag to store shampoo bars for travel. Each is small and easy to tuck in your travel bath bag or carry-on.
How to Use Solid Shampoo Bar A Step by Step Guide
How do you wash your hair with a shampoo bar? Don't skip this – it's important to learn how to use a shampoo bar before you use one for the first time. It's not like using a bar of soap or liquid shampoo. I've broken down into 4 steps you can easily add to your zero waste hair routine.
1. Wet Hair
To use a solid shampoo bar you must first wet your hair thoroughly. The wetter, the better!
2. Apply Solid Shampoo
Start by holding the shampoo bar in the palm of your hand. Then gently smooth the bar starting at your scalp applying directly to your hair down to your crown at the base of your neck. You can also work the bar in medium-sized circular motions on your hair.
Make sure you get the hair behind your ears and if you have long hair you can lift your hair up off the back your neck and apply bar to your crown. Avoid applying to the length or ends of your hair, unless there's something that needs to be washed out.
3. Lather Shampoo
Put your shampoo bar down on your storage option from above. Then start at the scalp and then massage the shampoo into your roots. Do not pile your hair ontop your head as you see in the movies to lather – this only causes tangles. Work down the length of hair from your scalp to your ends. The amount of lather will depend on the hardness of your water. We have really hard water, living in the hill country, but I have found solid shampoo lathers better than liquid!
4. Rinse Shampoo
After lathering, rinse your hair under running water (not with bath water) to cleanse and remove build-up. If your hair happens to be particularly dirty or greasy, you may want to repeat these steps before conditioning.
How to Use Conditioner Bar:
1. Apply Solid Conditioner
Hold the conditioner bar in the palm of your hand to begin. Thoroughly wet hair and glide the bar along your hair from top to bottom working across in sections from ear to ear. (If you typically have oily hair, you may want to skip your scalp area or lightly apply.) Then pull hair to the side and run the bar down the length of hair focusing on the ends.
2. Lather Conditioner
Massage the conditioner into your roots, working the product towards your ends. Leave the conditioner on your hair for at least 2 minutes before rinsing for best results. If your hair is in a poor condition or prone to tangles use a large wide tooth comb or wet brush to detangle while the conditioner is your hair.
3. Rinse Conditioner
Place your head under running water and gently finger-comb your hair to rinse. You will feel the slip of conditioner on your hair. If frizzy hair is a problem you, I recommend a cold water rinse. Read more about remedies for frizzy hair.
Depending on the texture and conditioner of your hair you may not want to fully rinse the conditioner out. I don't rinse from the length or ends of my hair. I've found a conditioner bar doubles as a leave-in conditioning treatment that doesn't result in greasy hair!
What To Do After Using a Solid Shampoo bar and Conditioner:
1. Towel Dry
After washing your hair with a shampoo bar and conditioner gently towel dry hair prior to brushing. And avoid rubbing your hair vigorously as it can cause breakage and hair loss. I like to wrap my hair up in an organic bamboo hair towel for fast drying.
2. Brush Hair and Detangle Hair
When your hair is damp, comb or brush hair starting at the ends and working up to the roots. Detangle in short motions, section by section. Find more tips on how to use a detangler brush and comb for tangle-free hair here.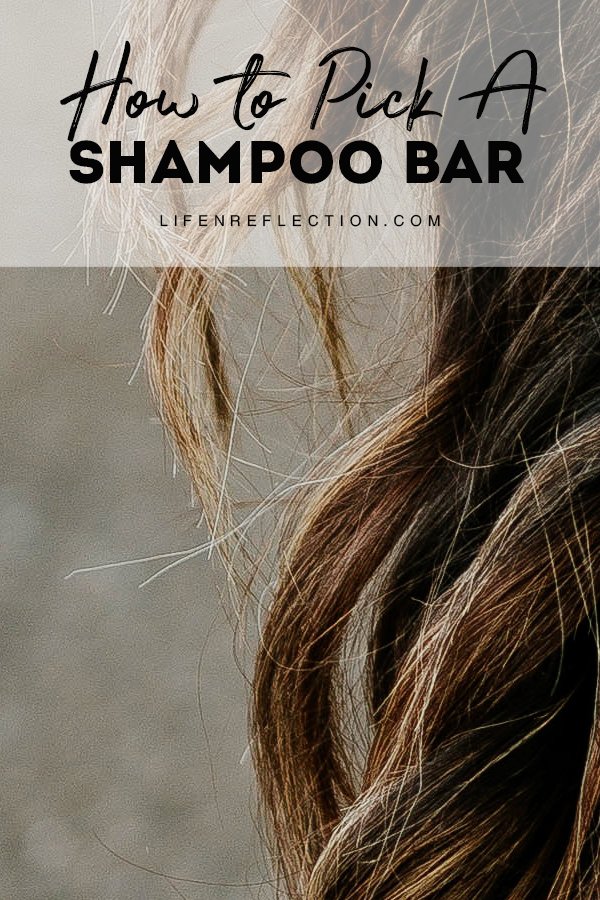 How To Choose a Solid Shampoo for Your Hair Type
Finding the perfect shampoo bar is key to truly nourishing your hair and getting back the shine and volume you deserve! Use this list below to help you discover the best shampoo bar for your hair.

Dry, Itchy Scalp Shampoo Bars
Eliminate impurities and soothe itching while revitalizing your hair with this black shampoo bar. It's made from bamboo charcoal, bentonite clay, shea butter, and tea tree oil. If you're looking for a solid shampoo for dandruff this one is designed for those who suffer from scalp issues. It contains ingredients such as coconut oil, oatmeal, and neem oil to combat itchiness and dandruff.

Frizzy Hair Shampoo Bar
If you struggle with frizzy hair as I once did or use hot tools like a flat iron or blow dryer all too often, this solid shampoo bar is perfect for you! It's known as the Frizz Wrangler made with cocoa butter and coconut oil among other ingredients to hydrate and smooth hair for a silky style without weighing it down. (It's the one I use!)

Oily Hair Shampoo Bar
This foaming shampoo bar created by Ethique to balance oil production and cleanse the scalp without stripping hair is best for oily hair. It contains citrus oils such as lime and orange known for a great clean!

Normal Hair Shampoo Bars
This is another Ethique shampoo bar that is 100% soap-free and pH balanced for normal to all hair types. It contains coconut oil and cocoa butter too with grapefruit and vanilla. It sounds divine!
This one by Shea Moisture works for all hair types to hydrate and enhance natural shine and softness. It provides a gentle cleanse to absorb excess oils and lift impurities with the use of clay.

Curly Hair Shampoo Bar
Made from fair trade shea butter, coconut oil, and hibiscus clay this solid shampoo bar was created for the curly hair folks in the crowd.

Damaged Hair Shampoo Bar
If you had a mishap at the salon or spend a lot of time in the sun or sea, this damage control shampoo bar will do wonders for your hair. Moisturizing ingredients paired with peppermint cleanse and smooth the hair shaft.

Color-Treated Hair Shampoo Bar
Love Beauty and the Planet, as well as Ethique, makes a shampoo bar for color-treated hair. It's best used to keep yellow tones or brass at bay along with anti-frizz benefits. They make a conditioner bar too with jasmine and beetroot extract for bright, bouncy tresses. I'm going to try this pair after I finish my current bars for my blonde hair.
No matter which solid shampoo bar or conditioner you choose for your hair keep in mind if this the first, your hair may go through a transition period. I happened to have great results from the beginning but a few weeks into using, my hair was shinier and bouncier than ever! So, give it a little time and refer back to these steps on how to use a shampoo bar.
If you think you've picked the wrong bar, try another. Just like the liquid shampoo, shampoo bars are not created equal.
Have you tried any of these solid shampoo bars? Let me know in the comments. These little blocks are magic if you ask me! I've been able to skip my DIY anti-frizz spray and go an extra day without shampooing.
Pin these natural hair tips for later and tag #lifenreflection on Instagram to share your experience with zero waste hair tips and care.