10 Self-Care Fall Gift Basket Ideas
As we get closer to the end of the year, things often get hectic for many women. Rather it's getting back into school routines or preparing for the stack of holidays ahead – we forget to take time for ourselves. Creating a self-care fall gift basket is a unique way to incorporate a self-care practice into your busy fall schedule.
In fact, autumn teaches us to reap what we've sowed. Take a step back and acknowledge all that you've accomplished, if not survived through this year.
Spend a little time on yourself this season. You've earned it!
This post contains some affiliate links for your convenience, read the full disclosure policy.
WHAT IS SELF-CARE?
I'll be honest when I first began to see the word self-care on Pinterest and Instagram I wasn't really sure what it was. At most, I thought it meant a luxurious spa appointment or a new-age retreat.
As it turns out, there are no wrong answers to the question. Self-care could include either of the above or it can be as simple as lighting a candle and opening a book, doing some embroidery (I'm currently exploring punch needle embroidery), taking a leisurely walk, or soaking in the bath. 
Related To: DIY Collagen Face Mask
Related To: Pumpkin Spice Latte Lip Scrub Recipe
Why Is Self-Care Important?
If you feel you're constantly running out of time in the day, aren't sleeping that great, are quick to snap at others, or just simply don't feel like you – then this is an indication you need self-care! 
When we take on too many things, worry too much, or let stress lead our day we eventually burn out. And no matter how much you love your family, career, or business, and everything in between if you're physically and emotionally exhausted you can't be your best. And therefore can't give your best to all of the above. 
You see, self-care is all about intentionally making time for yourself to nurture your mind, body, and soul.
Spending two minutes to whip up a nutritious smoothie in the morning or turning off your devices at 9 pm to lather on a pumpkin face mask and soak in a tub of essential oil-infused bath salts. If it's nurturing your mind, body, or soul it's self-care.
Fall is the Perfect Time to Start or Renew Your Self-Care Routine
When it comes to self-care all the little things add up, restoring our energy, patience, and sparkiness. All together helping us to be present in our life and really show up for the things that matter most to us.
And fall is the perfect time to start or renew a self-care routine. With the holidays just around the corner, now is the time to make self-care an essential part of your day.
I've got several creative self-care ideas to help you do just that!
What do you put in a fall gift basket?
There's a reason autumn is fondly called the cozy season. Pumpkin spice candles, chunky scarves, mulled apple cider, fuzzy socks, and more evenings spent at home. It doesn't get any easier to make small changes for self-care than when the cozy season begins. 
And a self-care fall gift basket makes the process even more achievable. Think of it as a "stay-cozy box" or basket filled with cozy essentials to restore yourself when you feel overwhelmed, encourage rest when you need it most, and inspire creativity when things feel dull.
Creating your own fall gift basket for self-care is not only rewarding, but it's also inexpensive, especially compared to self-care retreats and spa treatments. And if you're looking for fall gifts ideas for her, I can't think of a better idea! 
10 Fall Gift Basket Ideas for the Cozy Season
If you're feeling overwhelmed and ready to start a self-care practice I've got 10 fall gift basket ideas for the cozy season! Start with the pumpkin spice soap recipe tonight, add a pair of cozy socks, hot cocoa, and a good book too. Then dig into this cornucopia of pumpkin spice Fall DIYs to pamper yourself and maybe a friend or two, because it's sure to warm the hearts of your fall fanatic friends!
This time of year PUMPKIN SPICE is EVERYWHERE! Lattes, donuts, candles, and everything bath and body related. Who can resist the combination of sweetness and spice, wrapped up in fall? Not us! And why should you when you can make a pumpkin spice soap recipe that will lather you up in all the fall cozy feels?
A fall gift basket for self-care isn't complete without lotion. And this DIY pumpkin spice body butter isn't like any old average lotion – it's utter decadence. Whipped to fluffy perfection, it contains a luxurious combination of soft shea butter, fractionated coconut oil, and beeswax pastilles to name a few.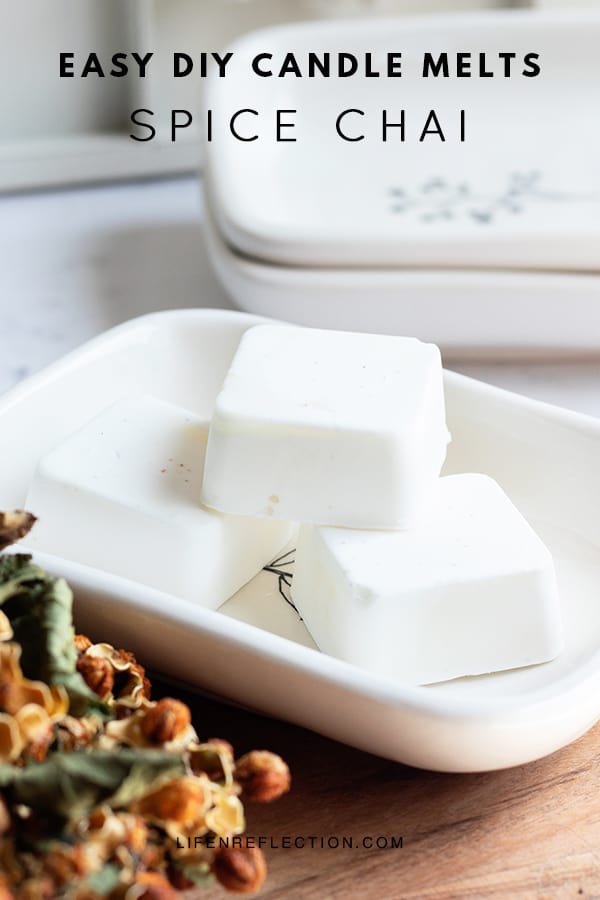 If spiced chai tea is a favorite autumn drink of yours too, why not enjoy its rich fragrance in easy-to-make candle wax melts? Set the mood for relaxation with a one or two in your candle wax warmer. 
Turn skincare into self care with three fall-inspired DIY sugar scrub cubes:
fall bouquet
cinnamon churro
caffè mocha
Each is made with melt and pour soap, shea butter, and coconut oil to exfoliate, moisturize and cleanse your skin all in one simple step.
If you're baking this fall, then you likely have everything you need to make this fall recipe for a sweet caramel pumpkin DIY hand scrub in your kitchen. It takes just six ingredients to whip up into an autumn masterpiece! I keep a jar by the kitchen sink to replenish my hands after washing dishes.
Warming your home up with hints of cinnamon, orange zest, nutmeg, pumpkin, ginger, and clove such as your go-to fall latte never disappoints.
These mini pumpkin spice candle mugs capture that flavorful signature autumnal scent. And making one of these homemade candles is easier than you think!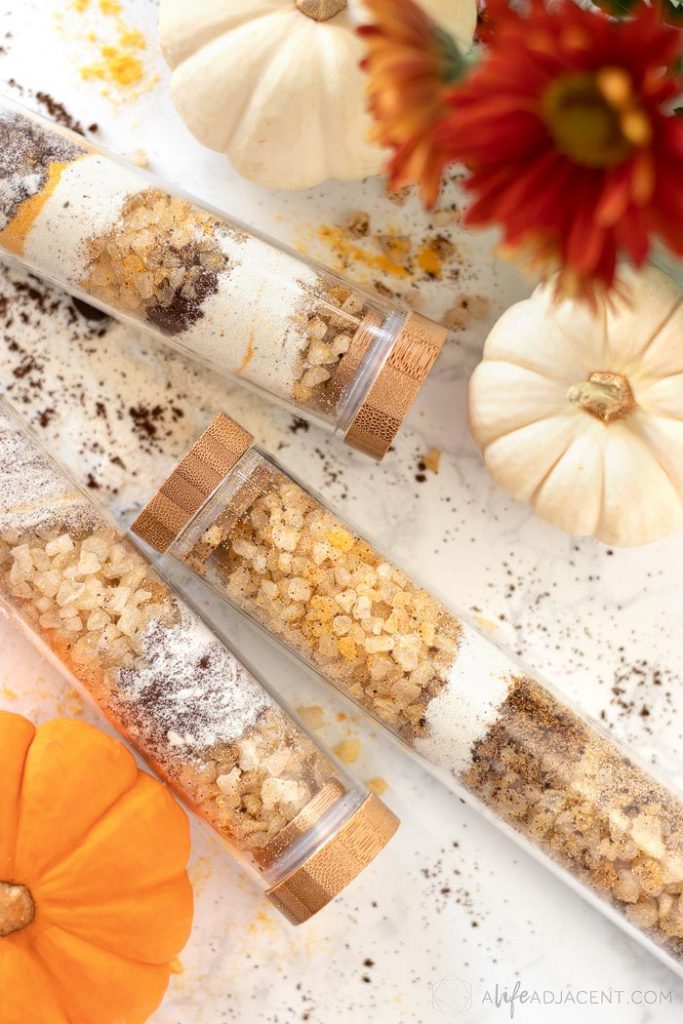 Long bath soaks are good for the body and the mind. They give you the perfect excuse to crack open that book you've been meaning to read or make a dent in all those fall magazines you've been picking up.
Indulge this fall with a moisturizing pumpkin spice latte bath soak. It nourishes the skin with milk, natural bath salts, pumpkin, and a dash of coffee grounds. All the while vanilla, coffee, copaiba, and cardamom essential oils impart a warm pumpkin spice latte scent in this colorful bath soak.
Cinnamon essential oil is the best way to create a lip plumper scrub as it has a large amount of cinnamon extracts. One little inexpensive bottle will make more lips scrubs than you can use! In just a few minutes of using this DIY lip scrub, you'll see beautiful fuller lips looking back at you in the mirror. And the results will last for a few hours!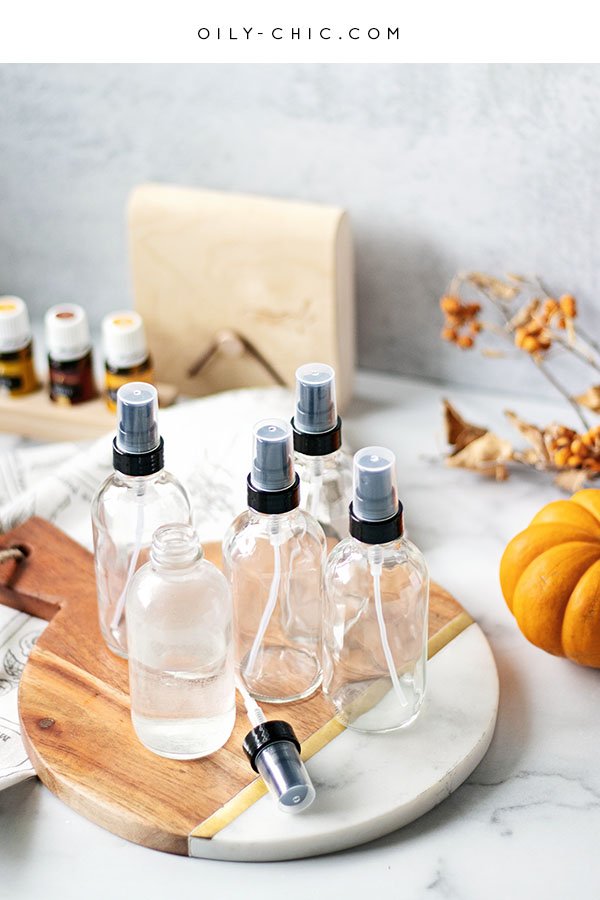 Bring on the cozy with these simple fall essential oil room sprays. Use aromatherapy to boost your mood, unplug, unwind, and enjoy the simple pleasures of fall. All it takes is a few steps and three simple ingredients to natural room spray.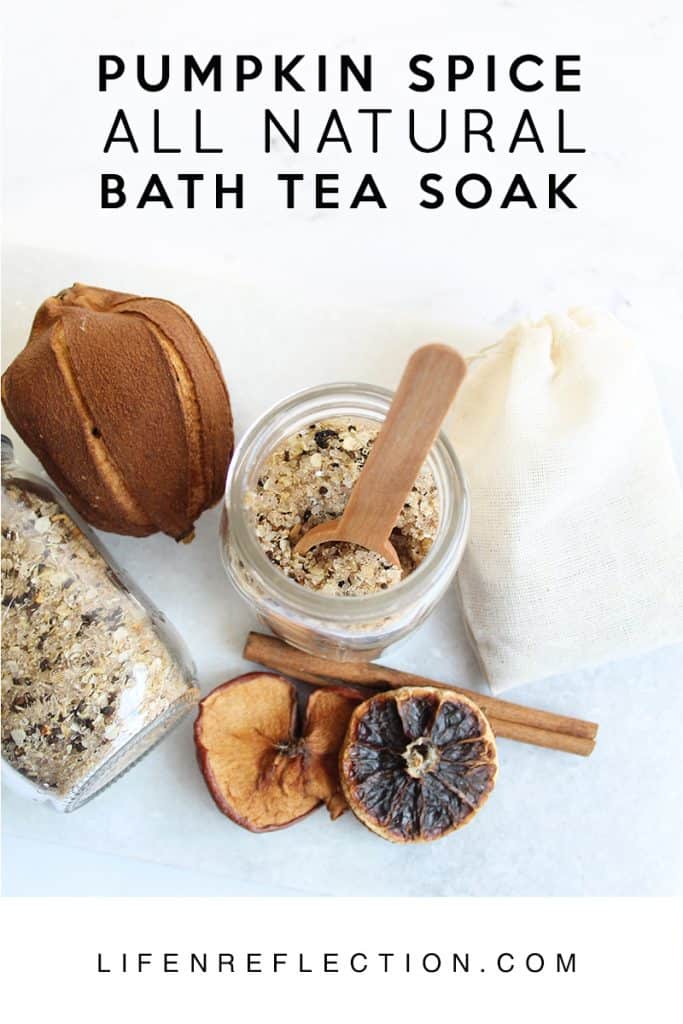 Whip up a batch of DIY pumpkin spice bath tea to ease sore muscles and rejuvenate the skin with real pumpkin seed oil, quinoa, Epsom salts, and nutmeg essential oil. It's a must for a long relaxing autumn bath soak.
YOU MAY ALSO LIKE:
How you practice self-care this season is totally up to you!
Try one or try them all, just find what activities fill you up the most, taking note of what makes the biggest difference in your day. Whether you take a few minutes throughout the day, a whole day to yourself once a week, or an hour at the end of every day – it's up to you! What matters most is how you feel.
Start now filling up a basket with things that appeal to every sense: taste, smell, sound, touch, and sight. Pumpkin spice is always a hit and with this list of fall gift ideas for self-care, you have plenty of inspiration to get started. Which one are you going to make first?
Pin these quick links to easy fall recipes for self-care gift ideas now. Tag #lifenreflection on Instagram to share what you're making!