12 DIY Outdoor Candles to Keep Bugs Away
Are you ready to try DIY outdoor candles? Find the best gathered here made with essentials that repel mosquitoes.
DIY outdoor candles can make all the difference! Having a relaxing evening on the patio, in your backyard, or by the pool can seem impossible if you are constantly getting bitten by mosquitoes. Especially if you are more sensitive to mosquito bites or worse if you are allergic (yep that's a real allergy).
My daughter and I happen to be a part of the sensitive crowd with itchy bites that swell up to the size of half a dollar and last for days. Maybe that's why I have been known to compare mosquitoes to blood-sucking vampires from popular blockbuster movies who soar the skies in search of their next victim.
No matter how you look at them, mosquitoes are a pain! DIY outdoor candles can go a long way in preventing mosquito bites.
This post contains some affiliate links for your convenience; read our full disclosure policy.
How do you keep mosquitoes away outdoors using candles?
Making bug-repellent candles for outdoors is a fairly simple process. But, it is only effective when the star ingredient is an essential oil that's proven to keep mosquitoes at bay.
Thankfully, the herbalist in me has learned how to repel mosquitoes naturally by using essential oils derived from herbs, so my family and I spend as much time as we like outdoors without worrying about mosquito bites.
Related To: DIY Coffee Mug Candles
What essential oils repel mosquitoes?
There are a handful of essential oils derived from herbs that contain the unique ability to attract and repel insects, including mosquitoes. I explain how this works here in my article for The Herbal Academy. The herbarium and self-paced courses at the Academy are a great way to study herbs.
Citronella, Cymbopogon nardus a.k.a. citronella grass, and its relative Lemongrass, Cymbopogon spp. are the most popular essential oils used for bug-repelling candles. Others include:
Lemon Eucalyptus Corymbia Citriodora
Lavender Lavandula spp.
Thyme Thymus vulgaris
Eucalyptus Eucalyptus spp. Myrtaceae
Sage Salvia officinalis
Rosemary Rosmarinus officinalis
Lemon Balm Melissa officinalis
Peppermint Mentha × Piperita
And the majority of these can be found in essential oil form. So you can choose one or more to create bug repellent outdoor candles that are effective and pleasing to your nose!
Related To: How to Make Multi Wick Candles
What are the best outdoor candles?
The best outdoor candles are those that include an essential oil that's proven to keep mosquitoes at bay. If you are ready to try some DIY outdoor candle recipes, you'll find the best gathered below. Keep in mind that you can always modify the recipes to include your favorite essential oils.
If this is your first time making DIY candles, don't miss our beginner candle making guide. Use our candle wax type charts from the Simple Living Library and our candle wax calculator to help you craft your first candles in any container of your choosing!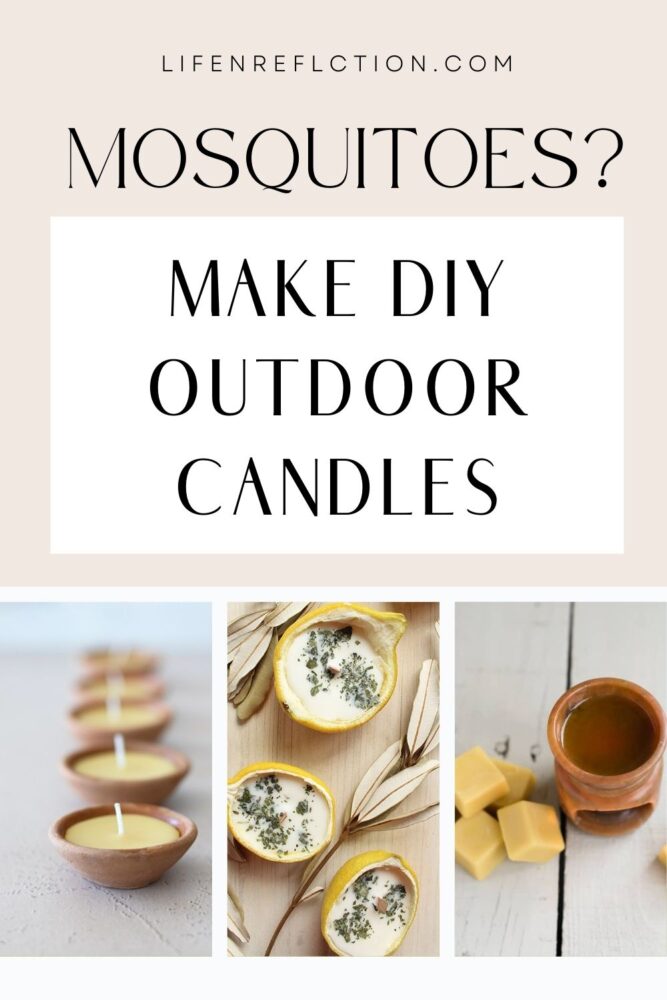 12 DIY Outdoor Candles to Keep Bugs Away
Are you ready to try DIY outdoor candles? Find the best gathered here made with essential oils and plants that repel mosquitoes!
If you haven't made your own candles before or if you are a beginner candle maker this recipe to make citronella candles is pretty straightforward. It is explained in detail making it a great place to start on your homemade candle quest!
You'll agree these DIY terracotta candles are just the thing for a bohemian-style gathering. Hand-poured beeswax into rustic terracotta candle pots, they have all the charm of bohemian style. A sublime pairing of natural textures and colors defines the carefree vibe of relaxed, boho style. And each is perfect for entertaining all year, indoors or out. Maybe that's why I'm obsessed with making these!
If you're not a fan of the scent of citronella but you still want to use it because of its effectiveness you can always pair it with another oil such as lavender to soften its scent. Both essential oils are really good at keeping bugs at bay and this recipe is quick and simple.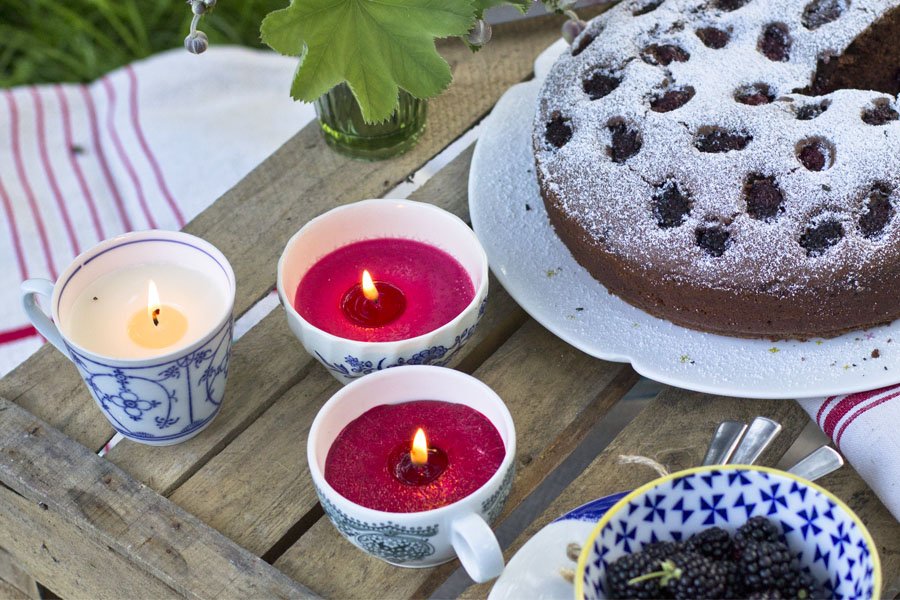 I don't think there's a more adorable recipe for making DIY outdoor candles with insect-repelling properties. I love how Sarah repurposed vintage teacups and dainty mugs to make these candles to enjoy her garden without biting insects.
Making outdoor citronella tea light candles to repel bugs is easy and quick with this candle hack. These citronella candle tea lights are perfect for not just the patio, but the beach and camping too because their lightweight design allows you to carry them along.
A summer evening outdoors is nothing but bliss, until the mosquito slapping begins. These lemon rosemary floating mosquito repellent candles are just the thing to keep bugs at bay and enjoy the outdoors without their relentless attention.
YOU MAY ALSO LIKE:
If you are eager to spend more time outdoors this year too without biting insects swarming around, turn to these excellent bug-repelling DIY outdoor candles made with effective essential oils.
P.S. Find everything you need to make candles in our handy DIY candle supply index!
Which of these outdoor candle recipes are you going to make first? I'd love to hear – leave a comment or tag #lifenreflection on Instagram to share. Don't forget to Pin this list of the best candles for outdoors now!