A lot of you have asked me for my DIY summer ready skin tips…
I've made so many homemade skin care recipes over the years, it's hard to choose just a few to share. But, today I plan to do just that and share with you my DIY summer-ready skin tips and recipes.
(If you're reading this and it's the opposite season, check out my My Best Advice for Winter Skincare.)
This post contains some affiliate links for your convenience, read the full disclosure policy.
Related: Summer's Best DIY Body Scrubs
Related: 10 Rose Beauty Recipes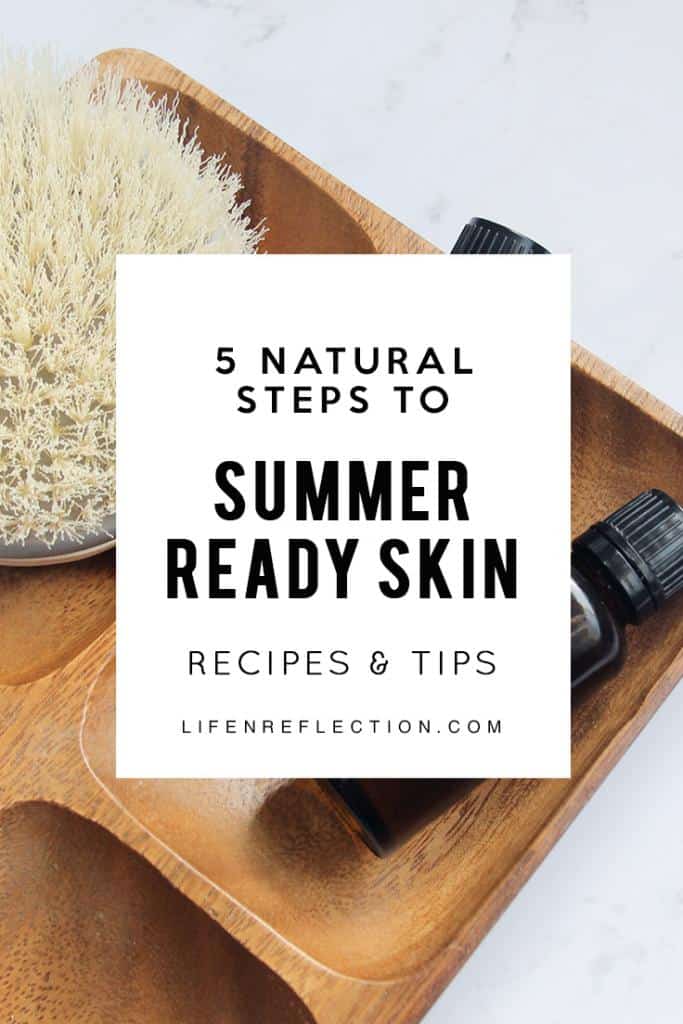 Why change your skin care routine for the summer?
For me living in the Midwest means there is a drastic change in the climate from one season to the next.
As the summer heats up I watch everything outside starts to sizzle and wilt between the warm temperatures and humidity. It feels like my skin could do that same thing if I didn't change my skin care routine.
Each season requires our skin to be nourished in a different way. Much like, changing the foods we eat to what's in the season to benefit our health. So here are five natural steps you can make to adapt your skin to summer.
5 Natural Ways to DIY Summer Ready Skin
#1 Dry Brush
Dry brushing is my first step to DIY summer ready skin. The simple act of brushing your skin with a natural bristle body brush for just a few minutes per day has benefits that go way beyond the surface.
These benefits actually encompass the whole body from external physical benefits to internal physical benefits. Learn about the benefits of dry brushing your skin, including how to dry brush, why to dry brush, and how to care for your dry brush here. I love this natural dry brushing set!
#2 Exfoliate
Exfoliation is an absolute MUST to for summer ready skin! So, if you're not doing it yet, you need to start ASAP!! (Yes, I'm serious)
Exfoliating helps to keep pores clear and stimulates collagen production while improving the glow of your skin. (See, what I mean.)
For the summer I'm cooling off with my garden fresh DIY cucumber mint body scrub. The natural cane sugar will slough away dead skins while cucumber and coconut oil softens the skin.
It's a great homemade body scrub to use after a day spent in the sun. Just be careful not to overdo it. Exfoliating once or twice a week is recommended for most skin types.
#3 Hydrate
After exfoliating it's time to re-hydrate your skin. A simple shower will do, but a long soak in the bathtub with mineral salts, lemon peel, and nourishing sweet almond oil is a nice treat.
Lift your mood with cheerful lemon essential oil and the playful bubbling effect provided by all-purpose liquid castile soap in this DIY summer ready skin recipe for a bubbling lemon vanilla bath soak (pictured above bottom left).
#4 Cleanse
While hydrating your skin in the shower or after soaking – cleanse to wash away impurities and dead skin cells.
And body wash doesn't need to be just soap. We can load it up with skin loving ingredients!
Learn how I make my own creamy homemade body wash in minutes with my recipe for Creamy Summer Rain Body Wash (pictured above bottom right) made with moisturizing shea butter and infused with my favorite essential oils for summer.
#5 Moisturize
The final step to DIY summer ready skin is moisturizing! The heat and too much sun can be drying to the skin.
Unlock the benefits of green tea and hydrate your skin naturally with an authentic DIY green tea body butter recipe (pictured above top right). So simple, it's made with only 2 ingredients!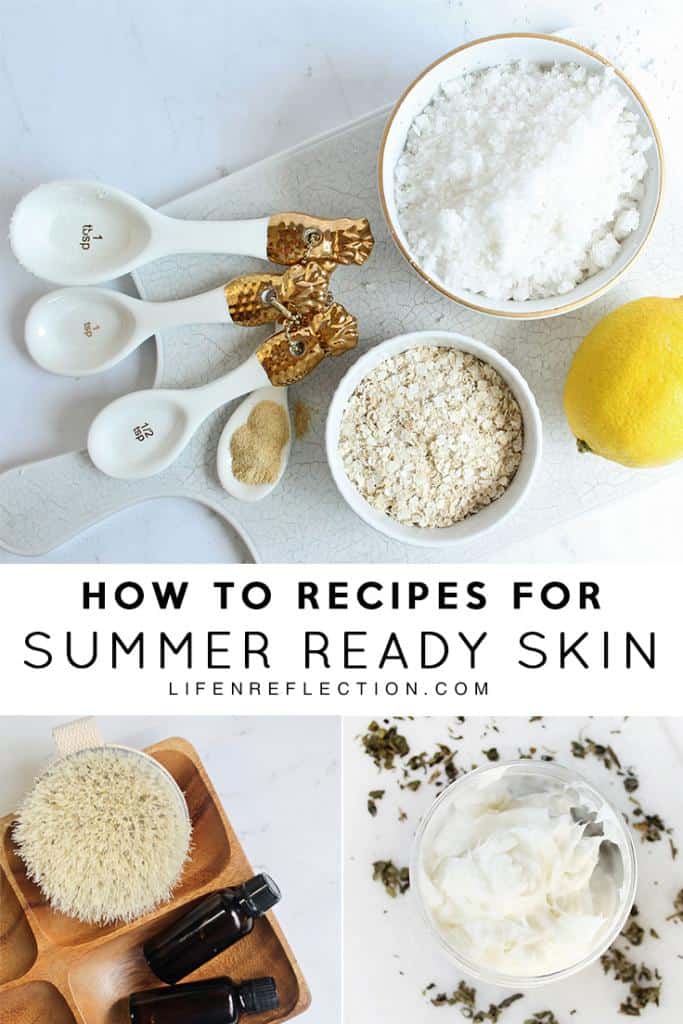 It's so important to nourish our skin seasonally!
But, I know just because this summer skin care routine works for me, doesn't mean each step will work for you.
We all have different skin types and live in different climates. Don't know your skin type? Take our quiz!

Do you have normal, dry, mature, oily, or combination skin? Take our Skin Type Quiz now to discover yours!
I hope these natural ways to DIY summer ready skin has you inspired to create your own summer skin care routine!
What changes are making for your skin this season? Tag #lifenreflection on Instagram to share it with us. Pin these natural ways to care for your skin during summer for later.