7 Easy Homemade Candles
Look no further for easy homemade candles. Start with these easy candle making recipes, and you'll be hooked!
I love candles of all kinds – container candles, votives, tealights, tapers, multi wick – I love them all!! Some might say I'm a candle addict, but friends call me the Candle Guru. They know they can run a candle idea by me or get a solid answer on how to fix a candle problem.
What has me so addicted? It's the beauty of candlelight, gorgeous aromas, and the simplicity of making something with your hands. So it comes as no surprise that easy candle making has become my favorite way to craft over the years.
If your addiction has you spending so much money on store-bought candles, turn to these easy homemade candles instead.
This post contains some affiliate links for your convenience; read our full disclosure policy.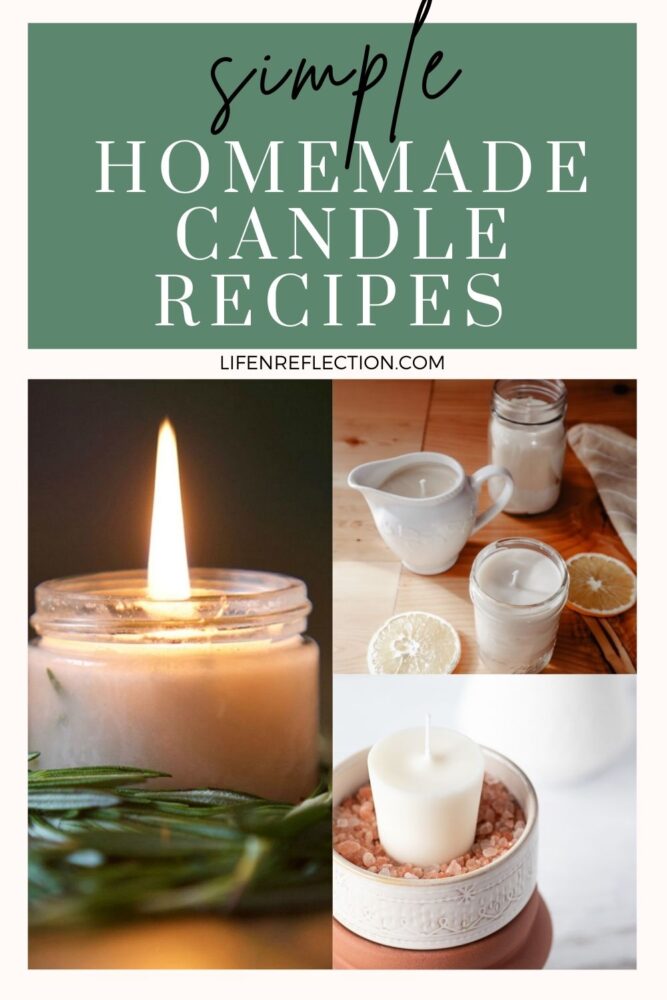 Are Homemade Candles Worth It?
Do homemade candles compare to store-bought candles? Why would you want to make your own candles? I pondered the same questions before I began making my own candles. In short, these are the reasons I make homemade candles:
– The process of making a candle is creative, fun, and rewarding.
– I store my extra homemade candles in our linen closet – so everything in there smells amazing!
– Candles and relaxation go hand-in-hand. Don't miss my moon bath ritual.
– Homemade candles cost less to make than Anthropology or Yankee candles.
– You can't beat lighting a homemade candle and pouring a glass of wine for two.
– When you make your own candles, you can choose the scent and control the strength of the scent. What are the best candle scents for you? Take our quiz!
– Hand-poured candles always make a great gift.
– No fireplace? Candles are the next best thing.
– Do you love vintage things and finding unique ways to reuse them? You can make candles in almost anything ( just avoid these containers).
– You get to come home to a house that smells good because candles have a cold scent throw too.
All in all, if you adore candles anywhere near as much as I do, why not start today with homemade candle making?
Related To: Candle Making Supplies
How do you make easy homemade candles?
Nothing compares to the relaxing glow and scent of a homemade candle. Learn to make them in the comfort of your own home with any of these easy candle recipes. You'll find hand-rolled tapers, creative mixins like vanilla beans and coffee, essential oils candles, and beeswax candles too.
Start whipping a batch of DIY candles now!
7 Easy-To-Make Homemade Candle Recipes
Simple Beeswax Candle Recipe
Megan says melting and pouring this golden, beautiful beeswax forces her to slow down in the moment and appreciate the things she can create for her family. I couldn't agree more. Follow her simple and easy process to make beeswax candles in vintage wear.
The Easy Method to Make Votive Candles
Votive candles are a versatile staple in any home decor. From basic white to a rainbow of colors, they can easily be adapted to your style. Did you know it's easy to make your own votive candles? You'll love these dreamy white DIY votive candles made without a candle mold! Showcase a single votive candle or create a dramatic display of flickering votive candles for a special occasion or just downtime.
DIY French Vanilla Coffee Candles
Make your house smell amazing with these DIY French vanilla coffee candles. They start with a layer of wax, then add chopped vanilla beans and whole coffee beans. Followed by another layer of wax and sprinkled coffee beans on the top.
Easy Essential Oil Candles
Essential oil soy candles offer many of the scents we love. Use these easy tips and instructions for essential oil candle making with soy wax to make a homemade essential oil candle.
DIY Hand Poured Herbal Candles
Love the look of a hand-poured candle? You can make your own with a few key ingredients and bring the outdoors in with herbs from your garden. I shared in my article at the Herbal Academy, candles are uniquely relaxing, and with the addition of herbs and essential oils, they become an aromatherapeutic experience. Join me there for the full tutorial.
Easy Handmade Wood Wick Candles
Candles can influence your mood, help you relax, and simply look beautiful, especially when you use a crackling wood wick! Who wouldn't love a beautiful handmade woodwick candle on their table? It's the perfect little gift idea! Here's how to make a woodwick candle. Find a complete guide to woodwick candles here.
Quick-To-Make Travel Candle Tins
Lavender is one of my favorite scents in the world; calming, floral, and soft, with herbal undertones. I take the scent with me in a quick-to-make lavender travel candle. You'll never leave home without a travel candle after you've tried one of these DIY lavender travel candle tins! Lighting one makes you feel as if you are in the garden (no green thumb required).
Personally, I find the art of homemade candle making is calming, creative, and rewarding. Lighting a candle you've made and basking in the glow and warmth it creates makes homemade candles worth it! Don't you agree?
YOU MAY ALSO LIKE:
What easy candle recipe are you going to make first? Tell me in the comments below or Tag #lifenreflection on Instagram to share your candle making with me. And don't forget to Pin these easy homemade candle recipes!