10 Incredible Bath Soak Recipes You've Been Missing!
Bath soak recipes are beyond easy to make but can do so much for us. Find out how they burn calories with 10 incredible recipes!
I've been making bath and body products for years, and from my experience, I can say homemade bath soak recipes are one the most rewarding to make!
Just thinking about a long soak in a hot bath can get me through the day. Well, that and a little chai tea or mocha can get me through just about any day. Long events, short writing deadlines, or a whiny toddler can all be overcome with any one of these bath soak recipes!
Never mind the fact that these bath soak recipes are beyond easy to make! There's no boiling, simmering, melting, or chilling. Plus, you don't even need to wait for anything to set, either. But, there's more…
For your convenience, this post contains some affiliate links; read the full disclosure policy.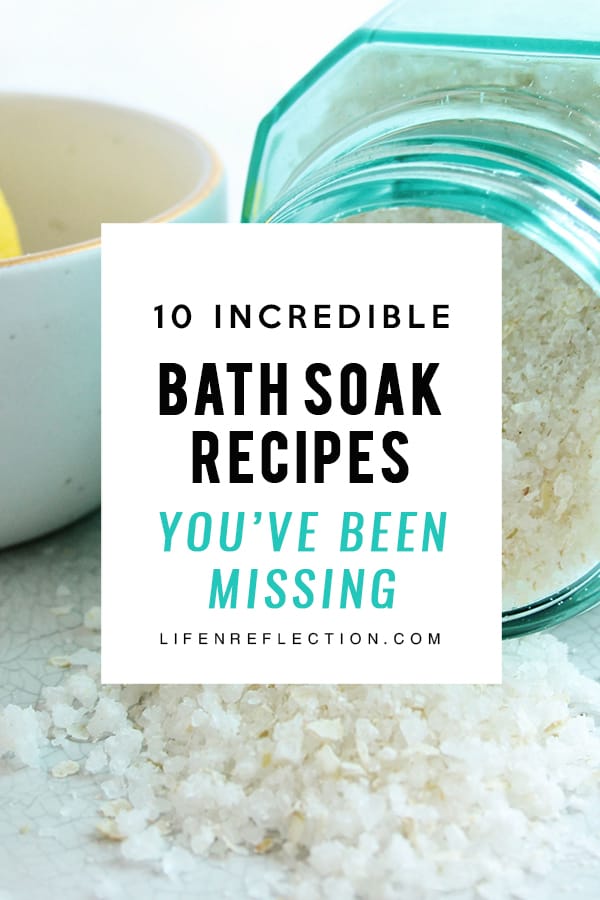 Did you know a bath soak burns calories??
Yep, you're still on the same page! And that's not a typo, either…
In a recent study on metabolic diseases or, in other terms, diseases linked to obesity, heat exposure in the form of a hot bath is shown to have the same effect as exercising (Faulkner, S.H. 2017).
The study indicates passive heating decreases inflammation and boosts metabolism, exactly like exercising. And one hour spent in a hot bath burns as many calories as a half-hour walk!
Who's taking a bath tonight?
When you include nourishing ingredients in these bath soak recipes below, you'll be doing a wealth for your health! (Did you like that rhyme?)
Related: 10 Intoxicating Rose DIY Beauty Recipes
Nourishing Must-Have Ingredients for Homemade Bath Soak Recipes
Thanks to Epsom salts, bath soaks do much more for our bodies than moisturizing the skin. Named after a small town in England where it was discovered in 1618, Epsom salts are known for their powerful ability to relieve aches and pains.
They break down the build-up of lactic acid, which causes muscle pain. Add ½ cup of Epsom salt to your next bath or try them in one of the bath soak recipes below.
Carrier Oils
Natural carrier oils can make a significant impact on the health and condition of your skin. They are packed with vitamins and antioxidants essential for healthy skin. There are a variety of carrier oils available, such as apricot kernel oil, grapeseed oil, sweet almond oil, and the list goes on!
Find the right carrier oil for your skin type with this guide. Keep in mind I don't recommend adding carrier oils straight to the bath. This could make for a dangerous, slippery environment. Instead, include a small amount in bath soak recipes to moisturize the skin without too much slipperiness!
Oatmeal
Old-fashioned rolled oats, whole oats, or quinoa make a great all-natural skin-softening addition to the bath. Oats are a commonly known remedy for itchy, irritated, dry skin. Find both oats and quinoa in the bath soak recipes below.
Fresh And Dried Herbs
I love having fresh herbs within reach to use in bath soak recipes. Even if you don't have a green thumb, you certainly can keep the plant alive long enough to get your money's worth or opt for dried herbs.
Why? Because herbs not only make our homemade bath soak recipes smell heavenly, but they also have a multitude of benefits. Chamomile, eucalyptus leaves, lavender, and rosemary are some of my favorites to use.
Pink Himalayan Salt
Pink Himalayan salt has been known for its many benefits for thousands of years. Packed with numerous minerals important for health – including calcium, iron, copper, iodine, zinc, magnesium, manganese, phosphorus, sodium, potassium, and selenium. No wonder it is a favorite choice by many to soak in!
Pink Himalayan salt is so mineral-rich that, soaking in a bath of it helps our skin and bodies absorb minerals. In fact, it's called dermal absorption, when the skin soaks up minerals. Indulge in enriching mineral bath soak recipes below made with pink Himalayan salt.
Essential Oils
Essential oils provide a wonderful natural fragrance to homemade bath soak recipes and contain many skin-loving properties. Don't miss my 10 must-have essential oils for home and beauty!
Related: Get Your Skin Glowing with 8 Green Tea Beauty DIYs
10 Incredible Bath Soak Recipes You Don't Want to Miss Out On
A lot can be overcome with any one of these bath soak recipes! Whether it's skincare benefits you're after or the chance to skip the gym, it's time you enjoyed a great soak!
Try this green beauty recipe for citrus mint homemade bath salts made with some of my favorite herbs and essential oils. You can use these citrus mint bath salts immediately, but I've found after storing them overnight, the scents really combine well, too, for an invigorating, relaxing experience.
#2 Oatmeal Milk Bath Recipes
You'll appreciate this DIY oatmeal milk bath recipe if it's a wholesome, old-fashioned feeling you're craving. It's proof a good oatmeal bath can serve as self-care, too!
Brittany, founder of the Pistachio Project, says, "I love a good bath, don't you? I rarely will leave the house for "alone time," but I do enjoy taking a bath and getting "away" even if it's only one door separating me from my kids and chores."
I am sure many of us can relate to it! So, skip yet another Plain Jane bath and instead reach for these rose cardamom bath salts to kick it up a notch!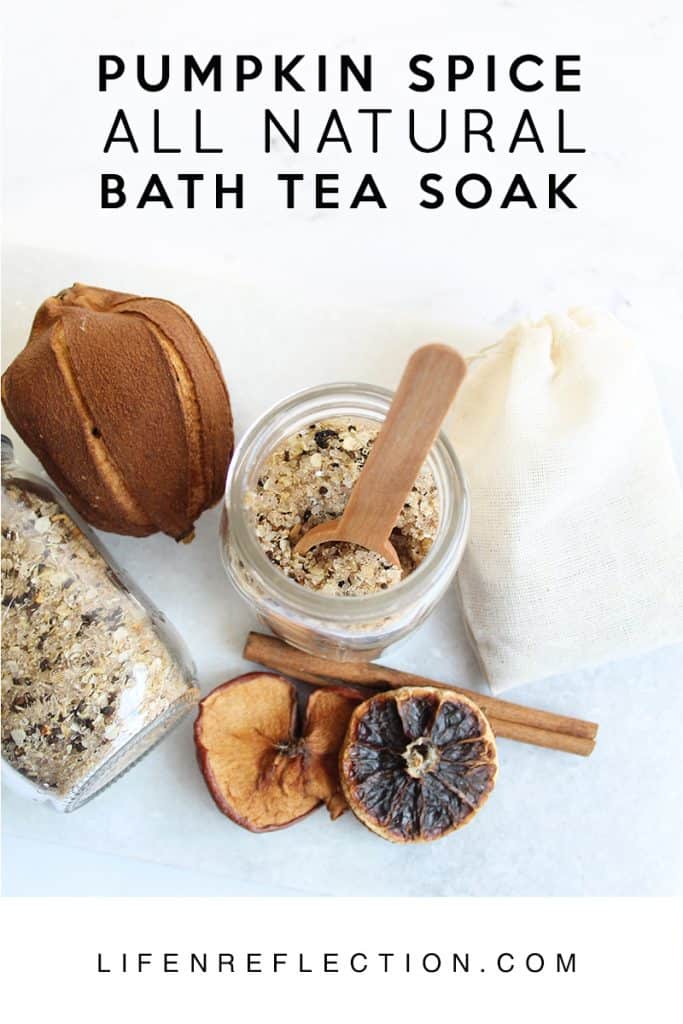 I don't know about you. But when the temperatures cool down and the leaves start to burst with color, I begin to crave everything pumpkin spice! This DIY bath soak recipe is autumn, all bottled up and ready to soak in.
And it not only smells like pumpkin spice – it is made with real pumpkin seed oil and quinoa for youthful skin. (Find this recipe in the Autumn Issue of Willow and Sage Magazine!!)
This bath soak recipe helps relax tense, sore muscles yet doesn't leave you smelling of a medicinal vapor rub. The aroma will soothe frayed nerves but won't lull you to sleep, which makes it a great pick-me-up to the beginning of the day if you wake up with sore muscles! Jan, the Nerdy Farm Wife, recommends using it the next time you feel a little achy.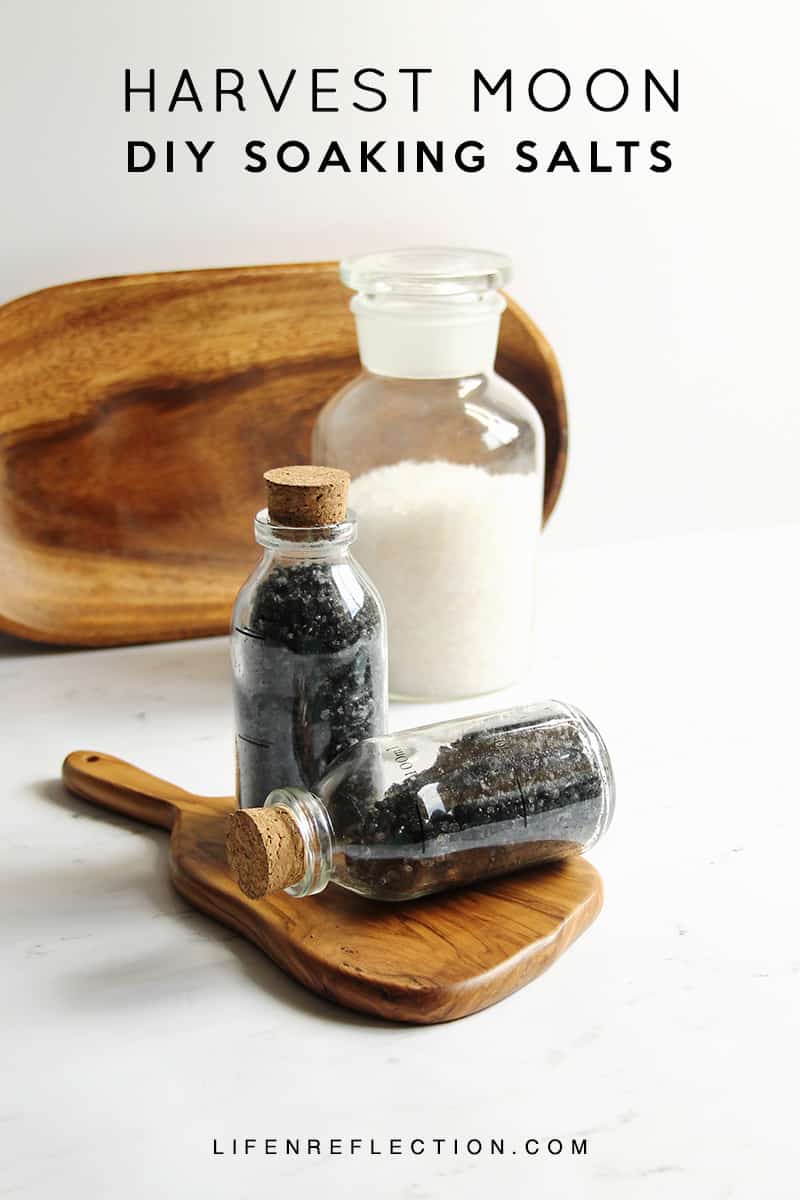 Detox your skin with all-natural harvest moon DIY soaking salts with incredible activated charcoal! Combining activated charcoals' unmatched ability to remove toxins from the body with essential oils in this homemade bath soak recipe. (You'll find this recipe in the upcoming Autumn Issue of Willow and Sage Magazine too!!)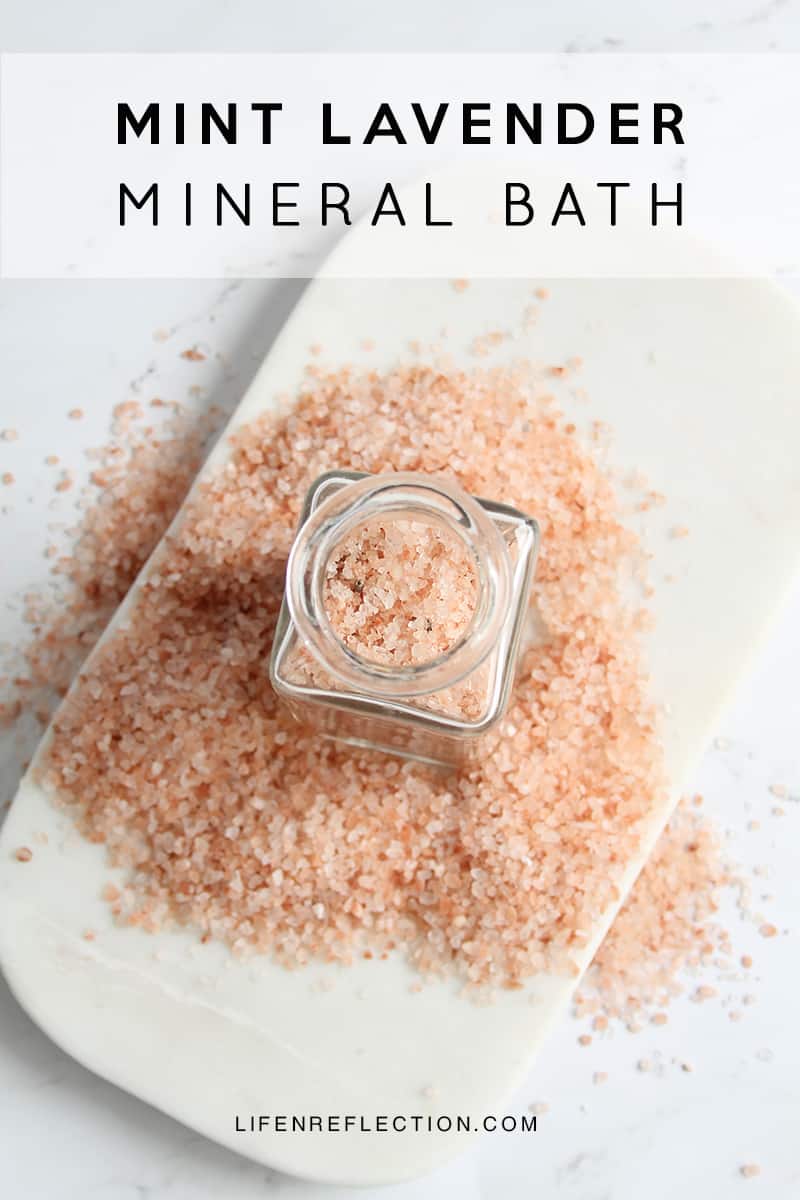 Indulge in an enriching mint lavender mineral bath. I make it with coarse pink Himalayan salt and ingredients picked right from my herb garden. I like to create an at-home spa retreat for a relaxing evening of self-care. It really is one of my favorite bath soak recipes!
Wind down and clear your head with this eucalyptus and mint foot soak you can make yourself. Andrea at Personally Andrea says, "Bath salts and essential oils make a pretty, scented, and therapeutic soak for your feet at the end of a long day." She recommends using a night-time foot soak for tired feet and legs.
If you've got a case of the "Mondays," turn your week around with a DIY Bubbling Lemon Vanilla Bath Soak. It's difficult to stay in a sour mood with the cheerful, fresh scent of lemon essential oil combined with creamy, sweet vanilla extract. This bubbling bath soak has more than a heavenly scent; it's loaded with benefits and a few surprises!
#10 Wine Bath Salts Recipe
To soak in a hot bath with the earthy yet sweet aroma of merlot while vibrant pink globe amaranth and pomegranate flowers float beside you and rich minerals relax your muscles is the height of indulgence for any wine lover.
With the creation of wine salts, we can enjoy the old world's tradition of a wine bath without a trip to the vineyards. 
Which of these bath soak recipes are you gonna make first? Save your favorites to your DIY bath and body board on Pinterest.
You May Also Like
Source:
S. H. Faulkner, S. Jackson, G. Fatania & C. A. Leicht (2017) The effect of passive heating on heat shock protein 70 and interleukin-6: A possible treatment tool for metabolic diseases?, Temperature, 4:3, 292-304, DOI:
10.1080/23328940.2017.1288688