Chamomile Uses: 10 Things to Make with Chamomile
Chamomile uses abound with these ten things you can make with chamomile. Lip balm, bath bombs, soap, sleep sprays, candle wax melts, and more chamomile recipes to choose from! 
Come springtime, most people dream about taking a spring break to an exotic beach to trade in their winter coats and boots for a swimsuit and flip-flops. I, on the other hand, dream about my herb garden. 
Pruning woody stems, sprinkling organic fertilizer, and planting new herbs wherever I can find a space. Before long, tall stalks of lavender are swaying in the breeze, mint is sprawling in every direction, and rosemary is spreading wider across the garden, with crisp basil, delicate cilantro, and cheerful chamomile blossoms all waiting to be snipped for enjoyment. 
Every year I come up with new things to make with each herb, as well as family favorites such as garden salsa and citronella candles. This year, after diving into lavender to make milk bath jars, soap, and of course candles, I set my sights on chamomile. 
I knew I could find new chamomile uses for this cheerful herb. And I'm happy to share with you ten things to make with chamomile from your garden.
This post contains some affiliate links for your convenience, read the full disclosure policy.
How is chamomile most commonly used?
Looking at its names can tell us a lot about chamomile uses. The Latin name Matricaria chamomilla translates to "water of youth" indicating its feminine qualities and use for skin care. Chamomile is also referred to as a "plant doctor" because it was a practice to plant chamomile next to plants that were failing. 
My favorite name for chamomile is "flower of the sun" which must relate to its bright yellow center flanked by tiny white petals that have a tranquil sweet fragrance, similar to the scent of an apple.
From ages past to this day, chamomile is primarily used as a calming tea. The flowers and leaves are dried for easy consumption in a hot cup of tea to aid digestion and anxiety. Many find it the perfect bedtime tea to calm the body and mind. 
But with the help of chamomile essential oil and chamomile hydrosol, for example, we can enjoy the benefits of this soothing herb in other ways. 
Related To: Creative Lavender Uses
What can I do with chamomile?
Beyond tea, chamomile is a wonderful soothing ingredient that really shines in skincare recipes. Why is chamomile good for the skin? The gentle nature of this herb has anti-inflammatory, antibacterial, anti-fungal, and antiseptic properties. 
When applied topically, chamomile calms dry and itchy skin aiding in relief for itchy bug bites, raches, and even eczema. But it doesn't end there, chamomile benefits extend to skin regeneration, hence the name "water of youth".
And its scent is widely used in aromatherapy to reduce anxiety and help improve sleep. In my experience, combining chamomile's benefits for the skin, body, and mind is everything!
Related To: Homemade Face Serum for Dry Skin
10 Things to Make with Chamomile
Rather you're wondering, "What can I do with dried chamomile flowers? Or what can I do with fresh chamomile?", chamomile uses abound with these ten things you can make with chamomile. You're sure to find a few favorites to share with your family too!
1. Herbal Sage Chamomile Bath Tea Bags
Sometimes we need reminding to fill our days with little luxuries. This soothing herbal bath tea recipe is one small luxury your body and mind will enjoy.  Made with chamomile tea, whole sage leaves, and Epsom salts poured into muslin bath tea bags, they are just the answer to declutter your thoughts and lift away the stress of the day. 
2. Creamy Lemon Chamomile Lip Balm Recipe
Do you go through a lot of lip balm? I like to apply it all day long to keep my lips soft and moisturized.  I highly recommend using chamomile to improve dry skin and lips. You can use either the roman or german variety in lip balm. The healing chamomile and toning lemon essential oils in this lip balm recipe will rival the store-bought lip balms without a doubt!
3. Herb Candle Wax Melts
I don't know about you, but I love a fragrant home. I have this ingrained desire to make every room in our home smell amazing. I've found that herb candle wax melts, are easy to make and the results are quite beautiful! The process is similar to making scented beeswax candles, but on a much smaller scale and without the wick of course. 
The best part of making wax melts is how unique each little square is when you tuck in dried herbs and flowers. As a close friend of mine once pointed out, I like to make things pretty! I added large calendula flower heads, delicate pink rose hips, a sprinkle of dainty yellow chamomile flowers, and a dash of purple lavender buds. 
4. Oats and Chamomile Soap Recipe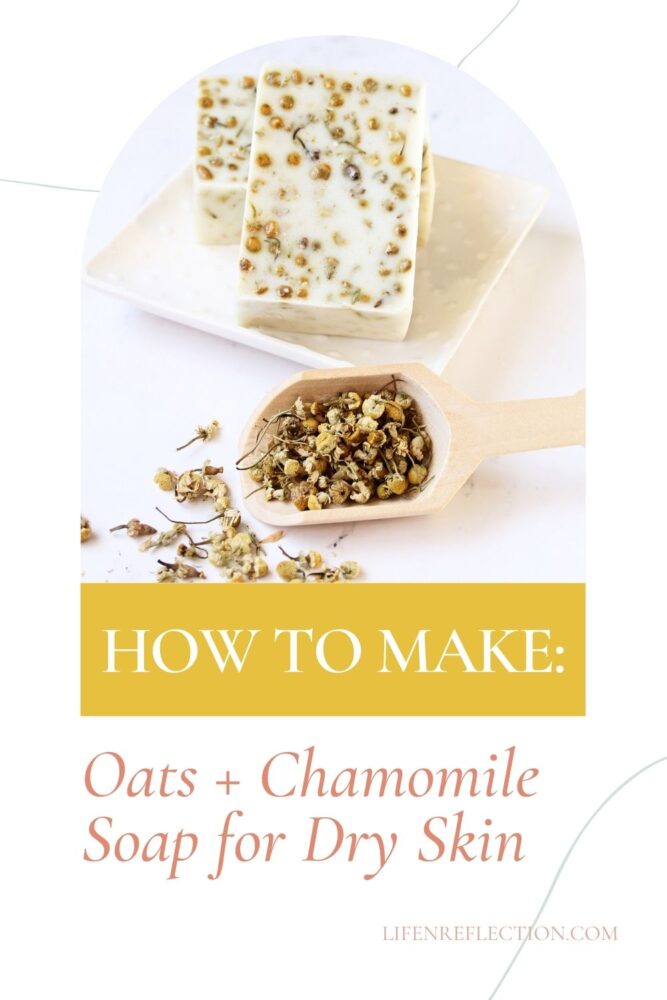 You can make chamomile soap in your kitchen with gentle, natural ingredients for dry skin relief. A combination of oatmeal, chamomile, honey, and goat milk poured into soap bars will leave even the driest skin feeling calm and moisturized.
It may sound complicated, but it's really a simple melt and pour soap recipe that can be made in minutes! However, if this is your first time making soap, you may find my beginner soap making guide helpful.
5. Lavender Chamomile DIY Herbal Body Scrub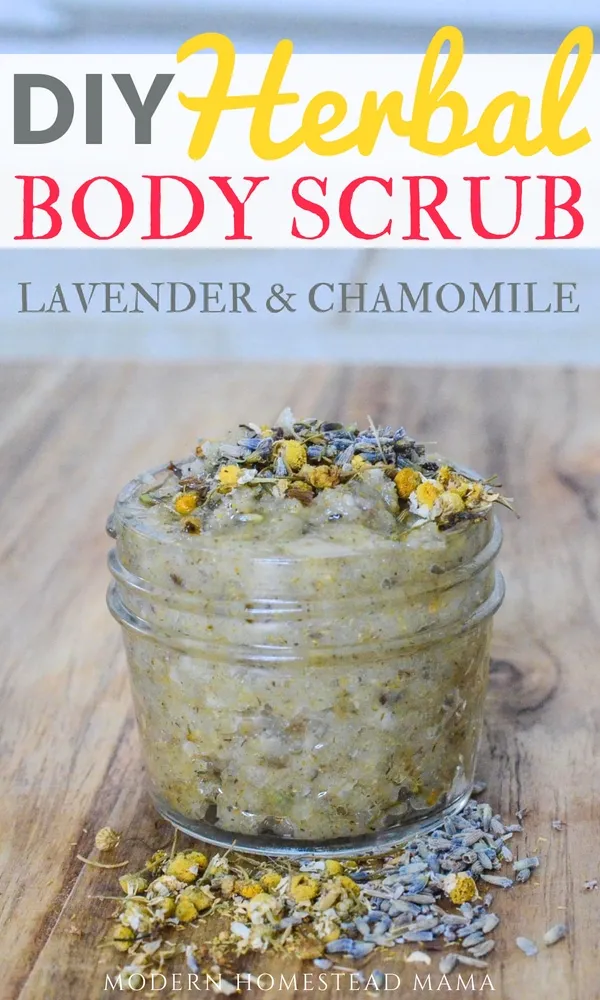 This simple exfoliating DIY herbal body scrub recipe with coconut oil, sugar, lavender, and chamomile leaves skin soft and refreshed. Victoria says she particularly loves using it on her hands because it leaves them feeling so soft and hydrated. It may quickly become your go-to chamomile use, simply because it's so easy to make! 
6. Garden Infused Perfume
On my journey to natural living, perfume was one of the first things to go because it can be very toxic. After nearly a year of missing the use of a personal fragrance, I learned to make my own.
Come to find out you don't have to study in France to make it either. It's actually very easy and inexpensive to make if you already have a handful of essential oils and dried cuts from your garden. See how I use chamomile to make perfume.
7. DIY Rose & Chamomile Tea Bath Bombs
A great way to use chamomile benefits on your skin is to simply add them to a bath! Just like brewing a cup of tea, the warm steamy water helps the leaves release their vitamins and antioxidants that are so beneficial for our skin. And what better way to try this out for yourself than by making these rose and chamomile tea bath bombs!
8. Floral Bath Salt Recipe Made with Dried Flowers
There are a number of flowers that are great for use in bath salts. Chamomile along with calendula, and blue cornflower happen to be the best flowers for bath salts because they include many benefits for the skin.  In fact, making this skin-soothing flower combo to reduce redness and swelling is the perfect antidote in a bath soak when you've had too much sun. 
Too much sun or not, these summer floral bath salts are the perfect balance of cheerful summer yellow and blue flowers. And like a fine glass of wine, these summer floral bath salts are good all year round. They make a lovely addition for self-care or a spa day at home. Add a simple gift tag to a jar of these floral bath salts for a simple homemade gift.
9. Herbal DIY Face Mist
This little beauty DIY can work double-time for your skin addressing several needs at once. Made with a base of natural chamomile hydrosol, nourishing aloe vera juice, and blended with moisture-locking vegetable glycerin. It refreshes and calms the skin while adding softness. Herbal face mists are one of my favorite chamomile uses! 
10. DIY Sleep Spray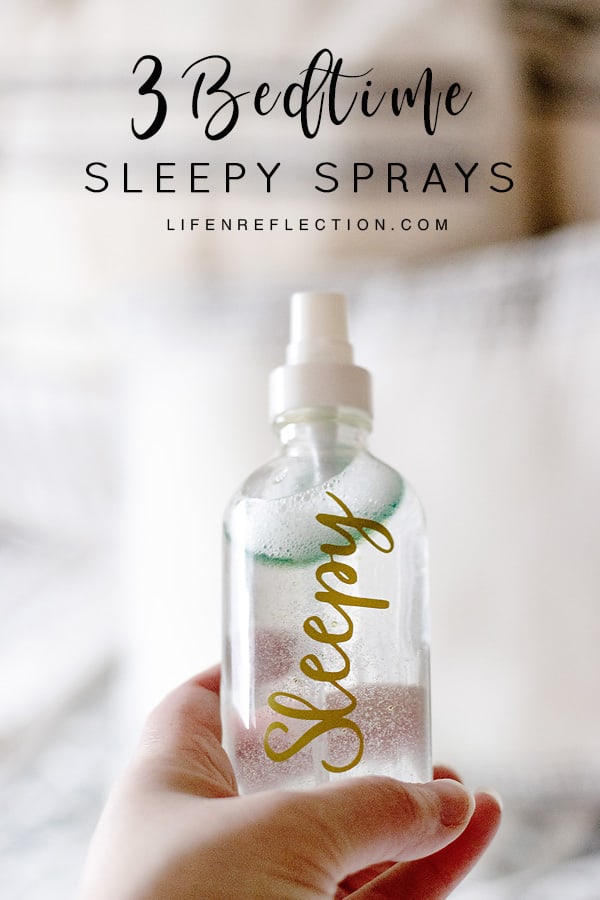 It happens to all of us… the clock ticks another minute, another hour, all while you lay there blinking at the darkness under the cloak of night. Maybe it was a stressful day, or maybe you have a lot on your mind. Whatever the reason, we can learn to promote better sleep and prevent restlessness.
Using a splash of witch hazel and essential oils for sleep like chamomile and lavender can help us get an ideal good night's rest. Bottle it up in a DIY sleep spray. 
As you can see there's more to this tranquil herb than meets the eye. I love growing chamomile for many reasons and I know you will too after discovering these unique chamomile uses.
Save these ten things to make with chamomile on your herbal garden Pinterest board, and while you're there, be sure to follow Life-n-Reflection for more inspiring ideas.
YOU MAY ALSO LIKE:
Did you know you can Tag #lifenreflection on Instagram to share your DIYs with us?